Herzog & de Meuron and Ai Weiwei
Permanent Collection
Weiwei:
Musée national d'art moderne, Paris, France
Museum für Asiatische Kunst, Berlin, Germany
Museum DKM, Duisburg, Germany
Museum of Contemporary Art, Los Angeles, CA
Museum of Modern Art, New York, NY
San Francisco Museum of Modern Art, San Francisco, CA
Solomon R. Guggenheim Museum, New York, NY
Tate Modern, London, England
Ullens Center for Contemporary Art, Beijing, China
Hara Museum of Contemporary Art, Tokyo, Japan
Los Angeles County Museum of Art, Los Angeles, CA
Museum für Moderne Kunst, Frankfurt, Germany
Museum of Arts and Design, New York, NY
Queensland Art Gallery/Gallery of Modern Art, Brisbane, Australia
Saatchi Collection, London, England
Representing Galleries
Weiwei:
Gelerie Urs Meile, Lucerne, Switzerland and Beijing, China
Herzog & de Meuron
Born in Basel in 1950, Jacques Herzog and Pierre de Meuron studied architecture at the Swiss Federal Institute of Technology Zurich (ETH) from 1970 to 1975 with Aldo Rossi and Dolf Schnebli. They received their degree in architecture in 1975 and established Herzog & de Meuron in Basel in 1978. The practice has designed a wide range of projects from the small scale of a private home to the large scale of urban design. While many of their projects are highly recognized public facilities, they have also completed several distinguished private projects such as apartment buildings, offices and factories. In many projects Herzog & de Meuron have worked with artists, an eminent example of that practice being their collaboration with Ai Weiwei which resulted in the design of three realised projects to date including the Beijing National Stadium. Jacques Herzog and Pierre de Meuron are visiting professors at the Harvard Graduate School of Design since 1994 (and in 1989). They are professors at the ETH Zurich since 1999 and co-founded the ETH Studio Basel - Contemporary City Institute in 2002.

Ai Weiwei
Chinese conceptual artist Ai Weiwei also works as an architect, photographer, curator and globally recognised human rights activist. Born in 1957 in Beijing, he began his training at Beijing Film Academy and later continued at the Parsons School of Design in New York City. His work has been exhibited around the world with solo exhibitions at Stiftung DKM, Duisburg (2010); Mori Art Museum, Tokyo (2009); Haus der Kunst, Munich (2009); Sherman Contemporary Art Foundation, Cambelltown Arts Center, Sydney (2008); and the Groninger Museum, Groningen (2008), and participation in the 48th Venice Biennale in Italy (1999, 2008, 2010); Guangzhou Triennale in China (2002, 2005), Busan Biennial in Korea (2006), Documenta 12 in Germany (2007), and the 29th Sao Paulo Biennial in Brazil (2010). In October 2010, Ai Weiwei's "Sunflower Seeds" was installed in the Tate Modern Turbine Hall, London. Ai Weiwei participated in the Serpentine Gallery's China Power Station exhibition in 2006, and the Serpentine Gallery Map Marathon in 2010.
Courtesy of Serpentine Gallery.
Works Available for Purchase
Articles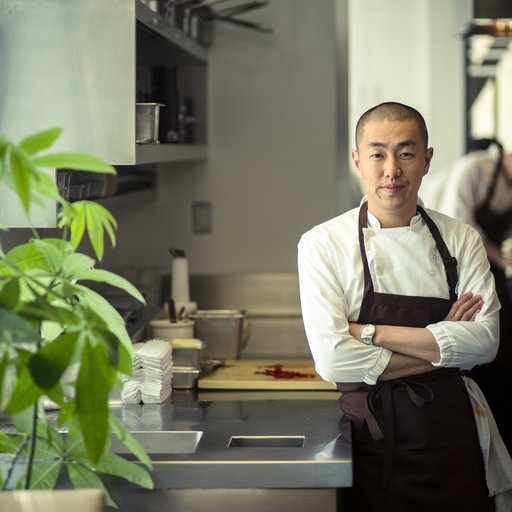 Benu Chef Corey Lee's 5 Favorite Artworks