Lives and Works
Chicago, IL
Education
BFA, School of the Art Institute of Chicago, Chicago, IL, 1961
Permanent Collection
Art Institute of Chicago, Chicago, IL
Ball State University, Muncie, IN
Brauer Museum of Art, Valparaiso University, Valparaiso, IN
Chazen Museum of Art, Madison, WI
Elmhurst College, Elmhurst, IL
Elvehjem Museum of Art, University of Wisconsin, Madison, WI
High Museum of Art, Atlanta, GA
The Illinois Collection for the State of Illinois Center, Chicago, IL
Illinois State Museum Chicago Gallery, Chicago, IL
Kalamazoo Institute of Art, Kalamazoo, MI
Krannert Art Museum, University of Illinois, Champaign, IL
Kresge Art Museum, Michigan State University, East Lansing, MI
Midwest Museum of American Art, Elkhart, IN
Museum of Contemporary Art, Chicago, IL
Museum Moderner Kunst Stiftung Ludwig, Vienna, Austria
Northern Illinois University, Dekalb, IL
Pennsylvania Academy of the Fine Arts, Philadelphia, PA
David and Alfred Smart Gallery, University of Chicago, Chicago, IL
Smithsonian American Art Museum, Washington D.C.
Weatherspoon Art Gallery, University of North Carolina, Greensboro, NC
Whitney Museum of American Art, New York, NY
Representing Galleries
Jean Albano Gallery, Chicago, IL
Printworks Gallery, Chicago, IL
Derek Eller Gallery, New York, NY
Karl Wirsum first came to prominence in the mid-1960s as a founding member of the Hairy Who. His paintings and drawings combine psychologically heated and mordantly humorous imagery influenced by comic books, popular icons, Chicago blues, Japanese prints, and Mesoamerican pottery. His singular style has influenced generations of artists, and he continues to innovate today.
For Wirsum, drawing is as important as painting. The drawings, in fact, germinate the whole of his work.Through repeated drafts, sometimes spaced over the course of several years, he perfects the lines and colors of compositions before deciding to begin a painting. His meticulously constructed figurative works forgo painterliness in favor of precise layers of acrylic. The flatness of the surfaces teamed with the vibrant color gives the work a feverish, pulsating quality, and activates the abstract underpinnings of his figurative work. He writes, "The flat color seems to clarify and accentuate the shapes and forms in a more abstract way, independent of what the shapes represent."
His work has been featured in notable exhibitions at institutions such as the Whitney Museum of American Art in New York, Matthew Marks Gallery in New York, RISD Museum of Art in Providence, Madison Museum of Contemporary Art, Smithsonian American Art Museum in Washington, D. C., Thomas Dane Gallery in London, Chicago's Museum of Contemporary Art, and White Columns in New York.
Courtesy of Derek Eller Gallery
Works Available for Purchase
Artworks by the Artist at Fairs
Articles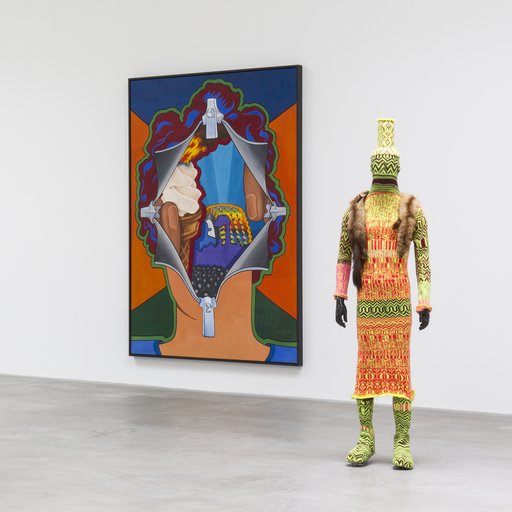 A Golden Era of Underground Art Gets Its Freak On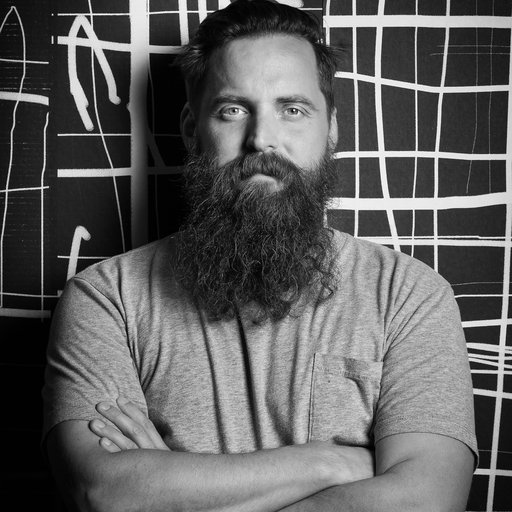 Why Sculptor Aaron Curry is Returning to Painting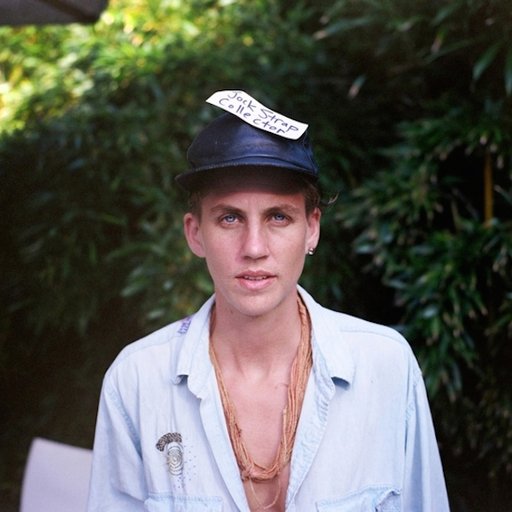 10 Artists to Watch This January