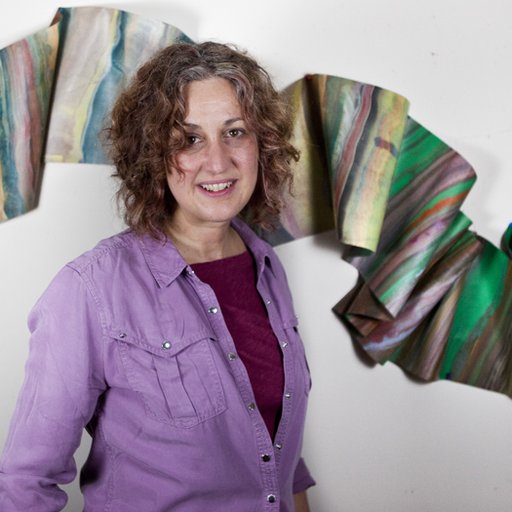 Hometown
Beacon, New York
Lives and Works
Rosendale, New York
Permanent Collection
Pacific Grove Museum of Natural History, Pacific Grove, CA
Jyväskylä Art Museum Holvi, Finland
The School of Visual Arts, New York, NY
The New York Public Library, New York, NY
The Royal Museum of Art, Antwerp, Belgium
The Samuel Dorsky Museum of Art, New Paltz, NY
The University of Dallas, Irving, TX
Pilchuck Glass School, Seattle, WA
The Center for Book Arts, New York, NY
Oberpfälzer Kunstlerhaus, Munich, Germany
The Herron Art Library at Purdue University
Representing Galleries
Kenise Barnes Fine Art, Larchmont, NY
Taking poetic license with geology, Laura Moriarty compares processes of the studio with processes of the earth. The forms, colors, textures and patterns of her sculptural paintings result from forces similar to those that shape and reshape the earth: heating and cooling, erosion, subduction, friction, enfolding, weathering and slippage. Layers of color form the strata of a methodology in which the immediacy of the hand can translate a sense of deep time. Working and reworking molten, richly pigmented beeswax, Moriarty builds each painting/object through a slow, simple yet strenuous physical engagement, which often becomes a metaphor for the ephemerality of life and civilization.
Laura's honors include a 2016 Individual Support Grant from the Adolph & Esther Gottlieb Foundation, a residency at the Baer Art Center in Iceland (2016), a Vermont Studio Center Fellowship (2015), two Pollock-Krasner Foundation Grants (2007, 1997), a Frans Masereel Center Residency, Belgium (2004, 2000), and a Ucross Foundation Residency (1996).
Her work is exhibited widely and featured in many books and publications, including Making the Geologic Now: Responses to Material Conditions of Contemporary Life, edited by Elizabeth Ellsworth and Jamie Kruse, and published by Punctum Books (2013). Her work has been reviewed and featured in The New York Times, Beautiful Decay Magazine, Artillery Magazine, New Art Examiner and The Plain Dealer, among others. She is the author of an artist's book, Table of Contents, self-published in 2012.
Courtesy of the Artist
Works Available for Purchase