In conjunction with the release of Great Women Artists, a comprehensive new volume featuring more than 400 groundbreaking women artists and their works from the past 500 years, Artspace and Phaidon have partnered with Kering, a global luxury group committed to empowering women, in the production of a portfolio of prints by Catherine Opie, Cecily Brown, Lubaina Himid, Bharti Kher, Dana Schutz, and Jenny Saville. Proceeds from the portfolio will benefit Promundo, a non-profit dedicated to advancing gender equality by educating men and boys. Available to purchase individually or en suite, these limited editions (only 100 exist of each) offer collectors the opportunity to acquire affordable works by the most celebrated women artists of our time, all while contributing to a worthy and important cause.
In today's spotlight, we take a closer look at photographer Catherine Opie, her work, and her artistic legacy.

Catherine Opie, Herstory: Women's March, 2017 is part of the Great Women Artist portfolio, and is available for $1500 on Artspace
In this month's issue of T, the New York Times Style Magazine, acclaimed photographer Catherine Opie answered their iconic Artist's Questionnaire in a conversation with journalist Janelle Zara; Zara writes in the introduction to the piece, "Opie, who is featured in Great Women Artists, a new book published by Phaidon with the support of the Kerig luxury group... has used photography as a form of political engagement since the late '80s... challeng[ing] gender as a performance and social construct long before those ideas had entered the mainstream."
So, who is Catherine Opie, and what makes her so legendary?
WHO IS SHE?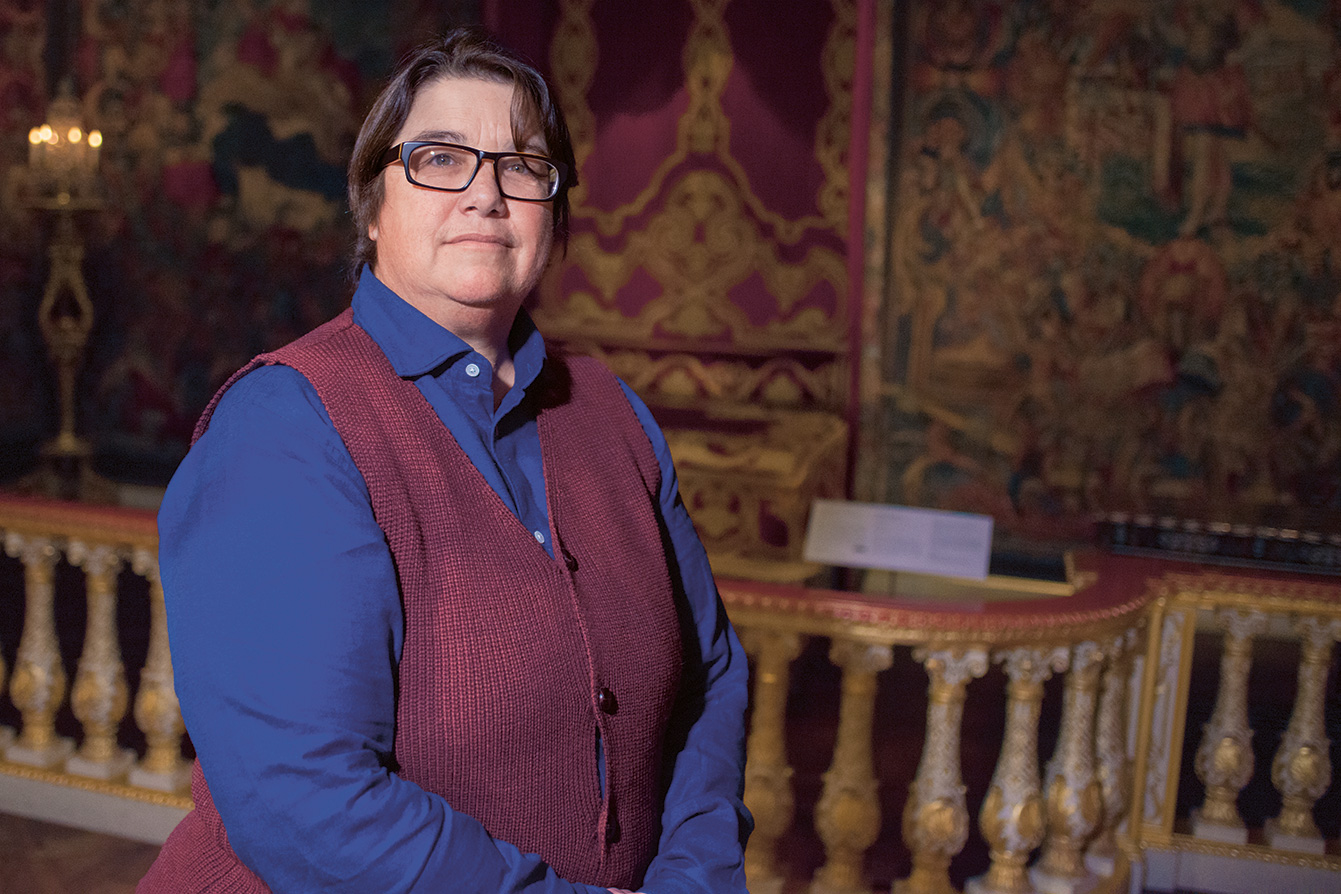 Catherine Opie photographed by Jackie Neale/Katheryn Hurni c/o The Met via the Phaidon
Catherine Opie, born in Sandusky, Ohio in 1961, is a fine art photographer and tenured professor of photography at University of California at Los Angeles. Best known for her color portraits exploring Los Angeles lesbian subcultures, Opie has long been interested in the artistic ramifications of community and identity.
John, 1993 via Regen Projects
Heavily inspired by the work of Lewis Hine and Dorothea Lange, Opie started her practice in earnest at the tender age of nine, parlaying an innate passion for the medium into an MFA from the California Institute of the Arts, Valencia, in 1988. Since then, she has been the subject of tremendous and consistent critical acclaim, including a Guggenheim Foundation Fellowship and retrospectives at the Institute of Contemporary Art, Boston, the Walker Art Center in MN, and a wide variety of other prestigious institutions. Regularly fetching auction prices in the six figure range, Opie's singular vision has ensured her place in history as a queer icon, translator, and provocateur.
WHY IS SHE IMPORTANT?
Left:Self Portrait/Nursing, 2004. Right: Guillermo & Joaquin, 2013 c/o Regen Projects via NPR
Opie invokes viewer empathy at the shores of the familiar through a novel blend of art historical reference and contemporary frankness, positioning her lens as a window to experience that simultaneously mirrors and agitates American heteronormativity. It's in this liminal space that she trains her gaze on the searing humanity in marginalia, drawing us into society's most clandestine corners and transgressive points of flux. Resisting simplistic voyeurism en route to elegant, confrontational authenticity, Opie's lens stops short of exoticizing the other, inviting the viewer to come closer, instead.
Bo, from "Being and Having", 1991 via Artnet
The artist's first well-known series, Being and Having (1991) consists of headshots of Opie's female friends sporting a variety of facial hair styles. One of the first high-profile artistic explorations of female masculinity, these Holbein-inflected, high-saturations portraits illustrate the psychic life and simmering physicality of her subjects.
Self-Portrait/Pervert, 1994 via Sartle.com
This abiding interest in underground community is similarly articulated through a 1994 classic, titled Self-Portrait/Pervert, which features the artist seated topless in a gimp mask with the word "Pervert" carved into her chest. This regal enunciation of the "leather dyke" ethos is a blunt affray to respectability politics that maintains the dignity of the subject, a tense and expert deployment of chromogenic inquiry.
Melissa & Lake, Durham, North Carolina, 1998 via e-flux
In 1998, Opie traveled cross-country in her motor home over the course of two months in order to photograph lesbian couples in intimate, non-sensationalized settings. This series, called Domestic, asked the viewer to interrogate their preconceived notions and biases in an inverse process to her previous work, oscillating between insider and outsider status with unassuming ease.
Mike and Sky, 1993 via Art21
Later in her career, Opie cast her unique eye onto landscape, capturing the architectural plumes and organic curves of mundane infrastructure, like freeways and mini-malls, alongside more majestic moments reverent of the country's rural flora. These placid investigations suggest presence in absence, cohering a distinctly American reality from a constellation of disparate narratives.
Landscape #3 (Doheny Drive) 1996, from Landscapes
Her current work—like Herstory: Women's March, 2017—maps this passion for landscape in sociological terms; her snopshots of Obama's inaguration, Tea Party rallies, Boy Scout jamborees, immigration marches, the Michigan Womyn's festival, and the Women's March of 2017 transcend photojournalistic impulse, heralding a return to a keenly observational eye in the realm of fine art. "It was really important for me to no longer empty out the landscape, but to fulfill this other notion of creating documents of our time, in relationship to going out and observing—creating another way of looking at the American landscape" Opie told Art21 in 2012. Part documentarian, part world-builder, Opie's status as a both denizen and doyenne of difference positions her gaze at the intersection of the "in-between," cementing a drive towards description in a lush, tangible tongue.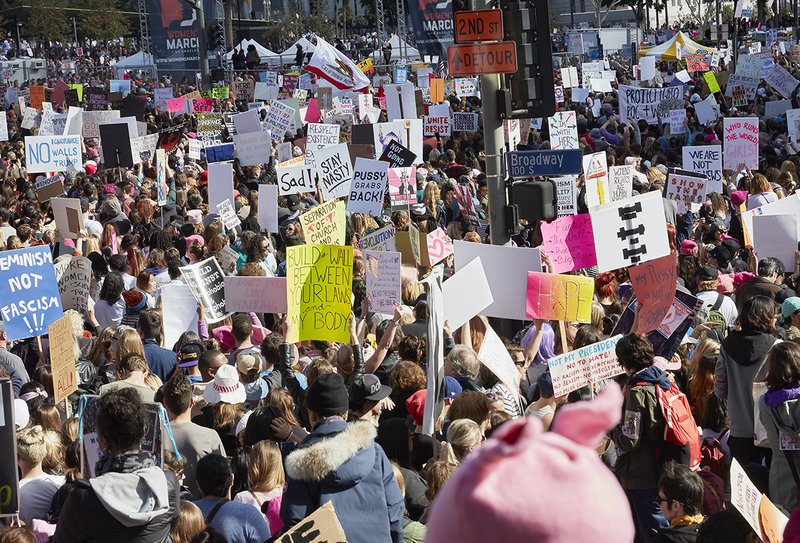 Los Angeles Women's March, 2017 is available on Artspace for $5,000
[gwa-module]
RELATED ARTICLES:
A 101 Guide to the Work of Jenny Saville: The World's Most Expensive Female Artist Alive
Great Women Artists: The 400 Most Important Female Artists Over the Last 500 Years