In the tradition of painter-printmakers like Picasso, Beckmann, and Munch, Nicole Eisenman has attacked both mediums with equal fervor. Around 2011 she took a break from painting and threw herself into printmaking with an intensity that attracted the attention of the 2012 Whitney Biennial curators, who gave her monotypes an entire wall in the exhibition. She's also a whiz with woodblock printing, as is clear from this example on Artspace.
Untitled (Red) amps up a zany human-meets-bird interaction with its searing crimson-and-yellow palette. (A black-and-green version is also available on Artspace.) It also shows off Eisenman's facility with the tricky woodblock technique, with varied carving marks that succinctly evoke the textures of hair, skin, and feathers.
The MacArthur Foundation, which gave Eisenman a "genius" grant in 2015, credits her with "expanding the critical and expressive capacity of the Western figurative tradition." Within the art world, meanwhile, she is also admired for her queer and feminist activism, for planting her subjects in Brooklyn beer gardens and other proletarian settings where artists congregate, and for the hints of physical comedy in her work (also apparent in this print).
This May, Eisenman will have her first New York survey, "AI-ugh-ories," at the New Museum. The show's title is a play on "allegories," emphasizing both the art-historical pedigrees of Eisenman's figures and her love of the grotesque, the absurd, and the down-to-earth. This bird and figure could be a moralistic duo from Dutch 17th-century painting, for instance, where they might symbolize vanity and desire, but their googly eyes and goofy cartoon-like contours suggest something more antic and spontaneous.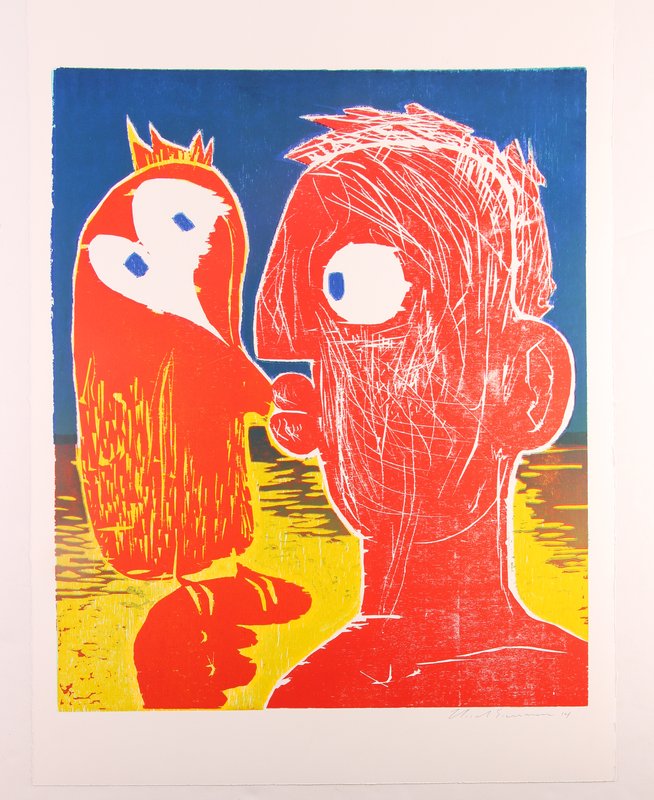 Ringers, 2014
Woodblock print, edition of 10