While appropriation—borrowing recognizable images from various sources, from advertising to the annals of art history, and using them to create a new work of art—has a long history in modern and contemporary art (think, for instance, of the use of newspaper clippings in Cubist collages, or Duchamp's famous mustachioed Mona Lisa), it took hold as a dominant artistic strategy in the latter half of the 20th century. Unlike copying or forgery, which attempt to trick viewers into believing they are looking at something unique, appropriation hinges on the ability of the viewer to recognize the original source of the image and all of its connotations.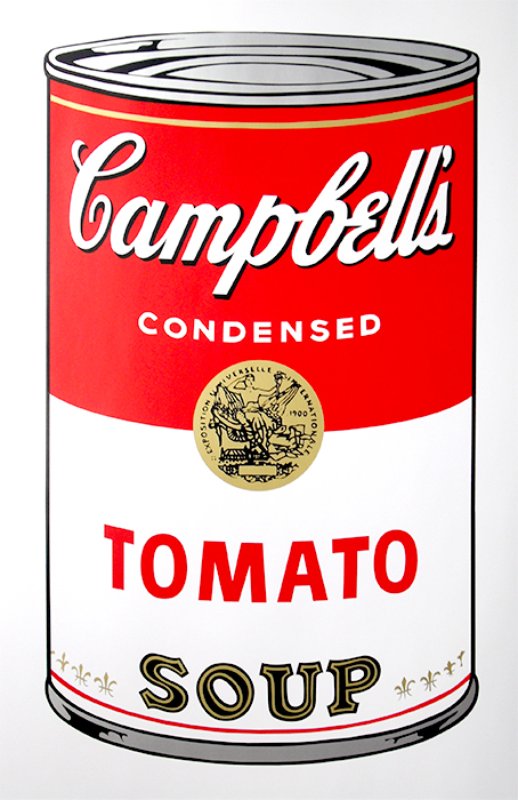 After Andy Warhol, Campbell's Soup - Tomato, 2011 is available for $494
In the 1960s, Pop artists like Andy Warhol, James Rosenquist, and Roy Lichtenstein used familiar, mass-cultural imagery—comic books, advertisements, and celebrity portraits—to comment on America's consumer culture. These artists not only brought the everyday realm of tabloid photographs and grocery store aisles into that of high art, but also redefined the role of the artist: as Warhol and his contemporaries insisted, an artist could be someone who selected a pre-existing image and modified it rather than creating something entirely from scratch.
Barbara Kruger, Untitled (your body is a battleground), 1989. Image via WikiArt

Appropriation reached its apogee in the 1980s, with artists such as Sherrie Levine, Barbara Kruger, and Richard Prince challenging the notion of artistic originality altogether by emphasizing the act of borrowing existing images itself. In her infamous series After Walker Evans (1980), Levine "re-photographed" works from photographer Walker Evans's landmark book Let Us Now Praise Famous Men (1941) and exhibited them as her own work, each titled "After Walker Evans." Similarly, Prince re-photographed advertisements, such as the Marlboro Man cigarette ads, inviting his viewers to examine these ubiquitous, but often overlooked, images and to consider their impact.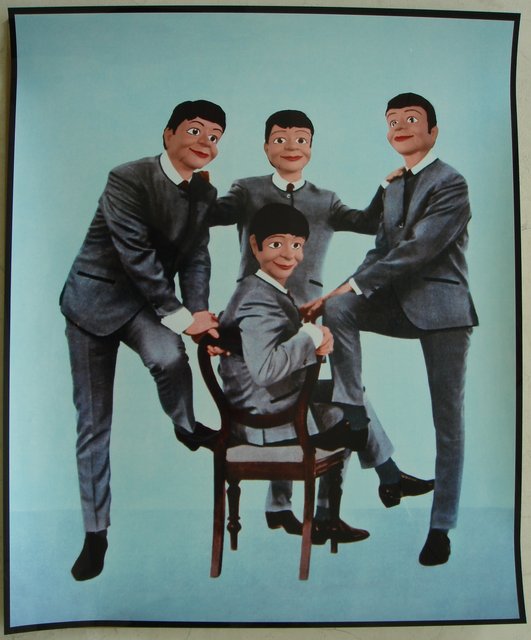 Laurie Simmons, Untitled: Band, 1994 is available for $10,000 - $15,000.
The artists of the so-called "Pictures Generation"—first identified by art historian Douglas Crimp in the catalogue essay to his now-seminal 1977 Pictures exhibition at Artists Space, which included artists like Levine, Robert Longo, and Jack Goldstein (and, in a revised version of the essay published in 1980, Cindy Sherman)— adopted a critical attitude towards contemporary visual culture and its bombardment of mass media imagery, simultaneously elevating and undermining it. The 2009 exhibition The Pictures Generation at the Metropolitan Museum of Art, which included artists from the original 1977 exhibition alongside similarly minded contemporaries like David Salle, Laurie Simmons, and Louise Lawler, solidified the place of appropriation in art history.
[appropriation-module]

Though the foremost institutions of art have given appropriation their nod of approval, the legal system hasn't been quite as forgiving. The use of appropriated imagery in art has been the subject of numerous high-profile lawsuits, most recently, Cariou vs. Prince, in which Richard Prince failed to convince a judge that his series Canal Zone, which employed photographs from Patrick Cariou's book Yes, Rasta, constituted "fair use." (Upon an appeal, however, 25 of the 30 contested works were cleared as within fair use.)
RELATED ARTICLES:
How Free Speech Debates Are Unfolding in the Art World, As Jeff Koons Gets Sued for Plagiarism Yet Again
What Was the Pictures Generation?