Coolly supercilious attendants at white-cube galleries. Exhibition press releases that invoke Derrida and words like "neo-objecthood" to describe a pile of rocks. The fifth non-question question from the audience at an artist talk. The art world is full of horrors—but, as one might expect from a den of wealth and often cut-throat ambition, sometimes they extend beyond the hair-raising to be purely blood-curdling. And often, the scariest occurrences relate to mysteries that go unsolved.  
This Halloween, to cast back the shroud on a few of the more gristly, uncanny, and downright ectoplasmic outrages, we venture into nine particularly dark tales from the art crypt.  
JACK THE RIPPER (AND PAINTER?)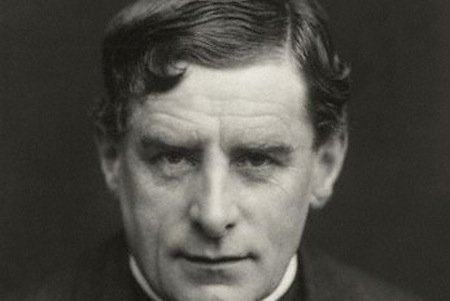 Walter Sickert
In 2001, Patricia Cornwell, the famed British author behind the Kay Scarpetta series, made a radical claim: that the British painter Walter Sickert was Jack the Ripper, a serial killer who terrorized England in the late 19th century. Sickert, a onetime student of Whistler's, was notorious for his tenebrous, impasto-heavy scenes of nude women in various states of despair or distress that he painted with eerie detachment—along with scenes stemming from his strange interest in the sadistic murderer, including one called Jack the Ripper's Bedroom, which he painted of a room that his landlady suspected had housed the killer. (Perhaps she suspected the wrong tenant.)
In her book Portrait of a Killer, Jack the Ripper: Case Closed, which she wrote after financing a $6 million investigation of the murders, Cornwell presented other salacious evidence that included another potentially revealing painting: The Camden Town Murder, in which a man is shown deep in thought as he sits next to a dead, nude woman. She also purported to find watermarks on the painter's correspondence that matched the grotesquely taunting notes the killer sent the police.
Cornwell's theories have yet to be proven, and many Jack the Ripper theorists disagree with her, but in 2005 she took out advertisements in London's biggest newspapers challenging experts to debunk her claim... and the mystery remains unsolved.
CARAVAGGIO'S REVENGE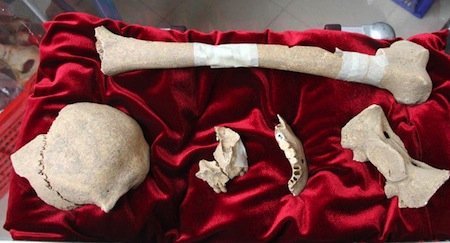 Caravaggio's bones
Baroque master Caravaggio was known for his nasty temper, so most 17th-century Romans knew it was best not to cross him. Unfortunately, his hapless tennis partner wasn't one of them. After losing a match, the painter of rapturous biblical narratives killed his opponent with a sword (which he wore at all times) and was forced to flee Rome permanently. Many theories surround the events of the tennis court—some scholars even believe the man that Caravaggio killed was a pimp, and that Caravaggio had merely meant to castrate him. An even more radical theory explains Caravaggio's own mysterious death in southern Italy—commonly attributed to malaria or, according to recent evidence, poisoning from his lead paints—as his murder at the hand of the tennis player's friends. 
MURDER EN PLEIN AIR?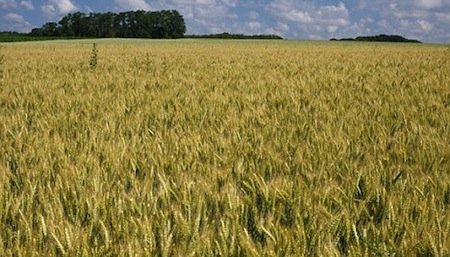 A field nearby Auvers-sur-Oise
Van Gogh, with the gun, in the wheat field—but who did it? For years, most art historians agreed that van Gogh shot himself to death in a patch of grain in Auvers-sur-Oise, France. But two years ago, art historians Steven Naifeh and Gregory White wrote in their book Van Gogh: The Life, that the addled artist had not, in fact, shot himself, but rather had been murdered by a trigger-happy 16-year-old schoolboy who came across van Gogh as he innocently walked through the land. While the possible motive for the crime remained elusive, and there were doubts about the veracity of the forensic evidence, the book inspired heated debate among art lovers and historians. Some consider Naifeh and White's theory to have been debunked in July by rival scholars Louis van Tillborgh and Teoi Meedendorp, but the details surrounding van Gogh's death remain sketchy at best. 
THE CURSED STATUETTE?

The cursed statuette of Neb-Senu
In late June of 2013, while many unsuspecting innocents were enjoying the summer sunshine, Manchester Art Museum Egyptian art curator Campbell Price was scrutinizing a surveillance video after docents complained that someone had been moving one particular ancient figurine in the collection. The video, later uploaded to YouTube, shows no malefactor to be at work—rather, the ten-inch, 3,800-year-old Egyptian sculpture of a man named Neb-Senu appears to completely turn around over the course of two days of its own accord. When asked about why the sculpture moved, Price said that the only explanation he could imagine was a spiritual one, since the sculpture had never moved before in the 80 years the museum had owned it. 
THE AB EX-FILES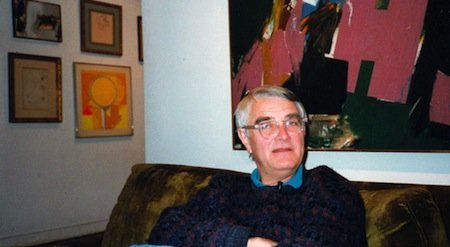 Painter and UFOlogist Budd Hopkins
It's not often that an artist is credited with beginning a whole new field of supernatural research. The rare case is Budd Hopkins, the late Abstract Expressionist painter first known for the Mondrian-like canvases he made in the 1940s and later, in the '60s, for his keen interest in alien abductions. Regarded as being influential as both a painter and a UFOlogist (as his field is called), Hopkins claimed that he himself was abducted by extraterrestrials who revealed to him their unholy desire to crossbreed with humans and eugenically create a perfect species.
Hopkins—who titled his memoir Art, Life, and UFOs—then started an organization for other alien abductees, and some even credit him with being the first person to ignite serious scholarly interest in aliens and UFOs. But, as he would contend is the case with humanity in the cosmos, Hopkins is hardly alone. Other artists who claim to have been visited by aliens include Minimalist sculptor John McCracken and the contemporary painter Ional Talpazan (whose work is coveted by connoisseurs), both of whom have bodies of work relating to their supposed visitations and abductions. 
CROWLEY'S CURSE?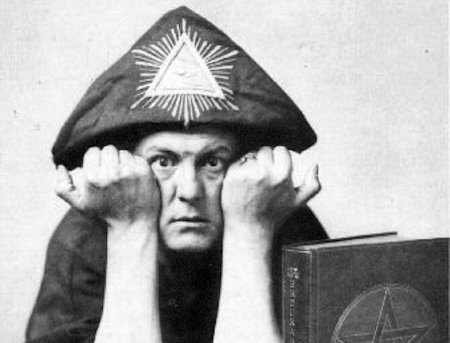 Occultist Aleister Crowley
It seems very possible that Aleister Crowley was the busiest occultist of all time. In the early 20th century, he made trance paintings, tried a vast array of drugs, became a fixture of the Parisian art scene (his Tarot illustrations are included in Massimilano Gioni's Venice Biennale show), and even founded his own religion, Thelema, founded upon ideas of finding one's harmony with nature and achieving what he called "True Will." Thelema was partially devoted to worshipping certain Egyptian gods, so when Howard Carter opened Tutankhamun's tomb in 1922, it's suspected that Crowley had a bone to pick. Some researchers believe that the supposed Curse of Tutankhamun, which killed 20 people involved in Carter's excavation, may have actually been caused by Crowley. Though Crowley—who many accused of being, in fact, an outright Satanist—never admitted to any such curse, his diaries suspiciously say that his mood was "lifted" the day after he discovered that certain excavators had died. 
A DISAPPEARANCE AT SEA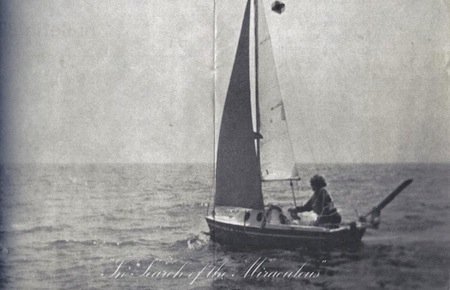 A photograph of Bas Jan Ader's In Search of the Miraculous
Whatever happened to Bas Jan Ader? In 1975, the passionate, romantic, and highly conceptual performance artist embarked on a pan-Atlantic voyage as part of his ongoing piece In Search of the Miraculous. The long journey across the ocean was expected to take approximately 60 days, and it was the second part of a larger performance intended to explore artistic inspiration from nature. (An accomplished sailer, the artist had ventured out shorter distances in the past.)
Several months after Ader left on the Ocean Wave from Cape Cod, his 13-foot boat was discovered submerged off the coast of Ireland. The spooky part: Ader was nowhere to be found. Even spookier: The boat was stolen shortly after it was found. Some scholars believe Ader committed suicide as part of the performance, though other evidence suggests that the artist went to great lengths to ensure that he would survive the voyage—he even had his appendix removed on the off chance that he might get appendicitis during the 60 days at sea. Another theory, that the mast may have swung suddenly and knocked him off the boat, assumes him to be more of a sailing novice than he was. Whatever the case may be, Ader's strange disappearance continues to stir questions over what, exactly, happened on the Atlantic. 
THE GALLERIST OF HORRORS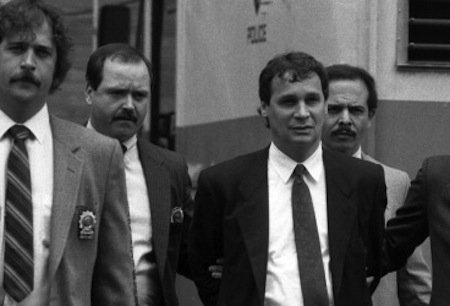 Andrew Crispo
To unsuspecting New Yorkers in the '80s, Andrew Crispo was just another art dealer with an up-and-coming gallery in Midtown. But Crispo was a connoisseur of more than just art—he also dealt expertly in pain. In 1985, the body of a young model was found in a smokehouse in Rockland County wearing nothing but a leather S&M hood (a "death mask," as the tabloids deemed it). His body was severely burned, and he had been shot twice in the back of the head. A man soon came forward, saying that Crispo had drugged the model, forced him to kneel, and then shot him—all of which allegedly transpired in Crispo's expensive Manhattan apartment.
Police found the gun in the dealer's gallery, and proof that Crispo had picked up the model the night of the murder and plied him with cocaine. Nevertheless, the trial was dismissed (Crispo, strangely, wasn't even called to testify). One year later, however, another man claimed Crispo tortured him for several hours straight—landing Crispo with charges of kidnapping, assault, coercion, and sodomy. He eluded those as well. Finally, he was jailed five months later for tax evasion.
THE HAUNTING OF JEREMY BLAKE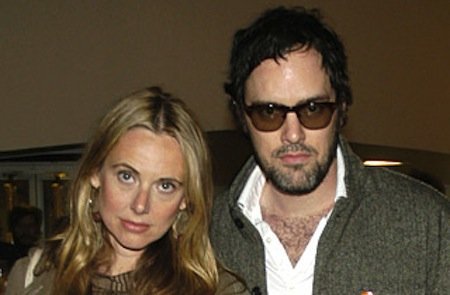 Theresa Duncan and Jeremy Blake
Known for his colorful paintings and films, Jeremy Blake wasn't afraid of incorporating eerie qualities into his work, as in his extraordinary 2003 Winchester Mystery House films devoted to the true-life occult swirlings around an heiress of the rifle-making family who was convinced the spirits of those killed with the guns would kill her—unless she continuously built out her haunted mansion with fake staircases and dead-end hallways.
Soon, however, mysterious forces began to spill into his personal life as well: starting in 2005, Blake and his girlfriend, Theresa Duncan, claimed to have been harassed and followed by Scientologists, who the couple believed had begun sending them threatening messages after Blake had collaborated with the musician Beck. (The two had made headway into Hollywood too, with Blake creating animations for Paul Thomas Anderson's film Punch-Drunk Love.) In 2007, after spiraling into increasingly erratic behavior, Duncan committed suicide in the couple's unusual apartment in St. Mark's Church in New York. A week later, a distraught Blake brought about his own tragic end, too, by walking into the waters off Rockaway Beach.
Whether Blake's claims are true remains unknown, and how their paranoid fears played into their deaths can never be fully understood. Today, however, artists and bloggers alike remain interested in Blake's unfortunate demise. Bjarne Melgaard, for example, continues to make art devoted to the suicides of Duncan and Blake.

RELATED LINKS
Art 101: How to Dress Like 15 Famous Artists for Halloween