There has been a lot of bickering about what Conceptual art is/was; who began it; who did what when with it; what its goals, philosophy, and politics were and might have been. I was there, but I don ' t trust my memory. I don ' t trust anyone else ' s either. – Lucy Lippard, "Escape Attempts"
The term "concept art" was coined by Henry Flynt in a 1961 essay to describe "an art of which the material is 'concepts,'" going on to state that, "concept art proper will involve language." Was this new term known to the artist practitioners of the time themselves? Curator and writer Lucy Lippard thinks not in her essay "Escape Attempts," adding that Flynt's term was "in any case a different kind of 'concept'—less formal, less rooted in the subversion of art-world assumptions and art-as-commodity." To Lippard, the term conceptual art means "work in which the idea is paramount and the material form is secondary, lightweight, ephemeral, cheap, unpretentious and/or 'dematerialized.'" Lippard does not deny conceptual art material form (yes, it can even involve paint) and by stressing the importance of the "idea," she keeps conceptual art open to language-based work.
SEE ALSO: Conceptual Art for Sale
"The label conceptual art is simplistic and misleading," art dealer, curator, and writer Seth Siegelaub said of conceptual art during a 1973 interview with Michael Claura for the French magazine XXe si è cle . After decrying the impossibility of categorizing so many artists under one umbrella, Seigelaub allows that "a global description would be that these artists are engaged in an art whose principal characteristic is the predominant use of language." He went on to elaborate that, "in a certain sense, conceptual art could be defined" as:
Painting                                        The Novel
_______                                        _________
Conceptual Art                                   Journalism
Sol LeWitt wrote "Paragraphs on Conceptual Art" for Artforum in 1967 and, like Lippard, focused on the "idea": "What the work of art looks like isn't too important. It has to look like something if it has physical form. No matter what form it may finally have it must begin with an idea. It is the process of conception and realization with which the artist is concerned." Of course, he added, "Conceptual Art is only good when the idea is good."
Others attempt to break it down further. "Generally speaking, it may be in one of four forms," explains Tony Godfrey in his survey on conceptual art—namely: the readymade, intervention, documentation, or words.
Does anyone agree on what exactly conceptual art is? Not in absolute terms, but that's kind of the point. That Lippard and Siegelaub—two of conceptual art's most important proponents—have differing parameters for it hints to the movement's subversive intentions.
BEGINNINGS
Marcel Duchamp, Bottle Rack (1914/1959). Image via Art Institute of Chicago.
Conceptual art developed partly as an adverse reaction to Modernism , specifically to the formalist strictures hammered in by Clement Greenberg , who championed flat abstract painting. Minimalism also fought Greenberg's orthodoxy at the same time as conceptual art—by rejecting the Modernist idea of painting and instead working with industrial materials—but contained the dialogue within the gallery system. Conceptual art sought to work outside of the gallery and the art world.
Marcel Duchamp is an oft-mentioned precursor to conceptual art, particularly in regards to his readymades, like Bottle Rack (1914) or Fountain (1917), which questioned both the monetary value placed on art as well as the aesthetic judgement. Duchamp also initiated the focus on documentation over the "final" artwork by, in 1934, exhibiting his notes and photographs for his The Bride Stripped Bare by Her Bachelors, Even ( Large Glass) (1915-23) as artworks in their own right.
Early conceptual works were not only in the visual arts but also in music, most significantly John Cage 's 4 ' 33 " (1952), in which the performer sits at the piano for four minutes and 33 seconds in the silence of the room.  There is, of course, no "silence" but rather, Cage's reliance (expectation) of the audience's participation in listening. The importance of the viewer/audience as participant—that only through that participation could a work exist—became a tenet of conceptual art.
DESTRUCTION
Robert Rauschenberg, Erased de Kooning Drawing (1953). Image via robertrauschenberg.org
It was through Cage's contemporary, Robert Rauschenberg 's Erased de Kooning Drawing , 1953, that art historian Leo Steinberg , "suddenly understood that the fruit of an artist's work need not be an object."
Conceptual creation through destruction was also utilized by John Latham in 1966 when he (along with the artist Barry Flanagan) chew up pages of a library copy of Greenberg's anthologized essays, Art and Culture , only to return the masticated texts to the St. Martins School of Art library in vials years later. Another example is John Baldessari 's 1970 Cremation Project, in which he destroyed his paintings made between May 1953 and March 1966 at a crematorium, producing cookies out of the ashes, which were accompanied by documentation.
DOCUMENTATION
Mel Bochner, "Working Drawings..." (1966). Image via MelBochner.net
The use of documentation of artistic processes as artworks in and of themselves was a foundational conceit of conceptual art. For what many consider to be the first conceptual art exhibition, Mel Bochner curated a show at the School of Visual Arts in 1966 titled "Working Drawings and Other Visible Things on Paper Not Necessarily Meant to Be Viewed as Art" in which he presented xeroxed copies of papers submitted by other artists in binders that he set on plinths in the middle of the gallery. While proclaiming the non-artness of the documents, Bochner presented his non-art in traditional gallery fashion in order to challenge the perceptions of what constitutes art, exactly. If something is presented as art in a gallery setting, deals directly with art, but is declared by its presenter to not be art, is it art?
BOOKS AND MAGAZINES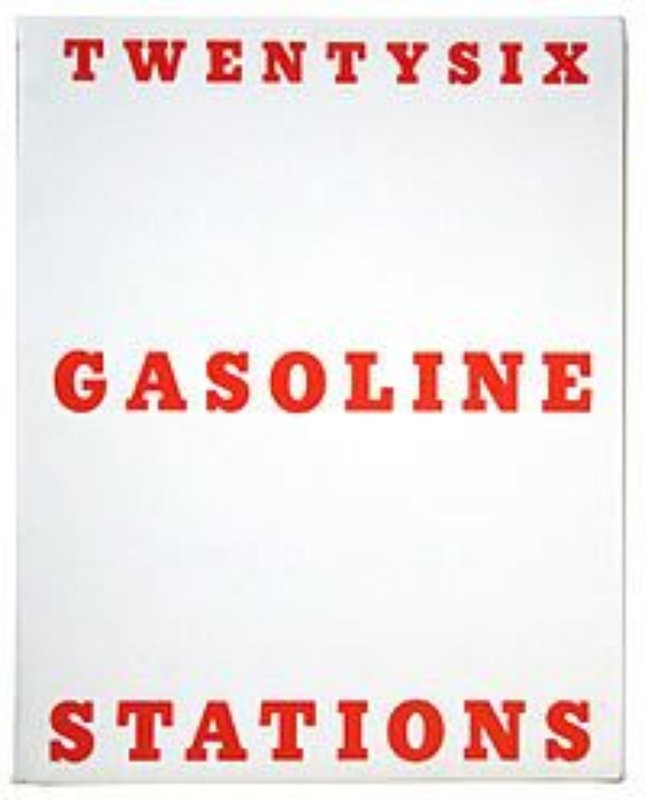 Ed Ruscha, Twenty-Six Gasoline Stations is available on Artspace for $2,500
As early as 1962, Los Angeles artist Ed Ruscha published his Twenty-Six Gasoline Stations . The conceptual work was a book comprised of black-and-white photographs of 26 gas stations. It was not a precious artist's book , and the photographs did not exist as art apart from the book. The unglamorous, mass-produced (the first printing was an edition of 400) book was the artwork.
Other early moments in conceptual art also utilized mass-produced publications, particularly arts magazines. In 1966, Mel Bochner, along with Robert Smithson , made the first "magazine intervention" piece. A response to gallerists requesting reproductions of artwork instead of taking the time to visit the artists' studios and see the work itself, "The Domain of the Great Bear" (Fall 1966, Art Voices )—an eight-page fictional account of an artwork created in the Hayden Planetarium—was intended to bypass the galleries and exist solely as a reproduction. The intention was subversive or, as Bochner has written, "to plant an intellectual time bomb inside the art system's machinery."
Currently best known for his pavilions , Dan Graham also used magazine intervention. His Homes for America (1966-67) used the ephemerality and simultaneously mass-produced/audience-specific qualities of an arts magazine as his medium.
LANGUAGE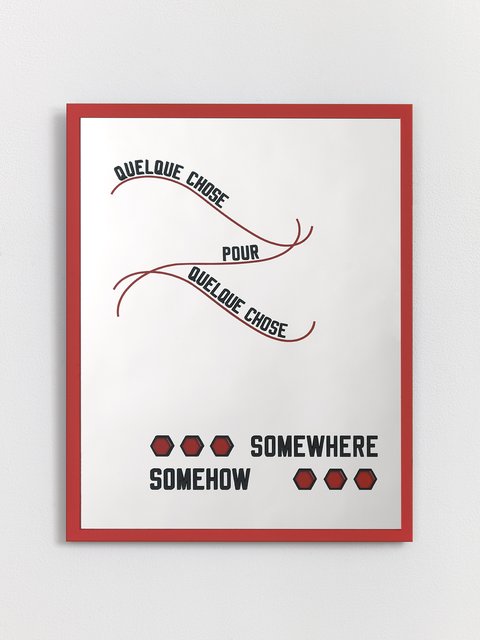 Lawrence Weiner, Quelquechose pour quelquechose, is available for $3,880 on Artspace
It has been said that conceptual art was an approach for the thinking artist. Proof of this is the quantity—and highly analytic quality—of writing on conceptual art by the so-called "Conceptual Artists" themselves (not that any of them accepted the label—except for Joseph Kosuth ). It makes sense therefore, that many early conceptual works were indeed language-based.
An influential collective of English artists, Art & Language was started in Coventry, England, in 1968 by Terry Atkinson , David Bainbridge , Michael Baldwin, and Harold Hurrell as a journal of conceptual art. The intention was, as art historian Thomas Crow explains in The Rise of the Sixties , "to create the necessary intellectual framework in which their ambitions could be understood, even if this mean suspending the actual making of art for the duration." Kosuth became the American editor of Art & Language in the '70s. The group somewhat disbanded in the late '70s, although it continues today with Baldwin and Ramsden and now includes traditional media.
Language as medium also allowed for new approaches to painting and sculpture, and Lawrence Weiner famously uses works as the medium for his sculptures, which require the participation of the viewer to be realized in thought .
Painting did exist within certain conceptual practices beginning in the late '50s and '60s, notably in the work of the late On Kawara , whose "date" painting simply consist of the calendar date of the work's execution painted on canvas, rendered in the language of the place it was made. If the work was not completed by the midnight of the day it was begun, it was destroyed. In "Art After Philosophy," Kosuth described Kawara's use of paint as "a pun on the morphological characteristics of traditional art, rather than an interest in painting 'proper.'"
BEYOND THE U.S. AND U.K.
Many important Conceptual art practitioners were in Europe, like Yves Klein in France and Piero Manzoni in Italy was before their untimely deaths. (Fun note: Manzoni began to "sign" people as art of his practice, one signee being artist Marcel Broodthaers ).
Jan Dibbets and Reiner Ruthenbeck (who was a student of Joseph Beuys 's at the Düsseldorf Academy ) made innovations in the used and disjointing of image and text.
Other artists, like Daniel Buren , used interventions. For Buren this meant placing pieces of  paper with painted stripes 8.7 cm wide, alternating white and a color, in various locales inside and outside. A practice he continued for years, "without any evolution or way out."
PERFORMANCE
Intervention could also relate to the performance elements of conceptual art—and their blurring of public/private space and viewer/participant—which in turn related to the early "Happenings" ( Allan Kaprow coined the term "Happenings" which he first staged in 1959) and early Black Mountain performances by Rauschenberg, Cage, and Merce Cunningham . Later, artists included Adrian Piper and Vito Acconci . (Piper has of course also written Conceptual texts as well as as volumes of critical theory.)
OTHER MOVEMENTS
Concurrent to conceptual art was the Italian conceptual movement arte povera , so named in 1967 by curator Germano Celant, which included artists like Alighiero Boetti , Mario Merz , and Guilio Paolini .
Many conceptualists like Kaprow , Yoko Ono , and Nam June Paik became involved in the Fluxus movement, influenced by John Cage and Dada.
IS CONCEPTUAL ART DEAD?
Surprising even its most ardent supporters, conceptual art found a place in the art market as early as the 1970s. Many believed that this art-world acceptance and market success equated the end of conceptual art.
Lucy Lippard laments in the postface to Six Years: The Dematerialization of the Art Object, 1966 to 1972 : "Hopes that 'conceptual art' would be able to avoid the general commercialization, the destructively 'progressive' approach of modernism were unfounded. It seemed in 1969 that no one, not even a public greedy for novelty, would actually pay money, or much of it, for a xerox sheet referring to an event past or never directly perceived, a group of photographs documenting  an ephemeral situation or condition, a project for work never to be completed, words spoken but not recorded; it seemed that these artists would therefore be forcibly freed from the tyranny of a commodity status and market-orientation. Three years later, the major conceptualists are selling work for substantial sums here and in Europe."
Joseph Kosuth also bemoans, "Had we known that its death would have come from acceptance, perhaps many of us would have appreciated (for as long as it continued) that the hostility and extreme defensiveness that marked its public greeting was paradoxically its life support system."
Conceptual art's prime years—some say "lifespan"—are generally considered to be 1966-72.  Extensions of the movement included Post-Conceptualism of the '70s and '80s ( Sherrie Levine ),  and Neo-Conceptualism of the '80s and '90s ( Damien Hirst and the YBAs). Of course, while the original period of the so-called "Conceptual Artists" may be consigned to the history books, countless artists incorporate conceptual approaches into their work today—suggesting that the legacy of movement chronicled by Lippard continues to extend and evolve around the globe.
[conceptual-module]