If you haven't heard of the new movie Uncut Gems you've probably been living under a rock (hopefully a shiny, precious one). Everyone seems to be buzzing about the anxiety-inducing crime thriller, directed by the acclaimed Safdie brothers and starring Adam Sandler. In the film, Sandler's character—a New York City jeweler and a gambling addict—attempts to turn a profit by auctioning off a rare opal at an upscale auction house. Inspired by the tale, we've decided to examine some real-world examples of when gems struck it big at auction.
But first, let's break down what a gemstone is. Gemstones are naturally occurring mineral crystals that are extracted from the earth, cut, and polished to make jewelry and other decorations. Their value is determined by chemical composition, refraction, color characteristics, size, durability, and rarity. Pretty, sparkling stones have beguiled mankind since, well, forever. The gem Zircon appears in the Bible as one of the first 12 jewels worn by the high priests of Israel, and the distinction between precious and semi-precious stones dates back to Ancient Greece.
Clearly, the major luxury art form is nothing new, and yet, records are constantly being broken due to unique geologic conditions leading to novel discoveries. As we mourn the lack of Oscar nominations Uncut Gems received this awards season—and because we love looking at shiny things—here's a dazzling list of 9 groundbreaking auction records set by gemstones throughout history.
TAYLOR-BURTON DIAMOND
Sale Price: $1,050,000
Parke-Bernet, 1969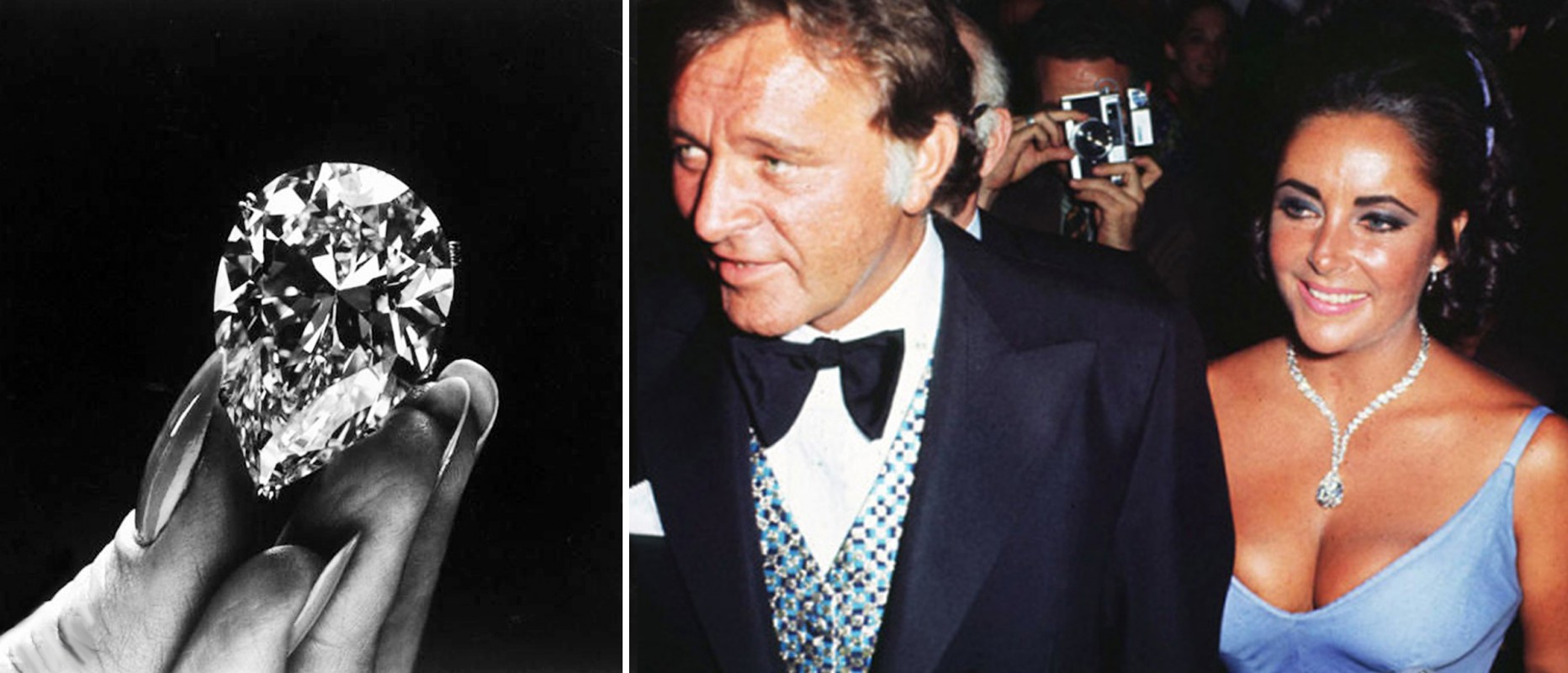 Image via thestoneset.com
Weighing in at 69.42 carats, this diamond was the first gemstone to fetch a price of over one million dollars at auction, setting a record value for a publicly sold jewel. Although actors Richard Burton and Elizabeth Taylor were originally underbid by Cartier at the 1969 Parke-Bernet auction, Burton bought the stone from Cartier the next day, agreeing to let the jeweler display the diamond in its showroom for one week. Crowds gathered daily to view the stone due to its revered owners, making this the first "celebrity" gem auctioned off as well.
PINK STAR DIAMOND
Sale price: $71.2 million
Sotheby's, 2017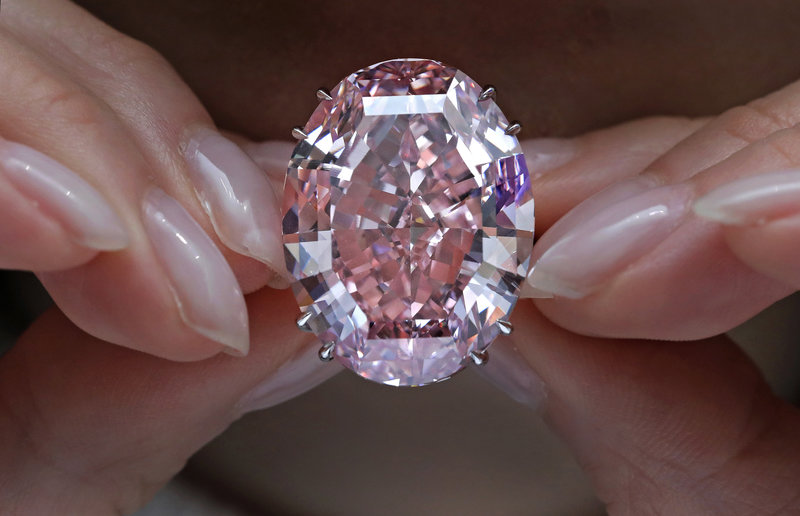 Image via npr.org
Formerly known as the Steinmetz Pink, the Pink Star—a 59.60-carat oval mixed cut diamond—became the world's most expensive diamond when it sold at Sotheby's in Hong Kong on April 4th, 2017 for $71.2 million. According to the Gemological Institute of America (GIA), a nonprofit institute that maintains the standards used to appraise gemstones in an effort to protect all buyers and sellers in the market, the Pink Star is the largest "Internally Flawless Fancy Vivid Pink" diamond that they've ever graded. Renowned jeweler Chow Tai Fook purchased the jaw-dropping rock to celebrate the conglomerate's 88th anniversary.
THE ROCKEFELLER EMERALD
Sale Price: $5.5 million
Christie's, 2017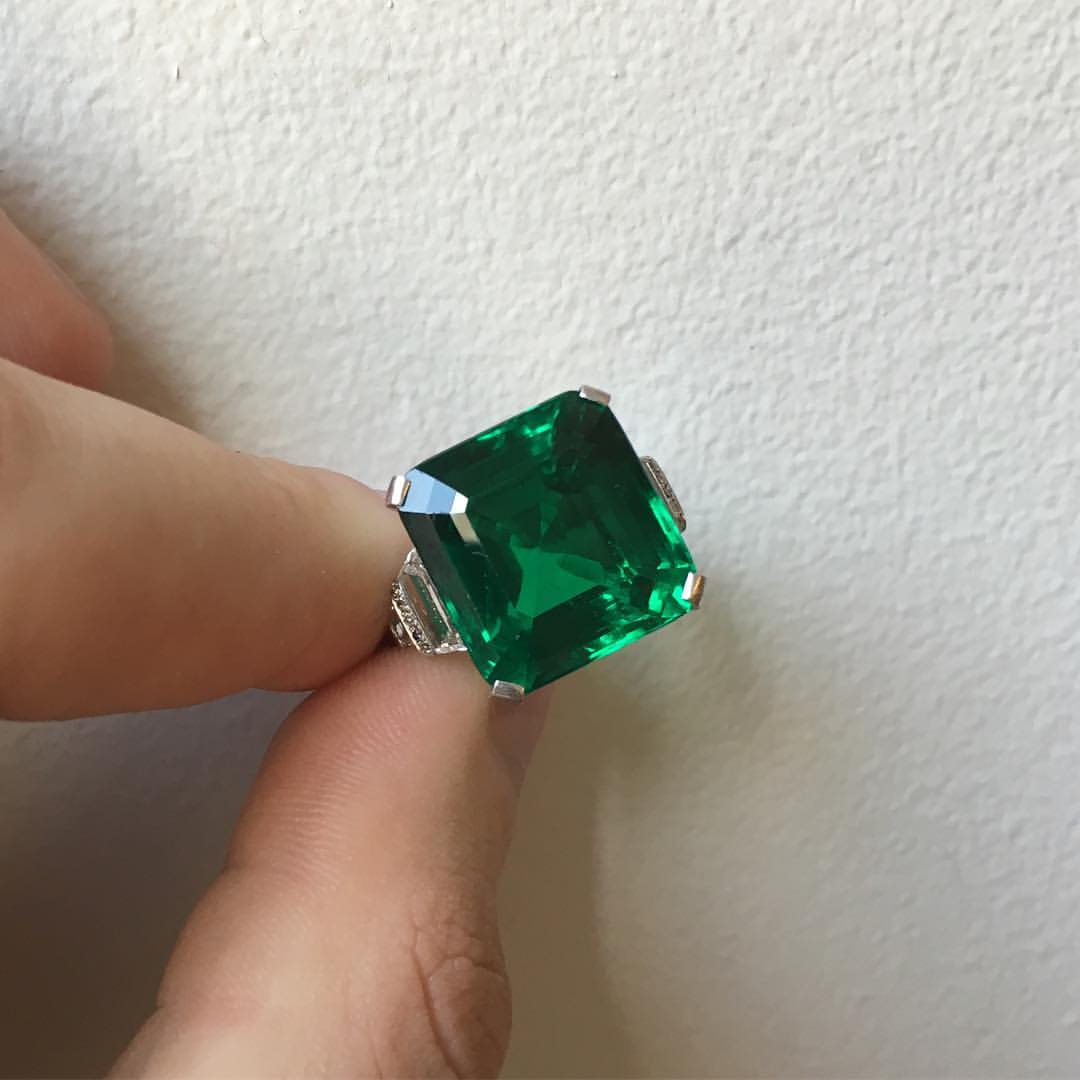 Image via londonde.com
When Harry Winston's CFO Robert Scott was bidding on the Rockefeller Emerald at a 2017 auction at Christie's New York, the famed jewelry house's CEO Nayla Hayek instructed him to "bring the magnificent gem home at any price," according to the Telegraph. That price ended up being $5.5 million, shattering the world record for price-per-carat for an emerald sold at auction (the rock weighed 18.04 carats). Originally purchased by John D. Rockefeller Junior in 1930 for his wife, the stone is a Colombian emerald, one of the most prized emeralds due to their color, flawless clarity, and rarity.
THE SUNRISE RUBY
Sale Price: $30.42 million
Sotheby's, 2015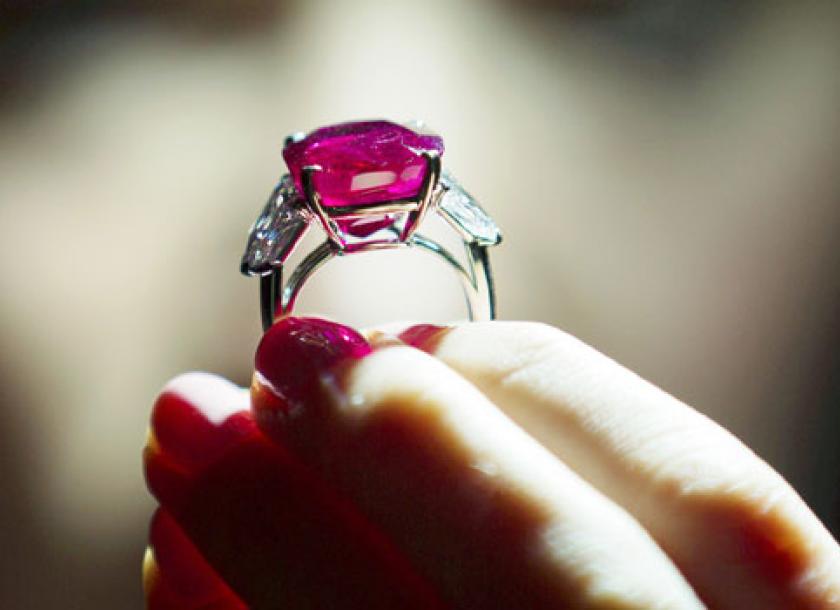 Image via mmtimes.comOriginally estimated to be worth between $12 million and $18 million, the Sunrise Ruby, a 25.59-carat Burmese ruby, exceeded all expectations when it sold at Sotheby's Geneva in 2015 for the record-setting price of $30.42 million, making it the world's most expensive ruby. The color of the stone, which has been described as "pigeon blood red", along with its quality, is usually only seen in smaller crystals, which is why the gemstone is a true rarity. The precious gem's name is based on a poem written by the Sufi poet Rumi.



BLUE BELLE OF ASIA
Sale Price: $17.3 million
Christie's, 2014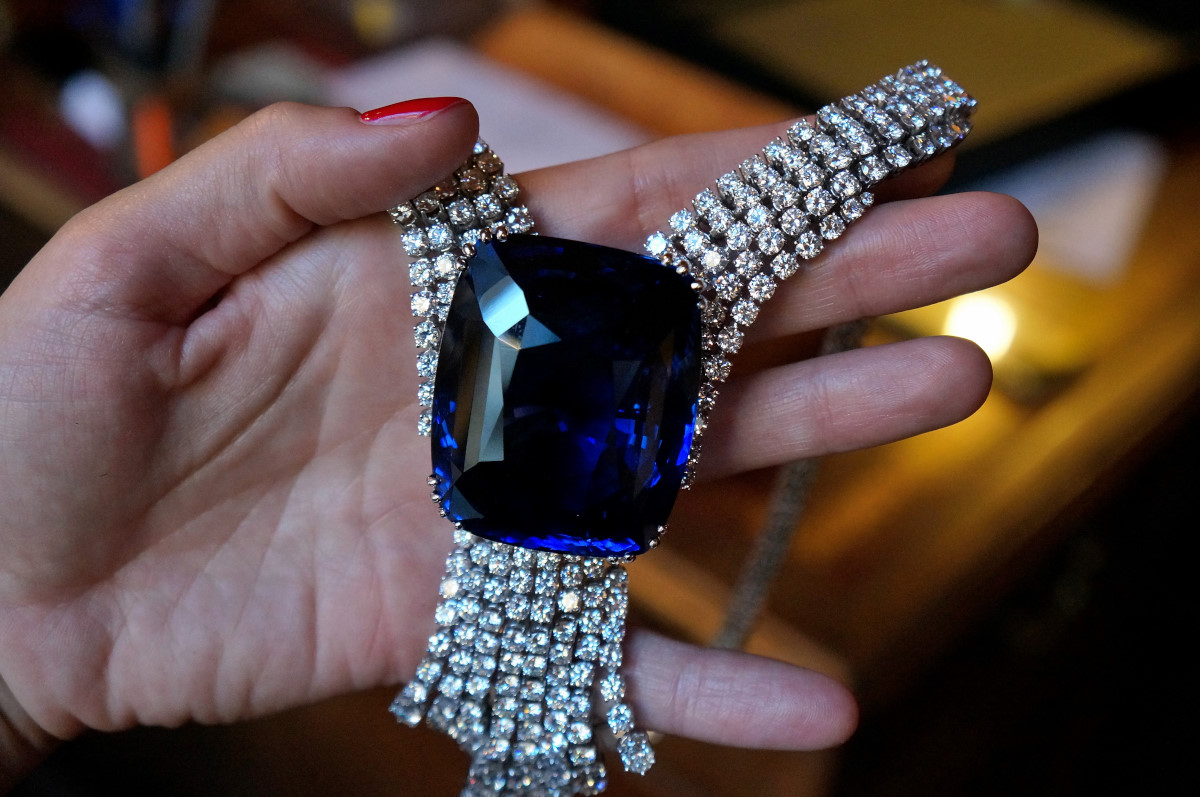 Image via sensualsapphires.com
Earning the title of the world's most expensive sapphire when it sold for over $17 million at Christie's Geneva in November 2014, the stunning Blue Belle of Asia also boasts the fourth-largest faceted blue sapphire in the world. The 392-carat, cushion-cut stone was discovered in 1926 in Sri Lanka's city Pelmadula, Ratnapura, also known as "The City of Gems." Allegedly, automobile magnate Lord Nuffield purchased the rare sapphire in 1937 with the intent of gifting it to Queen Elizabeth II at her coronation ceremony that year, but the jewel faded into private hands for the next 35 years before reappearing for sale in 2014 by a Saudi collector.
MARIE ANTOINETTE'S PEARL
Sale Price: $36 million
Sotheby's, 2018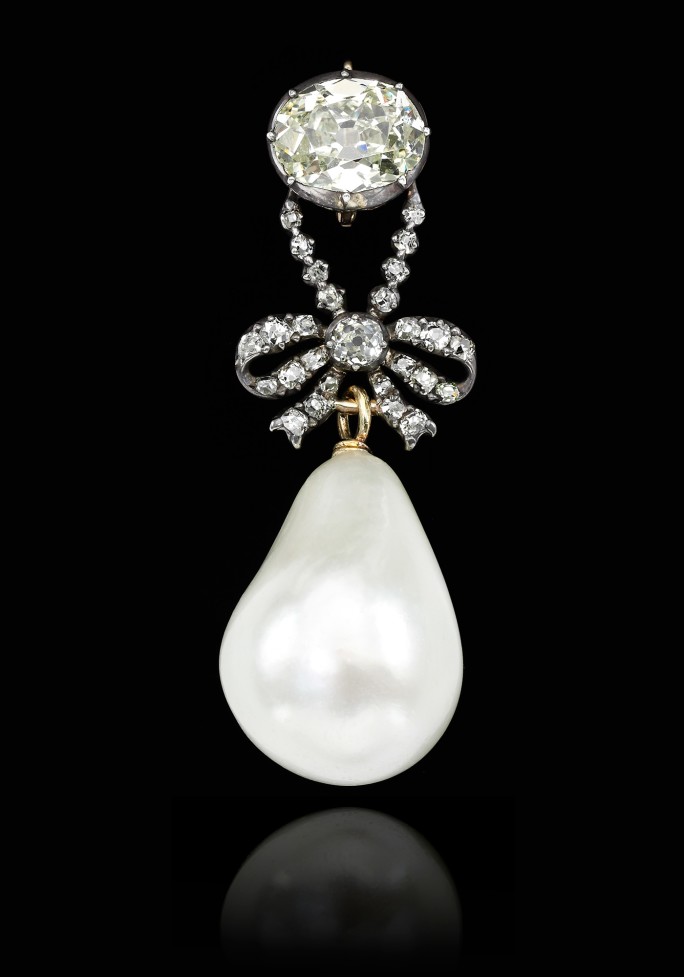 Image via sothebys.com
Although a pearl is not technically a gemstone by definition since it's not a mineral (it's a combination of the mineral Aragonite and the organic compound conchiolin), it's typically considered one—often referred to as "the queen of gems and the gem of queens." This diamond and pearl pendant that sold for roughly $36 million at a 2018 Sotheby's auction in Geneva was certainly the queen of gems, having belonged to the iconic French Queen Marie Antoinette. The sale achieved a new world record for a natural pearl sold at auction.
THE ORANGE
Sale Price: $35,540,612
Christie's, 2013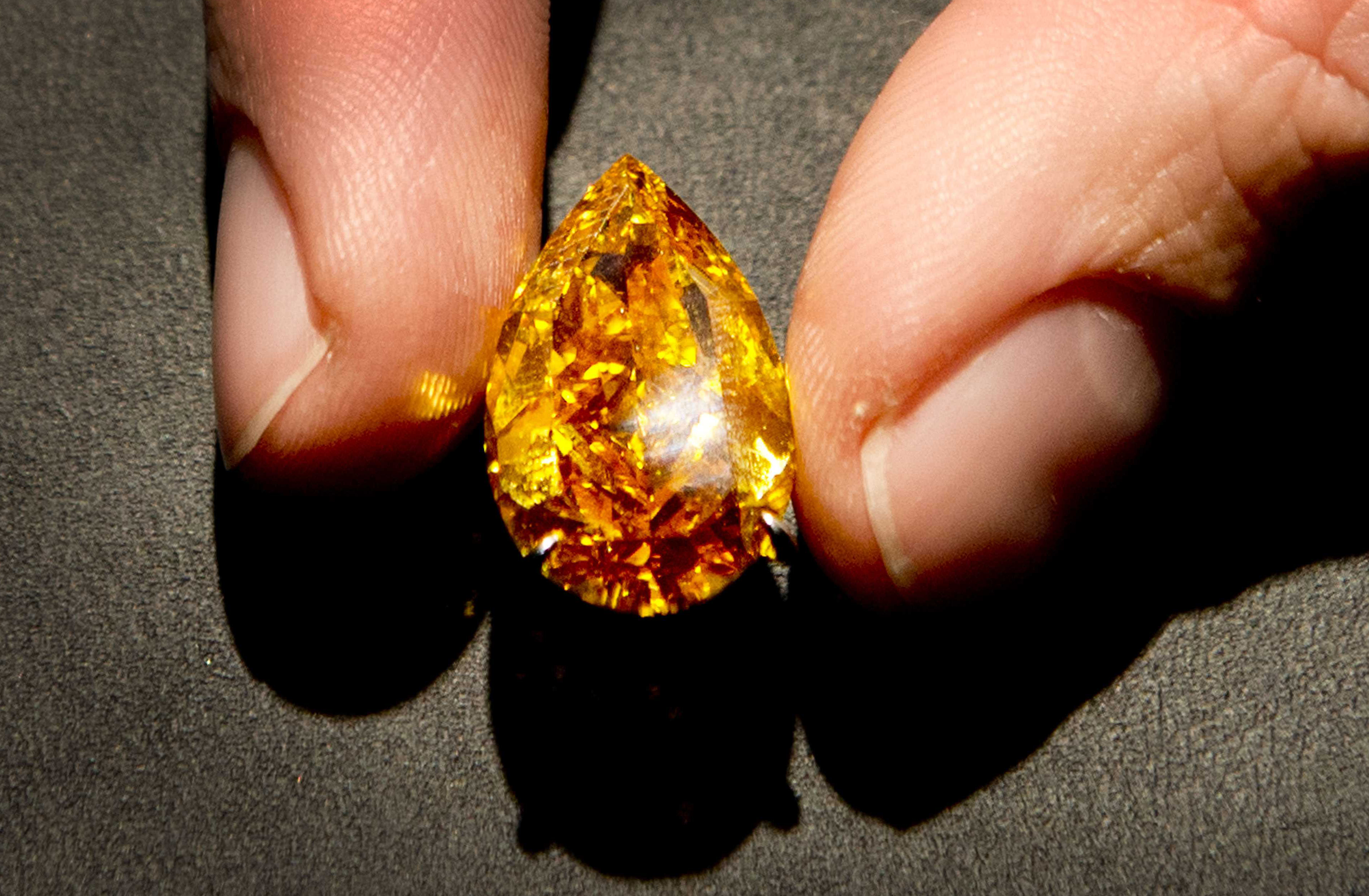 Image via reddiam.com

When Christie's Geneva auctioned off the largest fancy vivid orange diamond ever found in November 2013, the stone set two world records, one was for price per carat achieved at auction for any colored diamond (it sold for $2.4 million per carat), and the other was a world record price for an orange diamond. The diamond's pumpkin color, which results from the presence of nitrogen during the diamond's creation, is exceptionally rare. International head of Christie's Jewelry Department said, "Time and again, a stone will appear on the market that is truly a miracle of nature… The 14.82-carat orange diamond is one such a stone, a rare gem, which will perhaps only be seen once in a lifetime."
HOPE SPINEL
Sale Price: $1.4 million
Bonhams, 2015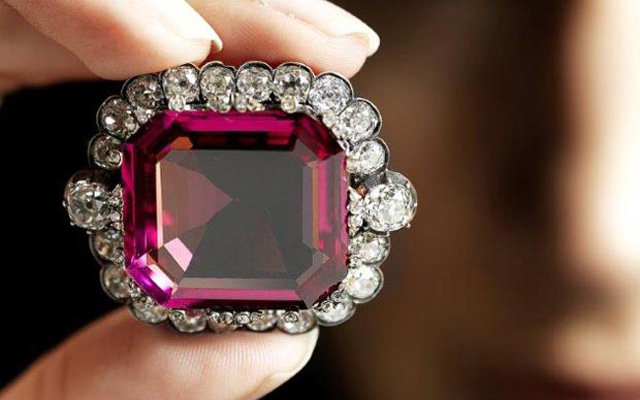 Image via pursuitist.com
With a presale estimate of $300,000, the 50.13-carat Hope Spinel sold for nearly five times as much at Bonhams London Fine Jewelry Sale in 2015, setting a world record for the rose-hued gemstone at auction. The Hope Spinel belonged to the London banker Henry Philip Hope, whose impressive collection included roughly 700 gems. Due to the stone's transparency, flawless cut, color, and size, the Swiss Gemological Institute has classed the gem as an "exceptional treasure." Although large red spinels have historically been mistaken for rubies due to their color, the lesser-known gemstone is often more transparent with fewer inclusions, adding to their value.
BLUE MOON OF JOSEPHINE
Sale Price: $48.4 million
Sotheby's, 2015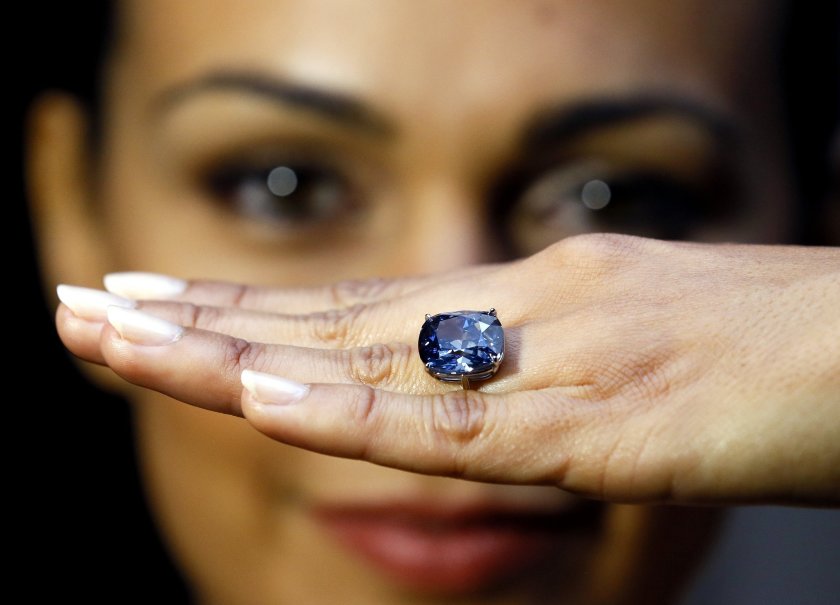 Image via latimes.com
Discovered in South Africa in January 2014, the Blue Moon of Josephine was sold at a 2015 Sotheby's Geneva auction for the price of $48.4 million, setting a new record price at the time for any gemstone achieved at auction. The 12.03-carat, cushion-shaped, "fancy vivid" blue diamond—described as flawless by experts—was bought by Hong Kong billionaire Joseph Lau, who named the gem after his 7-year-old daughter Josephine. A day before the major purchase, he spent $28.5 million at Christie's buying a rare pink diamond which he named Sweet Josephine, also after his daughter.
[Gems-module]
RELATED ARTICLES:
7 Cutting-Edge Voices in Contemporary Jewelry
10 of the Most Epic, Record-Shattering Masterpieces Ever to Sell at Christie's Auction House