If it seems like there's much ado about NADA in this time of year, then this quick primer on the indie Miami Beach art fair is for you. Read on to find the answers to all your burning questions, and don't forget to check out out exclusive preview of the fair here before you make the pilgrimage down to the Sunshine State.
What is NADA?
NADA stands for "New Art Dealers Alliance." The not-for-profit collective was founded in 2002 by Sheri Pasquarella of SLP Art Culture Commerce along with John Connelly (now of Connelly & Light), Zach Feuer (now of Feuer/Mesler and Mesler/Feuer ), and Zach Miner (now of Phillips de Pury & Company) to help the younger generation of gallerists form relationships and begin dialogues around the issues of art, culture, and commerce through mutual support and special events.
Wait, I thought this was an art fair. What gives?
It is an art fair! In addition to being a vital support system for gallerists and the artists they work with, NADA also puts on annual fairs in New York, Cologne, and in Miami Beach. Over the past 12 years, these fairs have established themselves as some of the most pathbreaking and energetic bellwethers on the international circuit—must-sees for both art-world cognoscenti and adventurous amateur aesthetes.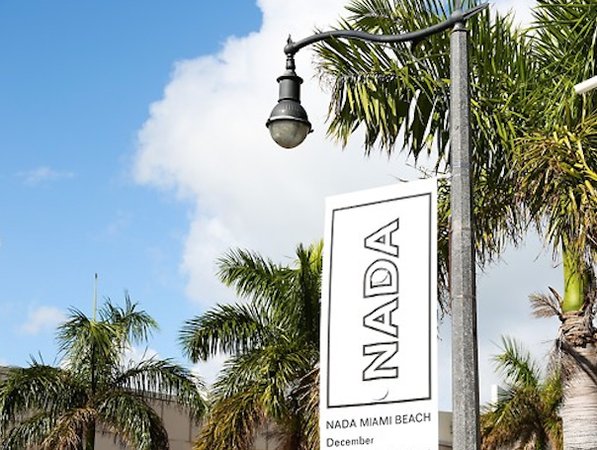 What makes NADA Miami Beach different from other art fairs?
Besides its youthful vigor and unpretentious approach to the art world, NADA prides itself on fostering community rather than competition. (As they say in their mission statement: "We believe that the adversarial approach to exhibiting and selling art has run its course.") To this end, they focus on building bridges between both commercial and nonprofit spaces to bring contemporary art to an ever-widening audience.

Who goes to NADA?
The short answer is "everyone." In contrast to other fairs that cultivate an air of icy exclusivity, NADA maintains an open and welcoming atmosphere for anyone interested in the latest in contemporary art across all media. You can expect to see everyone from top-tier collectors and world-class museum curators to art students and curious passersby. Given its focus on cutting- edge art and artists, NADA does tend to attract a younger crowd, creating the fair's dynamic character.
What should I wear to the fair?
As previously noted, NADA maintains a more casual approach to the art business. This sensibility is well reflected in the dress at the fair, which ranges from shorts and flip flops (this is Miami Beach, after all) to more typically formal art-world attire (relatively rare). If you really want to dress the part, you can't go wrong with black jeans or slacks, a black t-shirt, a smart (black) blazer, and some colorful sneakers.
What can I expect to find at NADA?
Prepare yourself to see works by the most trailblazing emerging artists from around the world, booths by over 100 international galleries, and a funky, friendly, and art-conscious crowd. Whether you're starting or expanding your contemporary art collection or just looking to get some insight into the art world, you should be ready to have a memorable time.