What's better than visiting an art museum packed with breathtaking art? Well how about visiting an art museum packed with breathtaking art in an equally breathtaking setting? Not only does a stunning landscape elevate a museum (sometimes literally) and create an exciting or interesting interplay between the art and environment, but it makes the destination an attraction in itself—before you even step foot inside the actual museum—making us art tourists feel like we scored the ultimate two-for-one deal. So, if you want to experience an art museum set within a natural masterpiece, be sure to add these 7 locations to your travel list in 2020.

LOUISIANA MUSEUM OF MODERN ART
Humlebæk, Denmark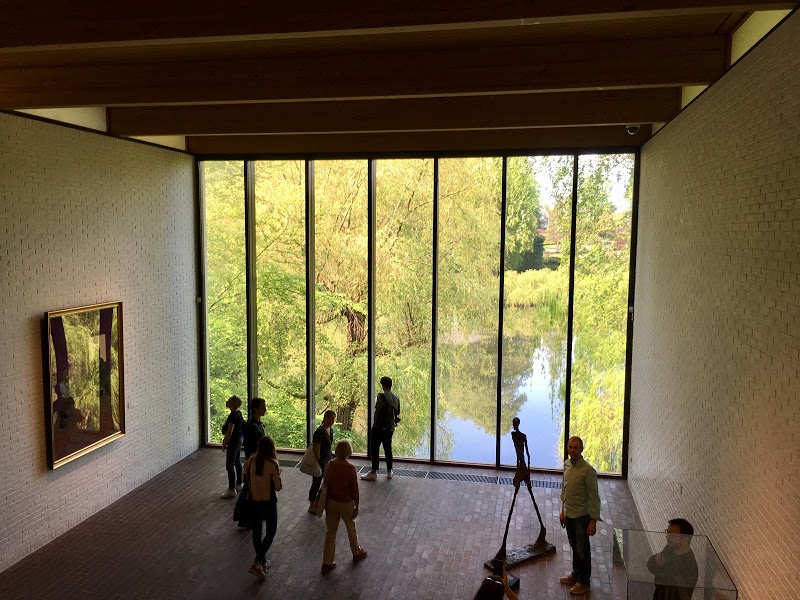 Image via airbnb.com
Located on the shore of the Øresund Sound, about 22 miles north of Copenhagen, the Louisiana Museum of Modern Art is one of the most visited art museums in the world. Besides its extensive collection of post-war art—including works by Roy Lichtenstein, Andy Warhol, Pablo Picasso, Yves Klein and Robert Rauschenberg, the popularity of this museum might have something to do with the fact that it sits on a sloping plateau that leads towards a beautiful sparkling sea. Large ancient specimen trees hover around an exquisitely landscaped sculpture garden, featuring works by Alexander Calder, Louise Bourgeois and many more. A favorite gallery in the museum is the Giacometti Gallery—the two-floor exhibit is filled with Alberto Giacometti's spectacular sculptures.
THE INHOTIM INSTITUTE
Brumadinho, Brazil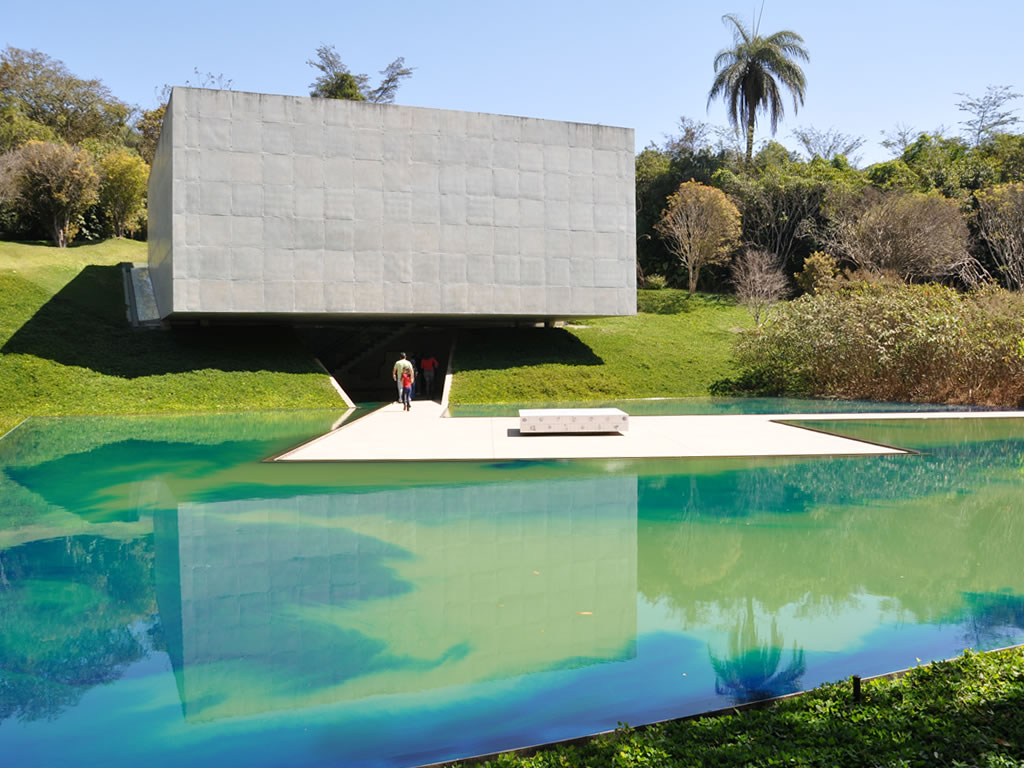 Image via artzealous.com
Opened in 2006 by former mining and steel magnate Bernardo Paz, the Inhotim Institute houses Paz's art collection—which is one of the largest in Brazil—and is set in a 5,000 acre botanical garden, one of the largest botanical collections in the world. New York-based artistic director Allan Schwartzman, who helped build up the collection, has called it "one of the great curatorial opportunities of our time." And he's not wrong. The vast art oasis includes works from Doug Aitken, Matthew Barney, Yayoi Kusama, Anish Kapoor, Steve McQueen, and many more. You might also want to visit because it's the only place in Latin America where you can see the Carrion Flower, known for being the biggest in the world.
MUZEUM SUSCH
Zernez, Switzerland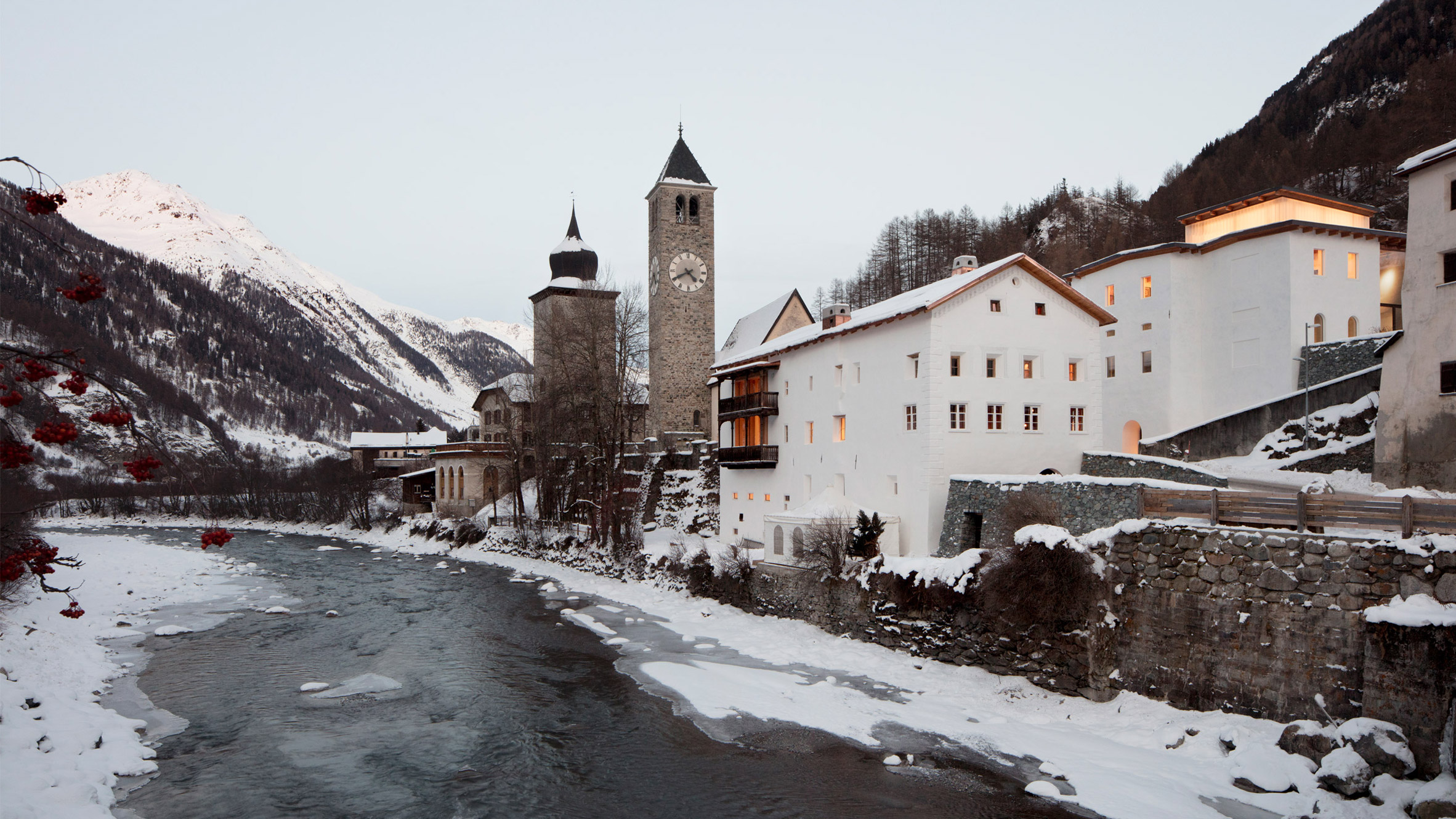 Image via dezeen.com
Although this museum opened just a year ago, in January 2019, it's already made a huge impression on the public—earning a spot on TIME's 2019 list of the World's 100 Greatest Places. The Muzeum Susch occupies a 12th century monastery and brewery that sits in the valley of the river Inn, surrounded by the Alpine mountains. Founded by the Polish entrepreneur Grazyna Kulczyk, the museum's collection is largely informed by a deep understanding and commitment to women artists, and a focus on Central Eastern European art that remains underrepresented in Europe. The gallery space constitutes 1,500 square meters exhibiting both permanent artworks and a regular program of curated, temporary shows. Several of the permanent site-specific pieces engage directly with the natural mountain rock landscape and include works by artists like Monika Sosnowska, Miroslaw Balka, and Adrian Villar Rojas.
NAOSHIMA ART ISLAND
Naoshima, Japan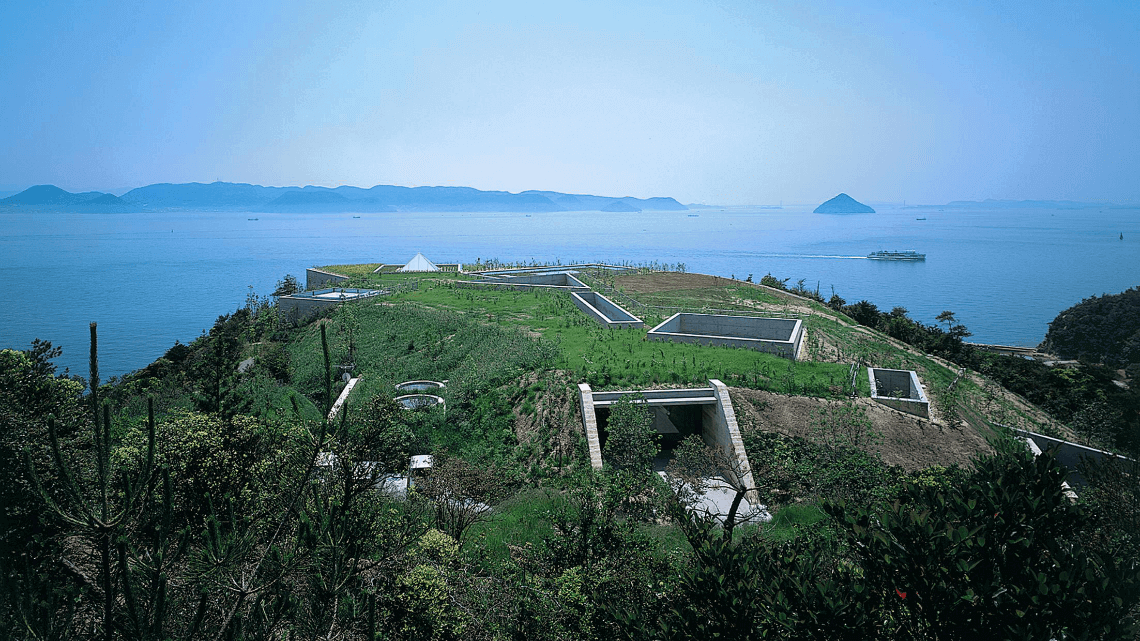 Image via boutiquejapan.com
Ok, so we might have cheated here and snuck in a couple of museums in the same locale, but it's impossible to choose just one art museum set into this jaw-dropping landscape since the entire tiny island of Naoshima is filled with incredible art. Tadao Ando serves as the island's creative director, and he designed most of the island's structures as well. From Chichu Art Museum, set mostly underground and showcasing Claude Monet's water lily paintings, to Benesse House, a museum-hotel that houses works by David Hockney, Gerhard Richter and more—to Yayoi Kusama's iconic pumpkin sculpture resting by Miyanoura Port—you'll feel like you're in a dream when visiting this surreal island. Views of the sweeping Seto Inland Sea also add to the magic of Naoshima.
BAKSI MUSEUM
Bayburt, Turkey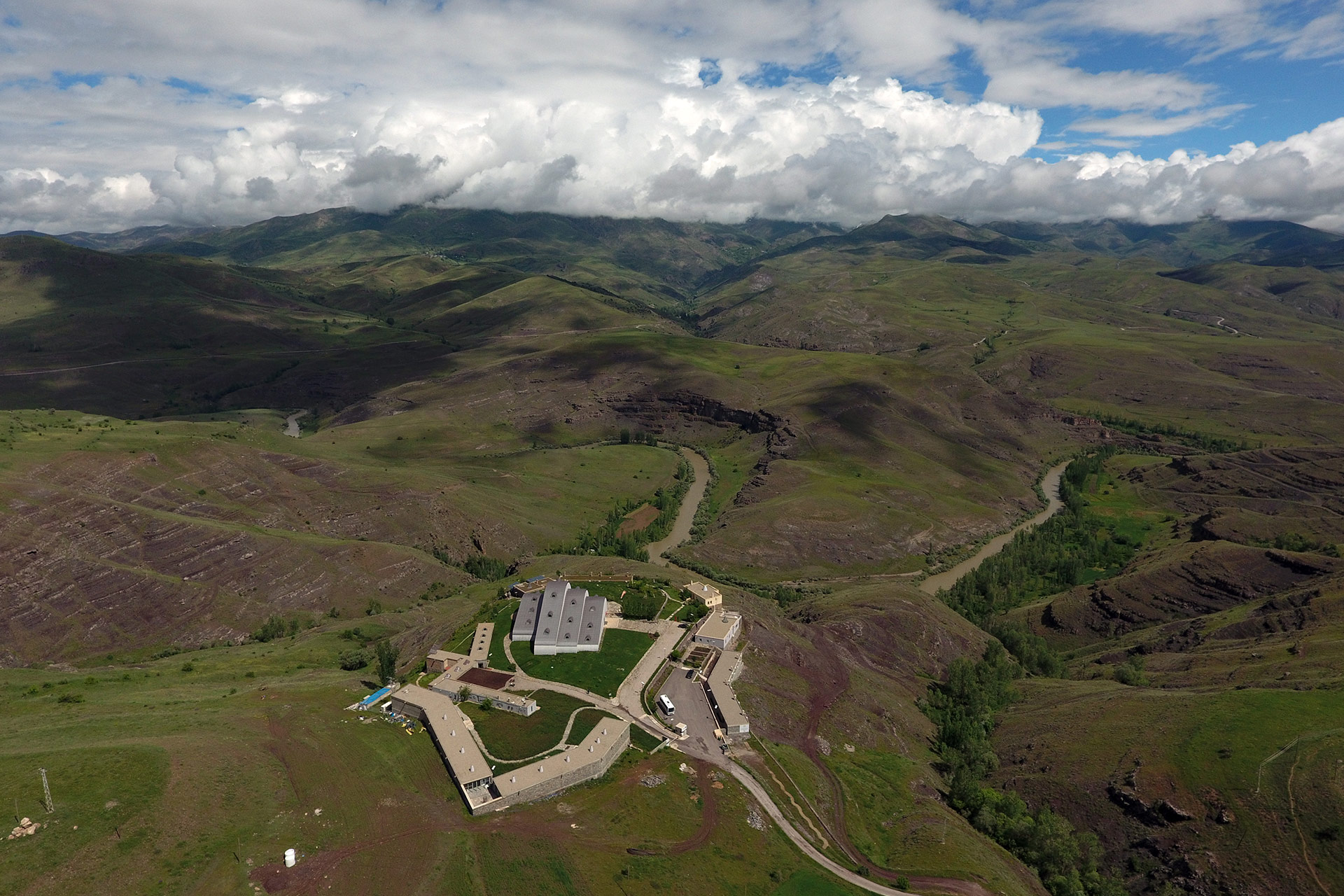 Image via baksi.org
Perched on a hilltop overlooking the Coruh Valley and the Black Sea is the Baksi Museum, an institution that exhibits contemporary art, folk paintings, and local crafts. Because migration in the region has contributed to the loss of culture and cultural isolation, the Baksi Museum aims to revive cultural traditions and contemporary lifestyles. Thus, artists in the permanent contemporary art section have used "tradition and art" as their influence, producing a range of works including sculpture, painting, video and installation. In 2014 the museum was awarded the Council of Europe Museum Prize, and now exhibits a bronze statue by Joan Miró as a symbol of this award.
THE MUSEUM OF OLD AND NEW ART (MONA)
Tasmania, Australia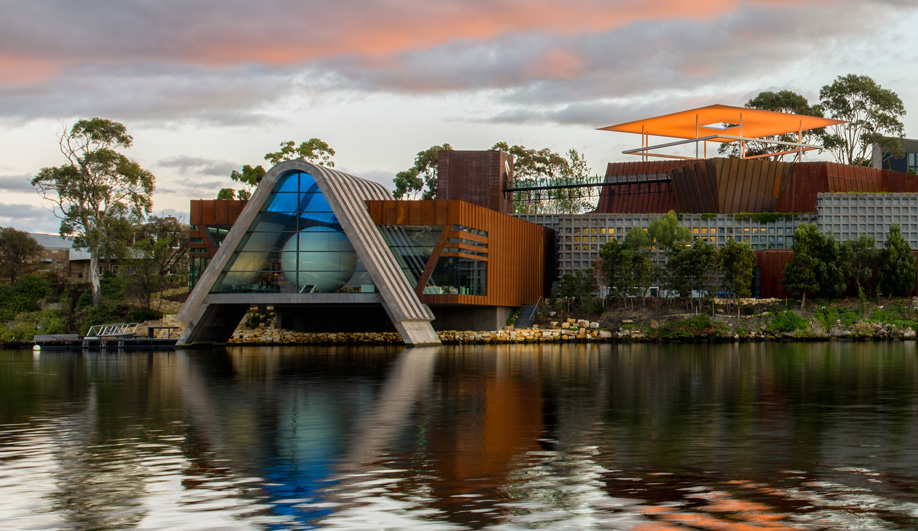 Image via azuremagazine.com
Situated on the Berriedale peninsula in Hobart, Tasmania is the largest privately funded museum in the Southern Hemisphere, MONA. To visit, guests must take a ferry, and then descend in a glass elevator underground, as most of the museum is subterranean. It's also sinking, and so has a finite lifetime. MONA's extensive collection mostly centers around themes of sex and death, and includes works by Damien Hirst, Chris Ofili, and James Turrell. Museum owner David Walsh, who made his fortune gambling, has described the museum as a "subversive adult Disneyland." He's even held dirt bike races on the roof. If all of that doesn't entice you enough to visit, you should know that MONA is also located within the Moorilla winery, so the museum's wine bar is also a must do.
UCCA DUNE ART MUSEUM
Qinhuangdao, China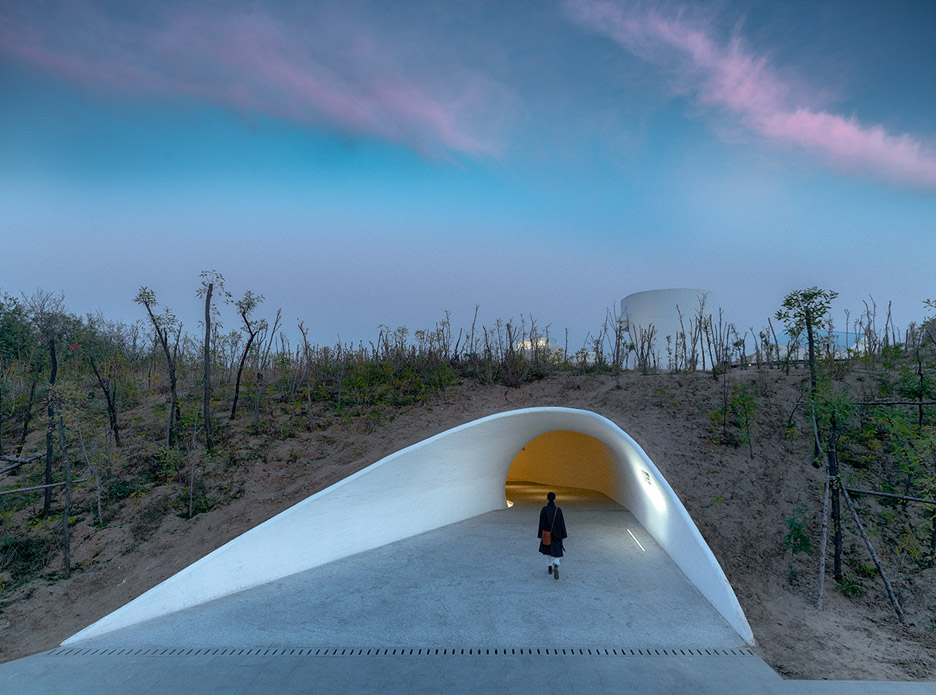 Image via dezeen.com
On a serene beach in China's Bohai Bay, the UCCA Dune Art Museum effortlessly sinks into a massive sand dune several meters high. Constructed in 2018 by OPEN Architecture, the minimal subterranean design was formed from the architects' love of nature and aspiration to protect the threatened dune ecosystem. Large openings in the building's ceilings and walls allow museum-goers to take in the dazzling views of the sky and sea. The ten interconnected galleries within the cavern-like structure allude to the earliest forms of art on the walls of ancient caves. OPEN is currently working on an addition to the museum called the Sea Art Museum, designed to rise out of the sea like a rock. As if this museum couldn't get any cooler.
Can't get to the museums? Then check out work by some of the artists in the module below.
[jawdropping-module]
RELATED ARTICLES:
8 Contemporary Landscape Painters Pushing the Genre Forward
Painting The Globe Red: 11 Gorgeous (And Architecturally Important) Crimson Structures Around The World
Summer 2018's Most Popular Vacation Spots—And What to Do There If You're an Art Lover