This recent addition to Phaidon's architecture series, entitled Stone, is an insightful fore to the world's most elemental and gorgeous building material, featuring more than 170 structures ranging from prehistory to the present. William Hall's survey tracks the way stone has shaped the anthropocene from the Pyramids of Giza to Mies van der Rohe's seminal Barcelona Pavilion to more contemporary fare, like David Chipperfield's geometric Museo Jumex in Mexico City. The introduction to this elegant visual survey, written by artist and architect Penelope Harris, acquaints us with the structural, aesthetic, and philosophical underpinnings of this extraordinary material.
Stone is available now through Phaidon's website.
DEFINITIONS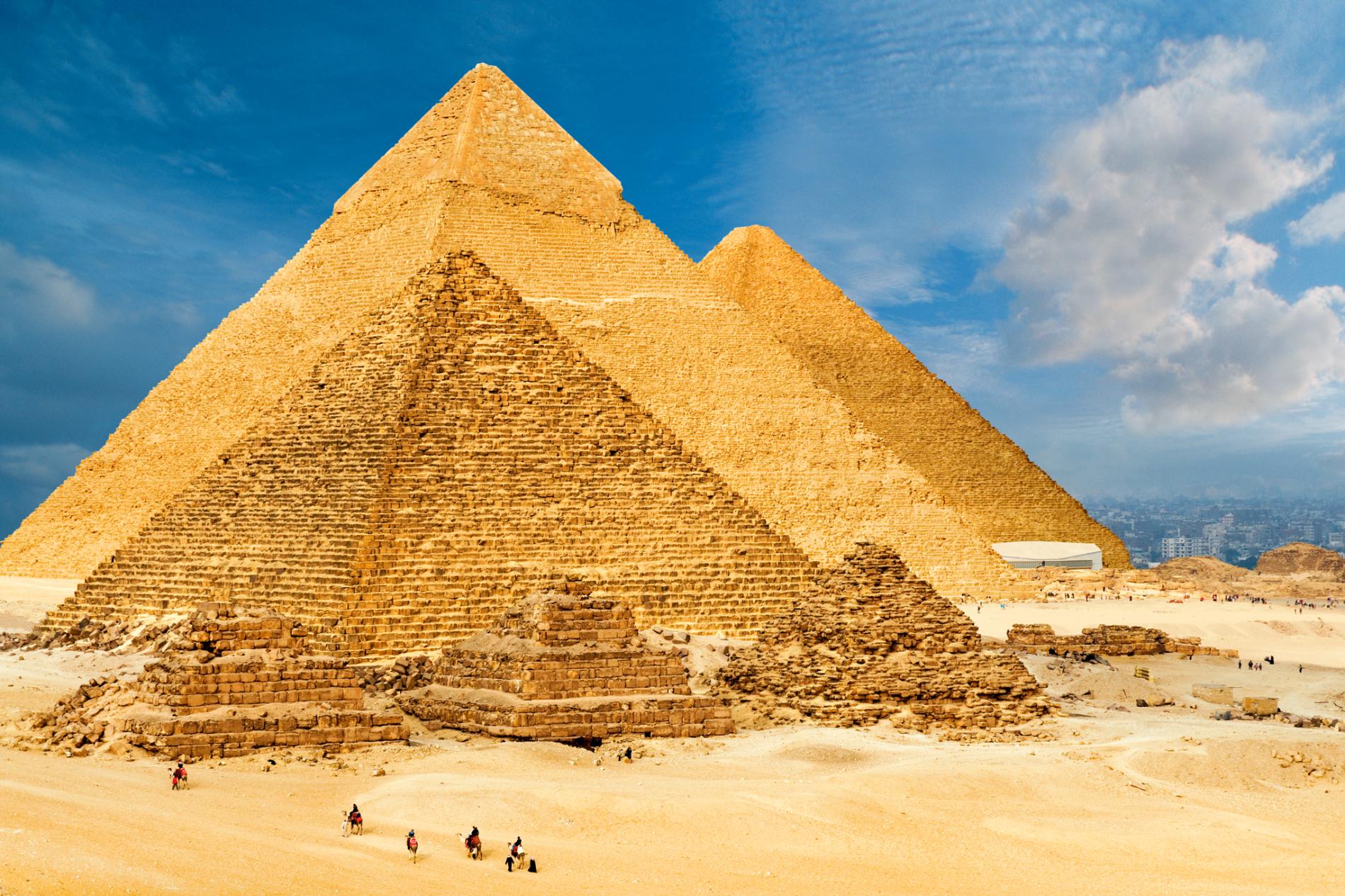 The Pyramids of Giza in Egypt via National Geographic
Stone and rock are curiously indistinct, stone essentially being small pieces of rock, or rock made usable. This definition works well for our purposes, in a book which is about stone for building, or 'building stone' (also known as 'dimension stone'). The transition from rock to stone is one effected by human intervention. In his book Stones of Rimini, the art critic Adrian Stokes (following on from John Ruskin in his The Stones of Venice), lauded the 'habitual stone' of Italy, in comparison to the 'rocks' of the north. Latin has several words for stone, which we find scattered throughout our modern vocabularies: lapis, petra and saxum. The Greek lith is also found in descriptions of stone-based technologies and forms. But geological terms in European languages are predominantly borrowed from English, reflecting the growth of geology as a subject from the later eighteenth century, partly because of the exposed fossil beds on England's coastal cliffs, but more particularly because the nascent Industrial Revolution required better transport. In planning the British canal system engineers also pioneered a stratigraphic understanding of the earth's surface. Thus the periodization of the world's geology – Cambrian, Devonian, etc. – is surprisingly British in source. There are three basic types of rock, and their names give an instant description of how they came to be made: igneous, made in fire; sedimentary, made in layers; and metamorphic, made through change. The best-known examples of each would be igneous granites, sedimentary sandstones and true metamorphic marbles. And then there the other kinds of rock, mixtures which are used inventively, especially when standard building stone is lacking: flint, onyx, alabaster, pumice, lava and tuff. Tuff, for one example, is used as a building material in areas where there has been volcanic activity; much of Pompeii had already been built in lava and tuff before it was itself buried in ash and mud. The Azorean environment, in the middle of the Atlantic, is similarly characterized by cut tuff from previous volcanic activity. The division of sandstones into three types – aeolian, fluvial and marine – leads us at once to the ways in which rock was formed, by wind, river or sea. Rock is the result of weather, of huge elemental shifts in water levels and temperature which occurred over hundreds of millions of years. WH Auden's poem 'In Praise of Limestone' recognizes its water-based character: 'From weathered outcrop / To hill-top temple, from appearing waters to / Conspicuous fountains […].'
GEOGRAPHIES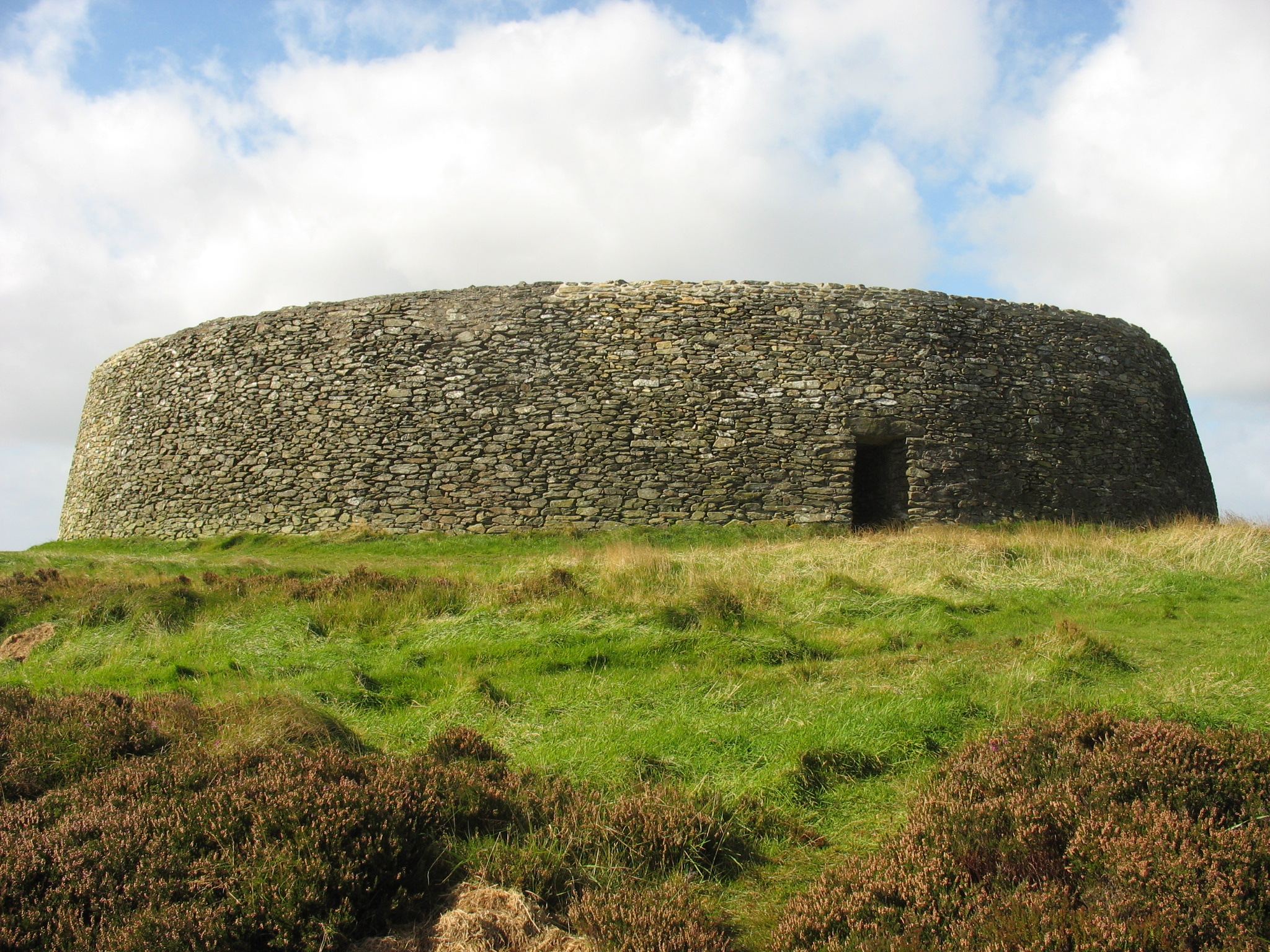 Grianan of Aileach, County Donegal, Ireland via Wikipedia
Not all countries have stone for building, and some have much more than others. Despite its weight, stone is now moved around the world, travelling above all from China, India, Brazil, Spain, Italy and Iran to countries which have less stone, or stone less cheaply available. In the medieval period the Baltic island of Gotland became rich by serving as a quarry for monumental masonry all over the Baltic coastline and especially in Holland. Gotland was well placed for sea transport. In England, Nottingham alabaster, in the same period, was equally widespread, but only because it was used for small objects. Until the nineteenth century the UK, like other countries, tended to use the stone which was nearest; now it mostly uses stone from abroad. None the less, we know the country's geography in terms of certain simple groups of stone, named after their regional source: Bath, Cotswolds and York are probably the best known. Certain cities are known by and for their construction in local stone. More than four hundred UK quarries are still active, largely producing sandstone, limestone and chalk, mainly for cement and roadstone, but also for a specialized market focused on repairing buildings of an earlier period. In the Clipsham quarries of Lincolnshire, in eastern England, large blocks are set aside, marked 'HoP', reserved for the Houses of Parliament. Woolton quarry, in Liverpool, was gifted to the city by the Marquess of Salisbury to ensure there was enough red sandstone to complete the massive cathedral that was under construction for much of the twentieth century. The quarry was only closed on its completion in 1978. In 1997 the Getty had more money than most to source the material for Richard Meier's new Getty Center, in Los Angeles, California, choosing travertine, a common building stone in ancient and again in Fascist Rome and still available from the Bagni di Tivoli quarries. But now the souvenir blocks sold in the Getty's gift shop come from Mexico; transport from Italy is no longer economic. Stone is not inexhaustible, and can only be locally specific. Clipsham, like many British quarries, lies on the Jurassic belt which runs diagonally north-north-east from the Dorset to the Yorkshire coasts. On this line we find rock from the Early (Blue Lias), Middle (Bath and Lincolnshire limestones, as well as Collyweston 'slates') and Late Jurassic (Yorkshire Oolites and Grits as well as Purbeck and Portland stone). The Jurassic period's divisions map poetically if confusingly across time and space: the Early, Middle and Late periods alongside the Lower, Middle and Upper zones. In the case of the geological term we are, however, no longer indebted to Britain but instead to the French region of the Jura, within the Alps, which gave its name to the Jurassic. In leaving the heart of England for the further extremes of the British Isles (Devon, Cornwall, North Wales and Scotland) we start to find the igneous and metamorphic rocks, even if they are generally intermixed with sedimentary layers. In the Scottish Highlands, in the Ledmore quarry at Lairg, we find the only true British marble.
TIME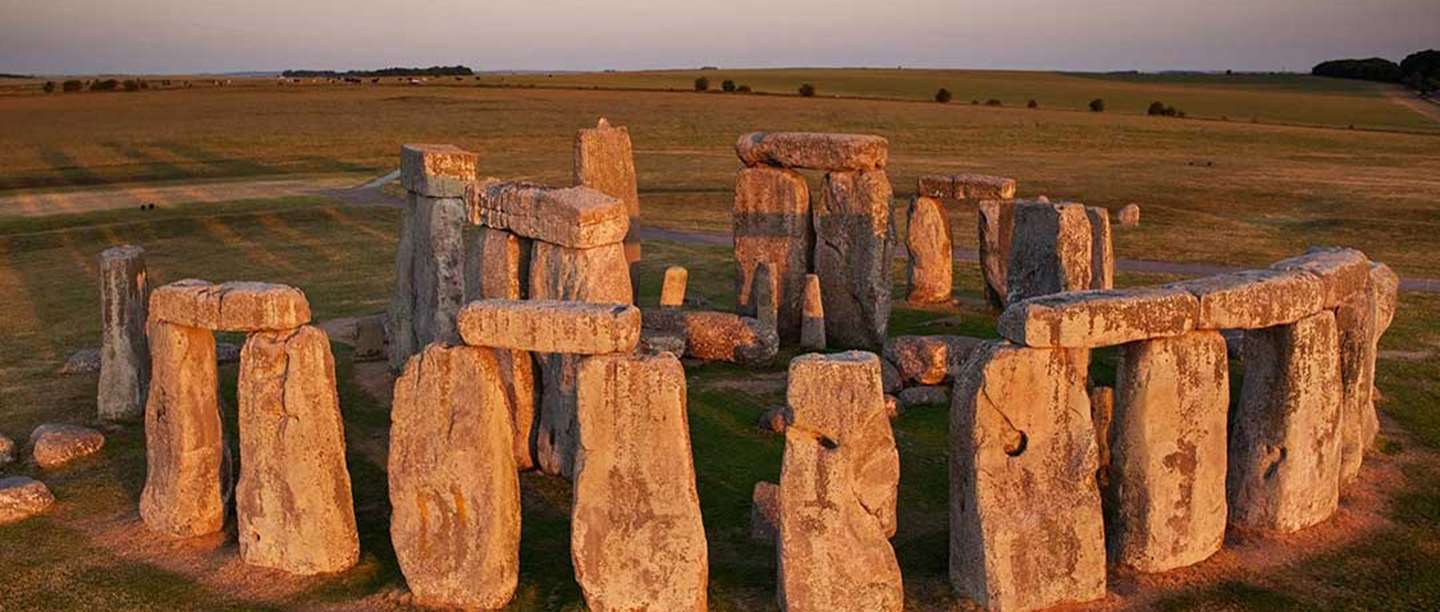 Stonehenge in England via History
Stone is intrinsically linked to time, given that the study of rocks allowed scientists to develop a timeline which underpins our understanding of the evolution of our planet. Despite this and although rock can be dated, stone, strangely enough, is often very hard to date, given that it can be used and reused, over and over again. Thus we fall back on aesthetics to date buildings which have a tiny chronology in comparison to the stones with which they are made. Even if we include stone structures such as Stonehenge or the Great Pyramid of Giza , which are up to five thousand years old, we are looking at an infinitesimal section of deep time. And thus we put to one side the date of the building material itself, and look instead at when it was put to use by builders and architects. We can look also at how that use reflects human times more specifically. It is not only geography which determines our use of stone; throughout history politics and economics have played a large part. The Napoleonic blockade (1807–11) saw big shifts towards the use of native stone (and the exploitation of the gypsum quarries of England's Nottinghamshire and Derbyshire for plaster of Paris). More recently, the invasion of Iraq in 2003, following 9/11, resulted in trade sanctions and had equally measurable impacts. China exports stone largely because of cheap labour combined with international containerization. Regime change has visible effects on stone monuments; iconoclasm has often irreparably damaged those erected to previous rulers or gods, even if parts may then be used in celebrating the new rulers. In times of war not only is it harder to get to foreign materials, but also there is an increasing propaganda value in using indigenous ones. For sculptors such as Henry Moore, it was both a new writing of the British landscape, and a developing possibility of creating a national art, that went hand in hand with his use of native stones in the interwar period. In this way he enforced the link between material and art, landscape and product.
PLUS AND MINUS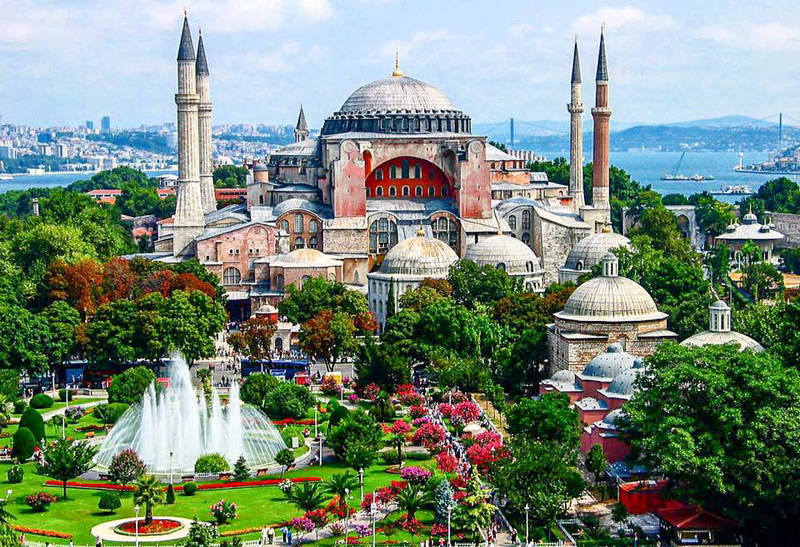 Hagia Sophia in Turkey via Turkey Homes
Sculpture is often divided into two types: additive and subtractive. If we use the same terms in relation to stone architecture, we can see that some sites are indeed carved out of the rock. The rock churches in Lalibela, in Ethiopia, are a casebook example, but so too are the carved caves and grottoes of India's Ajanta and Ellora, Jordan's Petra, Turkey's Cappadocia and indeed the rupestrian churches of southern Italy. The use of stone to build up is much more common, and might be seen to begin with the pyramids. Building with stone would later characterize the major ecclesiastical monuments of medieval Europe, as well as countless significant secular buildings. But stone was usually only used where it was cheap and easily available, or where it was a matter of prestige. The simple stone cottages of rural communities around the world are rarely far from a quarry. Otherwise they would have been made in wood, plaster or brick. Such is the prestige of stone that it has increasingly been used as a facing material, to give a more or less convincing impression of solidity and importance. Although this is nowadays the most common use of stone – as a cladding (and ashlar already had a long history) and not as a building material – there are certainly earlier examples, in Byzantine architecture, as in the Hagia Sophia in Istanbul or St Mark's in Venice, and in Renaissance churches, such as those in Rimini, Orvieto, Venice and Florence, which deploy sheets of stone in decorative panels and bands.
The use of decorative sheets of marble was brought to an apogee in the German national pavilion designed by Mies van der Rohe with Lilly Reich for the 1929 Barcelona International Exposition. Here costly and unique sheets of sliced marble (notably Golden Onyx from the Atlas mountains in north-western Africa) operated less as walls and more as mirrors or landscapes, backdrops against which a courtly ritual was briefly enacted. The same sites supplied the stones for the pavilion's reconstruction, completed in 1986. With this sense of ceremony we approach the use of Egyptian porphyry in the ancient Roman Empire; the term 'porphyry', or porphúra, is from ancient Greek and means purple, the hard igneous rock 'imperial porphyry' being purple, and purple coming to signal a highly restricted (royal) elite and its monuments. Stone has long been a prestigious material, with Greek and Italian marbles highly prized over millennia, but suffering a dip after the late nineteenth century with the rise of new indigenous nationalisms. Now patriotic patrons and makers sought out arcane local sources, coinciding with a brief resurgence of local quarries. Already in the eighteenth century English clients chose English materials for reasons other than cost: the Marble Hall at Holkham is made of Staffordshire alabaster, brought by boat, and that which followed at Kedleston Hall is made of Hopton Wood stone, from Derbyshire. This fine-quality limestone is found in many English monumental buildings, as well as in Commonwealth war graves and in Moore's early carvings. Cladding is fundamentally deceptive, and has nothing to do with a by now old tradition of truth to material. For those who liked to see honesty in their built environment, stone cladding was at least a misuse and at most a travesty of stone's superior qualities. Just as sculptors in the early twentieth century wished to be honest in their means and materials of production, so the same generation promoted a love of fully stone buildings, especially medieval ecclesiastical buildings, in line with regional traditions. Deception in construction can have good and bad reasons, but when confused with national material and traditions it becomes intertwined with higher notions of good and bad.
AS FOUND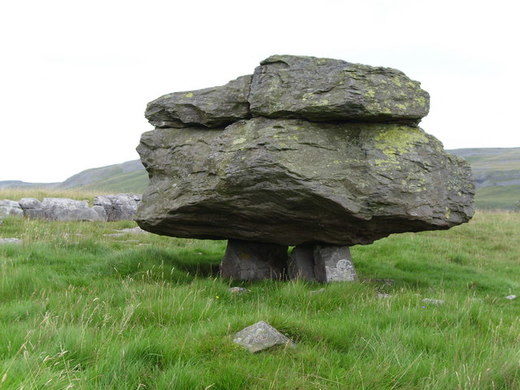 Glacial erratic in Yorkshire via Atlas Obscura
There is another kind of stone construction in which the stone is neither carved nor cut. The Neolithic structures which abound in Celtic Europe, and of which Avebury and Carnac are perhaps the best known, use stones 'as found'. While they, like New Grange and Maeshowe, had ritual function, a village like Skara Brae is entrancing in the way that Pompeii is entrancing, being simply domestic, albeit built with stones (rather than stone). This provides us with an interim definition which lies between stone and rock, the piece and the source. Boulders, monoliths, menhirs, and pebbles – single stones – only needed to be moved to make them usable. They have an interesting parallel in the erratic boulder, carried on incoming glaciers, and used mainly in recent times in the German-speaking world, as simple war memorials, all the more resonant for being natural and not man-made. In the early medieval period the parishioners of Old Radnor on the Welsh–English border managed to use a huge doleritic erratic boulder as their church font. Sometimes such 'glacial erratics' are so big that they can even be used in walls and buildings. One might say that the smaller stones are, the less useful they become. The north of Britain is full of stone walls which were built not only to separate animals from each other, but also to clear the ground of a superfluity of stones. Stones are not nearly as useful as stone. Although drystone walling is a skilled activity, it was never as lucrative as that of a mason. Masons were a highly protective guild, as we understand from mason's marks, and from the evolution of masonic guilds. Good stone needs to be cut and dressed. This acquired knowledge is still evident among the stonecutters at work repairing the calçadas (pavements) of Portugal, cutting the cubes along their natural splitting lines, and, less publicly, in the marble quarries of Carrara and Estremoz.
DURATION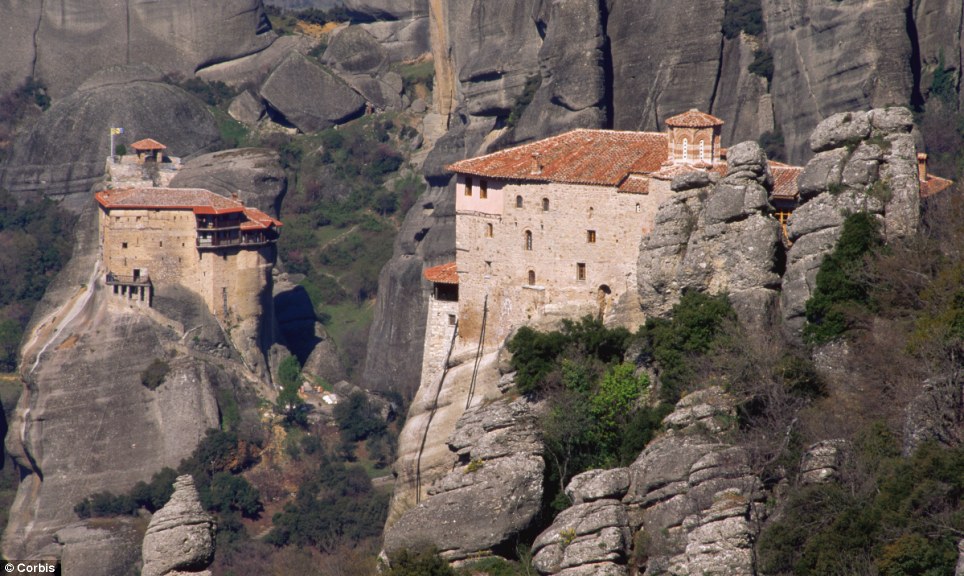 Agios Nikolaos Anapfsas and Agia Roussanou monasteries in Greece via Daily Mail
Stone is readily equated with longevity. It is not only known to be much older than us, but is also used to fashion monuments which pretend to outlast us. Tomb stones and altar stones are but the most obvious stones to embody the notion of life beyond death. Stately pleasure domes, towers, castles and walls, all are made of stone and purport to last indefinitely, beyond the petty ambitions of those who planned them. But, as we know, stones can be dismantled. In Britain we see the results of the Dissolution of the Monasteries all around us: the cut stones used in the abbeys and priories were pillaged for secular use in the villages around. Though the historic monuments which have lasted longest are indeed made of stone, stone is less solid than it might appear. Many stones are soft and corrode easily; plaster casts of historic monuments may now tell us more about surface detailing which has eroded over time. It is odd, perhaps, that plaster, a substance made of ground-up stone, can in this sense supersede solid stone. Even if we think of stone as stable, perhaps in a biblical sense, in terms of the 'rock of refuge' (Psalm 71:3), and remembering that 'Peter' is the rock upon which the church is built (Matthew 16:18), elsewhere, Isaiah 26 strikes a cautionary note. Here the Lord is described as a Rock of Ages who can level the lofty city, bringing it down to dust. Indeed more stone goes into the construction industry in the form of dust-like aggregate than it does in dressed form. Concrete, which is an amalgam of ground stone and Portland cement, is itself a mixture of limestone, clay and gypsum (named after Portland stone, but not made from it). And more stone is ground down even further, into concrete, plaster or talc. We should remember how often stone turns to dust. Sic Transit Gloria Mundi. Thus passes the glory of the world.
RELATED ARTICLES:
Painting The Globe Red: 11 Gorgeous (and Architecturally Important) Crimson Structures Around The World
A Look Into 7 Groundbreaking Architectural Drawings—From 1230 BC to Today