Here are the rising stars we have our eye on this month:
JANA EULER
Galerie Neu, Berlin
April 26 - May 30, 2019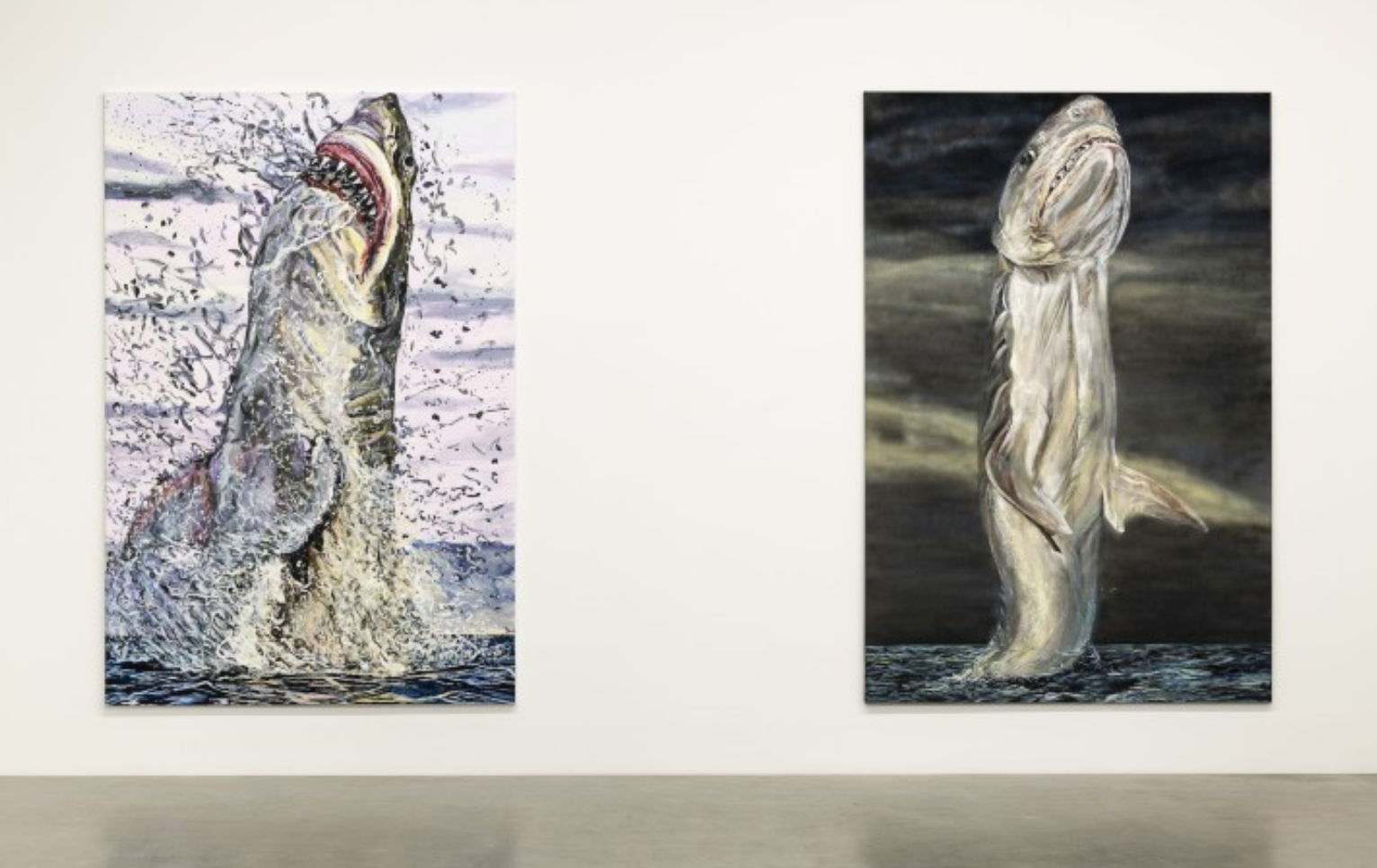 "Great White Fear," installation view. Image via Galarie Neu.
Jana Euler makes the kind of paintings that get stuck in a viewer's brain-teeth; coarse, reeling send-ups of the human condition rendered with meaty, methodical thickness. Her images force what should remain private into the public fore, underscoring not just the inescapable carnality that defines us all, but the ways in which late capitalist curation has altered our collective relationship to shame. The work overshares without under-delivering, and nowhere is this more apparent than in her current solo turn at Galerie Neu in Berlin. She has filled her allotted space with identically scaled paintings of breaching sharks, the sort of nightmare animals that seem to erupt directly from a carefully suppressed consciousness. Phallic, grimacing, and grotesque, these disquietingly monolithic creatures project into space with the booming intensity of a haunted headstone or grizzly funhouse prop, but that aftershock doesn't dissipate after the adrenaline subsides. These pieces scream right back. Euler ives and works in Frankfurt, Germany and is a graduate of the Glasgow School of Art. She's shown in multiple international venues, like the Stedelijk Museum in Amsterdam, Cabinet in London, dependance in Brussels, and Real Fine Arts in New York.
GAHEE PARK
Galerie Perrotin, Seoul
April 4 - June 8, 2019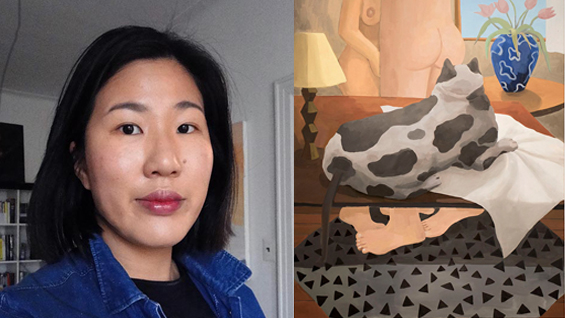 via Cooper Union
Park's languorous, stylized depictions of feminine subjectivity repurpose Tom Wesselmann's visual beats to more introspective ends, exploring the absent-minded impact of fantasy and truth limning the edge of everyday life. Her lush surrealist details creep forth from gorgeous, close set-dressings for quiet transgression. A shadow-box stillness lends the paintings a dream-like, sculptural presence, and these excerpted, voyeuristic narratives transmit their charge with stolid grace. Not quite ironic, not quite self-referential, Park's paintings live in the hazy gap between impulse and consequence, tense, taut, and delicious. A fairly recent graduate of Hunter's MFA Painting program, Park is a recipient of the Shandaken: Stormking Residency and has shown in numerous venues world-wide, including Taymour Gahne in London and PioneerWorks in Brooklyn. Her work is also slated to appear at Art Basel in Switzerland.
SARAH GRASS
Doppelganger Projects, Queens, NY
March 17 - May 26, 2019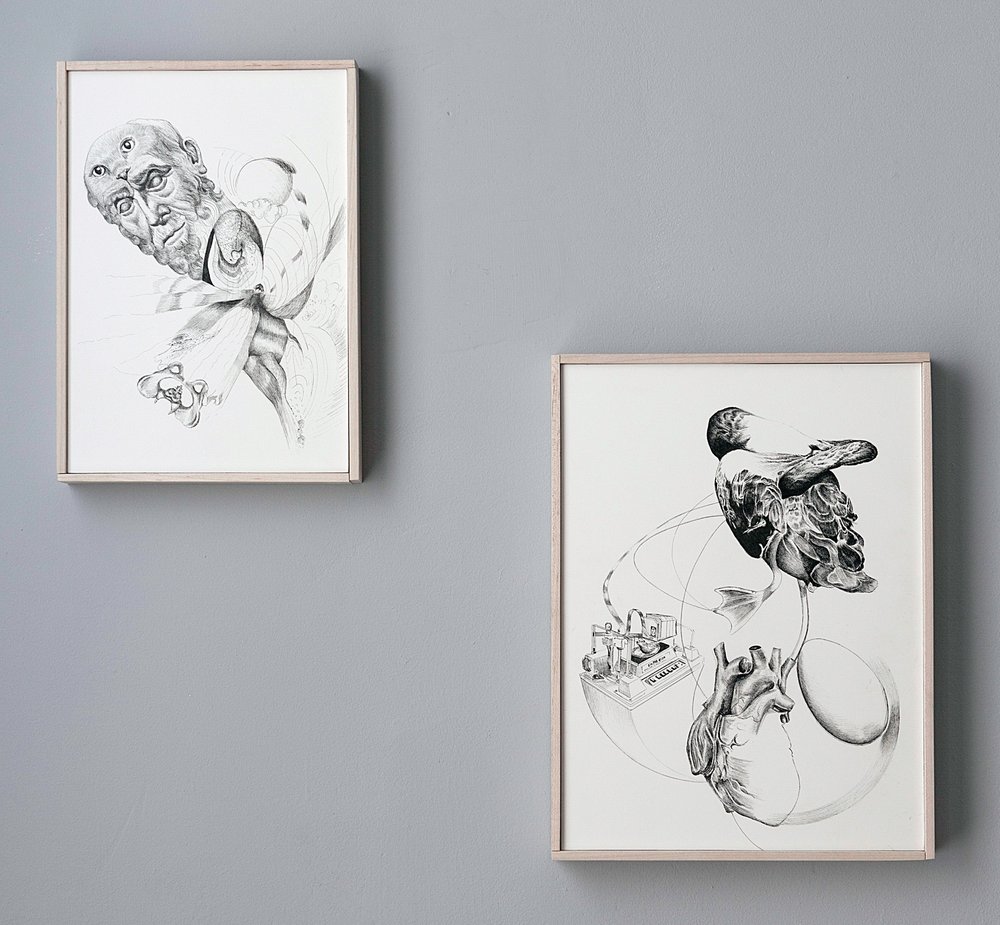 via Doppelganger Projects
Recent MFA grad Sarah Grass makes winding, organic constellations of line in pen, forming distinctly diaristic panoramas of her inner optic monologue. These charming, associative ink renderings utilize negative space not as a vacuum, but as a site of endless possibility, one that births its own conceptual ideology from the framework of nothingness. This operates as an apt metaphor for the act of making itself; arbitrary connection gives way to visual sense, seemingly meandering gesture coheres into mimesis. Funny, fine, and inherently destabilizing, Grass' pieces invite the viewer into the center of her creative ether, a space defined by its blooming originality. Grass holds a BFA and MFA from the School of the Visual Arts in New York, and has had her work featured in The Ferry Gallery in Bangkok, Thailand, JustMAD Art Fair in Madrid, the New School for Social Research in New York, and Nasher Sculpture Center in Dallas.
ALICJA KWADE
303 Gallery, New York, NY
April 12 - May 18, 2019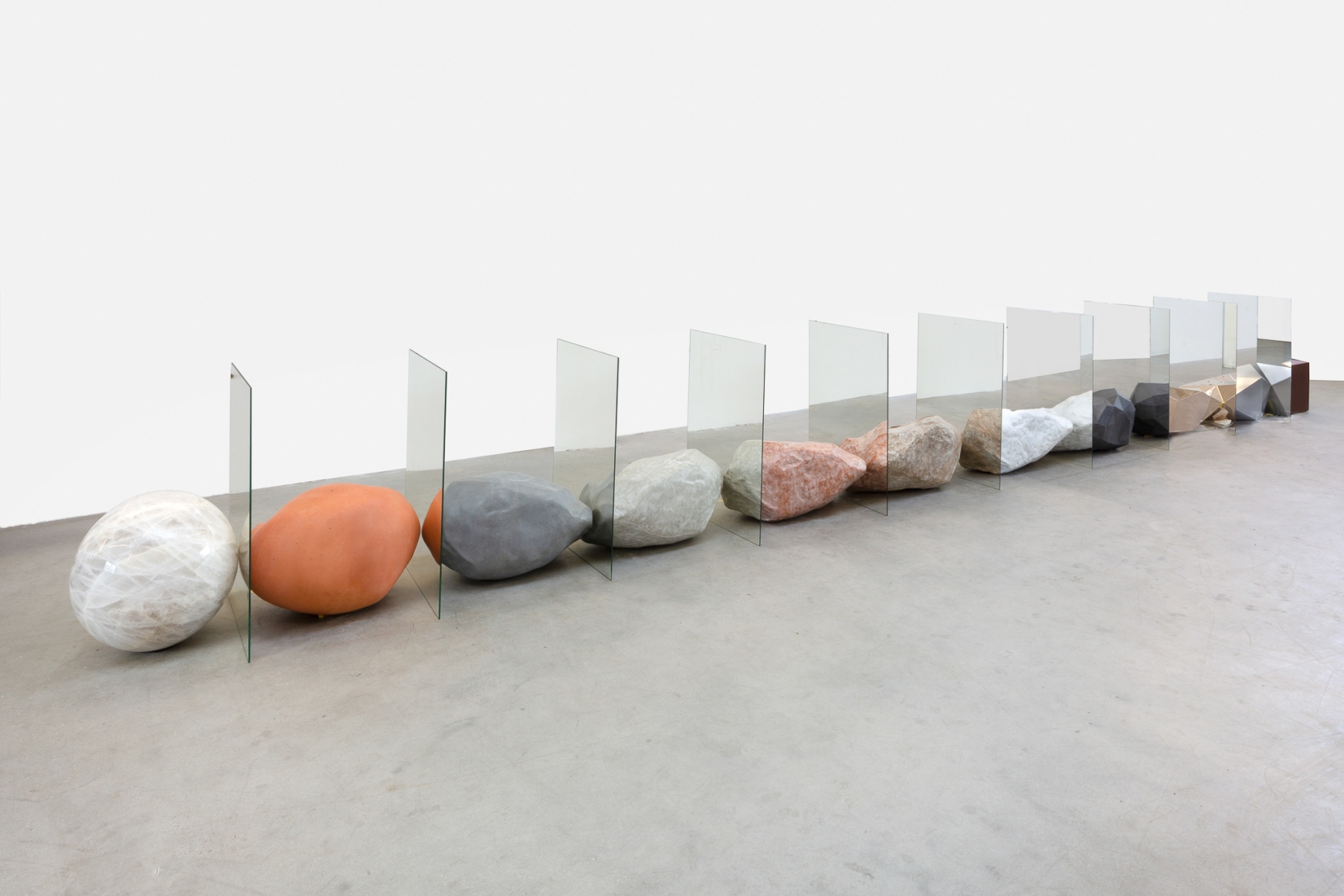 Alicja Kwade, Trans-For-Men 11 (Fibonacci), 2019. Image via 303 Gallery.
Polish artist Alicja Kwade works at the spatial intersection of science, nature, and perspicacity, forming slow, alluring totems to phenomenological flux. Applying a multimedia approach to a Minimalist ethos, Kwade twists viewer impressions through elegant illusions, negations and interventions, challenging the limits of materiality with a deft, subtle hand. In her current solo exhibition, "ParaParticular," at 303 Gallery in New York, she takes on the subject of weather metrics, creating aesthetic systems for measurement that necessarily fall short. This rumination on ephemeral containment gets right to the core of how cultural memory functions—where does magic go in a world that runs on itemization?Kwade, currently based in Berlin, has recently been selected for the 2019 Roof Garden Commission at the Metropolitan Museum of Art (her installation is currently on view). She has shown her pieces all over the world, including venues like Centre de Creation Contemporaine Olivier Debre in Tours, France, Bluproject Foundation in Barcelona, the ESPOO Museum of Modern Art in Copenhagen, and Hayward Gallery in London.
JULIE CURTISS
Anton Kern, New York
April 25 - June 15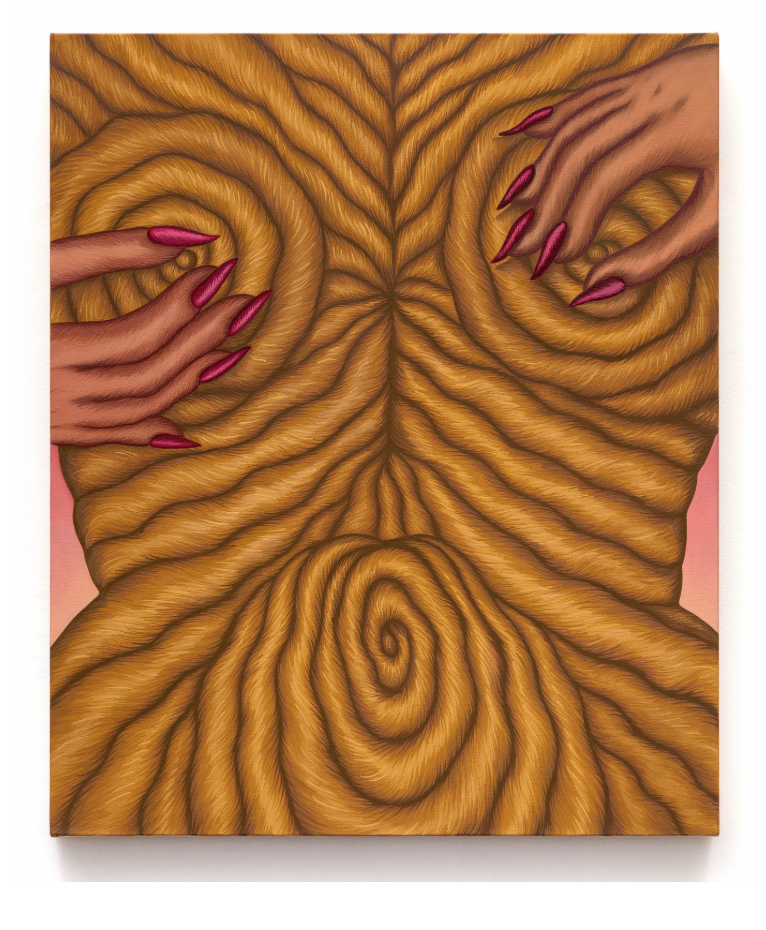 Dials, 2019. Via Anton Kern Gallery.
In line with a trend we've seen a lot lately, Anton Kern gallery has included the paintings of Julie Curtiss in a number of art fairs (Miami Basel '18, Expo Chicago '18, Independent '19), before ever staging a solo exhibition of her work in their gallery. (We just published our highlights from Frieze New York; almost all of them were by artists who hadn't yet shown at the galleries that brought them to the fair.) "Wildlife," Curtiss' inaugural solo exhibition with the gallery that now represents her, opened April 25th, hosting over a dozen works including her largest to date, and eight-foot-tall painting of a glamorous woman with an up-do and in heels sitting underneath a chandelier—on a toilet. A nest of cockroaches are rendered underneath the floorboards; even beneath the gilded facade of bourgeoisie elegance lies filth. Curtiss' style could be compared to the Chicago Imagists, or more generally to the Surrealists, but her careful and deliberate attention to each blade of grass, strand of hair, tuft of fur, or fiber of carpet or fabric is what truly sets her apart from every other painter. Also represented by Various Small Fires in Los Angeles, Curtiss was born in France and is based in Brooklyn. She received her BFA from the Art Institute of Chicago in 2004 and her MFA from l'Ecole des Beaux-arts of Paris in 2006.
RELATED ARTICLES:
The New Surrealism: Contemporary Women Artists Against Alternative Facts
At Frieze, Galleries Are "Risking it" with Newly Represented Artists: Here Are 7 Highlights