Every month at Artspace, our editorial team selects a handful of exhibitions world-wide that stirred our attention—the participants could be emerging or established, solo flyers or part of a group hang, conceptually-driven, abstract, or students of more classical styles. We only have one criteria for those profiled; originality. Our commitment to contemporary exploration has made our "Artists To Watch" column a staple, and it's that spirit of experiment that help us guide our collectors to the freshest, most relevant names bouncing around the art world. The five artists we've chosen for February represent a wide variety of different ages, aesthetics, and experiences, but each has created their own unique language, their own discrete communication system, for a shimmering inner life.
As winter winds down, here are five artists to watch as you peruse new exhibitions, wherever you are.
CHRISTINE REBHUHN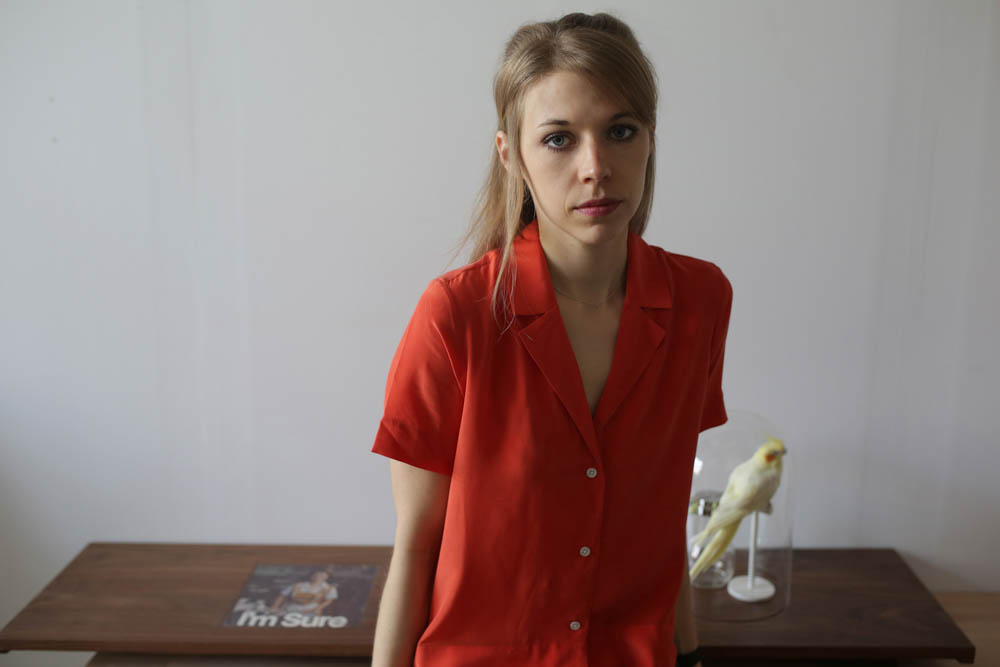 Christine Rebhuhn in the studio
New York, NY
Beverly's, NYC
January 23 - Mid-March, 2020
Christine Rebhuhn's sculptures sizzle with the intensity of a swallowed impulse, an intrusive thought, or a Freudian slip. Her unique material grammar subtly misaligns presumption and experience, cracking the audience's foundation through slick, singular gestures. Each artistic intervention winks through the prism of its own elegance, a kind of graceful, human poetry all its own. Rebhuhn has had solo exhibitions at NARS Foundation in Brooklyn, NY, at Soo Visual Arts Center in Minneapolis, and at Makeshift in Kalamazoo, MI. Her work has been included in group shows at at dd, New York, the Boiler in Brooklyn, NY and at Stove Works in Chattanooga, TN, and she exhibited at the 2015 Gyeonggi International Ceramics Biennale in Incheon, Korea. She has been an artist-in-residence at the Vermont Studio Center (VT), Elsewhere (NC), NARS Foundation (NY), and Makeshift (MI). Her work was published in ArtMaze Magazine and Maake Magazine.
CASSI NAMODA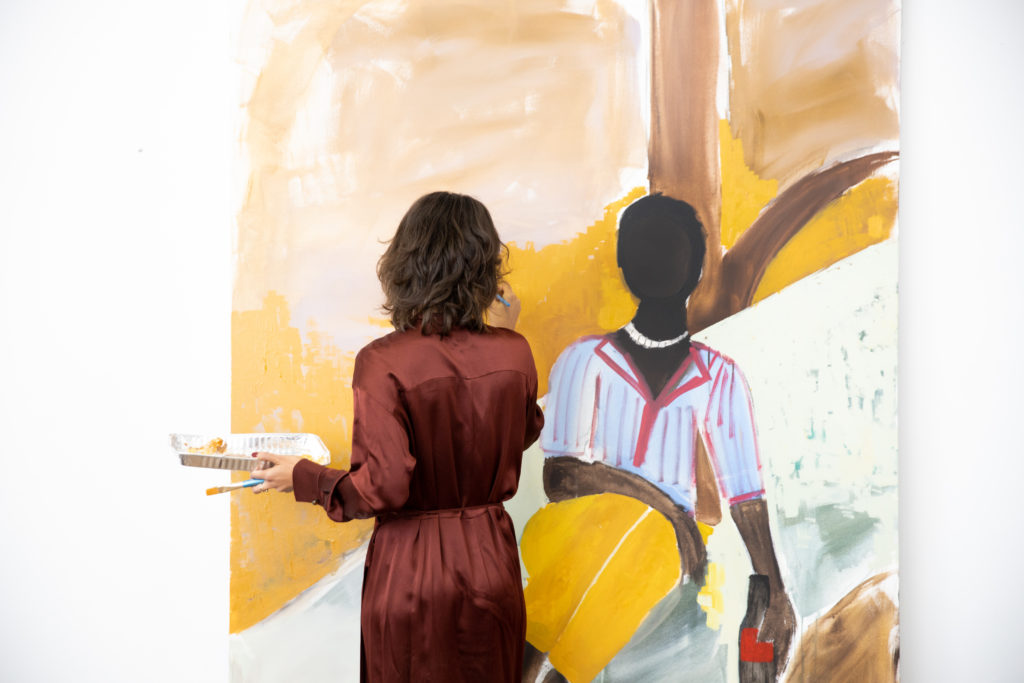 Cassi Namoda the studio
London, England
Pippy Houldsworth Gallery
January 24 - March 7, 2020
Painter Cassi Namoda was born in Maputo, Mozambique and lives and works in Los Angeles, although she assumes a somewhat nomadic approach towards her studio practice. After coming of age between Mozambique, Haiti, and the United States, Namoda threads that cultural hybridity into the fabric of her artistic ethos, mapping the emotional crescendos of life in the the African diaspora. By melding personal and archival narratives into her compositions, Namoda creates character arcs that collapse abstraction and figuration together in swathes of vibrating pastel. Her sensitive hand at once observes and interprets, forming poignant testaments to everyday theater. Namoda has shown internationally, including turns at CFHILL, Stockholm, Library Street Collective in Detroit, and Nicodim Gallery, Los Angeles. Her work is in the collection of the Perez Art Museum in Miami.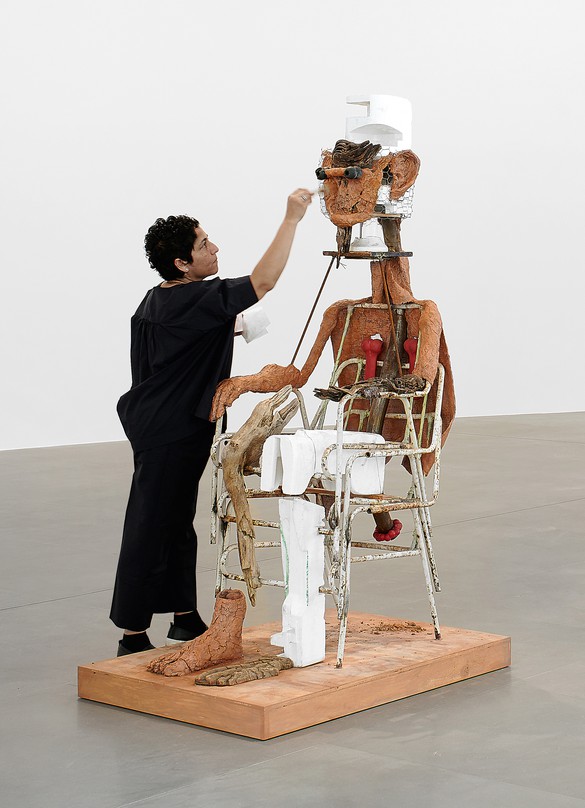 Huma Bhabha in the studio
Los Angeles, California
David Kordansky Gallery
January 25 - March 14, 2020
Pakistani-American artist Bhabha is best known for her otherworldly, stoic sculptures, often made from easily accessible materials like Styrofoam, clay, construction scraps, and wire mesh. Their totemic presence manifests the queasy relationship between Modernism and cultural appropriation in their armature, layering science fiction, archaeology, and religious iconography into three dimensional palimpsests. Sometimes monstrous, sometimes uncannily human, Bhabha's works speak to the tender inevitability of renewal and decay. Bhabha has been flying art-world high since completing her MFA at Columbia University in 1989, enjoying features at the Gwangju Biennial in 2008, MoMA PS1's "Great New York" survey show in 2005, and the Venice Biennale in 2015. Her work has been collected by the MoMA, the Centre Georges Pompidou in Paris, and the Museum of Fine Arts Houston. In 2018, she was named as an artist for the Metropolitan Museum of Art's annual Cantor Roof Garden Commission.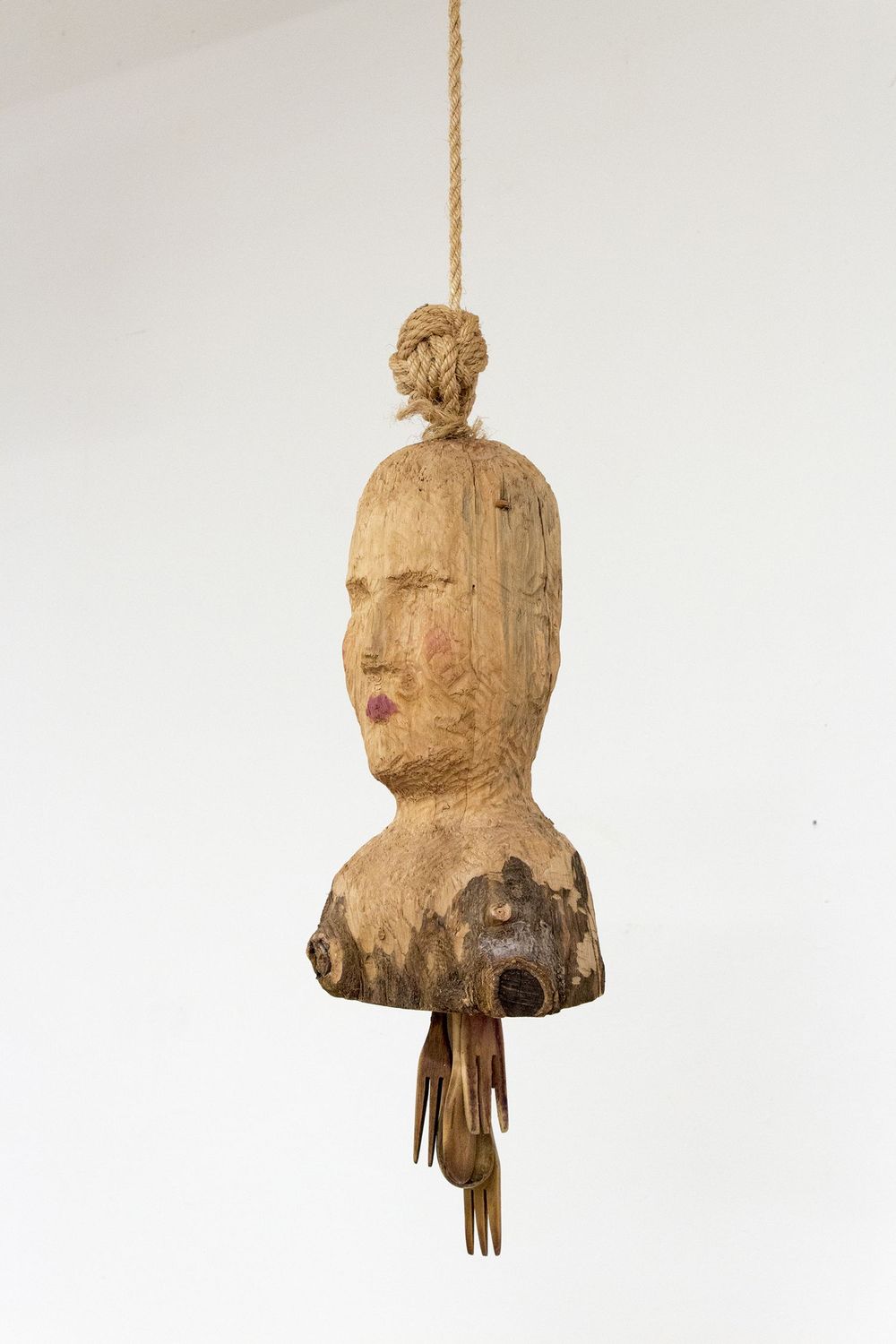 A detail from Headmaster, ELizabeth Englander's show at Smart Objects LA
Los Angeles, California
Smart Objects Gallery
January 17 - February 22, 2020
Boston-born Englander makes unexpectedly affecting humanoid sculptures from found objects like destructed chairs, cardboard boxes, finger puppets, and plastic straws. By applying an installationist's eye to the devotional, repetitive gestures of accrual, Englander scales the side of art history before diving into open air; each ramshackle monument delivers the specificity of portraiture tandem to a homegrown taste for anarchy. Englander's pieces undercut their own sweetness with delicate precarity, allowing the viewer space to wonder at the felt, deft humor at play in each figure. Englander lives and works in New York, NY and recieved her MFA from Hunter College in 2019. Recent group exhibitions include Bone Meal at Motel, Brooklyn, NY and Fool's Prophecy at Museum Ikon, Warsaw, Poland.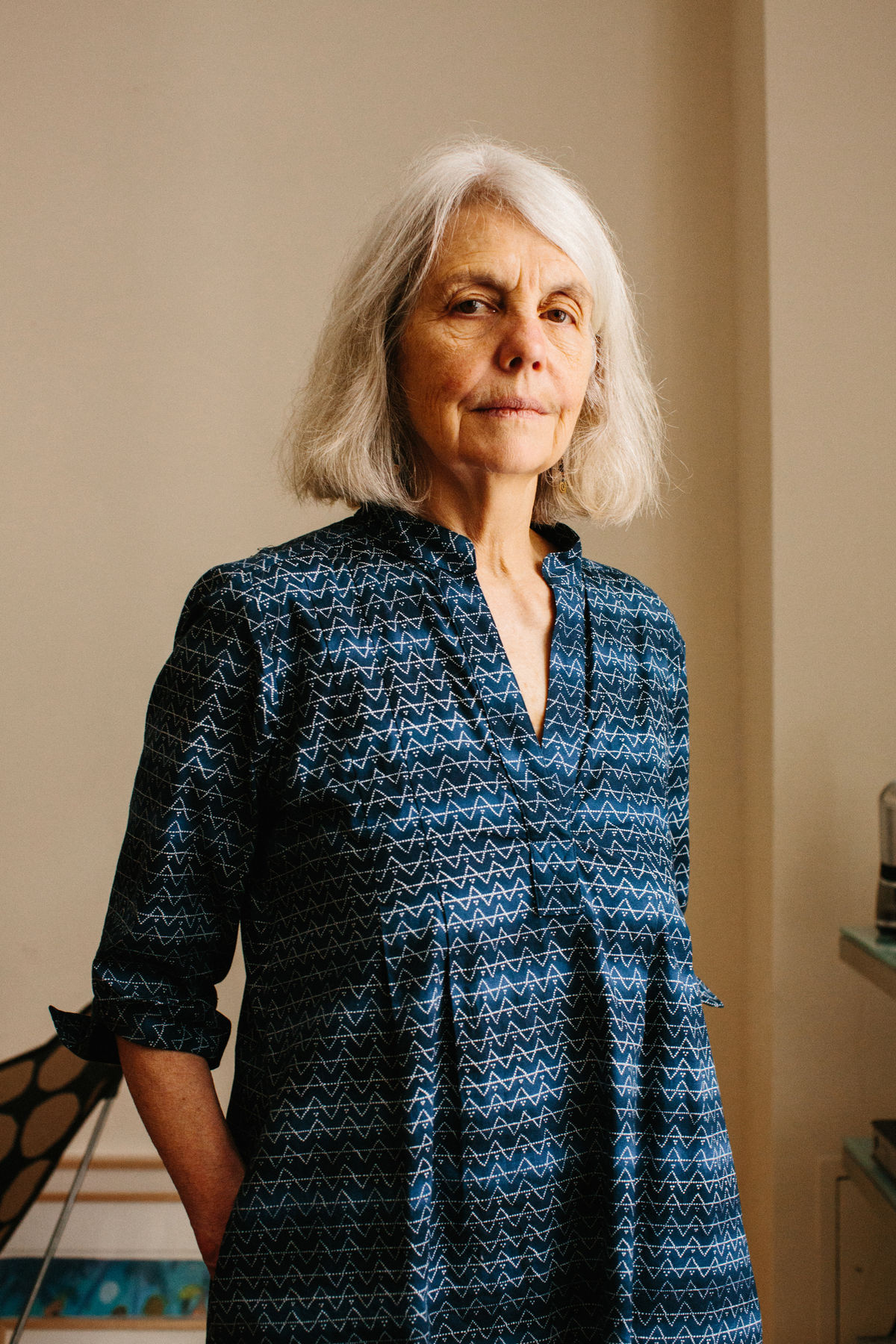 Sally Saul via Artnet
Paris, France
Alime Rech Gallery
January 18 - February 29, 2020
Ithaca-raised Saul has created whimsical ceramics that toe the line between playfulness and subversion for over 30 years. Her off-kilter humor and expertly clunky, breaching optimism pair warmth and intimacy in the icy candor of the white cube. A former professor of literature, Saul was inspired to take up ceramics at her first professorial teaching gig in 1981—the ceramics studio was one floor down from her classroom. She soon became an avid practitioner and interpreter of the medium, transforming colorful vessels into zany, unhinged ruminations on the human condition. Saul has participated in exhibitions at the Art Museum of West Viriginia, Morgantown, the Aldrich Contemporary Art Museum in Ridgefield, CT, White Columns, NY, and the Lawndale Art Center, in Houston TX. She lives and works in Germantown, NY with her husband, artist Peter Saul.
Check out work by some of the artists above available now on Artspace.
[artiststowatchFeb-module]
RELATED STORIES
Welcome to the Mid-Century Modern World of Marcel Ceuppens
What Annabel Andrews Thinks About When She's Painting