The iconic Japanese woodblock aesthetic, defined by its crisp lines, atmospheric perspective, elegant color stories, and opulent, well-dressed figures, has been widely celebrated and collected in the West since its advent in the 17th century, helping to influence the Impressionist, Post-Impressionist and Aesthetic movements so popular with art lovers the world over. Up until the 19th century, prints produced in Japan's primary urban hubs promoted the ukyio-e ethos, a genre that encapsulated "the floating world" of their nation's internationally buttressed economy and increasingly upwardly mobile public.
Katsushika Hokusai, "The Great Wave off Kanagawa" ca. 1829 via Wikipedia Commons Public Domain
These ukiyo-e prints, typically made in Edo (now Tokyo), Osaka and Kyoto, reflected the social ambitions of the Japanese citizenry during the Edo period (1615-1868), focusing in particular on their flair for entertainment. The "floating world" was both a state of mind and a form of escapism from the restrictive samurai military state, or shogunate ; combined with an economically powerful chonin , the emergent merchant caste, this heady environment birthed a host of puppet theater traditions, teahouses, festivals, specialty fashion, and, of course, the rise of the highly glamorous courtesan, or geisha . Beginning in the early 17th century, the shogunate designated pleasure quarters, or red-light districts outside of which sexual services would be deemed illegal; "play women", or yujo , were licensed and classified in public record. It was the tayuu , a predecessor to the geisha trend, that pioneered many of musical, calligraphic and dance styles that became emblematic of the "floating world", often serving sirenic subjects of ukiyo-e prints.
Utugawa Kuniyoshi, "The Story of Nippondaemon and the Cat", 1835 via Illustration Chronicles
The term ukiyo-e , composed of three Japanese characters meaning "frivolous", "generation", and "picture", respectively, denotes both the aspirational and inherently dichotomous realities of the Edo period. Interestingly, an alternate character used to write the uki segment of the ukiyo-e compound could also translate to "sorrow" or "melancholy", imbuing the phrase with Buddhist connotations concerning the "floating world's" illusory ephemerality. The two spellings grew more and more conflated in the mid-18th century, after the prints had already become popular, hinting at a certain cultural ambivalence already starting to swell in the Edo underbelly.
Utagawa Toyokuni I, "Woman Bathing Under Flowers", 1800 via Byron's Muse
PROCESS
Woodblock printing started in China during the Han Dynasty, which lasted from 206 BCE to 220 CE. Not popularized in mainstream Japan until 1603, the process was initially used to reproduce traditional handscrolls as books, eventually adapted as a means to proliferate images widely and quickly. Masters like Ando Hiroshige, Katsushika Hokusai, and Kitagawa Utamaro became legendary for their depictions of the "floating world", melding the rich hues of hand-colored paintings with the illustrative precision of a printing mechanism. Similar to Western print-making procedure, Japanese methods centered on relief carving; the artist would first draw an image onto washi , or thin paper, which was glued to a block of wood and then used as a blueprint for carving. Then, ink was applied, assisted by the usage of a flat tool known as a baren . To nuance the picture plane, artists would repeat the process for each color, an undertaking that became more popular in the late 1700s, when new tools and materials became available, allowing artists to use numerous blocks on a single sheet. The print's water-soluble colors, derived from a variety of plants and minerals, lent the flat perspective and bold outlines of their belonging compositions a dreamy quality, and their accessibility made them a hot commodity with the newly wealthy mercantile middle class.
Utagawa Tokojuni I, "Woman in Rain with Umbrella", 1800 via Byron's Muse
CONTENT
Ukiyo-e subject matter could be more or less lumped into three categories: pretty ladies, indoor space, and operatic nature scenes. The first category was typically populated by portraits of geishas , although ordinary society women often featured as the years wore on.
" Woman Wiping Sweat", 1798 via Library of Congress
A vocabulary of glamourous, standardized stoicism was favored by artists and buyers alike; artist Kitagawa Utamaro, in particular, was renowned for his bijin okuni-e ("large-headed pictures of beautiful women), which emphasized the cosmetic talents of his sitters. (It also goes without saying that shunga , or underground erotica of the Edo period, was assisted in its popularity by the advent of woodblock printmaking).
Kiyonaga Torii via PIE Books, Japan
Next up are the interiors, which mirrored Edo taste for clean architecture and an abiding interest in voyeurship of the female form.
Korii Koyinaga, "Woman Applying Cosmetics", early 19th century via Byron's Muse
Katsukawa Shunsui, "Woman washing her hair with an attendant", mid-18th century via Byron's Muse
Finally, depictions of nature were in large part inspired by Chinese printmakers, and, in a similar, inverse vein, to the aforementioned architectural tableaus, which served to cohere and transmit a vision of Japanese atmospheric excellence and majesty to its people. Artists like Hokusai and Hiroshige were undeniable masters of the form, and their portrayals of water and flora, respectively, helped catalyze the Edo visual spirit.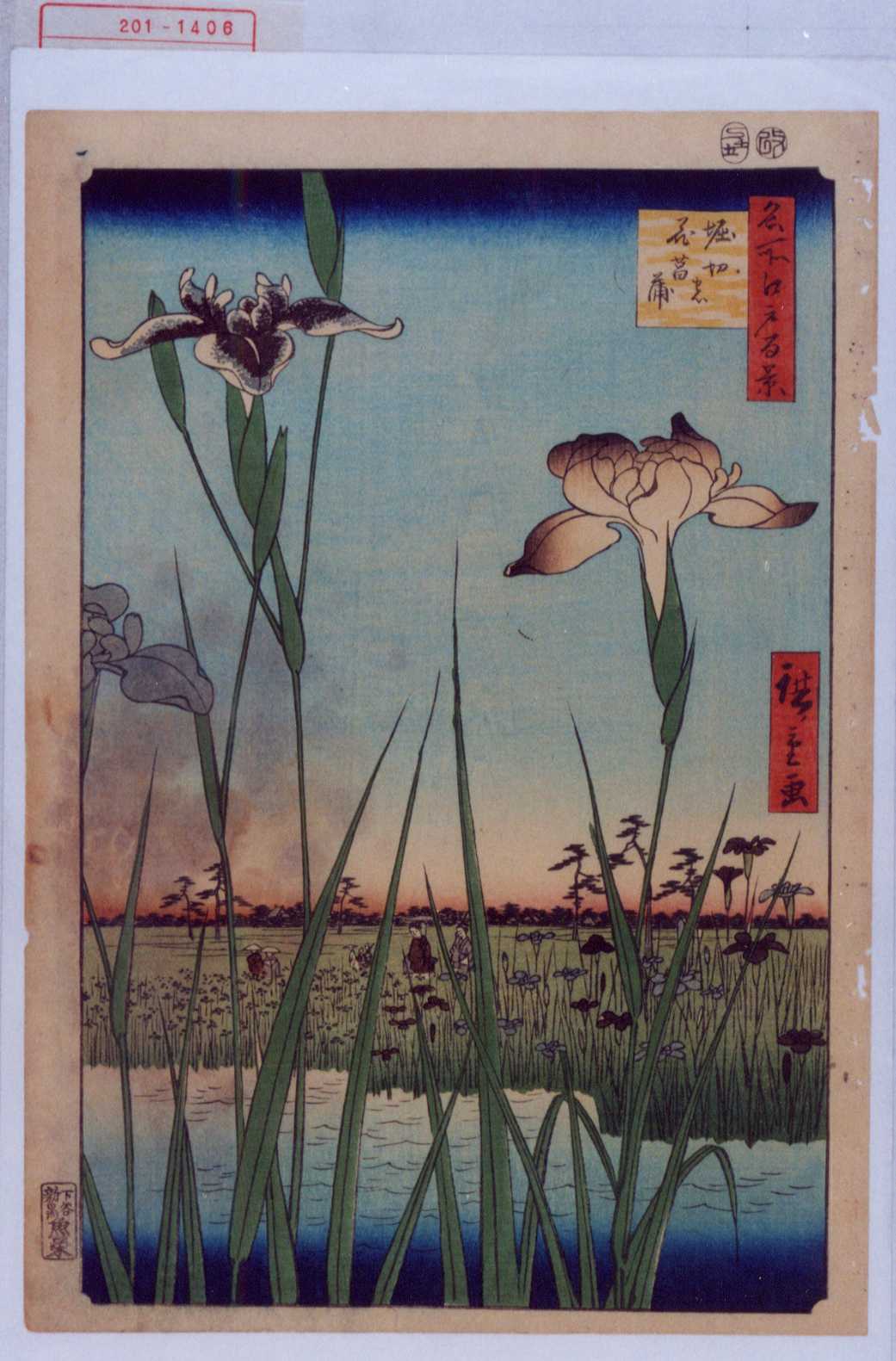 Hiroshige Utagawa, "Hundred Famous Views of Edo", 1857 via Ukiyo-e.org
THE NEXT WAVE
Following the close of the Edo period, ukiyo-e print-making was far from over. Starting in the early 20th century, shin-hanga , or "new prints" became all the rage throughout the Taisho and Showa periods, revitalizing public respect for the traditional techniques of their predecessors. Maintaining the collaborative studio system, or hanmoto , of the first wave, the shin-hanga movement flourished from 1915 to 1942, with a brief resurgence after WWII.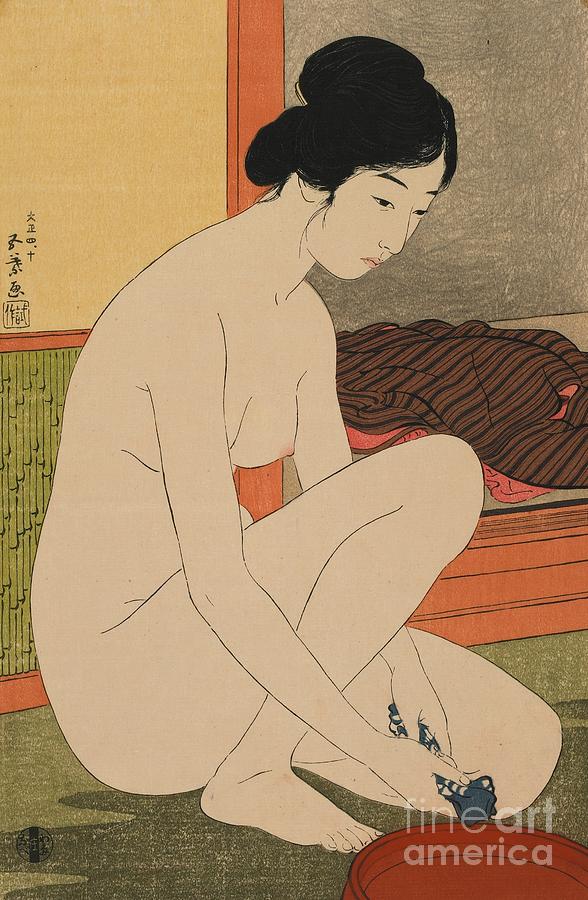 Goyo Hashiguchi, "Woman Bathing", 1915 via Fine Art America
Shin-hanga , as coined by publisher Watanabe Shozaburo, was driven almost entirely by exports to the United States, appealing to an ill-informed Western nostalgia for Japanese romanticism. Notably, there wasn't a huge domestic market for shin-hanga , as Japanese art collectors were turned off by the bucolic odes to old Japan in their rapidly modernizing landscape. Shin-hanga prints borrowed liberally from Western compositional tactics, too, a conceptual if not literal turn away from the ukiyo-e tenets.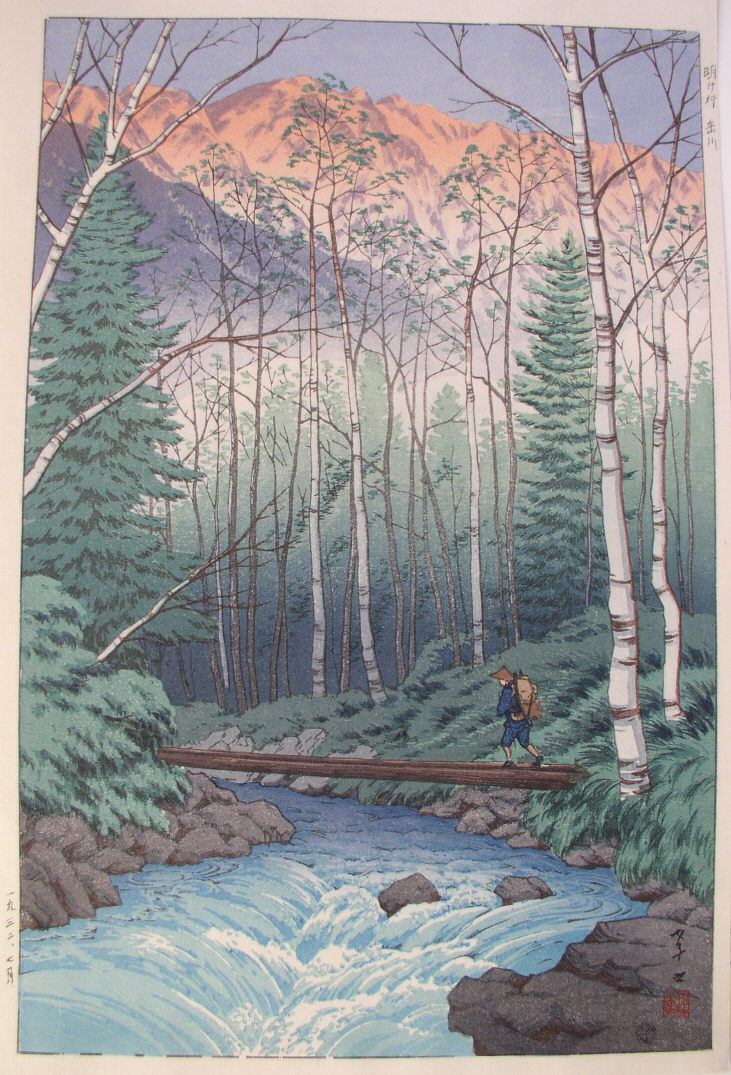 Takashi Ito, "Dawn at Takegawa, Japanese Alps" 1932 via MIT.edu
CONTEMPORARY ITERATIONS
Simultaneous to the international popularity of shin-hanga , sosaku-hanga , an art movement defined by its rebuke of a collaborative hanmoto system, struggled for recognition in the early half of the 20th century.
Kiyoshi Saito, "Nude (C)", 1966 via Ronin Gallery
Still, the movement found its footing in the wake of WWII, securing its individually-minded artistic agenda at the Sao Paulo Art Biennial of 1951, wherein innovators Kanae Yamamoto and Kiyoshi Saito outperformed all other categories in their representation of their home country.
Yoshitoshi Mori, "Potted Plant Fair", 1957 via Ronin Gallery
Defined by the rugged singularity and emotional realism, sosaku-hanga entranced Japanese viewers, whose appetite for the saccharine shin-hanga propoganda of the previous decades was never particularly sharp.
The legacy of ukiyo-e prints is artistically undeniable, although many feel as if the art form is facing obsolescence in Japan.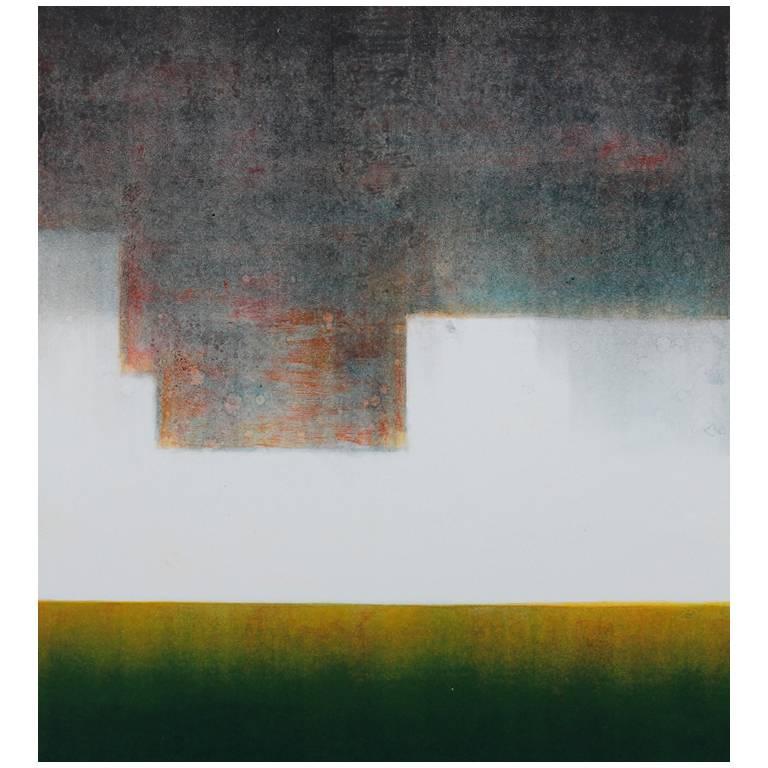 Keiji Shinohara, "Opus 22", 2011 via 1st Dibs
Keiji Shinohara, born in 1955, has been heralded as the great contemporary steward of the form, adapting traditional techniques in a variant, unique hand. After attaining the status of master printer in 1981, Shinohara moved stateside, where he has collaborated with artists like Balthus , Chuck Close , and Sean Scully .
Balthus, "Japanese Girl With Red Table", 1967 via Japan Times
Back in Japan, the Adachi Institute of Woodcut Prints in Tokyo, established in 1928, had dedicated itself to the reproduction of 1,200 masterpieces by ukiyo-e artists like Suzuki Harunoby and Toshusai Sharaku, utilizing the time-honored processes so central to the genre while also commissioning ukiyo-e drawings from contemporary artists like Hiramatsu Reiji to be carved on-campus.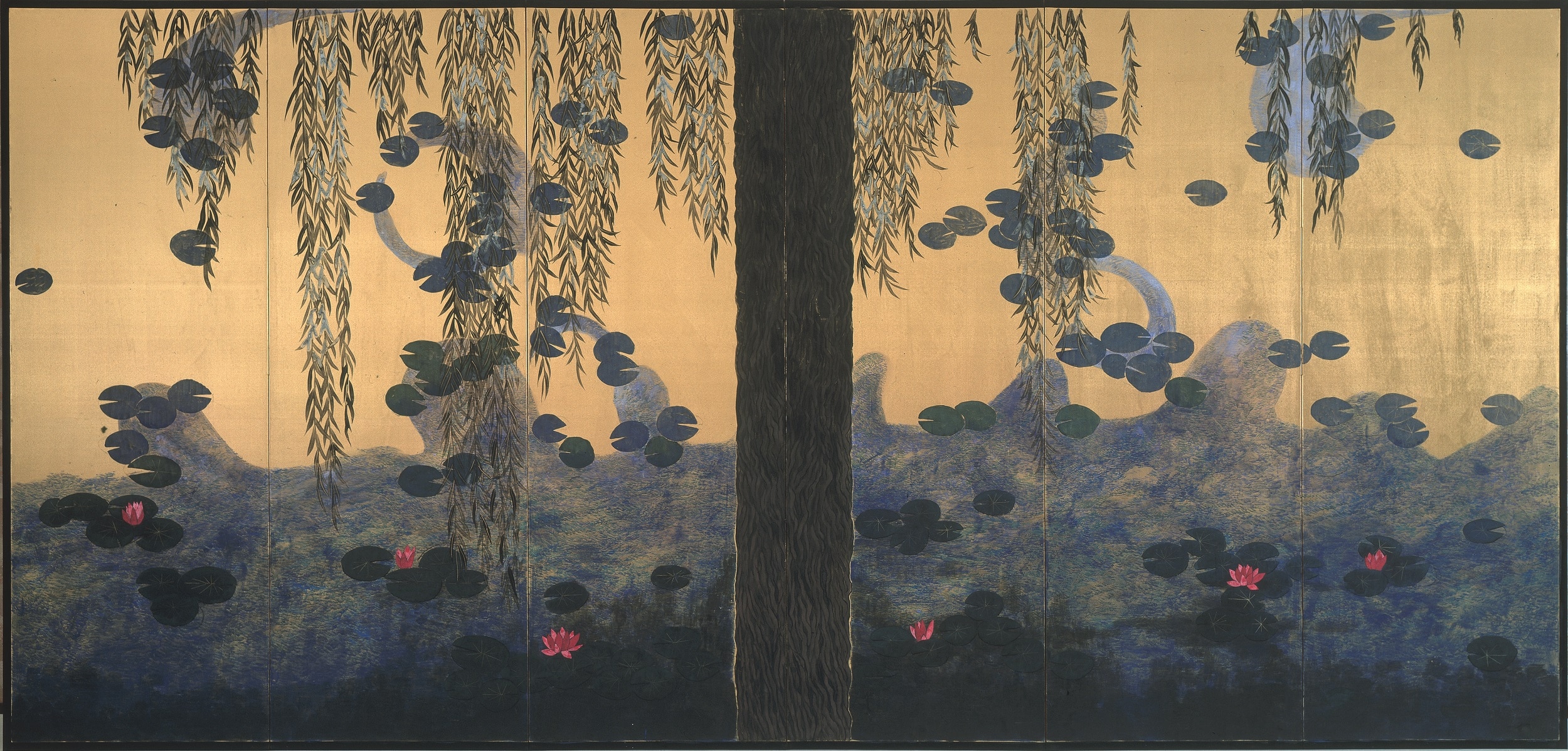 Hiromatsu Reiji, "Homage to Monet" detail, 1998 via Musee Giverny
The Library of Congress has made their ukiyo-e collection available online, and the Ukiyo-e Project, the comprehensive digital archive founded by programmer and Khan Academy engineer John Resig, collates collections from 24 museums, libraries, and dealers world-wide to create a database of 220,000 examples of the art form.
Yoshitomo Nara, "Midnight Surprise", 2017, acrylic on canvas via ArtNews
Outside of exclusively print-making, progenitors of Japan's 21st century "Superflat" movement, a Takashi Murakami title, fused ukiyo-e motifs with contemporary references like manga.
Tabaimo , "Obscuring Moon", 2016, single channel video, via James Cohan Gallery
Aya Takano, "On The Night of Departure, Black Hair Flows", 2003, acrylic on canvas via Rubell Family Collection
Yoshitomo Nara , Tabaimo, and Aya Takano mine Eastern and Western visual archives for gold, imbuing their pieces with charged eroticism or deeply human whimsy that only a storied ukiyo-e framework can provide.
RELATED ARTICLES:
10 Masterpieces of Japanese Erotica That May Complicate Your Sex Life
Why Does Japan Have Such Great Art Porn? A Short & Steamy History of Japanese Erotica