The channel, or medium, through which an artist chooses to convey their ideas is obviously important. Why? Well one reason is that the implementation of specific materials can completely transform a work's message. Would Marcel Duchamp's legendary sculpture Fountain (1917) have had the same impact on the art world if instead of an upside-down urinal he had painted an image of one instead? The boundary of what constitutes "art" wouldn't have advanced, and the "readymade" concept would not have influenced art world titans such as Andy Warhol and Jeff Koons.
While many artists create cutting-edge work in the traditional mediums of painting, sculpture, and drawing—using materials like canvas, acrylic and oil paint, plaster, metal, and concrete (to name just a few)—other artists continue to push the artistic envelope through creating works out of unusual, even bizarre, media. Despite whether you personally like some of this art, you can't deny that it's challenging the art world in fresh ways by continuing to pose the classic question: can anything be art if that's the artist's intention?
Here are 6 artists working with intriguingly uncommon media. From candle wax to rubber tires, the materials these artists manipulate might astound you.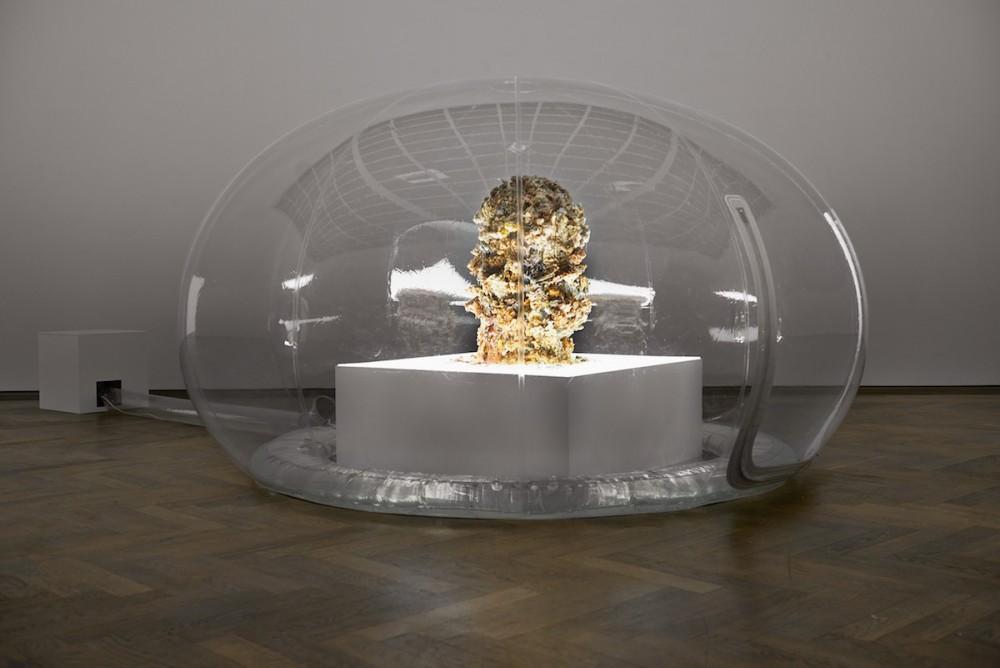 Image via 47canal.us
Tempura-fried flowers, a taxidermy coyote, and bacterial samples are all materials that conceptual artist Anicka Yi has used in her work. Due to her unorthodox practice, which centers on scent and science, scholar Caroline A. Jones has described Yi's art as "bio-fiction." For example, her 2011 piece Convox Dialer Double Distance of a Shining Path was made of powdered milk, antidepressants, palm tree essence, shaved sea lice, ground Teva rubber dust, and a mobile phone signal jammer in an effort to create the (oddly specific) odor of "a life lived off the grid and on the run." Yi has collaborated with French perfumer Christophe Laudamiel and numerous scientists—believing that science can benefit from working with artists.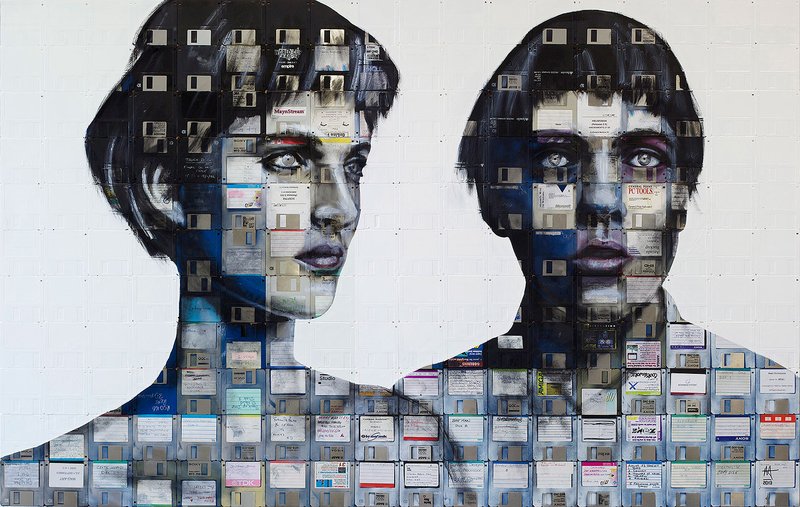 Nick Gentry's METAMORPH (2013) is available on Artspace
Working primarily with floppy disks, film negatives, and VHS cassettes, British environmental artist Nick Gentry's practice is all-too pertinent to our technologically fast-paced society. Through re-using objects and recycling outdated media, one is reminded of how quickly technology becomes obsolete upon viewing his work. The materials he uses are also sourced from the public, making his practice distinctively collaborative. For example, his portraits incorporate floppy disks sent to him from around the globe, with each disk containing an individual's anonymous private files—in a process where, according to Gentry, "contributor, artist and viewer come closer together."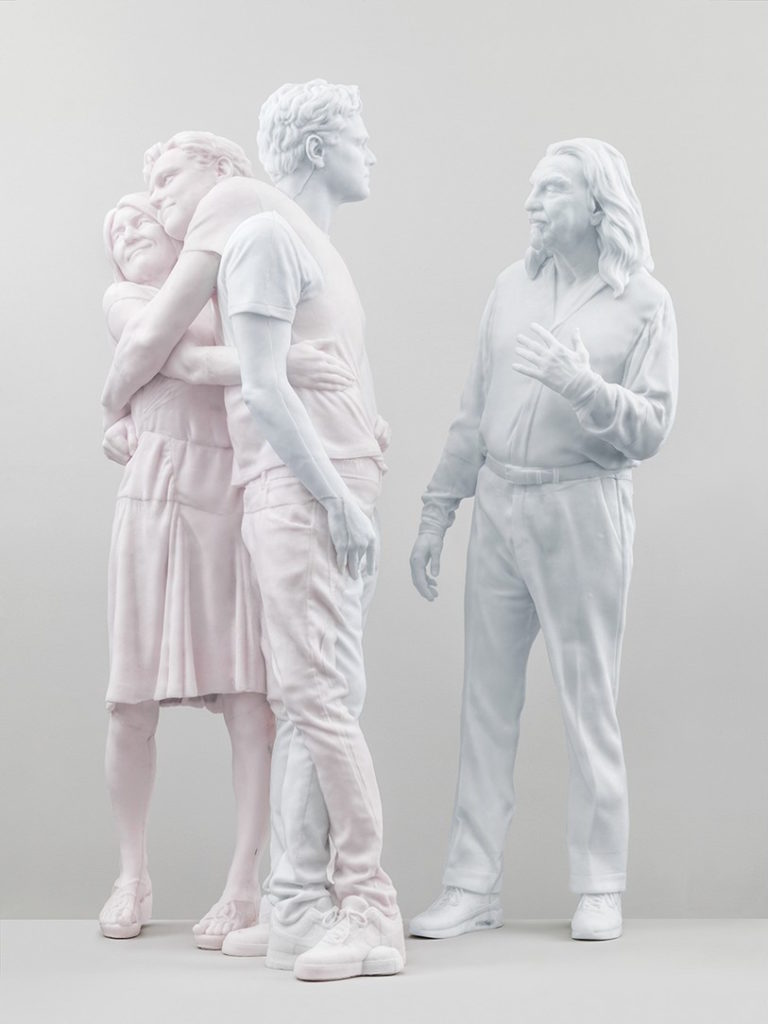 Image via news.artnet.com
Swiss artist Urs Fischer is perhaps best known for his sculptures and installations that utilize biodegradable materials, like food and wax, in a way that employs time as the real medium. Through the use of these materials, Fischer explores themes of permanence and impermanence but with an ironic self-awareness and wit. His candle series, which he began in the early 2000s, consists of sculptural figurative portraits made of wax that act as a sort of memento mori as they slowly burn and allow the viewer to reflect on the transience of life and the passing of time. Fischer's latest candle sculpture, Leo (George & Irmelin) (2019), portrays Leonardo DiCaprio with his parents, George DiCaprio and Irmelin Indenbirken. Like his other candle sculptures, Leo will slowly melt throughout the exhibition.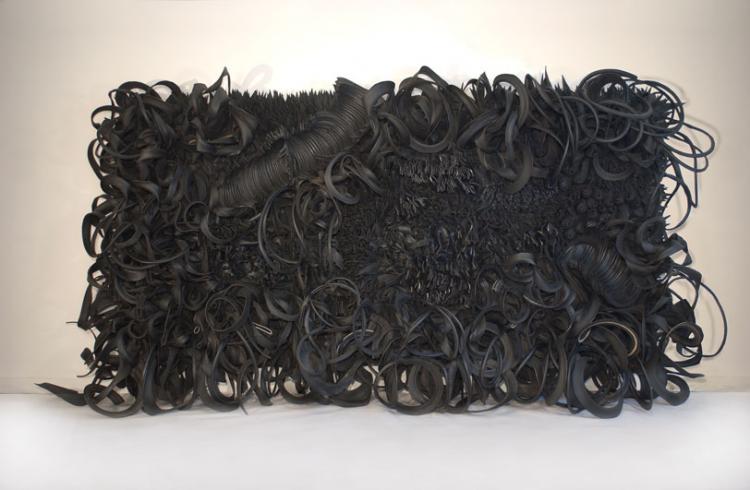 Image via nmwa.org
Chakaia Booker's abstract sculptures—made of rubber tires salvaged from city streets, auto-repair shops, and dumps—transform banal materials into lifelike, strange, or even threatening forms through slicing, twisting, and manipulating the material. The American artist's complex assemblages are latent with themes of globalization, environmental issues, racial and economic disparities, and gender. Tires are meaningful to Booker because of their deep range of historical and cultural associations. Because some of her large-scale works are so intricate, Booker utilizes computer-aided design software to create detailed models that help her realize these sizeable sculptures.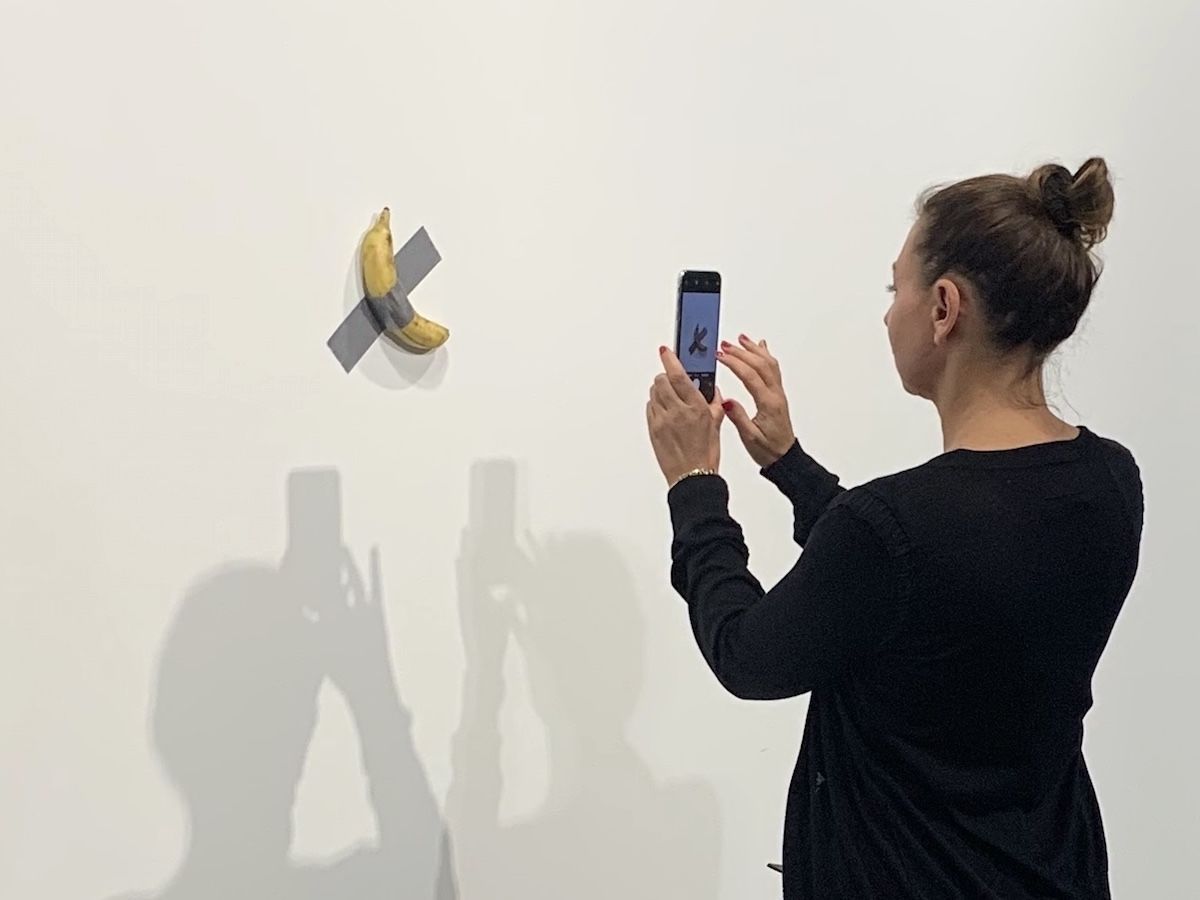 Image via artsy.net
As the reigning bad boy of Italian art, Maurizio Cattelan needs little introduction here - though many outside the artworld are still reeling from his banana taped to a wall that went viral at this year's Art Basel Miami, prompting articles such as the New York Times' "A (Grudging) Defense of the $120,000 Banana." The work, titled Comedian, is typical of Cattelan's oeuvre, which utilizes unconventional objects, such as suspended taxidermized horses, gold toilets and even cemetaries full of tombstones engraved with his name, to poke fun way beyond the artworld. Cattelan first achieved international notoriety with his wax statue of Pope John Paul II hit by a meteorite titled La Nona Ora (The Ninth Hour) (1999).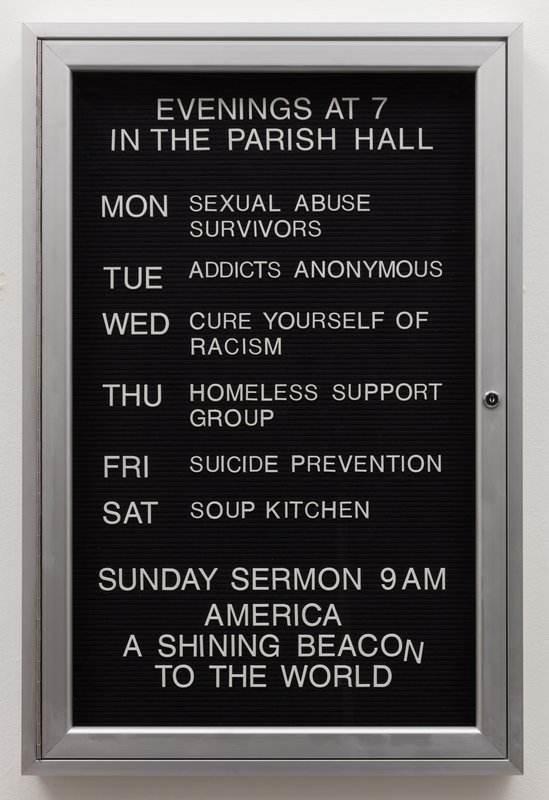 Erika Rothenberg's America, A Shining Beacon to the World (2018) is available on Artspace for $10,000
Los Angeles-based conceptual artist Erika Rothenberg utilizes words and images, across diverse media, to expose American exceptionalism in all of its ironic glory. In her "church signboard" series, the artist recreates signboards seen outside of churches with politically and socially charged text that demonstrates the ironies of our society in a satirical way. Titles of some signboards include America, The Greatest Nation On Earth (2012) and Another Century Of Progress (2001). Rotenberg states, "I have always been fascinated by the directories on the facades of religious institutions, so I decided to start making my own versions."
RELATED ARTICLES:
7 Pieces of Banana Art that were Better than the One at Art Basel Miami Beach
Slime Mold, Glow-in-the-Dark Bunnies, and "Victimless Leather": 9 BioArtists You Should Know