Andy Warhol was always coy about his past, notoriously answering interview question with one-word riddles. But it doesn't take too much digging to realize that his biggest influence was his very own mother, Julia Warhola. The Whitney 's Andy Warhol retrospective, "From A to B and Back Again," exhibits over 350 artworks by Andy Warhol—and one by his mother. The piece, which the New York Times covered in its review of the exhibition , is a line drawing of a cat surrounded by the word "purrs," which seem to vibrate like a cat's purring body. At first glance, Julia's drawing could not be more different than her son's Marilyn Monroe screen prints. But Julia was a huge influence on, and supporter of, her son—and artist in her own right. She and Andy were also frequent artistic collaborators early on in his career.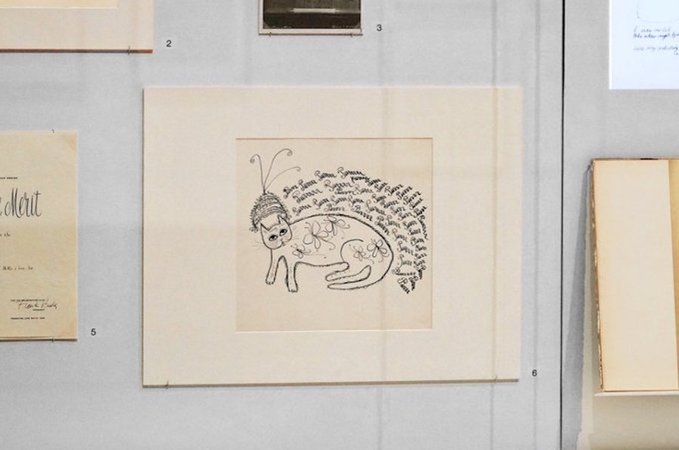 Cat with a Hat with "Purr" inscriptions by Julia Warhola circa 1953. Image via the New York Times
Julia was born Júlia Justína Zavacká in 1892 to a peasant family in Austria-Hungary (now Slovakia), marrying Andrij Varkola at the age of 17. Andrej emigrated to the U.S. soon after they married, and she followed him to Pittsburgh in 1921. They had three children––Paul, John, and the youngest, Andy––and attended the local Byzantine Catholic Church.
RELATED ARTICLE: What Was Andy Warhol Like as a Kid? The Origin Story Begins in an Immigrant Household in Pittsburgh
Julia grew up in a family that valued the arts. She enjoyed singing traditional folk songs, embroidery, hand-making paper, and decorating Easter eggs. In Pittsburgh, she arranged artificial flowers in coffee cans, which she covered with foil paper, selling them door to door. She used the flower money to buy cans of soup for her sons. "That soup, Andy told me once, constituted a rare opportunity as a child to exercise his taste, because he got to pick which kind of Campbell's they would have for lunch. Usually, he said, he chose tomato," writes art critic Dave Hickey in Phaidon's book Andy Warhol "Giant" Size .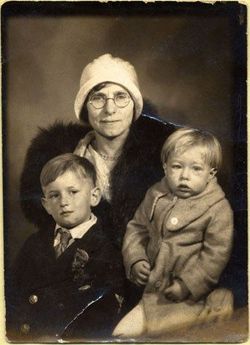 Julia Warhola and her sons. Image via Find A Grave.
Julia also loved to draw: her favorite subjects were angels and cats. Andy was sick throughout his childhood, and Julia cared for him full-time, keeping him in bed with coloring books. Without a television, Julia and Andy occupied themselves by making art together.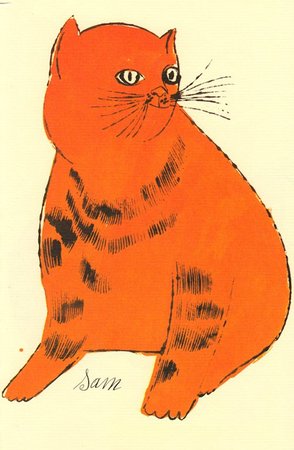 Excerpt from Twenty-Five Cats Name Sam and One Blue Pussy by Andy Warhol and Julia Warhola, 1957. Image via Brain Pickings
By the early 1950s, Andy had moved to New York and was working as a freelance illustrator for Doubleday —and was completely broke. When Julia found out, she moved to New York to help him; the two actually lived together from 1952 until 1970. Andy used his mother's decorative handwriting in his illustrations.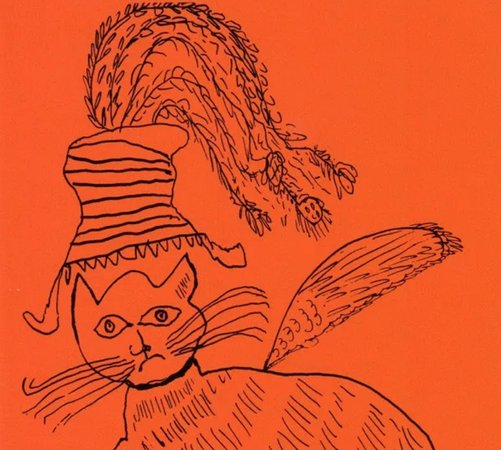 Excerpt from Holy Cats by Julia Warhola, 1957. Image via Brain Pickings.
Overall, Andy's early line drawings are similar to his mother's style—and subject matter. As writer Maria Popova points out, "The two shared a love of cats so strong that their squalid home was populated by a multitude of felines, all but one named Sam; the sole outlier, Julia's most beloved companion, was named Hester." In 1957, Andy and Julia made a book about their cats, 25 Cats Name Sam and One Blue Pussy , featuring 17 illustrations combining Andy's vibrant pop-art colors blotted inside black line drawings and calligraphy by Julia. (Julia mistakingly left out the 'd' in the title—but Andy loved it and decided to keep it anyway.) In 1957, Julia wrote and illustrated a sequel to 25 Cats titled, Holy Cats , which was a eulogy to Hester. She signed it "By Andy Warhol's Mom."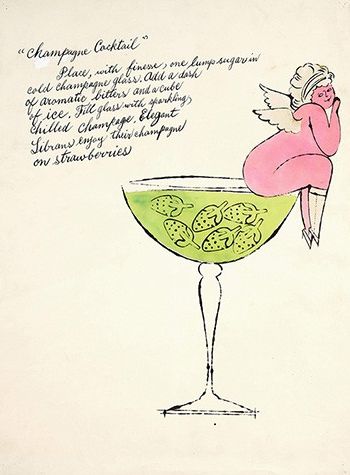 Horoscopes for the Cocktail Hour ("Champagne Cocktail") c. 1961. Image via Pinterest.
Julia also helped her son with his commercial gigs, penning "The Exotic Calf" onto an illustration Warhol made for a small leather goods company called Flaming-Joffe Ltd. And her handwriting also appears in the drawing Horoscopes for the Cocktail Hour ("Champagne Cocktail") , included in the book Horoscopes for the Cocktail Hour by Robert Cumming and Warhol.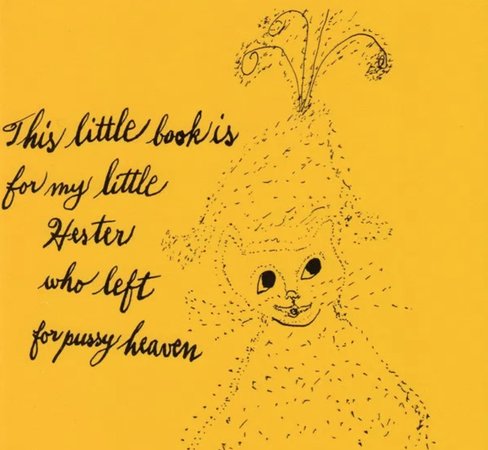 Excerpt from Holy Cats by Julia Warhola, 1957. Image via Brain Pickings.
Andy wasn't the only one who appreciated his mother's penmanship, though. Julia won an award from the American Institute for Graphic Arts for the album cover for "The Story of Moondog ," which solely consisted of Julia's handwriting. Now, a wall of her work is part of the Andy Warhol Museum' s permanent collection in Pittsburgh.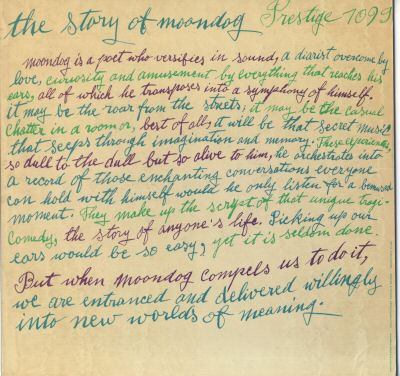 "The Story of Moondog" album cover by Julia Warhola. Image via Discogs.
We can only imagine what else Julia might have made had she been born later, if she'd had more time. Unlike Andy, Julia was an immigrant, a woman, and working-class for most of her life. Feminist artists hadn't reclaimed craft yet; her work was consequently relegated to––and received as––a quirk or hobby. Thankfully the Warhol retrospective at the Whitney, on view until March 31, 2019, has brought at least a glimpse of her artistic talent to light.
[related-works-module]
RELATED ARTICLES:
"From A to B and Back Again": A Review of the Reviews of the Whitney's Andy Warhol Retrospective
What Was Andy Warhol Like as a Kid? The Origin Story Begins in an Immigrant Household in Pittsburgh
"Your Silence Will Not Protect You": 8 Reasons to See Barbara Kruger at Mary Boone Gallery