How much should we care about celebrities? And how much should we care about celebrities who make art? Instead of analyzing individual celebrity artists as the next best (or worst) thing, we're more interested in treating their art as weird little microcosms of pop culture and the art world. That being said, we think Lucy Liu's sculptural assemblage practice is extremely moving and gorgeous! As she said in an interview with Artsy, "I actually felt sorry for things thrown on the ground or discarded, and it sort of just broke my heart. I made a point of picking things up, and I used to put them in a box, but I started putting them in books."
On this note, here's our list of the eight celebrity artists worth looking at.
SHIA LABEOUF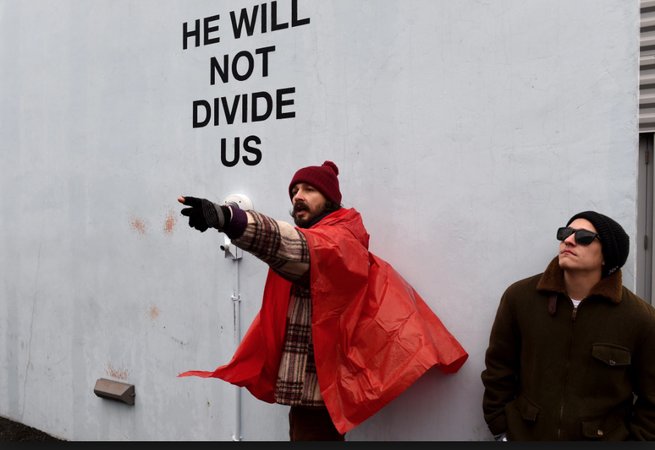 He Will Not Divide Us by Shia LaBeouf, Nastja Säde Rönkkö and Luke Turner (2017), image via Time Magazine.
On January 20th, 2017, the day of Donald Trump's inauguration, Shia LaBeouef set up a camera outside of the Museum of the Moving Image, which was meant to remain there––livestreaming––throughout the four years of the Trump presidency. The camera lens was set on a wall, which read, "He will not divide us." The stream began with rapper/voice actor Jaden Smith intoning, "He will not divide us" in front of the wall for a few hours. Which was fine until the piece became a flashpoint for white supremacist trolls, who began chanting racist slogans into the camera. The next day, Shia LaBeouf, one of the three artists behind the piece, was arrested for attacking a man who visited the site and claimed to be an ISIS terrorist. The exhibit has since been relocated four times after multiple attempts to destroy it, including an attempt to burn it via drone.
How did the former Even Stevens child star start his own performance art collective, and why is his art such a target for white supremacist trolls? Who knows! LaBeouf first started getting attention for his art at the 2014 Berlin Film Festival: he showed up wearing a paper bag over his face, which read, "I AM NOT FAMOUS ANYMORE." He also walked out of a press conference for Lars von Trier's Nymphomaniac after quoting soccer player Eric Cantona's "seagulls statement": "When the seagulls follow the trawler, it is because they think sardines will be thrown into the sea." LaBeouf's collaborators were Nastja Säde Rönkkö and Luke Turner.
JIM CARREY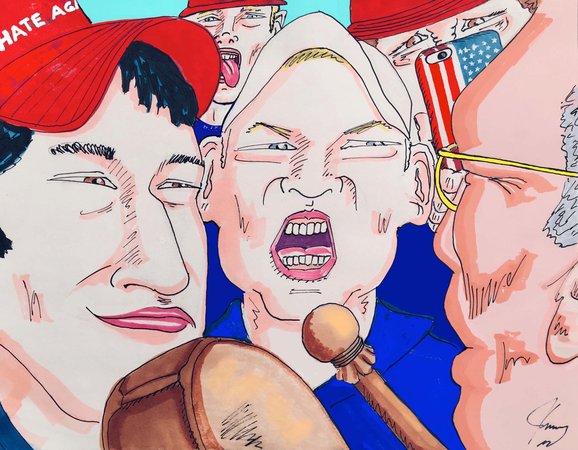 Baby Snakes by Jim Carrey (2018), image via Twitter.
Jim Carrey––perhaps better known for starring in movies like Ace Ventura: Pet Detective (1994), How the Grinch Stole Christmas (2000), and his indie debut, Eternal Sunshine of the Spotless Mind (2004)––began Tweeting photos of his political cartoons soon after the Trump election. In I Scream You Scream Will We Ever Stop Screaming (2018), Carrey contemplates nipples: Trump, baby blue bathrobe exposed at the chest, screams while caressing one of his nipples with his forefinger. In his other hand, he clenches an ice cream scooper: two scoops of chocolate ice cream––with whipped cream and a maraschino cherry on top (i.e. nipples)––sits in front. Maccarone gallery––which has hosted artists such as Alex Da Corte and Mark Flood––ran a Jim Carrey solo show this past fall. This week, he made headlines for his cartoon of the white supremacist Covington high students in MAGA hats who mocked a Native elder while chanting "Build the Wall!" Carrey aptly titled his cartoon Baby Snakes.
LUCY LIU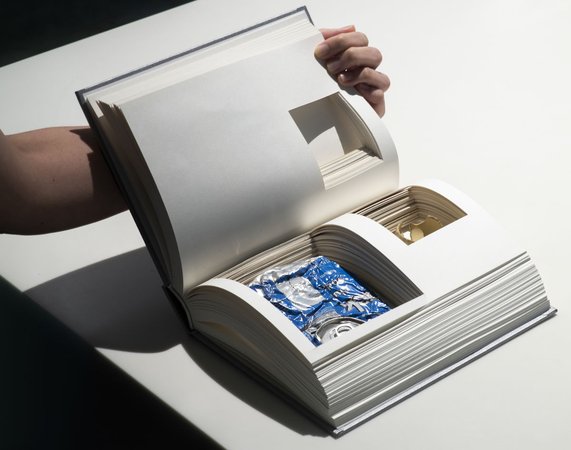 From the "Lost and Found" series by Lucy Liu, image via Artsy.
"My parents were out all the time working," said actress Lucy Liu in an interview with Artsy. "We were latchkey kids. I had siblings, and we would let ourselves in after school, we'd come home and make ourselves TV dinners, so it was just about very basic things like survival." Her recent series, "Lost and Found," which debuted at the National Museum of Singapore, was, she says, "about finding a place and belonging somewhere. I have always wanted that nurturing feeling, the feeling of being taken care of and loved." In "Lost and Found," which Liu describes as a "lifelong project," pieces of trash that she comes across––flattened cans, electrical wire––are lovingly placed into square holes cut into books; the books had been tossed by an Italian printing house when Liu came across them. Once the objects have been glued into place, you can flip through the pages and discover them––safely nestled inside.
KANYE WEST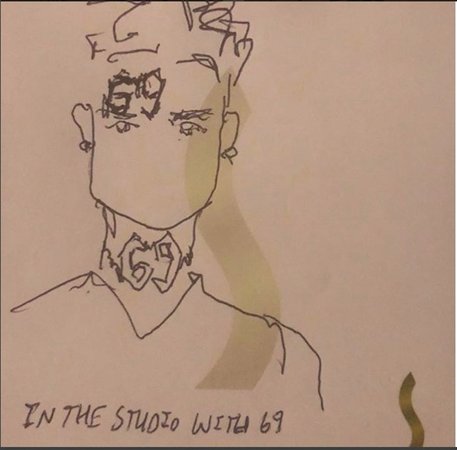 Sketch of 6ix9ine by Kanye West, image via Instagram.
In addition to being a rapper, producer, and fashion designer, Kanye West went through a brief drawing period as well, posting loose line-drawings of other celebs including rapper 6ix9ine, and the house he stayed in during a trip to Columbia. Others, such as Nico with the Camera, are more cryptic. After being critiqued for his very public pro-Trump support this past fall, West deleted his Instagram account, which means that you can't access the drawings other than by searching and screenshotting them off Google Images… which we did here.
GEORGE W. BUSH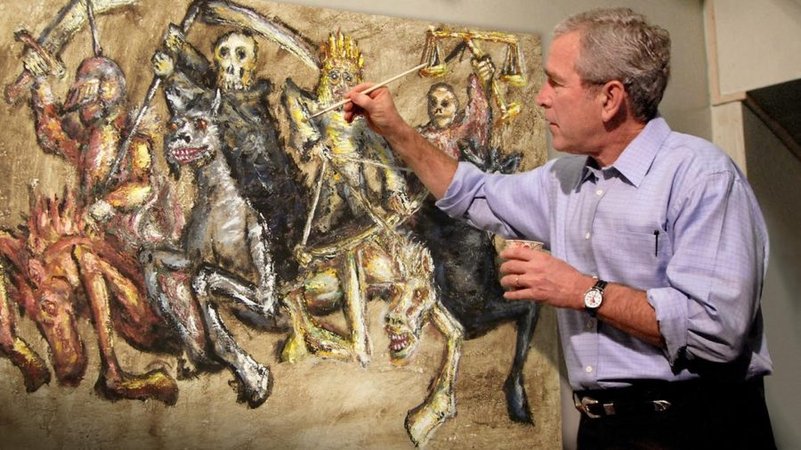 Former President George W. Bush painting, image via ranker.
George Bush paints veterans, political figures like Vladimir Putin, bichon frises (Business Insider reported that George Bush had painted "over fifty puppies,") and the four horsemen of the apocalypse. A website called artranked.com, which allows you to "vote on everything," shows an image of the former president adding detailed brushwork to salivating skeletal demons. Perhaps his most disturbing works, however, are glosses of his War on Terror. In one, Saddam Hussein appears as a clown, a soldier holds back a charging dog while a prisoner dressed in an orange jumpsuit, hands tied behind his back, cowers in the corner. Perhaps most disturbingly, the famous image of a prisoner being tortured at Abu Ghraib holding a rose above a vase of roses.
JONI MITCHELL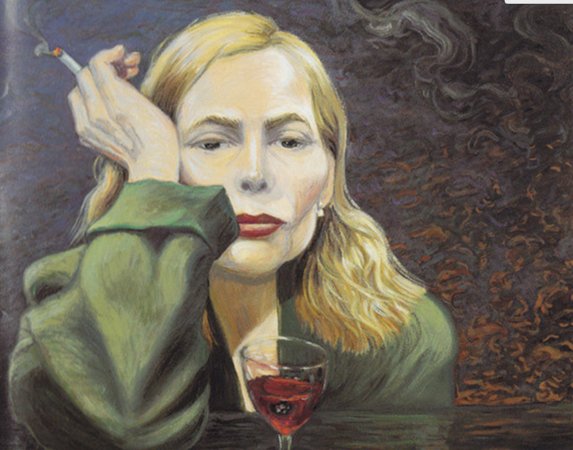 Both Sides Now album cover by Joni Mitchell (2000), image via Wikipedia.
As writer Janique Vigier pointed out in a piece on singer/songwriter Joni Mitchell's self-portraiture, "She had an image of the future in mind, and she knew how to play the part, which was, in part, to be an image… Her self-portrait for the cover of her 1969 landmark album, Clouds, looks like someone showed her an image of the platonic ideal of bohemian feminine and asked her for a copy. But her expression, inscrutable, is more affixed to her than it is emerging from her face—closer to a mask. She was less naïve than her persona suggested, smarter than to give herself away." Mitchell would go on to paint twelve of her nineteen album covers, including the Van Gogh-esque Both Sides Now, in which she sits, drinking a glass of wine, thinking of… it's a mystery. It's supposed to be. As she said in a 2013 interview, "I'm a painter. Always have been. A painter derailed by circumstance." Which is true: Mitchell went to art school, picking up singing as a way to make extra cash ("smoking money.") While she was in school, abstract expressionists––Jackson Pollock, Barnett Newman––and minimalism were all the rage. She hated both. As she said in a 2013 interview, "I think Picasso is about as a modern as I got." Mitchell has never exhibited her works in a gallery setting, but it doesn't seem to matter. She paints for herself––and for the album covers, distributed to millions of fans.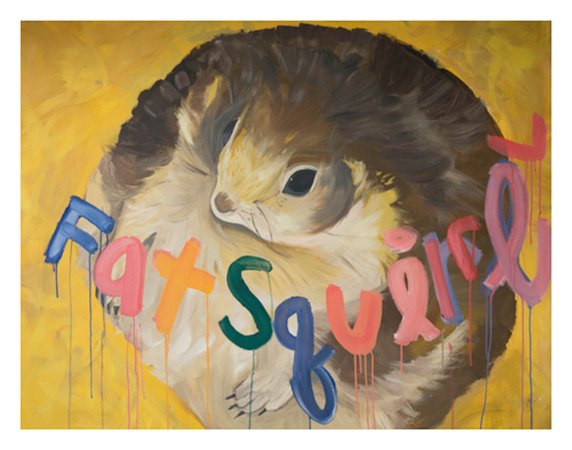 Fat Squirrel by James Franco, image via Treason Gallery.
James Franco's art is just as annoying as you might expect. After being a teen star in Freaks and Geeks, he's been in everything from action movies like The Green Hornet to self-serious indie movies like Howl (he played Ginsberg, of course.) In addition to his acting, Franco is also currently a PhD student in English at Yale, and a painter, currently represented by Treason Gallery. Franco, who has participated in the Venice Biennale and Performa in addition to showing at New York's Gagosian Gallery and MoMa PS1, specializes in figurative painting and text. An aerial view of a completely circular squirrel has the words "fat squirrel." A grey-scaled impastoed work features a melancholy man leaning back against a wall. The word "men" has been crossed out, with "boys" written underneath. Is Franco coasting on celebrity, "making it" in contemporary art thanks to the draw of his acting career when he isn't even a great actor? Maybe! Is his work better or worse than any other contemporary figurative painter? Maybe! Maybe not!
BRITNEY SPEARS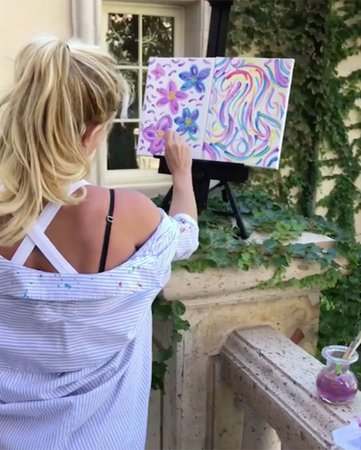 Britney Spears painting, image via It's Nice That.
If you grew up in the aughts, you just hope that Britney Spears is okay. Which––at least based on social media––she is? In 2017, Spears posted a video of herself in a sunlit back yard, Mozart playing in the background. The camera pans to reveal the pop legend painting pastel flowers onto a canvas, wearing a painter's shirt over a white bra-top. But unlike many celeb artists, Spears doesn't take herself too seriously. As she pointed out in the Instagram caption, "Sometimes you just gotta play!!!!!!" Spears donated the flower painting to an auction for Vegas Cares; the proceeds were donated to a commissioned monument in memory of the Las Vegas massacre. According to the artist's Instagram, she has since moved on to photographing, posting an image of a seashore with the caption "Great day behind the lens!" last February.
[related-works-module]
RELATED ARTICLES:
Bling and Boob Jobs: Lauren Greenfield's New Documentary "Generation Wealth"––And the Photos that Started it All
Beacon of Light: The 7 Best James Turrell Works You've Never Heard Of
12 Portraits of Professional Athletes––Commissioned By Said Athletes