March 8 was International Women's Day, and though few people remember this occasion in America, in Russia we celebrate it as a major national holiday. Every March since my Soviet childhood I was reminded to appreciate all the intelligent and hard-working women who have played a pivotal role in my life and generally made our world a better place. This month my travels took me West to East—from New York to London to Paris to Dubai to Baku to Moscow—and everywhere I went I kept bumping into the wonder women of today, who are curating, creating insightful and powerful artworks, and building art fairs, galleries, museums, and nonprofits.
My first week of March was spent in New York and I rung in March 8 at my inaugural board meeting at Barnard College, where I studied as an undergraduate and have now returned as a trustee. But board meetings or not, the art world doesn't stop, and that first week was also the perfect storm of the art fairs, gallery openings, and the debut of the Whitney Biennial, which I got a sneak peek of thanks to Sotheby's. The auction house had a "Contemporary Curated" mid-season sale the same week, and I was one of the "curators"—I picked a selection of works from their catalogue, with my favorite being a piece by Carol Bove made of peacock feathers.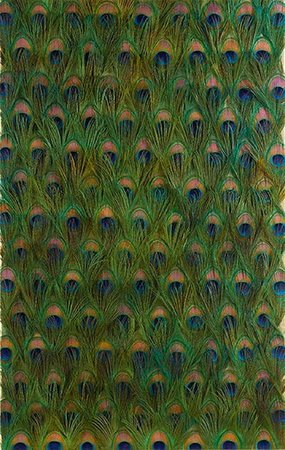 Carol Bove's Untitled (2012). Estimate $80,000-120,000; sold for $149,000
Although we call the first week of March "Armory Week" because of the Armory Show fair and the ADAA fair at the Park Avenue Armory (why does it have to be so confusing??) my favorite fair of the group is Independent, which was founded by another wonder woman, Elizabeth Dee, and Darren Flook in 2010. Due to its continuing indie success, Independent just announced it will now have a second fair during New York's November auctions.
The Armory Show itself has struggled these past few years as fairs like Independent and Frieze New York—and really any fair anywhere these days, as the calendar keeps getting tighter and tighter—have chipped away at its gallery roster and collector base. One of the fair's survival strategies has been to introduce yearly geographic focuses, represented by a curated selection of galleries and/or nonprofits. This year the spotlight turned to China, which was of particular interest for me, as I've been following Chinese art the past two years.
Phil Tinari, director of the Ullens Center for Contemporary Art in Beijing, did an excellent job in pulling together works that defied all the Ai Weiwei cliches while the collector and philanthropist Adrian Cheng covered the more critical aspects in the weekend's fantastic "China Symposium." I particularly enjoyed the He Xiangyu solo booth at White Space—I had first encountered this artist at the "ON/OFF" show at UCCA, and then at the Rubell Family Collection back in December during Art Basel Miami Beach, and, more recently, at White Cube Bermondsey. I also really liked the Zhao Yao brainteaser at Beijing Commune's booth.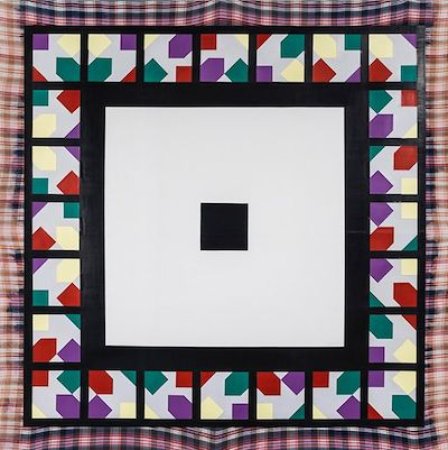 Zhao Yao, A Painting of Thought I-305 (2013), acrylic on found fabric. Photo courtesy of Beijing Commune.
New York isn't the only city hosting major art fairs in March, and I actually associate this month most strongly with Art Dubai, where I have been on the board of patrons for the past five years. I was invited to join the board by yet another strong woman working in a male dominated world: the soft-spoken but no-nonsense Antonia Carver, who took over the fair in its third year of existence. No matter where I am in the world in March, I always make my way to Art Dubai—I even gave up my spring break at Harvard Business School to attend the fair, spending afternoons inside its halls and and at the Global Art Symposium while my fellow classmates frolicked in more vacation-friendly destinations (though I can't really complain because Dubai's weather and hospitality are unmatched). Though I'll absolutely maintain my tradition of attending the fair, next year the month's international calendar will see yet another powerful contender: Art Basel Hong Kong is moving its dates to March. It never ends.
In between New York and the UAE, Paris lured me away for the weekend with two shows I was determined to catch: Wade Guyton at Galerie Chantal Crousel and David Ostrowski, who was showing for his first time at Almine Rech. (It's no coincidence that these are two of the most important gallerists in Paris, and both happen to be women.) David continues to be the talk of the art world, and I really enjoyed seeing his show. He has a keen sense of humor, as is evident in his choice to reuse the title from his first solo show: "Das Goldene Scheiss," or, more or less, "The Golden Shit."
Wade, for his part, recycled more than a title. For his show at Chantal Crousel—which he called "26 avril – 7 juin 2008"—he actually reprinted the works from the show he made in 2008, using the exact same digital files but allowing for variation in the printing due to a new type of ink and an updated printer. The only major difference, though, is that this time around all 10 paintings are sold as one installation, including the reflective black floor of the exhibition space—an homage to the floor in Wade's studio.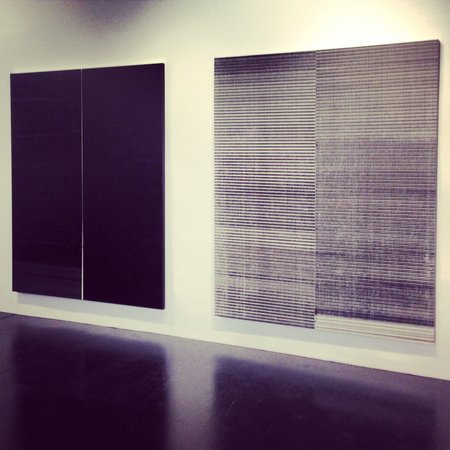 Wade Guyton's show at Chantal Crousel
I enjoy seeing the way Wade is developing his ideas about image-making, finding ways to push or question his own technique. We included Wade—alongside Walead Beshty, Matthew Brannon, Sterling Ruby, and Kelley Walker—in the group show "FIVE" at Baibakov Art Projects in 2009, and I'm so proud to watch the careers of these artists evolve. Right now you can catch Walead in a fantastic show at Regen Projects in L.A., and we'll soon be able to see his work at New York's Petzel Gallery; Kelley had a new solo show at Paula Cooper; Matthew launched a new book with my beloved Three Star Books; and Sterling is featured in the Whitney Biennial with some choice ceramics.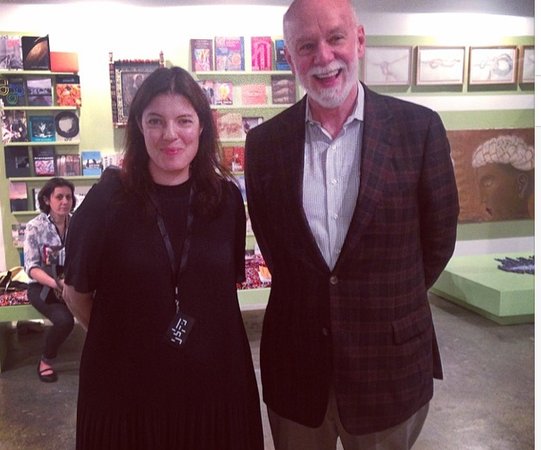 Antonia Carver with Guggenheim director Richard Armstrong
But… back to Dubai. Now in its eighth year, Art Dubai has solidified its position as a cultural beacon in the Middle East, thanks to all of its "extras" like the Abraaj Capital Prize, the Global Art Forum (directed by Shumon Basar) and then, of course, the Marker section, which, like the Armory's "Focus," provides a curated selection of galleries and nonprofits based on a regional theme. The difference here is that Art Dubai really focuses on the Islamic world, which is consistent with the emirate's overall strategy to be the meeting point for this wide geographic region.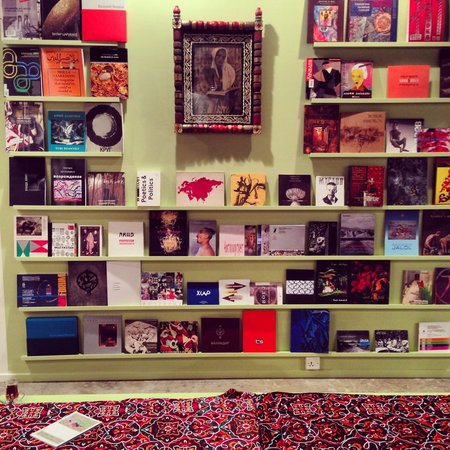 The Marker library
This year's Marker focused on the art of Central Asia and the Caucasus, the much-romanticized but little-understood stretch of mountains between the Black Sea and the Caspian Sea. (For the geographically disinclined, that includes Azerbaijan, Armenia, Georgia, Dagestan, and Chechnya.) Every year a curator is asked to organize this part of the fair, and this edition saw the curatorial debut of the artist collective Slavs and Tatars, which focuses its artistic practice on that nebulous territory "east of the former Berlin Wall and west of the Great Wall of China."
Indeed, Slavs and Tatars seemed to be all over this year's Art Dubai—the artists also opened their first solo in Dubai at The Third Line. Titled "Language Arts," the show featured all-new work sampling text from Persian, Russian, Turkish, Georgian, and English in an attempt to describe the complex linguistic history of the region, which over the 20th century shifted between the Arabic, Latin, and Cyrillic alphabets.
For Marker, Slavs and Tatars included organizations such as ArtEast (from Bishkek, Kyrgystan), Asia Art+ (from Almaty, Kazakhstan), the North Caucasus Branch of the National Centre for Contemporary Art, (from Vladikavkaz, Russia), Popiashvili Gvaberidze Window Project (from Tbilisi, Georgia), and the YARAT Contemporary Art Organisation (from Baku, Azerbaijan). Totally coincidentally, all of these organizations are led by women—which is quite surprising considering the patriarchal nature of the societies in this region.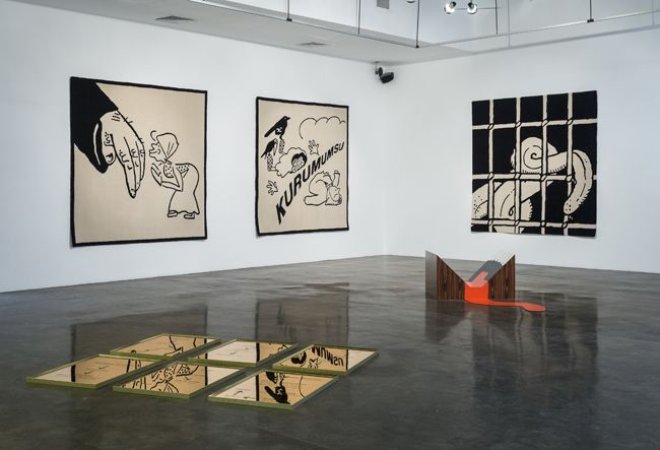 Installation view of Slavs and Tatars, "Language Arts," at The Third Line
But the female domination of the region's cultural sphere didn't stop with leadership roles in nonprofits. While sipping tea on the stylized riverbeds at Marker, I caught up with Taus Makhacheva, the granddaughter of the famous Dagestani poet, Rasul Gamzatov. Taus is one of the most interesting artists working in Russia today—she concerns her practice with redefining Dagestan (which doesn't have the best rep) by showing it to viewers from other fresh perspectives. Marker included Taus's work Landscape, which features a series of noses of the Caucasian persuasion (read: "distinguished") forming a shape reminiscent of the Caucasus mountains.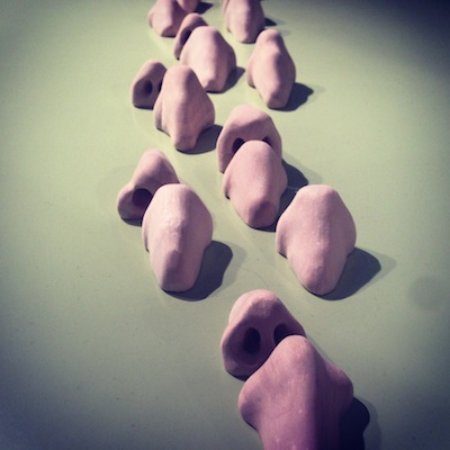 Taus Makhacheva's Landscape (2013 - ongoing)
We both were floored by the work of Galina Konopatskaya, a Kiev-born Soviet painter who moved to Dagestan in 1955 and fell in love with the region, doing much to define its visual language. Konopatskaya did not shy from images of strong women: I loved Cosmic Mother, which showed a woman in full astronaut garb cradling an infant in outer space—a sort of homage to the Virgin Mary cradling baby Jesus, but in Soviet style.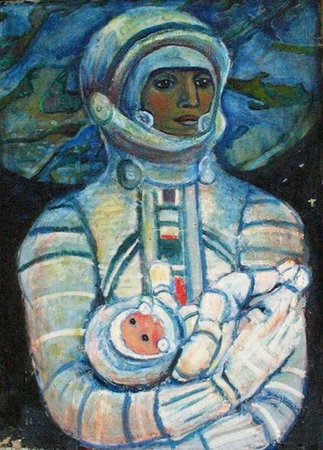 Galina Konopatskaya's Cosmic Mother (1970)
If you have heard of Dagestan at all, it has probably been in the context of pretty negative headlines, as unfortunately today the place is associated with extremism at worst and male chauvinism at best. The fact that a woman artist created the visual language in a very male-dominated society made me wonder: is that relevant to Taus, who is also a woman defining art in Dagestan today? I asked her what she thought about Konopatskaya's legacy. "She paved the way for female artists in Dagestan, and her work has been incredibly important to me," Taus explained. "I even once considered selling the family diamonds to try to buy some of her work, but then decided that her paintings belong in museums, as Konopatskaya is really our national heritage."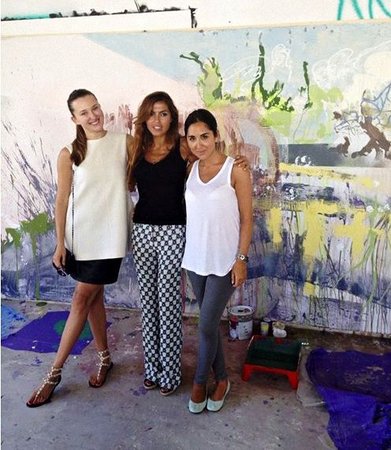 Maria, Aida Mahmoudova, and Dina Nasser-Khadivi in front of Aida's paintings in her Baku studio
My next stop after Dubai was Baku, where I was visiting Aida Mahmudova's YARAT Contemporary Art Space for the opening of "Love Me, Love Me Not," a group show curated by the wonderful Dina Nasser-Khadivi. The exhibition—which includes Slavs and Tatars, Taus, and Kutlag Ataman, among others—premiered as a special project of the Venice Biennale last summer. On April 3, it will open to the public in Baku's Heydar Alijev Cultural Center (designed by none other than Zaha Hadid), but Aida had invited a few friends for a special preview after Art Dubai.
(Here's where I have to indulge in a little disclosure: I may have been born in Moscow and raised in New York, but four generations of my family have lived in Baku. In fact, that's part of what drew me to the work of Slavs and Tatars—it's not so much about getting to know another culture as getting to know my own cultural inheritance.)
Shirin Neshat and Maria (at left) in her makeup
Among the guests at the opening, I had the honor of meeting another of my heroines: Shirin Neshat. One minute I agreed to let her give me a makeover, and the next I was hosting a surprise birthday party for her the next night in Moscow. Shirin was traveling to my hometown for a master class at the Moscow Multimedia Art Museum, presided over by the incomparable Olga Sviblova. Dinner guests included Alisa Prudnikova and Katya Bochavar, both major forces in Russia's contemporary art scene. In short, these were women whom I'm proud to celebrate, and not for just one day each March.