When I arrived at the Sotheby's advisory lunch to preview the Impressionist and Contemporary May sales—an invitation-only event for a select group of art advisors—there was a flurry of activity around the tables where the unfinished catalogue layouts were made available for a sneak preview. From a glimpse at their pages, we know the lineup includes: 
EVENING SALE
Francis Bacon, Study for Portrait of P.L. (1962)                              $30-40M
Richard Diebenkorn, Ocean Park No. 46 (1971)                            $6-8M
Adolph Gottlieb, Pink Smash (1959)                                               $3-4M
David Hammons, Untitled  (1989-90)                                              $900K-1.2M
Jeff Koons, New Hoover Celebrity IV (1981-86)                             $10-15M
Jackson Pollock, The Blue Unconscious (1946)                             $20-30M
Gerhard Richter, Domplatz (1968)                                                  $30-40M
(this could be a record for the artist)
Clyfford Still, PH-21, (1962)                                                            $16-20M
Cy Twombly, Untitled (Bolsena) (1968)                                           $10-15M
DAY SALE
Nate Lowman, Black Escalade (2005)                                             $350-450K
Julian Schnabel, Self-Portrait by a Red Window (1982)                  $500-700K
Twenty-five works donated by various artists including Jasper Johns, Twombly, Ellsworth Kelly, Koons, Glenn Ligon, and Cindy Sherman will be offered to benefit the Whitney's new building project downtown.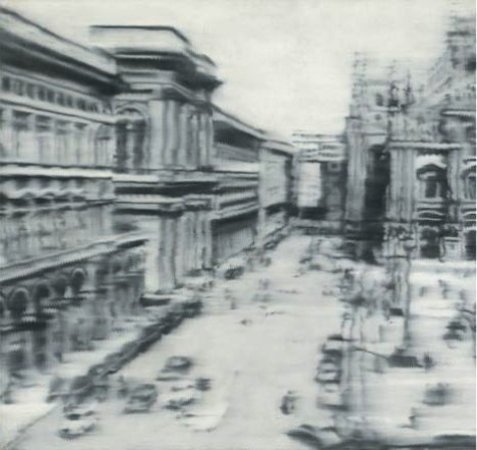 Gerhard Richter, Domplatz, Mailand (Cathedral Square, Milan), 1968
The following week, Christie's held its advisory lunch in the boardroom with the house's esteemed experts. We had to wait for the evening mockups as they were just being completed. Talk about hot off the presses! Major works have been sourced from various private collections, including Andy Williams (recently acquired in the last six years, and expected to bring $30M), Celeste and Armand Bartos, and Sylvia G. Zell. 
Here are some of the highlights:
EVENING SALE
Jean-Michel Basquiat, Dustheads (1982)                                  $25-35M
(this could be a record for the artist)
Basquiat, Furious Man (1982)                                                     $1.2- 1.5M
Roy Lichtenstein, Woman with Flowered Hat (1963)                 est. on request
(think $30M+)
Kenneth Noland, Circle (1958)                                                   $900K-1.2M
Jackson Pollock, Number 19 (1948)                                          $25-35M
(assumed to be the property of Mitchell Rales)
Ed Ruscha, Mint (Red) (1968)                                                     $2.5-3.5M
Clyfford Still, PH-1 (1953)                                                           $15-20M
DAY SALE
Arshile Gorky, Virginia Landscape (1944)                                  $600-800K
Claes Oldenburg, Soft Baked Potato (1970)                              $150-200K
Wayne Thiebaud, Sandwich (1963)                                            $900K-1.2M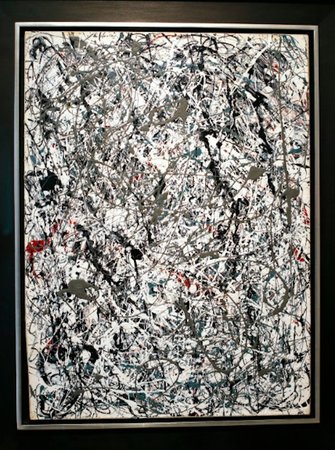 Jackson Pollock, Number 19, 1948
Linda R. Silverman, a former director of the contemporary art department of Sotheby's New York, is now an art advisor in impressionist, modern and contemporary art. Linda R. Silverman Fine Art offers advisory services to private clients to purchase works of art at auctions, art fairs and galleries worldwide. To read more of her writing, visit Linda Silverman's Art Update blog.