On May 4th, we drove up to Storm King Art Center to attend Thomas Houseago's opening of his first U.S. museum exhibition titled "As I Went Out One Morning." The title is taken from a Bob Dylan song and is meant to show the influence that music had on Houseago's art.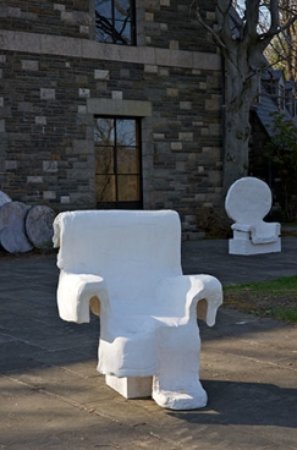 Thomas Houseago, "Studio Seat I" (2011)
The exhibition consists of indoor and outdoor sculpture in several media including bronze, aluminum, wood, Tuf-Cal plaster and charcoal, as well as drawings. For the first time a grouping of two plaster chairs can be viewed in front of the Museum Hill Building inviting visitors to sit upon them. This alludes to the artist's studio-based practice where he says "the studio for me is the center of my life".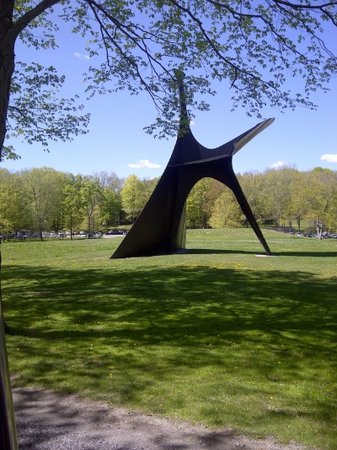 Alexander Calder's "The Arch" (1975)
Storm King is one of the world's premiere sculpture parks set on over 500 acres in the Hudson Valley about an hour north of New York City. Its grounds are an ideal venue to view Houseago's work, as well as a unique opportunity to enjoy the beauty of the dramatic landscape with its valleys, woodlands, lawns, and vistas set in harmony with the sculpture collection (dating from the 1960's to present). We took a ride on the tram to cover more ground and saw many of the highlights along the way: Alexander Calder's The Arch, Maya Lin's Wavefield, Richard Serra's Schunnemunk Fork, Andy Goldsworthy's Storm King Wall, Marc di Suvero's Pyramidian, and David Smith's Volton XX.
Another trip is definitely necessary!