In 2011, New York's Museum of Modern Art raised some pulses when it announced that it would be acquiring the former building for the American Folk Art Museum, next door to the MoMA's 53rd street complex. Constructed only 12 years ago, the origami facade has already become a New York icon, dreamed up by architects Tod Williams and Billie Tsien (the same team responsible for rehousing Philadelphia's Barnes Foundation.)
The American Folk Art Museum—which, intriguingly enough, actually owns Marino Auriti's Encyclopedic Palace, the inspiration for Massimiliano Gioni's Venice Biennale exhibition—vacated from the site in 2011, opting for a more affordable space opposite Lincoln Center. The building has remained in limbo, designated to be integrated into MoMA, but architecturally incongruent, and, well, just a little inconvenient. The galleries are designed along verticals that just don't lend themselves to the types of white box viewing that MoMA has developed as its trademark. What was a long feared possibility became a reality earlier this month, when MoMA announced the building would be razed to make way for another, which could directly connect to the remaining MoMA budildings. In a New York Times piece, MoMA chief architecture and design curator Barry Bergdoll is quoted as saying: "It's incredibly painful to see a really significant building go. The conclusion reached makes sense for the future evolution of this complex of buildings and coming up with something that can really show off this collection to its greatest effect." He later adds: "It's a kind of bespoke suit for folk art that has tremendous obstacles. You can't punch walls in the side and expect it to still be the same space."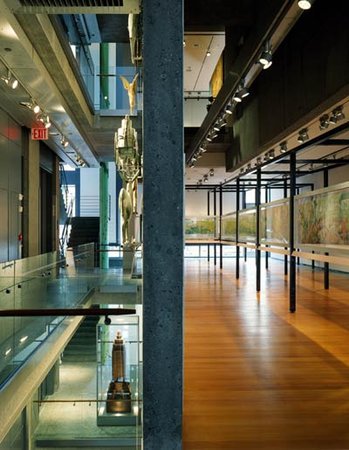 Interior of the former American Folk Art Museum, New York
No surprise, the decision has touched up quite a bit of controversy, including an open letter of protest from the Architectural League of New York, signed by industry heavyweights like Richard Meier, Thom Mayne, Steven Holl, Hugh Hardy, and Robert A.M. Stern, to name a few. New York Magazine commissioned two pieces expressing opposing viewpoints, with Justin Davidson calling the decision "a betrayal" ("If a commercial developer were to tear down a small, idiosyncratic, and beautifully wrought museum in order to put up a deluxe glass box, it would be attacked as a venal and philistine act. When a fellow museum does the same thing, it's even worse — it's a form of betrayal") while the ever-colorful Jerry Saltz contended that it was high time to bid adieu to a building that was "absolutely unusable."
I understand the bitter reaction of architects and architecture critics to the news, but they should know that virtually every person in the art world believes that the Williams-Tsien building is a terrible place to look at art—and that it is just one of a spate of new museum buildings that put architecture before art since Frank Gehry's Guggenheim Bilbao. Architects: When you design an art museum, do whatever you like to the outside of your building. But please, create enough well-proportioned interior space to show art in. Art first; all else will follow.
For its part, the Folk Art Museum released a statement of its own, thanking MoMA for purchasing the building to begin with and thus providing the funds to allow the Folk Art Museum to continue. As they remind readers: "The building is not the Museum! The Museum is not the building!"
The Baibakov Art Projects blog is the editorial voice of Baibakov Art Projects, a platform for cultural production that curator, collector, and entrepreneur Maria Baibakova founded in Moscow in 2008. To read more from the blog, click here.