There's no denying that it's a particulary weird edition of Art Basel Miami Beach. With some collectors frightened off by the threat of Zika, and others wary about what President-Elect Donald Trump's continually morphing fiscal "policies" are going to mean for their net worth and stock portfolios (or companies, or livelihoods), the thin crowds on the fair's opening day seemed to be wandering around in a daze. Gallerists, trying to suit the mood, brought a number of angsty political works to let off some steam. For non-buying fair-goers, such as journalists, this all made for a great fair! Tightly curated booths, plenty of room to wander, shorter lines for Cuban sandwiches, and dealers who can spare a moment to chat—what more could you ask for, right? Here are some of the standout works in this year's edition.
DAMIAN LOEB
Sagittarius, 2016
Aquavella
$180,000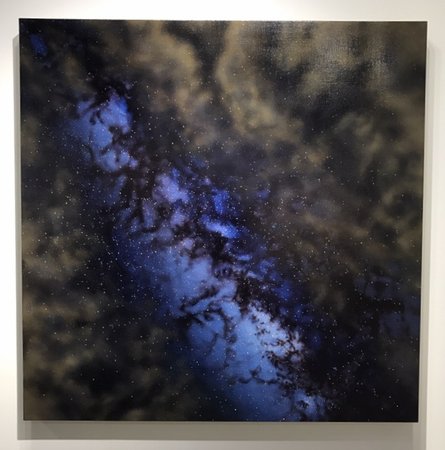 An artist who got his start in the late '90s as a raffish bad-boy painter of hyperrealist Hollywood "film stills" yanked from appropriated materials (or photographs of his wife), often with a healthy helping of transgressive bedroom voyeurism á la Eric Fischl, Damian Loeb was a market sensation, then critical cat toy, then where-are-they-now question mark. For the past several years the answer to that question has been Acquavella, the aristocratic gallery in a townhouse on New York's Upper East Side that deals in Bacon, Auerbach, Riopelle, and other august estates. Loeb is one of a handful of living artists, and one of the youngest of them.
Lately, the edge of his hyperrealism has relaxed. His new body of work involves paintings of the night sky, drawing upon photographs he either takes himself or sources from NASA to create dewy portraits of the celestial bodies. He's gone from one type of star to another, in a sense, and these canvases have a rich and easy beauty. An artist without formal training—he never went to art school—he has proven a hardy lesson for today's young market stars: keep going. He has a new show opening at Acquavella this February. 
JACK PIERSON
Capitalist Decadence, 2016
Richard Gray Gallery
$250,000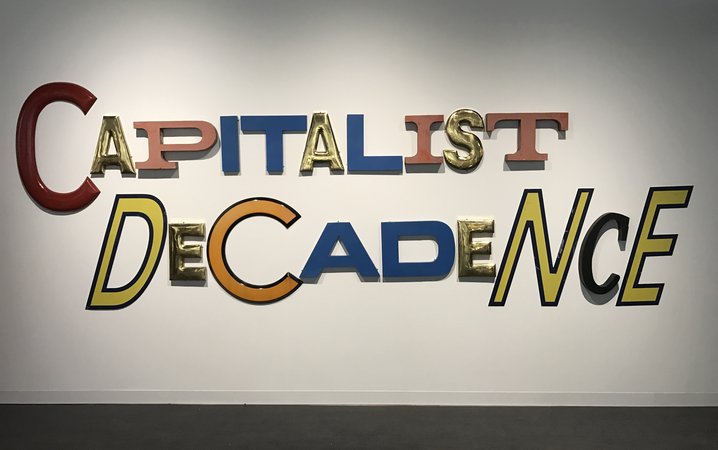 Jack Pierson, whose body of work is composed of concisely forceful found-lettering text pieces and an equally coveted line of gay pinup photography, has been ruminating on the election in several of his sculptures recently. One that he featured in the latest Artforum, reads "Get Real"; "I made this right before the election," he explained. "It still applies." This piece, also made just before the election, has rather more teeth to it, particularly when displayed in the aisles of Art Basel Miami Beach, a multibillion-dollar convocation of art and elitism on a removed strip of the state that confusedly gave the country to a billionaire in an effort to raise up the capitalist underclass. Pierson has had other aggressive works at the fair over the years, like Motherfucker and Scarface, and one wonders whether the import of this one will be internalized or simply viewed as an excitingly edgy piece of attitude and bought for a quarter of a million dollars.
ROBERT HENRI
Dancer of Delhi (Betalo Rubino), 1916
Hirschel & Adler Modern
$4.4 million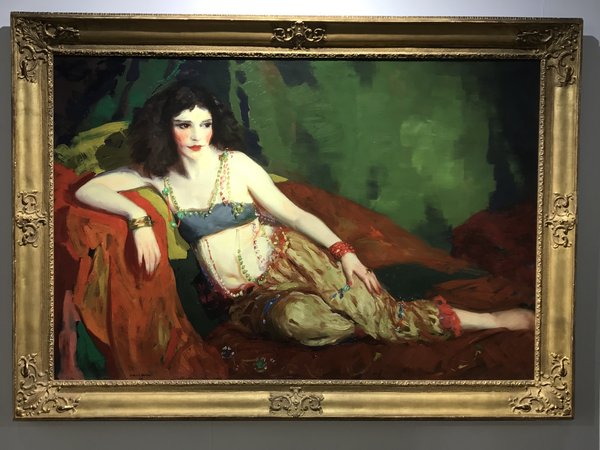 A painter who fell under the spell of Manet while training in Paris in the late 19th century, Robert Henri returned to New York to become one of the bellwethers of the Ashcan School, applying his high French technique to the street-level realities of life in the gritty city. Urchins were a specialty, as was life on the Lower East Side, and so was Betalo Rubino, a Gypsy dancer of either Russian or Spanish descent who found an underground niche in risqué Orientalist theatrical productions. Henri painted her several times in the nineteen-teens, but this portrait, with its lascivious combination of red lips and white skin, is the standout. 
Lovers of art history may note a similarity to Manet's Olympia, but a more startling comparison can be found in his famous portrait of the elegant society art patron Gertrude Vanderbilt Whitney, which he made in the same year in a strikingly similar pose. Did he paint the bohemian dancer (who was married to a civil engineer) first and then model Whitney's portrait after it, or vice versa? Either way—and the web isn't very helpful on this question—there's a juicy bit of art history there.
ED RUSCHA
CHINA, 1984
Galerie 1900-2000
$423,000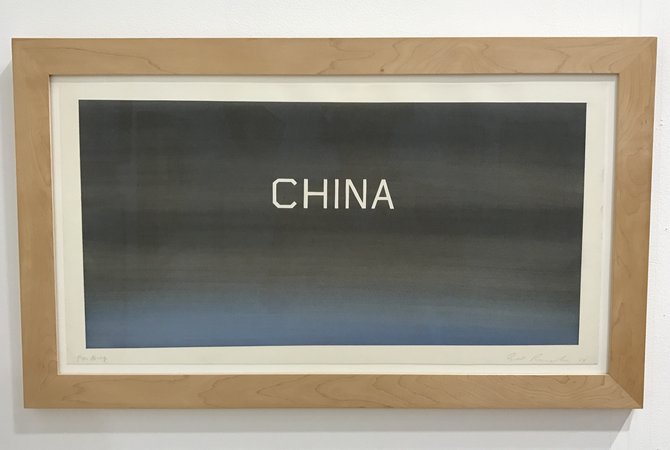 Look at this toothsome composition of dry pigment on paper and try not to hear the president-elect's voice in your head: Jiy-nah! The drawing was made in the resonant year of 1984, when Ronald Reagan became the second American president (after Nixon's 1972 breakthrough) to visit China in the years following WWII, inaugurating a new era of cultural and economic exchange between the two nations. Can our new outsider president bridge that same critical divide, which has since yawned wider? Buy this artwork, consigned from a European collection, and it'll help you ruminate on that.


BECKY KOLSRUD
Gymnasts With Security Gate, 2016
JTT
Around $15,000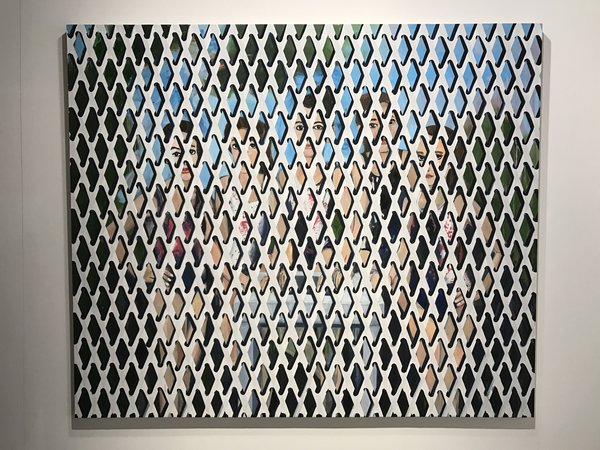 Remember when the most important thing in the world was renegotiating the relationship between figuration and abstraction? That was the challenging brief in contemporary painting for a while, and few artists handled it as adroitly as the 32-year-old Los Angeles painter Becky Kolsrud, whose had the ingenious idea of her painting groups of people behind the kind of security gates you see around L.A.—making it look as if the figures were somehow trapped just under the surface of that old chestnut of hard-edged abstraction, the grid. Starting this series in 2013, Kolsrud has had a boffo 2016, getting included in any number of hot-new-artist lists, and at JTT's booth its easy to see why. Along with the large paintings are three portraits of individuals sans scrim that have a dreamy, Picabia-esque quality. It will be very interesting to watch where Kolsrud goes from here.

TREVOR PAGLEN
"Winona," Eigenname; Labeled Faces in the Wild Dataset, 2016
Metro Pictures 
Series in $20,000-25,000 range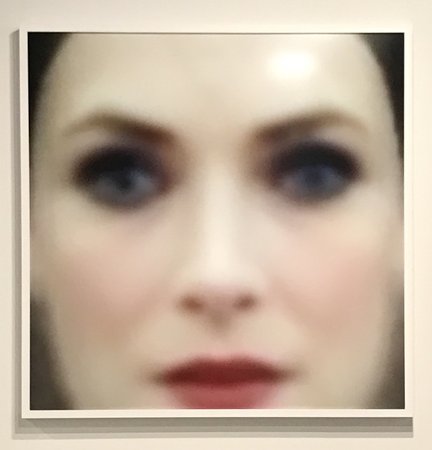 The artist Trevor Paglen has emerged as a human-rights hero for his work exposing the physical network of the growing surveillance state, photographing drones, spy planes, and satellites as they patrol imperceptibly high in the sky, and also capturing the secret headquarters where these missions are piloted and their data is sifted. (His most widely seen work is probably the beautiful passages of footage he contributed to Laura Poitras's Oscar-winning Citizenfour, showing these same locations.) 
Now, for his latest series, "Machine Vision," Paglen is carrying his interest in human rights to an even more chillingly literal level, making work about the technologies that allow machines to automatically comb through the infinitude of data made available to agencies like the NSA—because, after all, most of the hard work of surveillance, and identifying human threats, has been farmed off to robots.
In advance of a major show of this new work at Metro Pictures next fall, the gallery brought three of these pieces, including this one that emphasizes the defining facial dimensions of a person (in this case, Winona Ryder) that allows a computer using the mean shift algorithm to identify them amid the crowds of, say, a political protest. 
ELIZABETH PEYTON
Barack Obama, 2008
Gladstone Gallery
Sold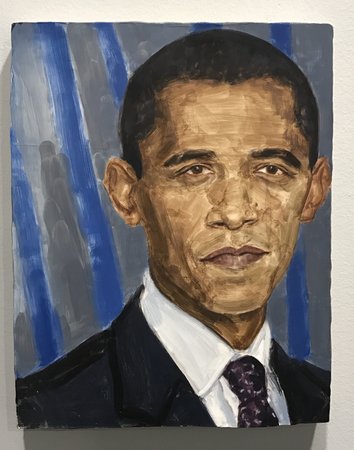 This one hurts. Painted the year Barack Obama was historically elected in a landslide victory over John McCain, it was actually drawn from a photo of the 2004 Democratic National Convention, where the young Illinois state senator's keynote address inspired a generation to hope for meaningful change and became a political star in the process. There's no grey in the hair, and the portrait brims with confidence.
Elizabeth Peyton made two other portraits of the Obamas, one of Barack and Michelle kissing that the Whitney now owns (and showed in its inaugural "America Is Hard to See" exhibition) and one of Michelle and Malia. This painting, however, has never been displayed until the fair—Peyton kept it in her studio for both terms. Now it's been acquired into a private collection for an undisclosed sum, so who knows if we'll see it again. Will Peyton now turn her brush to Trump, Melania, and their brood? "Time will tell," said one Gladstone dealer.
GIUSEPPE PENONE
Pelle del monte, 2012
Marian Goodman Gallery
€250,000-350,000 range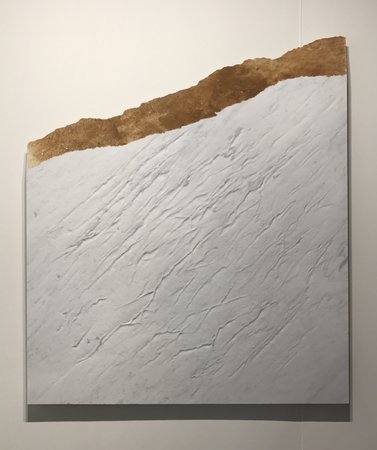 Possibly the youngest avatar of Italy's Arte Povera movement, the 69-year-old Giuseppe Penone has long specialized in sculpting the più ricca of povera materials, which he sources from the famed Carrara quarries just a few hours south of his studio in Turin. (He has one employee who is entirely tasked with handling his marble needs.) This sculpture exploits Penone's intimate knowledge of the material. Cut from the topmost layer of a marble seam, this piece—poetically titled "The Skin of the Mountain"—still carries the oxidized brown crust that had been exposed to the elements; the rest of it has been carved by hand in traditional fashion, rather than as now commonly done, with machines, which have a far less delicate touch. The gorgeous result is like a thin, near-edible slice of cake made from pure natural beauty.
ALICE NEEL
Joe Gould, 1933
Cheim & Read
$750,000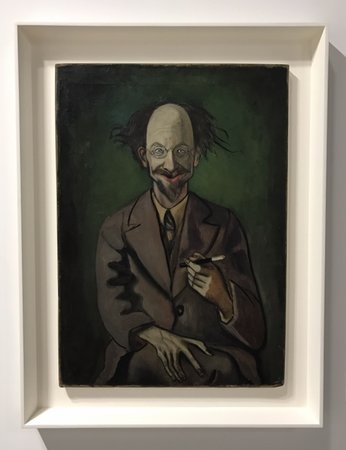 An uncommon literary legend, the Harvard-educated eccentric Joe Gould lived a semi-charming, semi-chaotic life on the New York City streets, telling everyone he met that he was working on a magnum opus, a book called An Oral History of Our Time. When the writer Joseph Mitchell chronicled him for the New Yorker, he portrayed him as an odd, undiscovered genius; years later, after Gould's death, Mitchell wrote another account, the book Joe Gould's Secret, that revealed the Oral History to be pure gibberish, the ravings of a madman. Famously, it was the last thing Mitchell ever wrote, and he descended into a long depression.
The painter Alice Neel also took a liking to Gould and immortalized him in her work, but perhaps in a more clearsighted way. In her most famous portrait of him, a demonic Gould crouches naked on a stool with three penises dangling from his midsection. (Neel congratulated herself on being "so clever" for the depiction, while Alistair Crowley saw it and said, "The trouble with you, Alice, is that you're not a romantic.") This portrait, meanwhile, painted against a Joker-green background in the same year of 1933, might be even more disturbing: a frank portrayal of a slightly creepy, if harmless, lunatic.
SAM DURANT
End White Supremacy, 2008
Blum & Poe
$75,000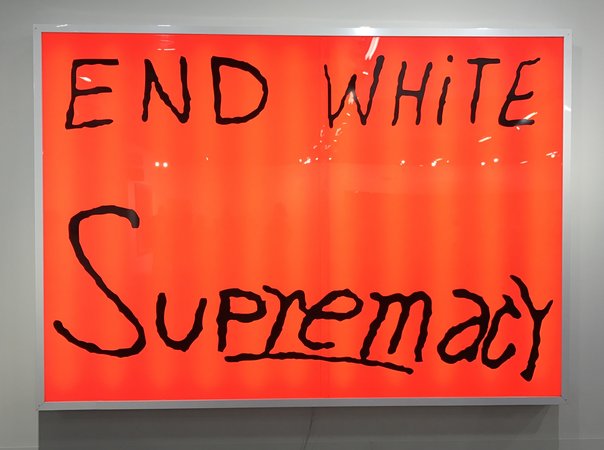 No, Sam Durant did not make this in response to the terribly named Alt-Right movement of white nationalists, newly dapper Neo-Nazis, or assorted racists that's currently growing under the rock of the Breitbart News Network. Actually, it started out as a drawing of a sign he found in a photograph of a 1963 civil rights protest, and which he blew up to billboard proportions in 2008. The Hammer Museum owns the drawing and one edition; this one at the fair, greeting all visitors as they walk in from the Washington Avenue entrance, is the last one available for sale.
What is white supremacy? Is it a bunch of dangerous crackpots on the margins of America who take comfort in the belief that poor whites are somehow better than poor blacks? Or is it an entrenched class system that creates a gulf in education and opportunities between the top percentile—that can enjoy artworks like this in fairs like Art Basel—and those on the lower economic rungs? Maybe Durant can tell you when he opens his new show of work at Blum & Poe on January 7, two weeks ahead of inauguration day.