In this, Untitled's second San Francisco iteration, taking place at a new (and improved, by all overheard accounts) venue at the city's iconic, dome-shaped Palace of Fine Arts, the West Coast fair matures and hones its scope while also offering a refreshing range of exhibitors and avenues for art-making. Like its Miami counterpart, Untitled remains happily a friendly and unpretentious atmosphere to experience its rather humble arrangement of roughly forty booths brought to you by a variety art spaces, from the more traditional and well known commercial galleries like David Zwirner (New York and London) to community-oriented non-profits like Creative Growth (Oakland), academic-leaning institutions like CCA's Wattis Institute (San Francisco), or research and archival-based foundations like the David Ireland-centric, The 500 Capp Street Foundation (San Francisco).
While work spanning all media is on view—and while the large-scale, colorful abstract paintings that have reigned supreme, particularly within the market-driven environment of most art fairs, was nonetheless prevalent—sculptural figurativism was also a palpable through line. Here are six artworks on view that had us thinking about the body in unexpected ways.
TIM HAWKINSON
Gumball, 2017
DENK Gallery, Los Angeles
$35,000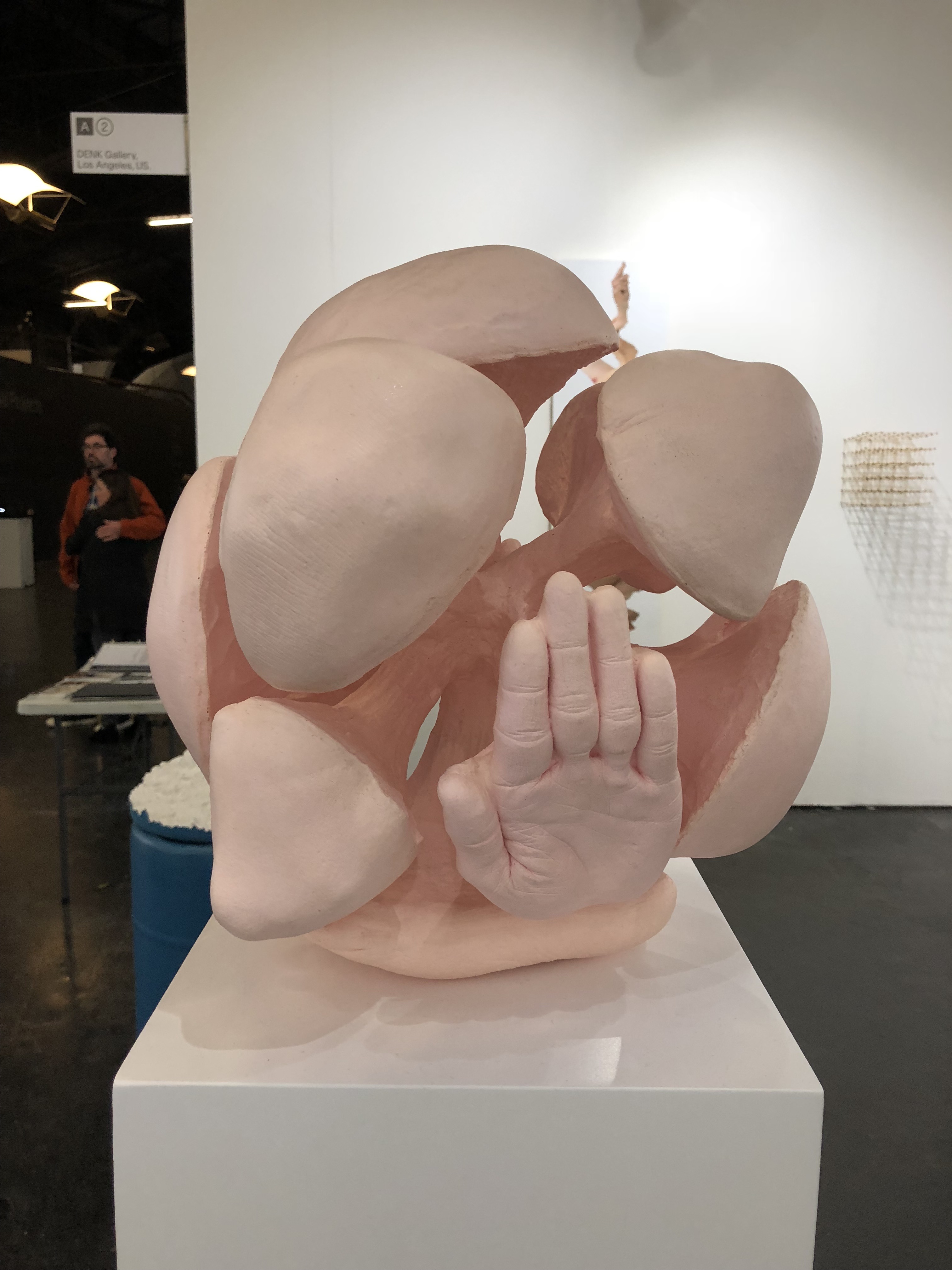 At Los Angeles' DENK Gallery, much of the booth was animated by Tim Hawkinson's playful, urethane sculptures of distilled and recomposed puzzle-like cast studies that also double as self-portraits of the artist's own body parts. Here Hawkinson has selectively isolated the mostly curvy areas of himself (his knees, elbows, belly, and butt), cast them in a smooth, recognizably bubblegum pink material, and conglomerated them into a ball-shaped miniature "being," who is then grounded by his feet and flanked on one side by his upright, palm out, hand. His play on the misuse and/or reuse of body parts themselves and the notion of the quintessential artist's self portrait is further exaggerated by the work's overall relationship to candy, an enjoyable ingestible that may often conjure dietary fears and resemble pink, fleshy, jellyfish delights.
JULIE WEITZ
Screen Gestures 1 and 2, 2018
LUIS DE JESUS, Los Angeles
$3,000 each (edition of 6)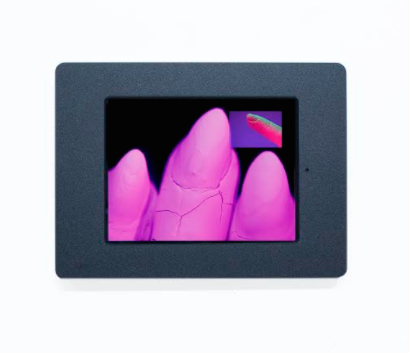 Another Los Angeles gem of a gallery, LUIS DE JESUS, went a step further in risqué, body-oriented depictions, with new work by Julie Weitz. Among her compelling and brightly colored videos and some dildo-cast candles available in a range of psychedelic, swirly hues, is an intimate, smaller-scale duo of video-objects titled Screen Gestures 1 and 2. With these tablet-like pieces, Weitz marries her sensual moving imagery with sculptural smoothness, achieving a video that depicts the sometimes uncomfortable, entropic aspects of feminine beauty (as is here evidenced by an acute study of hands and fingernails), and a slick, "contemporary" flat-screened device much like the companions that live in our pockets and handbags and that assist us in just about everything we do throughout our daily routines.
MICHAEL E. SMITH
Untitled, 2017
Andrew Kreps Gallery, New York
$16,000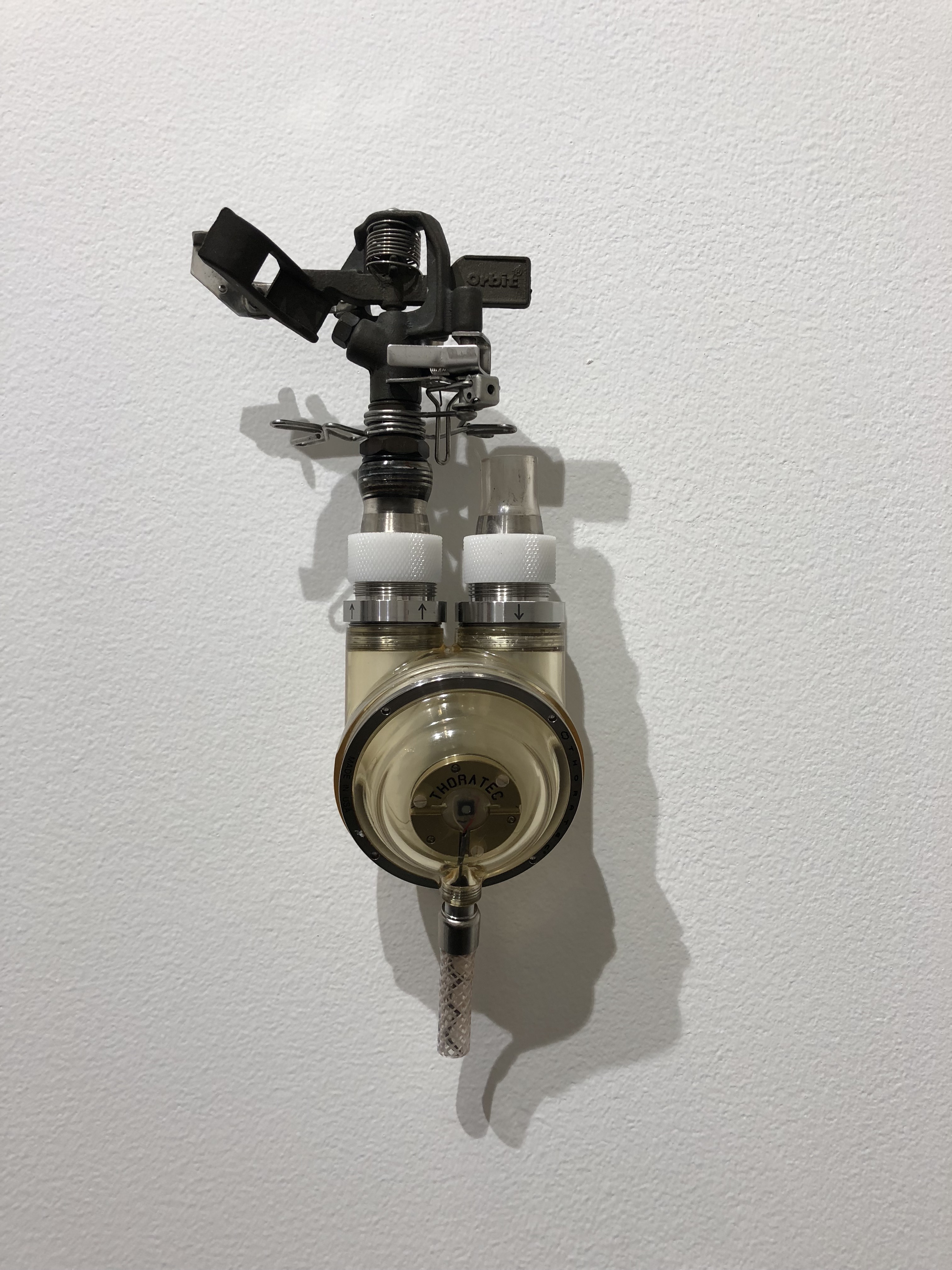 Other takes on "the body" were much more opaque and relative, as is often the case with the plebeian guise of Michael E. Smith's work, which was on view in not one, but two different booths at the fair. Almost all of Smith's pieces are untitled, but this wall piece, like much of his work that utilizes found objects like clothing and toys, is more a referential nod to one's own interactions with everyday objects (the materials list an artificial heart and a sprinkler head), than an introspection on one's own form.
MICHAEL E. SMITH
Untitled, 2017
The 500 Capp Street Foundation
$3,000 each, edition of 5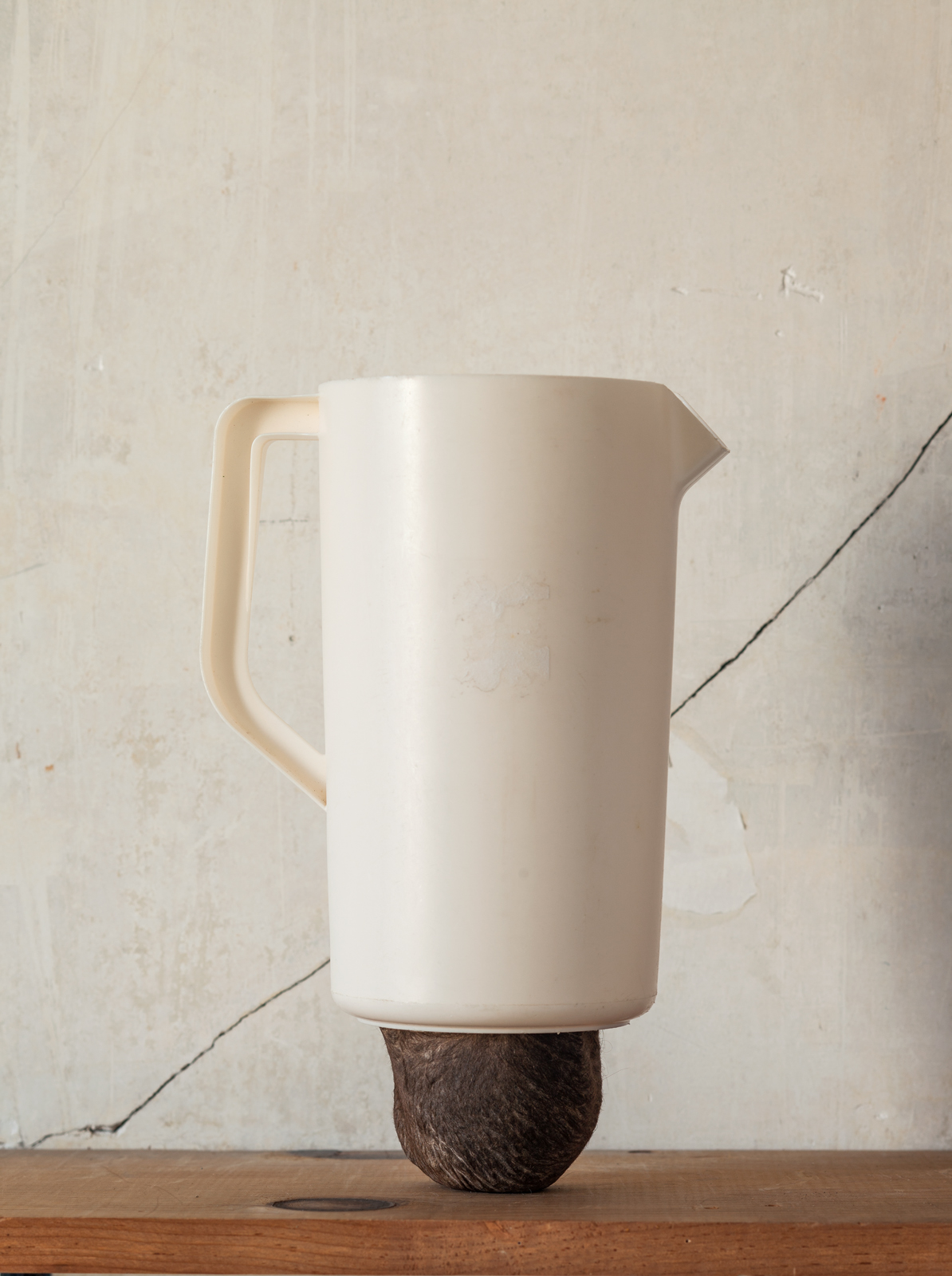 Smith's lexicon-esque oeuvre of seemingly random things extracted from "the regular" and thwarted (half hap-hazardously, half with extreme care and consideration) into "the representational" was also at play in the booth of San Francisco's The 500 Capp Street Foundation. The booth is set inside of the house-cum-artwork of the belated artist, David Ireland, where Smith currently has an unconventional solo show in which his own works are sparsely and thoughtfully interjected into those of Ireland's works/furniture/interior design aesthetic. Here the foundation showed all five in the edition of, again untitled, plastic pitchers that Smith made specifically for 500 Capp Street to present and sell at Untitled. They seem ordinary enough, except upon much closer inspection of their slightly eschewed, roundish, brown bases, it turns out that they are in fact made of taxidermied bison scrotum—complete with little tufts of hair and all! Here, the connection of all bodies, human and otherwise, and the imparting of the masculine onto the idea of both minimalism and functionality within the history of art, seems both understated and yet aptly accessible.
LYNN HERSHMAN LEESON
Tubal Invasion (Collage), 1985 and Shutter, 1995
Anglim Gilbert, San Francisco
Price upon request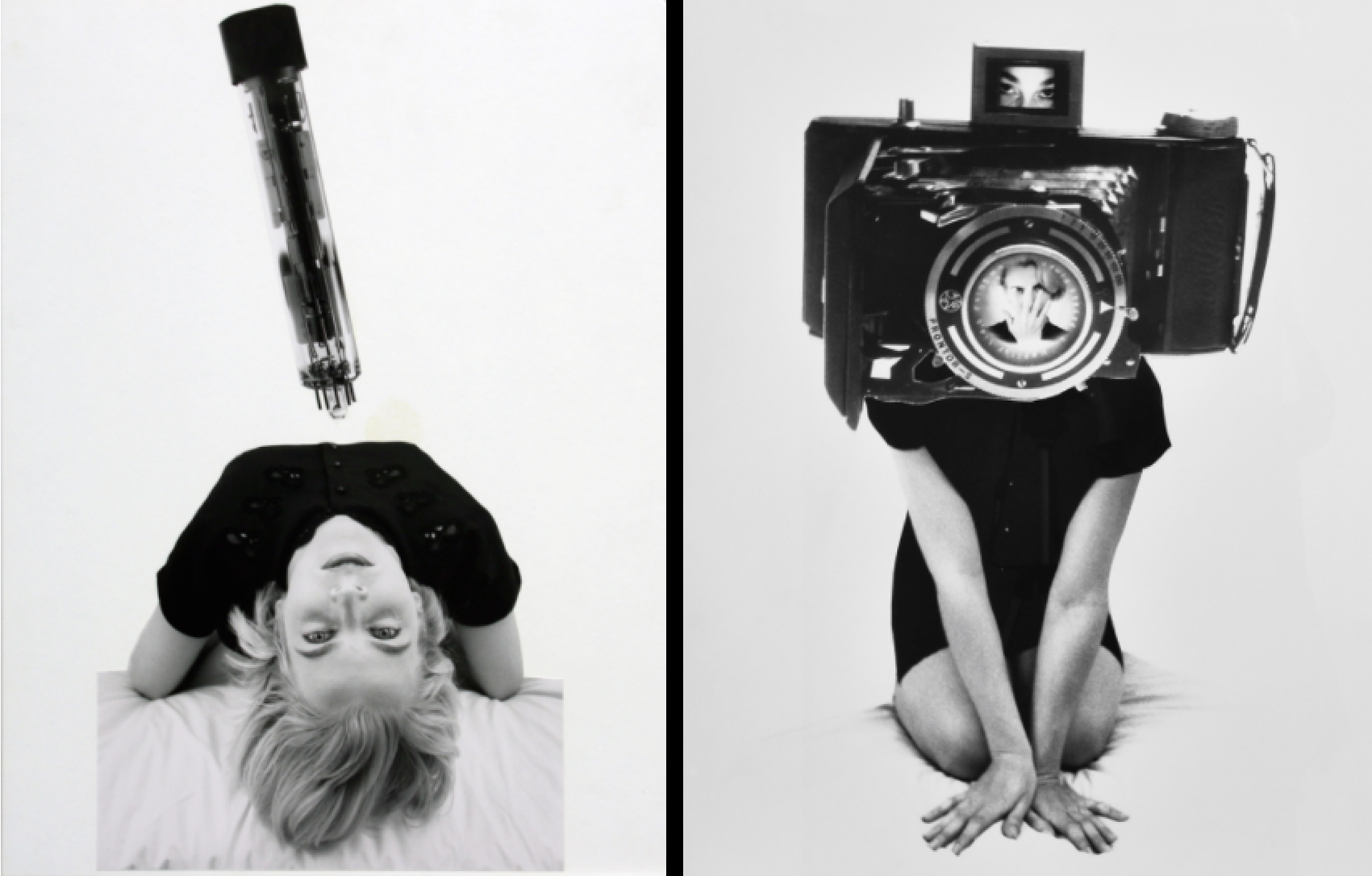 San Francisco's Anglim Gilbert presents work by an artist with whom they have a longstanding relationship with, and whom is only now, finally beginning to get the kind of real institutional exposure and credit that she so well deserves. Lynn Hershman Leeson's black-and-white images from the 1980s and '90s, included here amongst a large and perhaps purposely slightly cluttered installation of other works on paper by fellow California artists like Bruce Conner, are yet another example of portraiture and the image of the figure, popping its head (pun intended) into the mass of shapes and images that cover the various booths at Untitled. Hershman Leeson, who is perhaps best known for her unconventional and almost spy-like tactics of uncovering early feminist identity politics issues, here titles two photos of a woman who may or not be Leeson herself, as Tubal Invasion and Shutter. Both terms could be understood as relating to the technology of photography and image-making on the one hand, and on the the other, as conjuring ideas of the female body as vessel, perhaps even as victim. More generally, these works evoke the kind of anxiety that being photographed—and the assault associated with the infiniteness of ones image being captured within a singular moment in time—that photography undeniably provokes.
JUDITH SCOTT
Untitled, 2003
Creative Growth, Oakland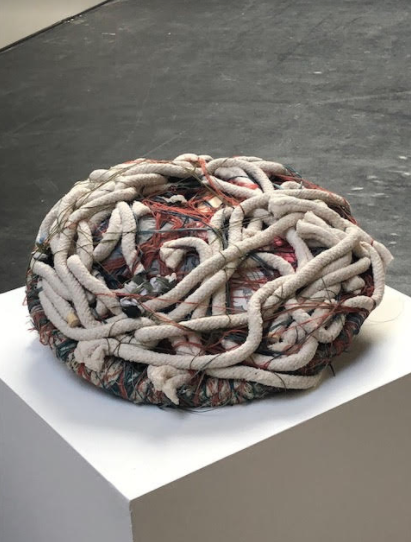 Oakland's now somewhat infamous arts organization Creative Growth, the non-profit that supports and presents work by artists with developmental, mental, and physical disabilities, returns to Untitled yet again to much acclaim. This time one of their artists, Judith Scott (1943 – 2005), a compelling sculptor with downs syndrome who was also deaf, is featured as one of the artists in Untitled Special Projects. Scott's works are complex and colorful bundles whose presence draw in the bodies of those around them and exude a kind of breathing warmth and hug-like tension, making the artist's care and force in producing them all the more visceral. Here three of her woven, bundled forms that utilize fiber, found objects, and plastic, are presented on pedestals low to the ground, shifting one's sense of space and time while carving a route through the crowded art fair atmosphere.