In its third year, the Seattle Art Fair opened to the public today at the CenturyLink Field Event Center, after a busy and lively beneficiary preview last night. Big names like Gagosian and David Zwirner occupy the largest booths at the fair, which also hosts an impressive number of regional galleries, as well as dealers from Japan. "Seattle, being the gateway to the rest of the Pacific rim," says the fair's director Max Fishko, makes the Seattle Art Fair a primed occasion for including more Asian galleries than most fairs of comparable size have on offer. (To hear more about the fair itself, read our interview with director Max Fishko.)
For those of you who couldn't make it out to the West Coast this year, here are eight artworks worth having on your radar.
YAYOI KUSAMA
Tears of Despair (2014)
David Zwirner, New York
$850,000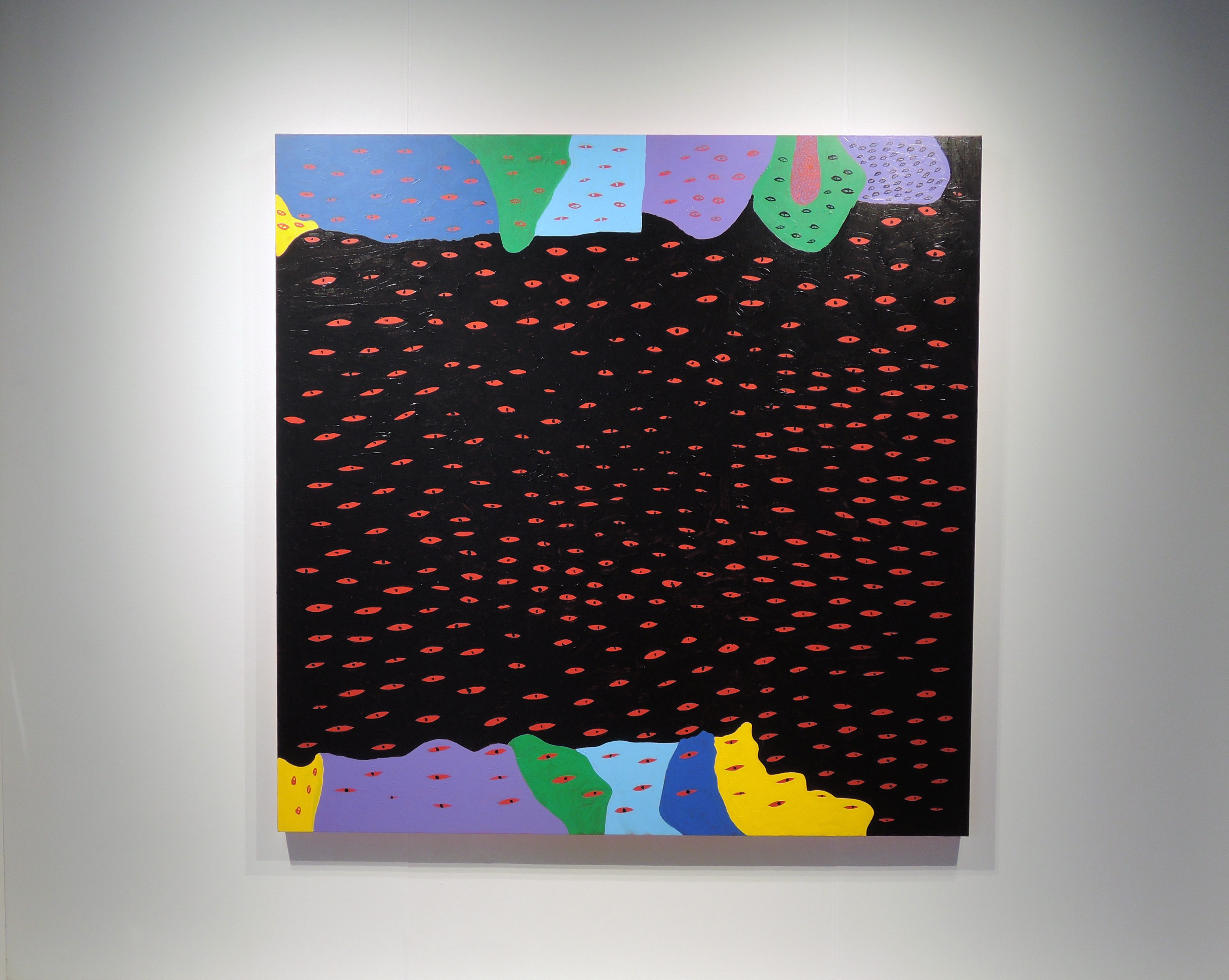 With the popularity of "Yayoi Kusama: Infinity Rooms" at the Seattle Art Museum (SAM) near by, it's no wonder David Zwirner has Kusama paintings prominently displayed in its large, centrally located booth at the Seattle Art Fair. (We saw a few different galleries at the fair following the same Kusama cue.) This mesmerizing painting in particular is from the My Eternal Soul series that greets visitors as they first enter Kusama's show at SAM. According to Katharina Manchada, the curator of the museum exhibition, it was important to show these recent paintings to contextualize Kusama as a contemporary artist "to remind people that she remains extremely vital as an artist working today, in addition to being a historical figure." That's certainly how she comes off at this booth.
JONAS LUND
Hype Cycle (2017)
Castor Gallery, New York
$20,000 for the triptych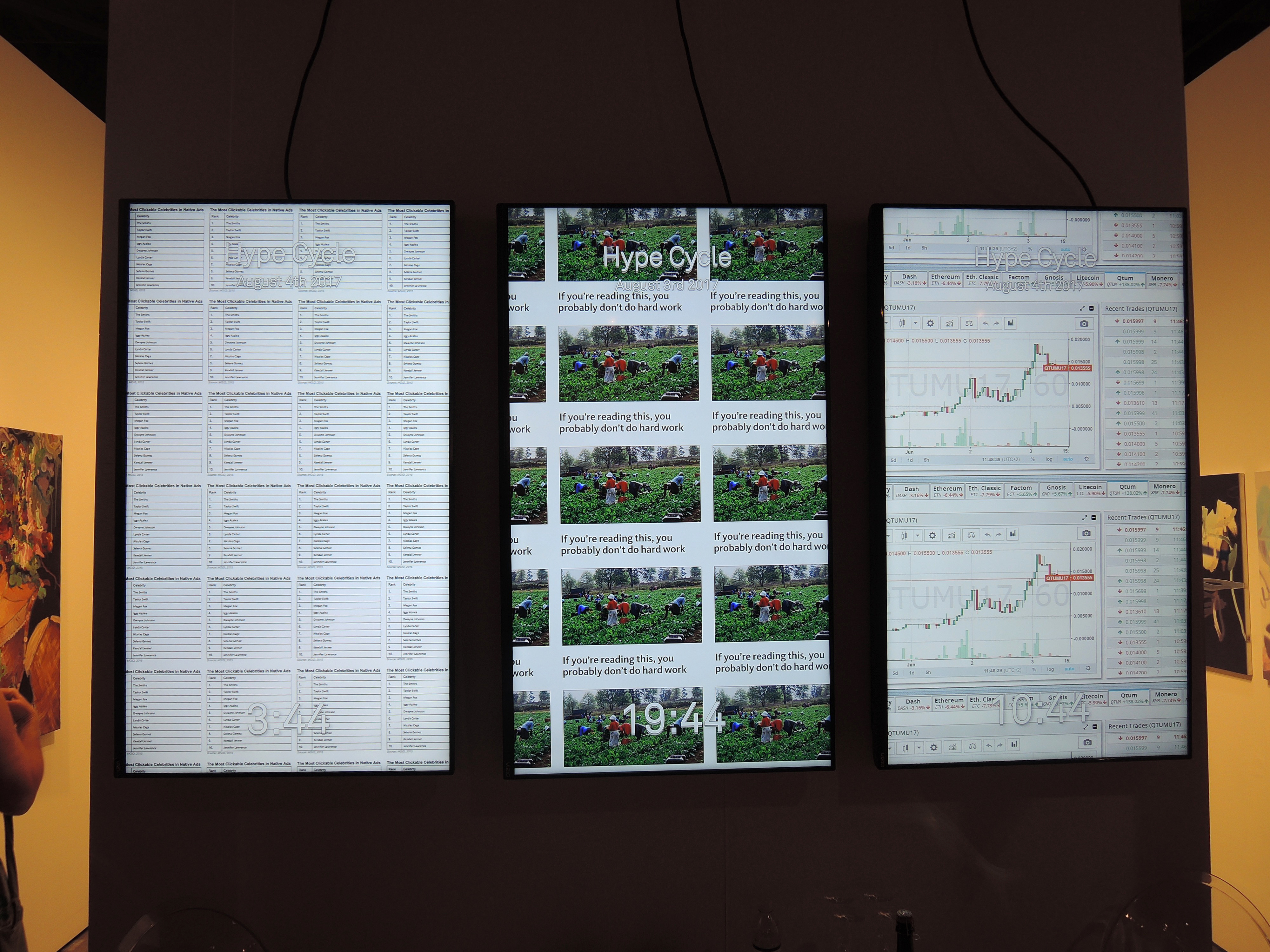 Swedish-born artist Jonas Lund is known to inject a little criticism and a little comedy into his highly conceptual works, which take aim at the trends and behaviors found in the art world. For instance, in an older project called Flip City, the artist installed GPS tracking devices within his paintings, followed their whereabouts around the world, and displayed the results on a website—in effect, a real-time visualizer of art flipping (when collectors buy an artwork with the intent of re-selling it to quickly turn a profit.) In Castor Gallery's booth, a new work spread across three vertically hung screens display an app designed by the artist that, in real time, displays images pulled from the internet. How does the algorithm chose which images to display? Each screen corresponds to a different city (London, Los Angeles, and Shanghai) and a different set of search terms (technology, fashion, and cryptocurrency, respectively.) "The artist sees this as commentary on cultural and technological pollution," a booth attendant tells Artspace.
RELATED ARTICLE: The Artist's Guide to Selling Out in Style: Jonas Lund on Why He Turned His Art Into Ad Space
MICKALENE THOMAS
Polaroid Series #9 (2012)
Kavi Kupta, Chicago
$15,000 - $30,000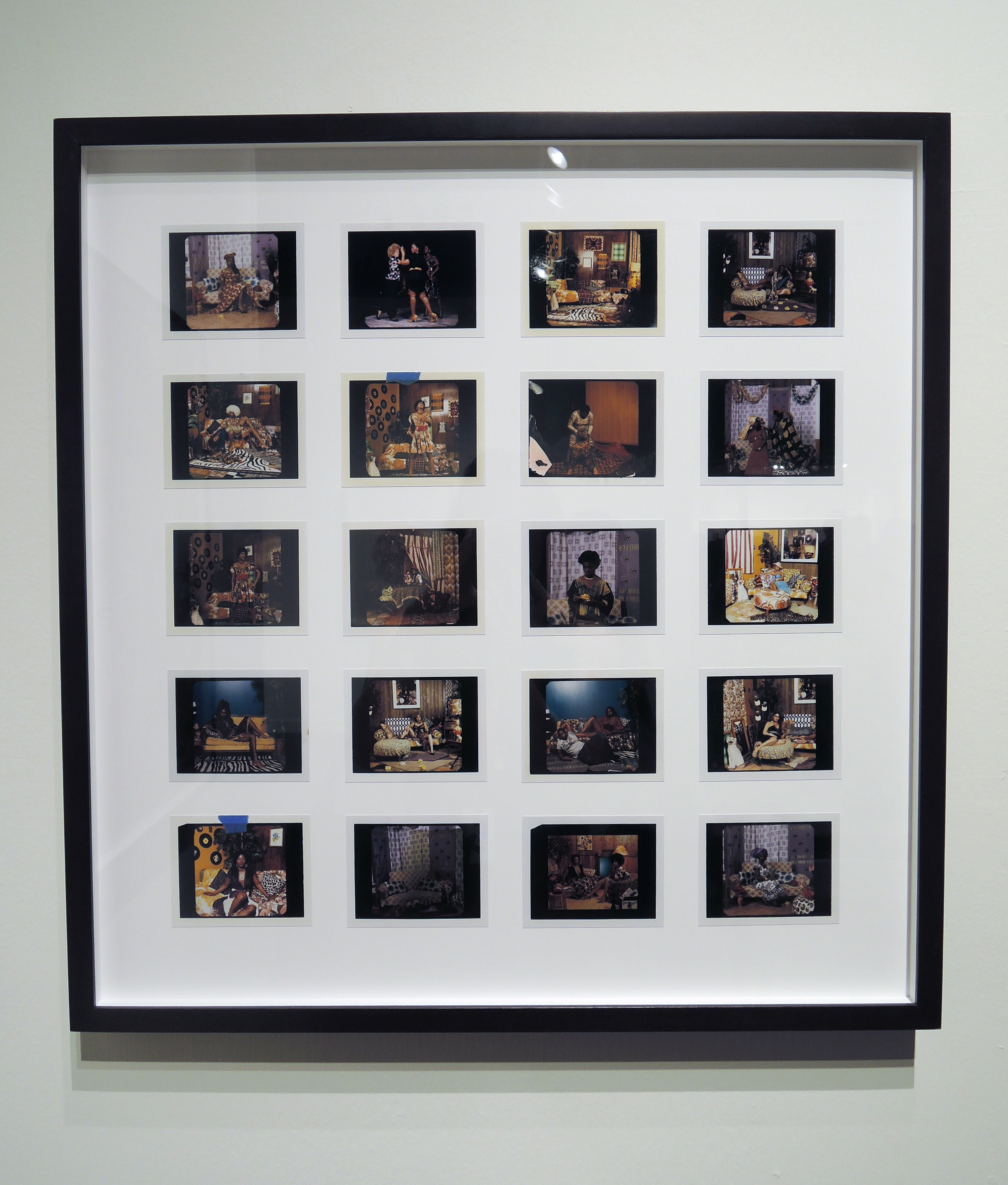 The work of Mickalene Thomas, a market darling, is no stranger to art fairs. But something we haven't come across too often is her small polaroids displayed in grid format. The artist takes polaroids as a way to test out compositions for her paintings—so in a sense, the series acts as an archive of the artist's working process. If you love Thomas's photographic works but just can't decide which one to get, her polaroid series offer a bang-for-your-buck scenario where you don't have to settle on just one. (Polaroid Series #9 is comparable in price to her single photographic prints of the same size.)
KONSTANTIN BESSMERTNY
Ad Libitum (2016)
Rossi & Rossi, Hong Kong and London
$50,000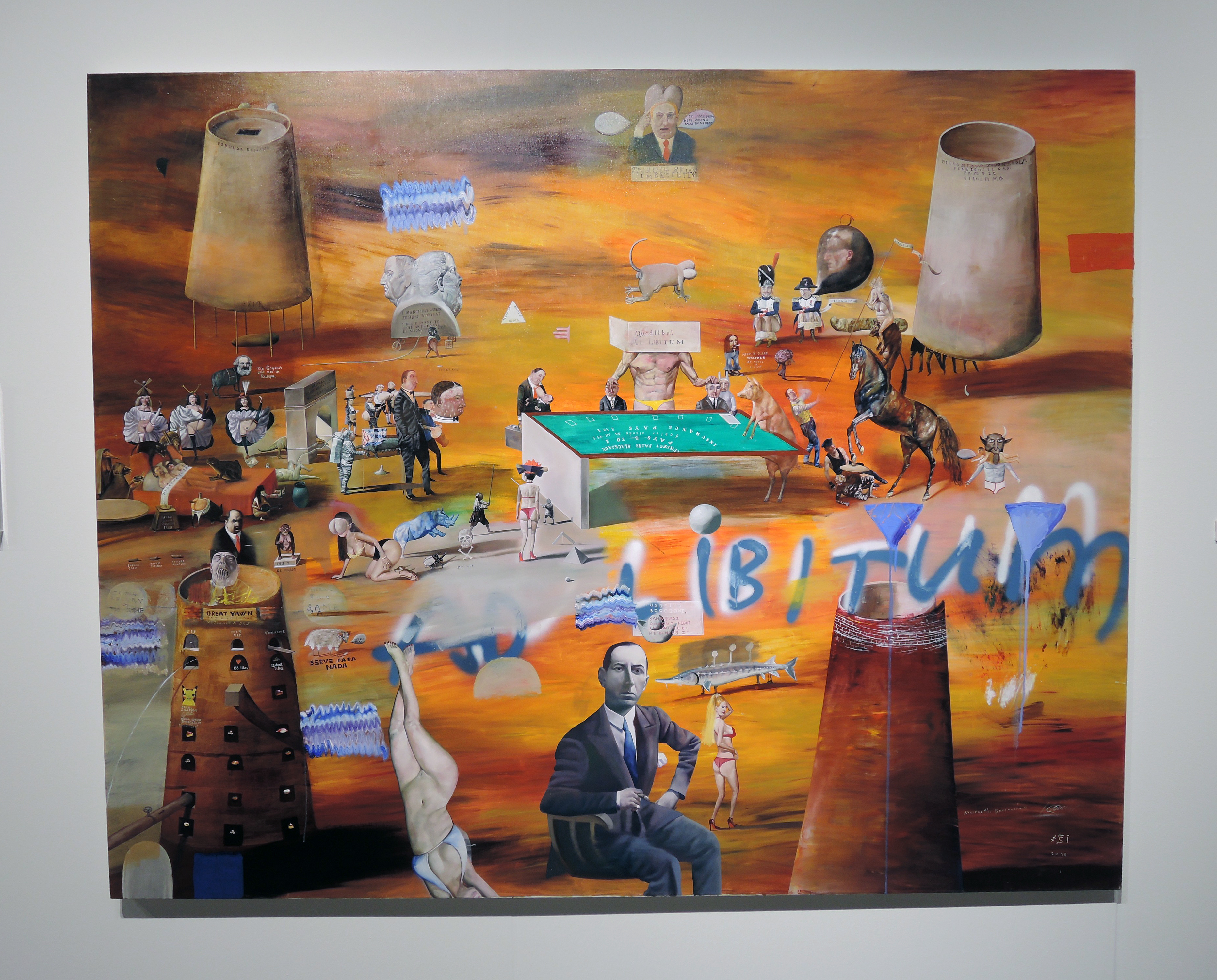 When Russian artist Konstantin Bessmertny was given a long list of limitations and constraints from a collector who hoped to commission him, Bessmertny responded by painting the exact opposite: every single limitation. The result is Ad Libitum, an almost 79-inches-wide painting rife with taboo. Naked women and sexual references lay side by side portraits of Karl Marx and other political figures, Duchamp and the 20th-century artists Bessmertny finds influential. Like finding Waldo on the back of a cereal box, you really need to get up close to this one.
KURT COBAIN & WILLIAM S. BOURROUGHS
The Priest They Called Him (year unknown)
UTA Artist's Space, Los Angeles
Not for sale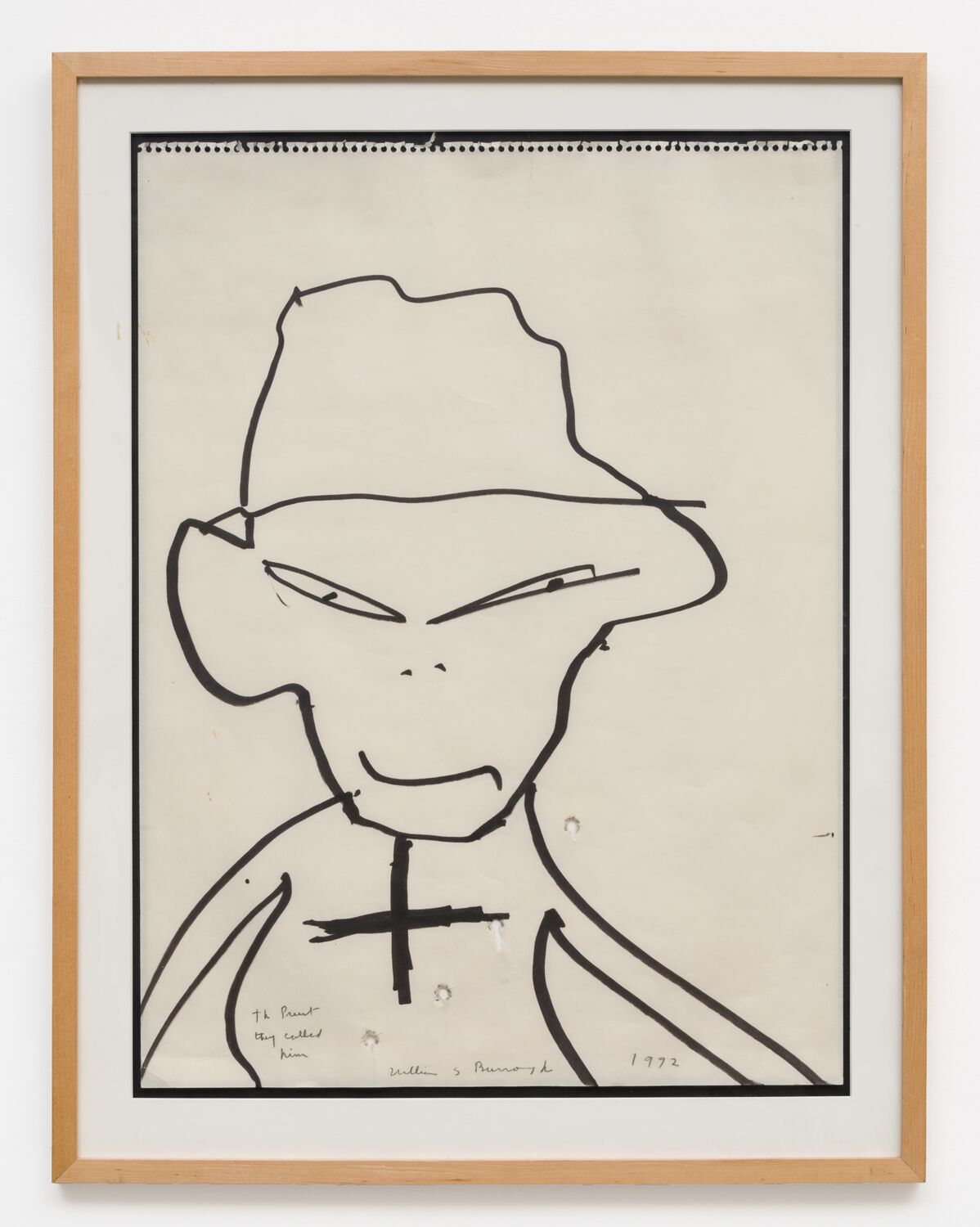 In the very city where Nirvana and the grunge music scene got their starts, UTA Artist's Space is debuting visual art by the legendary Kurt Cobain, never before exhibited in a fine art context. In the booth is three works by the late artist, two of which are paintings including one that became the album cover for Nirvana's EP Incesticide. But less conspicuously hung is a "collaborative" work by Cobain and William S. Bourroughs, the author of an influential book for Cobain, Naked Lunch. Legend has it that Cobain visited Bourroughs, who showed him a sketch he had drawn. And how did Cobain respond? He shot the drawing with a shotgun, of course. Bourroughs then signed the drawing, which hangs here with bullet holes scattered throughout.
MARLON MULLEN
Untitled (2017)
Adams and Ollman, Portland
$4,500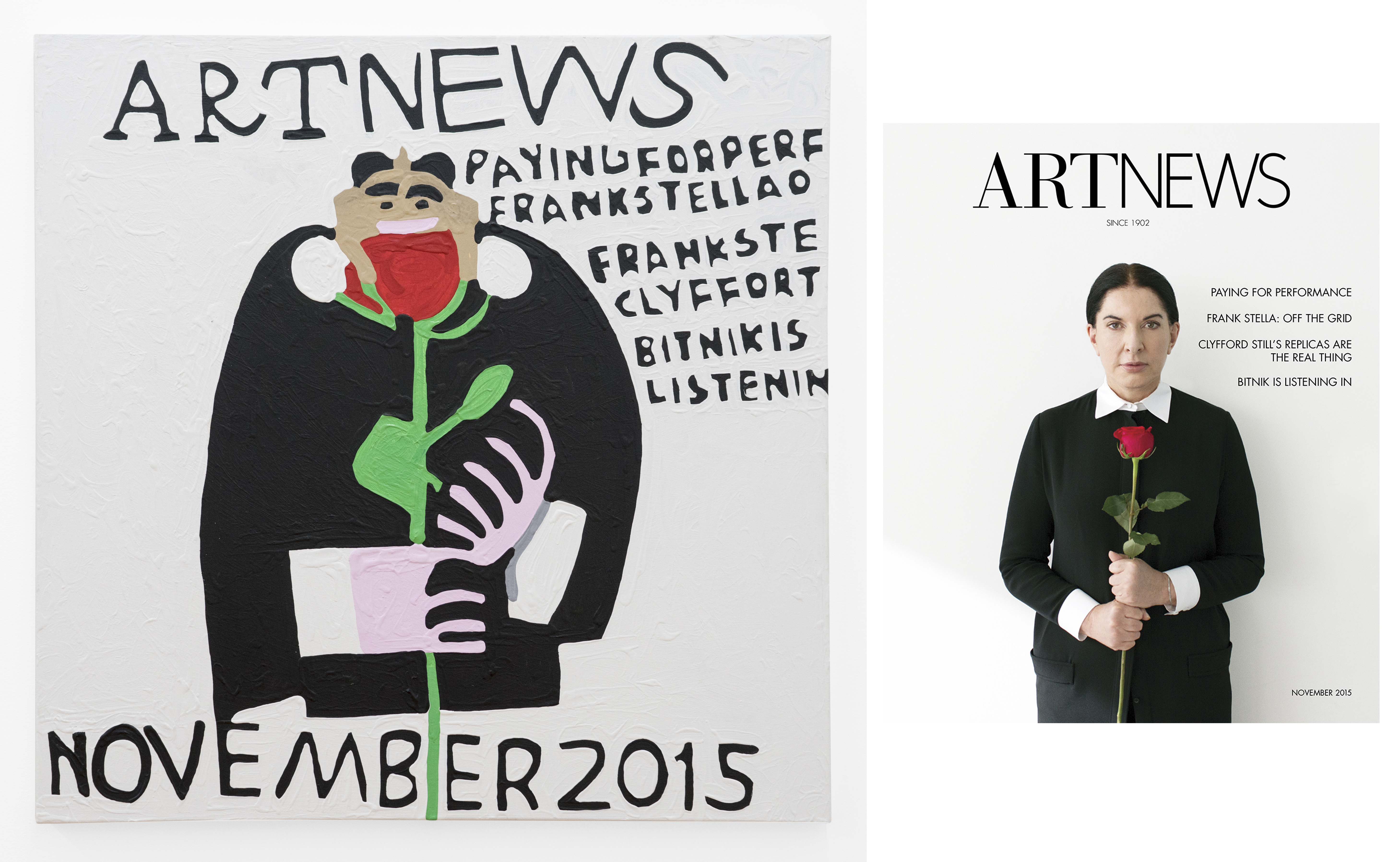 A member of the NAID Art Center in Richmond California, an organization that aids artists with disabilities, Marlon Mullens is unable to speak, read, or write. But that doesn't stop him from browsing countless magazines and using their covers as source material. His interest in text is visual, and he creates letters by copying them one by one, painting around the under-paint to form an outline of each character. Many of his paintings resonate most when seen in relation to his inspiration; pictured above on the left is Marlon's interpretation of an ArtNews issue featuring Marina Abramovic. Showing also with JTT Gallery in New York, Mullens is an imaginative artist we're sure we'll see again soon.
DAN WEBB
Visitor (2017)
Greg Kurcera Gallery, Seattle
$50,000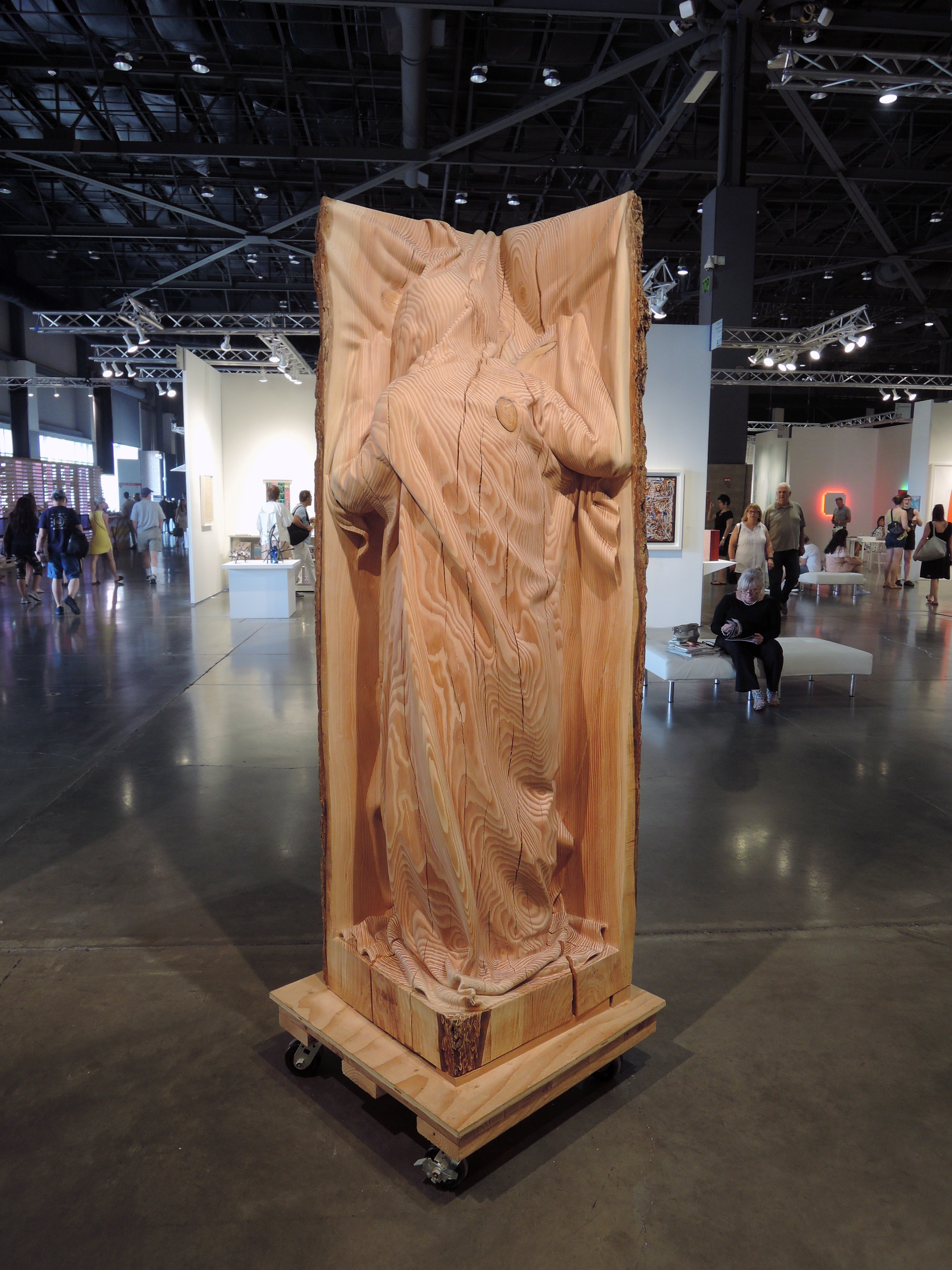 For Visitor, Seattle native Dan Webb carved, by hand, a figure out of a solid chunk of wood (bark can still be seen on the back side of the piece.) The solid figure is a relatively new move for the artist, who previously had been leaving much of the wood raw and untouched, save for a few meticulously sculpted limbs. The artist is certainly entrenched in the local art scene; he's won a Washington State Arts Commission Fellowship, been collected by the Seattle Art Museum and the Tacoma Art Museum, an has installed a public work in Seattle's famous Pike Place Market.

YAMAGUCHI AI
haru demo aki demo nai fuyu (2014)
Mizuma Art Gallery, Tokyo and Singapore
$50,000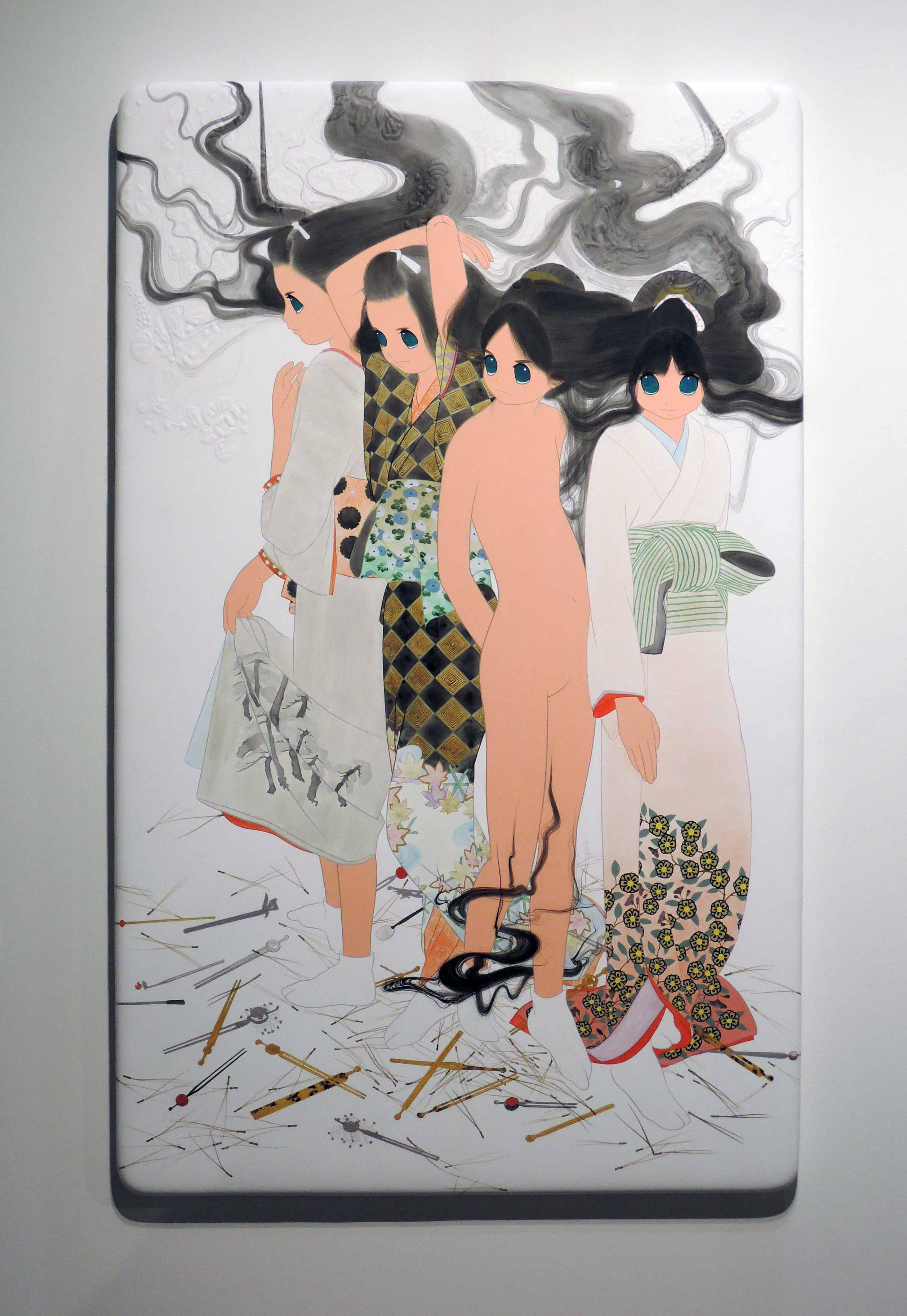 Taking inspiration from both traditional Japanese painting from the Edo period as well as contemporary anime and manga comics, Yamaguchi Ai depicts geisha subjects with subtle references to freedom—like wildly unkempt hair and hairpins littered on the floor. Originally trained in textile design, she often uses blankets as her canvases, which after being gessoed many times over, retain raised outlines of an embroidered floral pattern—a reference to the geisha's line of work. It's worth noting that the artist was trained under Takashi Murakami, and was included in the 1999 exhibition he curated at Marianne Boesky Gallery, "Tokyo Girls Bravo."