Along with the Armory Show's Focus section on Africa this year, the fair has assembled other exciting galleries from regions beyond Europe and the Americas. One such leader is ATHR Gallery, started in 2009 and based in Saudi Arabia's second-largest city Jeddah. There, under the direction of founders Hamza Serafi and Mohammed Hafiz, the gallery strives to promote the best contemporary artists of the region and beyond to a growing number of domestic and international collectors.
Running a gallery in a country as culturally conservative as Saudi Arabia is not without its challenges; director Mohammed Hafiz notes that one must be, as he says, "self-cautious" when deciding what to show. Nudity, for instance, is forbidden, as are references disparaging of Islam. Hafiz readily admits that "confrontational issues are not our forte," though he does say that his artists cover some social and political subjects in their work including the Israeli-Palestinian conflict.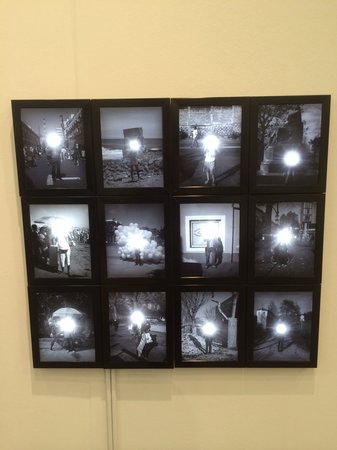 Poklong Anading's Anonymity, 2004-2015
Of greater interest to Hafiz and his team is the increasing engagement with contemporary art in his country. The director is pleased to describe the Jeddah art scene as "vibrant" and growing, an understandable development in one of the wealthiest and most important cities in the country. He cites institutional developments like the Guggenheim Abu Dhabi as providing crucial art exposure that works both ways—his artists and collectors get a glimpse of the developments happening abroad, while would-be buyers from farther afield become more familiar with the specificity and history of the region's artists.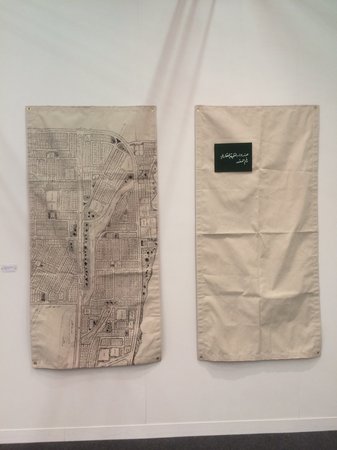 Nasser Al-Salem's And Those Are The Days, We Rotate It Between The People, Plan, Eqar, from the "City Nomads" series, 2015
While the tastes of Western art institutions and fairgoers are notoriously fickle, with both content to hop across regions and history in search of the next new thing, the team behind ATHR remains steadfast in its devotion to contemporary Middle Eastern art and the specific concerns that go with it. The result, at least in the gallery's Armory Show booth, is very different from what is on offer from their North American and European counterparts.
Although the artists are clearly aware of and in dialogue with their international counterparts, works like Nasser Al-Salem's And Those Are The Days, We Rotate It Between The People, Plan, Eqar (printed on traditional cotton tent fabric) or Ayman Yosri Daydban's Untitled 1-8 (Egyptian film posters rendered on tissue boxes) speak more directly to the experiences of their Middle Eastern compatriots than to some imagined global art community. For viewers at the Armory Show, this can only be a good thing.