It is always risky for a critic or curator to lump artists together by some vague theme or age group, for fear of trampling the artists' intentions in the attempt to proclaim connections. But the cohort of young artists in the current Whitney Biennial are so independent and energetic in articulating their practices that there is little danger of these voices getting lost.
Seven of this group of eight were selected by Stuart Comer, whose show's premise argues that we are currently witnessing the dissolution of the old art-historical boundaries between mediums and the birth of new hybrids, a artistic development paralleling the widespread adoption of new and hyphenated personal identities in the broader culture. Touring Comer's third floor installation at the museum, these young artists provide some of the clearest expressions of that thesis, perhaps because they have spent most of their lives in times that have embraced the composite, the blended, the layered.
If you want to get an idea of what will be talked about not only in this Biennial, but for years to come, check out these artists with long careers ahead of them.
KEVIN BEASLEY (born 1985)
At first glance, the contribution of this New York-based artist may appear to be a pair of assemblages made from the detritus of everyday life in the city: a sneaker, a torn bit of clothing, all clinging to a grey lump of plastic or foam. In fact, these objects are a sort of sculptural recording of one of the performances at the heart of Beasley's practice. More than merely leaving behind documentation or props, the artist is striving to encapsulate the potential of movement in a static work, aiming to freeze movement from various angles like a cubistic memory. In addition to the objects on the third floor, Beasley will be performing in the second week of May.
ZACKARY DRUCKER (1983) and RHYS ERNST (1982)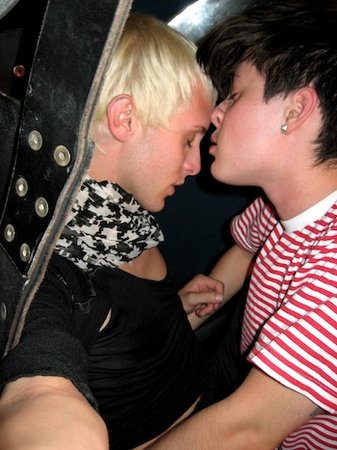 Zackary Drucker, "Relationship (Zackary Drucker and Rhys Ernst, 2008)."
Courtesy of the artists and Luis De Jesus Los Angeles.
Offering up the most literal expression of shapeshifting personal identities, Drucker and Ernst both have been undergoing gender reassignment surgery for several years, the former from a man to a woman, the latter vice-versa. A couple in their personal as well as professional lives, the Los Angeles duo have recorded the slow evolution in photos and films of their everyday lives. The means of expression is perhaps the most traditional of any of these artists—when looking at the wall covered with color photos of utterly intimate moments shared between the two lovers and artists, it is hard not to think of Nan Goldin's photographs of a quarter century ago. Yet where Goldin's works were praised for their honest expressions of angst and pain and frailty within relationships, the power here comes from the couple's casual joy and easy confidence. The occasional visual jokes (two eggs held between a pair of thighs, a sausage about to be consumed) refer back to the project's central theme with a knowing wink and reveal behind the seemingly candid shots a self-awareness that speaks to everyone's attempts to remake themselves. Films by the pair will be on view a various times during the Biennial's run.
RADAMÉS "JUNI" FIGUEROA (1982)
Ostensibly, Figueroa tries to offer a little bit of his native San Juan, Puerto Rico, in his humble plywood architectural installation, located in the space the museum euphemistically calls its sculpture court. In fact, the hut—decorated with a few tropical plants and items of clothing—occupies the claustrophobic basement-level pit, over which the full mass of Breuer's Brutalist building looms. As political metaphor, this relationship of between artwork and host lacks for subtlety. But on further examination the installation reveals layers of rebelliousness and humor. In the plastic photomural of palm trees that serves as the hut's entry curtain, one senses the artist's embrace of the outsider's stereotypes about the tropics, like a reclaiming of words of derision. And at least during the frigid opening week, the neon sign inside that says "breaking the ice" turned the conciliatory phrase into a well-placed jab.
YVE LARIS COHEN (1985)
Brooklyn-based Laris Cohen may win the title of most easily overlooked artwork in the exhibition—and this is a year with quite a few contenders. Only after reading the wall label might the viewer notice a deep cut in the surrounding sheetrock. On five different occasions during the show's run, that piece of wall will be removed by art handlers and brought to the Whitney's still-under-construction downtown space, where the artist and a troupe of dancers will incorporate the sheetrock while performing pieces with choreography derived from OSHA regulations. The performers will then take the responsibility for returning and reinstalling the prodigal chunk of plaster. Is the work about the futility of trying to document something that is as time- and location-specific as the movement of people through an ever-changing world? Or will the wall, as it becomes more and more distressed, start to speak of the way that people inevitably leave a mark, however difficult it may be to read the exact intention of the mark-maker?
TONY LEWIS (1986)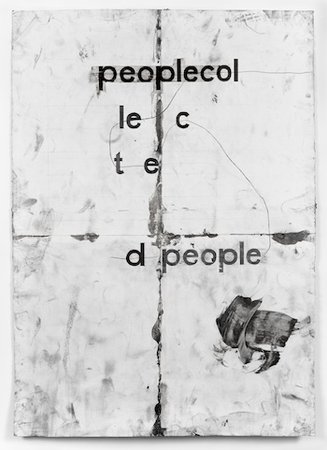 Tony Lewis, peoplecol, 2013. Pencil, graphite powder and tape on paper.
Courtesy the artist and Shane Campbell Gallery, Chicago. Photo Robert Chase Heishman.
Lewis is the only artist in this cadre to be selected by curator Michelle Grabner. His two large works on paper are formally austere yet simultaneously touching, since they embody a yearning to reach out and communicate, even as the speaker seems to have come to believe communication is impossible. The white paper is covered in smudges and footprints, the occasional smear of black pigment, and even more rare smatterings of glitterring graphite. Hovering over this gritty ground are a few stray words or individual letters and a meandering line that seems to trace one pathway connecting these signs. The text fragments are lifted from a script that Lewis does not reveal, except to say it grapples with the history and ongoing development of race relations in the United States. We are left to trace our own lines, find our own way through this bleak landscape. Like characters in a Beckett play, the drawings are driven by a need to converse, even if understanding is to be eternally out of reach.
DASHIELL MANLEY (1983) Los Angeles, CA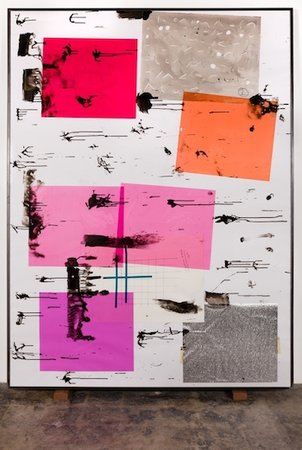 Dashiell Manley, Scene 3 Version B 2, 2013. Gouache, ink, watercolor, linen, wood,
acrylic sheet, lighting gels, paper, tape, and steel. Image courtesy of the Artist,
Redling Fine Art, and Jessica Silverman Gallery. Photo Jeff Mclane.
Manley's presentation includes large clear panels that have been painted on or have had colored lighting gels attached, as well as video monitors showing looped footage that seems to incorporate these semi-transparent abstractions with both old films and more recent footage, perhaps from TV advertisements. The wall label tells us that the paintings and videos were derived from the 1903 film The Great Train Robbery, and it would be easy to assume these are homages or second-level appropriations. But as one considers the relative strength of the various pieces, it becomes increasingly hard to tell what was the input and what was the output of Manley's creative process. One might guess that the panels are byproducts of a cumbersome process of colorizing the film. Or maybe they are Minimalist reductions of the film, movement transposed into color and shape. After further consideration, the whole ensemble becomes a comment on the overlap between the concepts of inspiration and creative expression and the circularity of the artistic process.
JACOLBY SATTERWHITE (1986)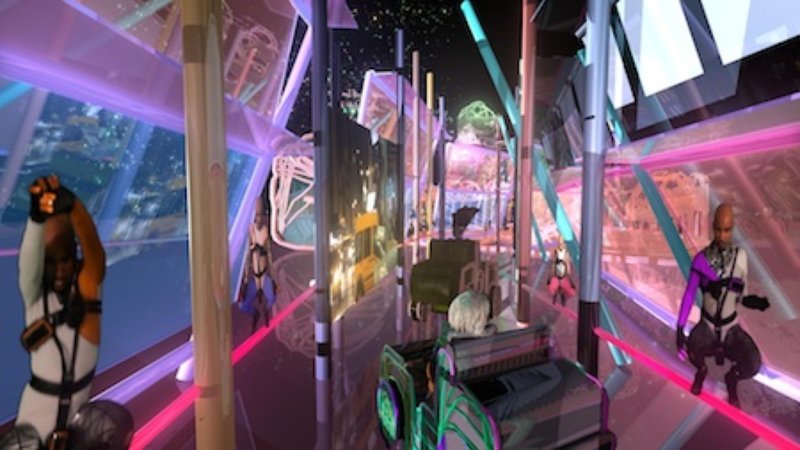 Jacolby Satterwhite, "Transit," Video Still from Reifying Desire 6, 2014. HD digital video,
color, 3-D animation. Courtesy of Monya Rowe Gallery and Mallorca Landings Gallery.
Satterwhite's sci-fi video fantasias grouped under in the series Reifying Desire 1-6 might be analyzed as a next generation riposte to Matthew Barney's Cremaster Cycle, though I doubt that was the artist's intention. Mixing live action and animation and incorporating his own dance performances as well as drawings by his mother, Satterwhite's videos explode on the screen with never-ending action and indigestible waves of imagery. Where Barney's films seemed be a desperate attempt to explain the messiness of desire—like the ego and super-ego trying to rein in and order a confusing world—Satterwhite is intent on inventing his own environments to conform to his every whim, conveying the id let loose with a set a video-game development tools.
SERGEI TCHEREPNIN (1981)
Bathing the rigid surfaces of the museum's lobby in gentle washes of music, Tcherepnin makes music with the architectural structure itself, or at least its light fixtures. Expanding across the ceiling is a field of the concave round metal lamp shades about three feet across. They look a bit like giant cymbals, and now that Tcherepnin has rigged them to play his compositions, they sound a lot like cymbals as well. The artist's works, or at least the ones I listened to, worked in counterpoint to the rigid grid of the architecture. Rather than following the visual clues to develop aural expression of a repetitive, minimalist bent, Tcherepnin teased from this structure a gentle harmony.