We've come a long way since the invention of the first inflatable: the hot-air balloon, created in mid-eighteenth-century France. After this innovation, inflatables were mostly used for warfare until the 1960s, when mass-produced plastic became cheap and widely accessible, allowing for the creative exploration of inflatable technology. All of this history, and the larger socio-cultural impact of inflatables, is laid out in Phaidon's new book Bubbletecture . The book also reveals the recent widespread use of inflatables in avant-garde artistic practices. So, if your child is obsessed with popping bubble wrap, you might think twice about discouraging the habit, as they might be a young artist discovering their medium. Here, we've excerpted nine of the most compelling ballooning artworks from Bubbletecture :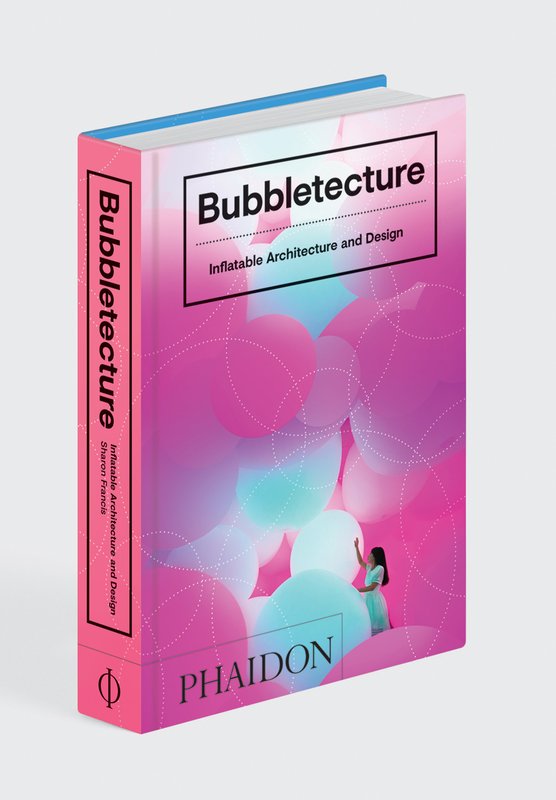 Bubbletecture is available on Artspace for $24
VOLATILE STRUCTURES
Geraldo Zamproni
Grenada, Spain (2012)
Geraldo Zamproni, Volatile Structures , Grenada, Spain, 2012. Picture credit: Geraldo Zamproni. Image via Phaidon.
Brazilian artist Geraldo Zamproni's massive pillow interventions have been exhibited across the globe. Each site placement established a tension between the puffed-up inflatables and the built environment in which they were located. The 6 x 6 m (20 x 20 ft) pillows, custom-made to encase existing columns, created the impression that they were supporting the weight of the structure overhead, establishing a surprising and delightful dialogue with the surrounding architecture. Here they are pictured at the Andalucía Museum of Memory as part of the 2012 Grenada Millennium Biennale in Spain.
POINTED
Steve Messam
Gordon, Scotland, UK (2017)
Steve Messam, Pointed , Gordon, Scotland, UK, 2017. Picture credit: © Guy l'Heureux. Image via Phaidon.
Pointed was created as part of a trio of works, called XXX , intended to disrupt and transform visitors' perceptions of its eighteenth century setting at Mellerstain House in Gordan, Scotland, UK. The environmental artist Steve Messam sought to establish a playful dialogue between the old and the new with this surprising and delightful intervention. Evoking the outline of a stylized explosion or starburst, the white inflatable cones emerged from the pitched roofline of a centuries-old stone building. The twenty-eight elongated peaks rose more than 3 m (10 ft) into the air, providing a bold, sculptural presence within the picturesque park.
SUMMER IGLOO
Virginia Melnyk
Beijing, China (2014)
Virginia Melnyk, Summer Igloo , Beijing, China, 2014. Picture credit: Virginia Melnyk. Image via Phaidon.
This vibrant, lightweight geodesic dome was built from off-the-shelf inflatable beach rings— symbols of summertime fun. The multi-colored pavilion was constructed as part of the C!here Art Crawl in Beijing, forming an intimate space within a public area; in this instance, it sat within a large housing development in the city. Artist Virginia Melnyk hoped that being inside the colorful pavilion would provide visitors with a new perspective of their urban surroundings. After the event, the inflatable pool toys were donated to a charity for local children to enjoy.
DACTILOSCOPIA ROSA
Plastique Fantastique
Madrid, Spain (2017)
Dactiloscopia Rosa, Plastique Fantastique (architect), Madrid, Spain, 2017. Picture credit: courtesy of Penique Productions. Image via Phaidon.
This playful inflatable, a gigantic, stylized pink hand, was inspired by a blown-up rubber glove. Created as a site-specific installation within the Nave 11 gallery space inside the Matadero Madrid, the 'hand' housed an exhibition of the history of queer fanzines in Spain. Visitors entered at the wrist and were immersed in a luminescent pink glow. Lured towards the flickering of screens at the end of the finger 'tunnels', they then sat in armchairs and viewed various video works. The fingers also provided a representation of the uniqueness of the individual—as evidenced by our fingerprints.
ARK NOVA
Arata Isozaki and Anish Kapoor
Matsushima, Japan (or elsewhere) (2013)
Arata Isozaki and Anish Kapoor, Ark Nova , Matsushima, Japan (or elsewhere), 2013. Picture credit: The Asahi Shimbun via Getty Images. Image via Phaidon.
Created two years after a major earthquake and tsunami hit Japan in 2011, Ark Nova was intended to bring culture and spirit to communities still rebuilding after the devastation. Conceived by the architect and artist team of Arata Isozaki and Anish Kapoor as a travelling concert hall, the 30 m (110 ft) diameter, 18 m (60 ft) high, eggplant-hued, air-filled membrane could be transported to a venue, inflated, then deflated and folded, ready to travel to the next location. The uninterrupted internal space could accommodate five hundred people, and held events such as jazz concerts, performing arts shows and exhibitions.
REDBALL PROJECT
Kurt Perschke
Various (2001—ongoing)
Kurt Perschke, RedBall Project , various, 2001—ongoing. Picture credit: Kurt Perschke. Image via Phaidon.
Started in 2001, the ongoing RedBall Project is a globetrotting temporary art intervention. A huge red vinyl sphere measuring 4 1/2 m (15 ft) in diameter and weighing 114 kg (250 lb), it is squeezed into unexpected, interstitial spaces including bridges, public squares and buildings. While undoubtedly playful, the ball also creates a sense of unease, squashed as it is into areas that appear too small. To date, RedBall has travelled through thirty cities, including Toronto, Paris and Sydney. A new site is chosen for the ball every day, with its installation in each place lasting between one and two weeks.
LE MOMENT VÉGÉTATIF
Victorine Müller
Môtier, Switzerland (2007)
Le Moment Végétatif, Victorine Müller, Môtier , Switzerland, 2007. Picture credit: François Charrière. Image via Phaidon.
First commissioned for the Art en Plein air festival in Môtier, Switzerland, artist Victorine Müller's Le Moment Végétatif showed the artist, strikingly dressed in hot pink, contained within a transparent inflatable structure. The abstract, organic form twisted and wound into the tree canopy above, merging with the branches and leaves. Müller's evocative performance installations always seek to question the representation and materiality of the body: physical, spiritual or energetic. This work, which was more than 9 m (29 1/2 ft) high, was later shown in 2010 as part of the FestivalArbres en Lumie`res in Geneva, Switzerland.
SLEEPING BAG DRESS
Ana Rewakowicz
Mexico City, Mexico (2004)
Ana Rewakowicz, Sleeping Bag Dress, Mexico City, Mexico, 2004. Picture credit: © Richard-Max Trembla. Image via Phaidon.
Wearable as a kimono-style dress, this multipurpose garment converted into a sleeping bubble that could fit up to two people. Inspired by the early pneumatic work of Archigram, Ana Rewakowicz was concerned with the rise of materialism and waste. The dress provoked a conversation about lightness; how to live and travel with less. Inflated by a fan powered by batteries charged from a built-in solar panel, the wearer became self-sustainable in their clothing-cum-portable shelter. It was road-tested in 2005 during her walking performance in Mexico City, Mexico entitled A Modern Day Nomad Who Moves As She Pleases .
NAWA
Zieta Prozessdesign Studio
Wrocław, Poland (2017)
Zieta Prozessdesign Studio, NAWA, Wrocław, Poland, 2017. Picture credit: Prozessdesign. Image via Phaidon.
Erected on Daliowa Island in the Odra river in Wrocław, Poland, this graceful pavilion of thirty-five highly polished, connected steel arches was commissioned as part of a restoration project of the space following floods in the 1990s. Forming a sleek gateway onto the island, the sculpture was created using FIDU technology (Freie Innen Druck Umformung), or Free Internal Pressure Forming, a process which Polish design studio Zieta has used to make smaller objects such as stools. The metal forms are durable and stable, but also light; NAWA was Zieta's first FIDU construction on a large scale.
RELATED ARTICLES:
The Chelsea Art Dealer Behind the Inflatable Trump Rat
Painting The Globe Red: 11 Gorgeous (and Architecturally Important) Crimson Structures Around The World
8 Abandoned Brutalist Buildings—Soon To Be Demolished Despite The Architectural Style's Trendy Comeback