Wearing a black skullcap and manning a clothing rack, Lower East Side menswear stalwart Sammy Gluck held down the entryway to Zach Feuer Gallery last night, explaining cuts and hems in his strong Yiddish accent. Welcome to "Jew York," where Gluck's display of $200-$600 suits was actually present as Joel Mesler's artwork #samy2013 (2013), on "view" for the opening of the exhibition, which is also taking place at Mesler's Untitled. (The artist Dustin Yellin wore one of Gluck's suit to the proceedings)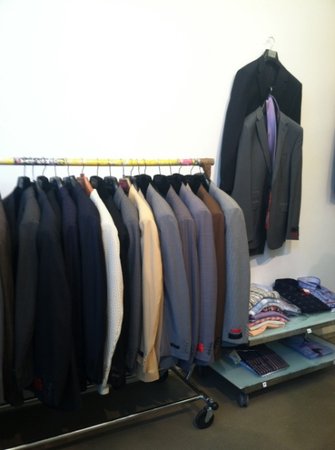 Joel Mesler's samy#2013 at Zach Feuer
The show—organized by Feuer, Mesler, and Untitled co-founder Carol Cohen—has a simple premise: tor survey dozens of Jewish artists in New York across two galleries.
"Even just a couple years ago we started throwing it around as a joke almost," Mesler said. "There's a time and a place for everything, but maybe it wasn't the right time, or we didn't have the right artists. There's a sense of humor and a sense of self-awareness that has to come with it."
Behind the front desk at Feuer is a Cary Leibowitz piece: "Hi Jewboy" scrawled in red on a blue canvas with yellow Jewish-star-shaped canvas next to it answering back, "Hi." But not all the work has an obvious connection to Judaica.
In the voyeuristic Jon Kessler piece at Zach Feuer, an animatronic boy wearing Star Wars pajamas wielded an iPad from inside a box while cranking gears—above him, a connected iPad captured gallery-goers. The 60 works there included a series of "duration" exercises on graph paper by Eleanor Antin, gum bicarbonate editions by Sara Greenberger Rafferty, and Yellin's lifesize humanoid Psycho Geography (2013).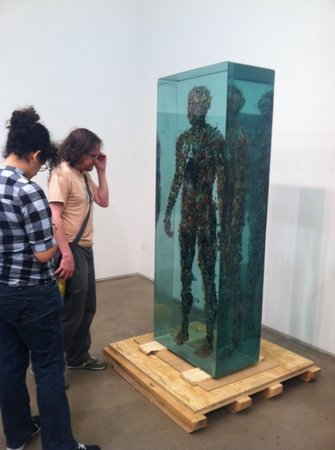 Dustin Yellin, Psycho Geography (2013)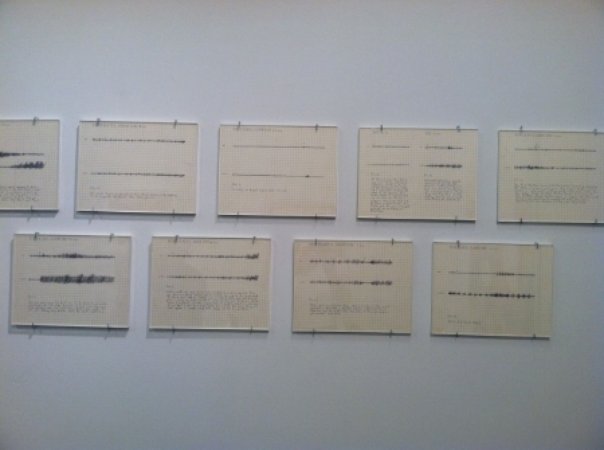 Eleanor Antin, Domestic Peace (1971-72)
It's a wide array that doesn't make any particular claims on what is Jewish—though a few artists declined to be in the show. "People have to pick sides," Mesler said. "It's time to show up or not show up. There were some artists who went as far as to say, 'Why are you doing this?'"
In that vein, a running theme could have been anxiety: downtown at Untitled, My Shrink's Couch (2012) by Jennifer Rubel—a sculpture of exactly what it sounds like—was dead center in the back, flanked by Kon Trubkovich's images of his mother and vintage Diane Arbus photographs from a nudist camp. The Untitled half of the show also has work by Sol LeWitt, Alex Katz, and Deborah Kass—the latter a silkscreen of Barbra Streisand no less. ("It doesn't look Jewish," a gallery-goer commented about the show.)
Just before closing, Gluck showed up again at Untitled, which is down the street from his Global International shop. He'd sold at least six suits, and said he'd begin follow-up calls to those on the fence the next day. And he was already the talk of at least one dinner party in Chelsea: one gallerist even floated the idea of having him at her next opening, Mesler later said.
At the after party at the Wooly, a spread from Russ & Daughter's materialized—and then had to be restocked at least three more times. Gallery girls uncharacteristically dove in between martinis, piling everything bagels with scallion cream cheese and lox. "Are you Jewish?" I asked one. "No!" she said excitedly. "But that's the nicest thing you could say to me! I'm really trying to marry into it."