The Museum of Modern Art's Le Corbusier retrospective opens not with an image, but with a room. A reproduction of the artist's small seaside house, or cabanon, stretches back into the wall, with the same arrangements of furniture interacting with carefully articulated slots of light. "I feel so well in my cabanon, that, without a doubt, I will end my life here," the architect once said, and then—in a dark bit of foresight—did exactly that, on the nearby shore in 1965. Such ironic details, that Corbusier's genius could also be his defeat, run throughout the show, opening June 15.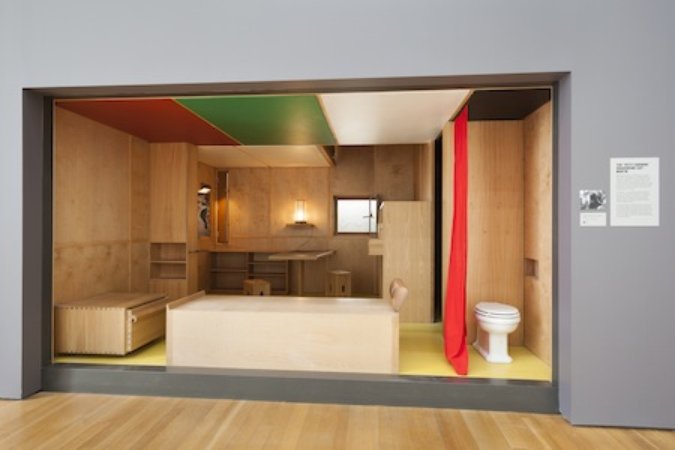 Cabanon, Roquebrune-Cap-Martin. 1951–52. Re-creation of the interior, 2006. Manufactured by Cassina SpA, Milan. Photograph: Jonathan Muzikar
The exhibition does in fact act as an atlas of the architect's life, dividing his work among the geographic locations that he influenced—a reach that extends from Europe to the Americas, Africa, and Asia. The first rooms trace his early years in Switzerland and his travels, particularly how his experiences in Germany led to his seminal idea of "garden cities." They also show off his skill as a draughtsman and painter early in life, a period the artist himself has described as stale. The impressionistic, precious landscapes recall nothing of the harmonic, sleek aesthetic he would become known for, making them all the more fascinating.
For example, when we are greeted by La cheminée—one of his first paintings, made upon his arrival in Paris—its subtlety reads as high drama. The contents above a fireplace are softly painted in varying whites and grays without context, creating a monument in small objects. Corbusier himself said "this first picture is a key to an understanding of (my) approach to plastic art: mass in space. Space." He would follow this line of thinking as he developed "Purism."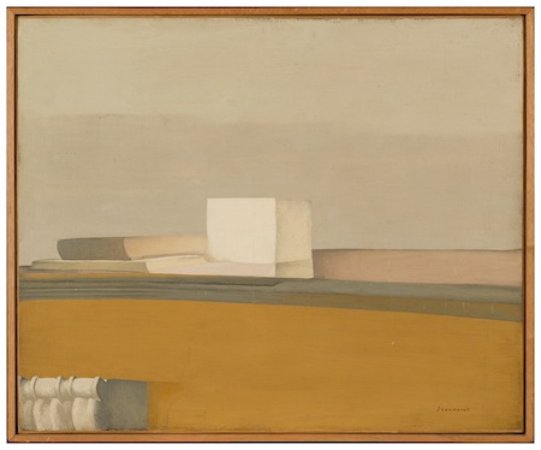 La Cheminée (The fireplace). 1918. Oil on canvas. 23 5/8 x 28 3/4". Fondation Le Corbusier, Paris. ©2013 Artists Rights Society (ARS), New York/ADAGP, Paris/FLC
The rooms' palette reflect Corbusier's own favored hues, and a slightly dulled rainbow of mustard yellow, burnt red, and pristine blue carries us through the galleries. Wide photographic prints of the architect's major works, shot in crisp detail by Richard Pare, also punctuate the story of Le Corbusier.
His successes appear alongside his failures. The many views of the Villa Savoye in plans and photographs make a case for his famed "Five Points of Archictecture," while his never-realized Palace of the League of Nations and Palace for the Soviet's are presented with a dampened sense of possibility. For all the grandeur of his designs, the architect's own frustrations also come just as prominently to the forefront, particularly in the multiple rejected reenvisionings of Paris, in which he sought to mow down parts of the city.
Despite such stark views of cities, the show presents Corbusier as a true artist. He collected objects of "poetic reaction," like seashells and pinecones, and became known for his lectures, in which he would sketch his theories on scrolls dozens of feet long. Later in life, he finally won a commission for an American building, at Harvard, and four of his "Garden Cities" would be realized (if not necessarily well received). Martha Rosler's "How Do We Know What Home Looks Like?", a video shot in Le Corbusier housing project in France that's currently on view at SculptureCenter, could work as a coda: the architect's occasionally misguided idealism became just as big a part of his legacy as is the way he recast how he believed we ought to move through the modern world.

Plans for Algiers and Barcelona and "vertical garden-city," drawing made during a lecture in Chicago. November 27, 1935. Pastel on paper. 39 3/4" x 109 1/2". The Museum of Modern Art, New York. Gift of Robert A. Jacobs. © 2013 Artists Rights Society (ARS), New York / ADAGP, Paris / FLC
The end of the show circles us back around to where we came from: the sea. A photograph of the architect in the small house near the site of his death is accompanied by a quote: "I live in my archipelago, my sea... there are very clear islands of work." That sea serves as an apt but surprising theme for the artist who chased mass in space.