This guide was originally published by The Creative Independent, a resource of emotional and practical guidance for artists that focuses on the trials and tribulations of bringing creative work to life.
If you yourself are an emerging artist, you've likely picked up a few tips here and there, but for the most part, there is no "user manual" for getting started with galleries, collectors, and beyond. To that end, I've taken insights from my experience working in the art world and running a gallery over the last decade, and distilled some tips for a few common scenarios you're likely to encounter: showing work with a gallery, heading to an art fair, hosting studio visits, and completing commissions for collectors.
In Part 1, I went over what you'll need to know to navigate a relationship with a gallery. In Part 2, I told you everything you need to know about hosting a studio visit and getting commissioned to produce a piece. Here, I describe art fair etiquette—just in time for NADA New York!
Art fairs have become a necessary part of the industry for galleries, artists, and even museums. They offer concentrated access to collectors, curators, and press, so for that reason alone, they're worth experiencing. So how can you prepare yourself for the manic art-fair experience?
Networking at a fair
At the fair, galleries will be very focused on making the most of what is an extremely expensive and risky endeavor for them. Given this, if you're trying to meet a new gallery/seek representation by a gallery while at the fair, be mindful that when you approach them in their booth, they may have to leave you at any minute should a potential client, curator, or press figure appear. If they don't have time for you in that moment, it doesn't necessarily mean they don't want to speak with you—just be respectful of their time and ask if you can drop them a note or meet with them at a time that's convenient for their schedule.
Exhibiting at a fair
Similar to with a gallery exhibition, you will want a consignment agreement from the gallery if they're bringing your work to an art fair.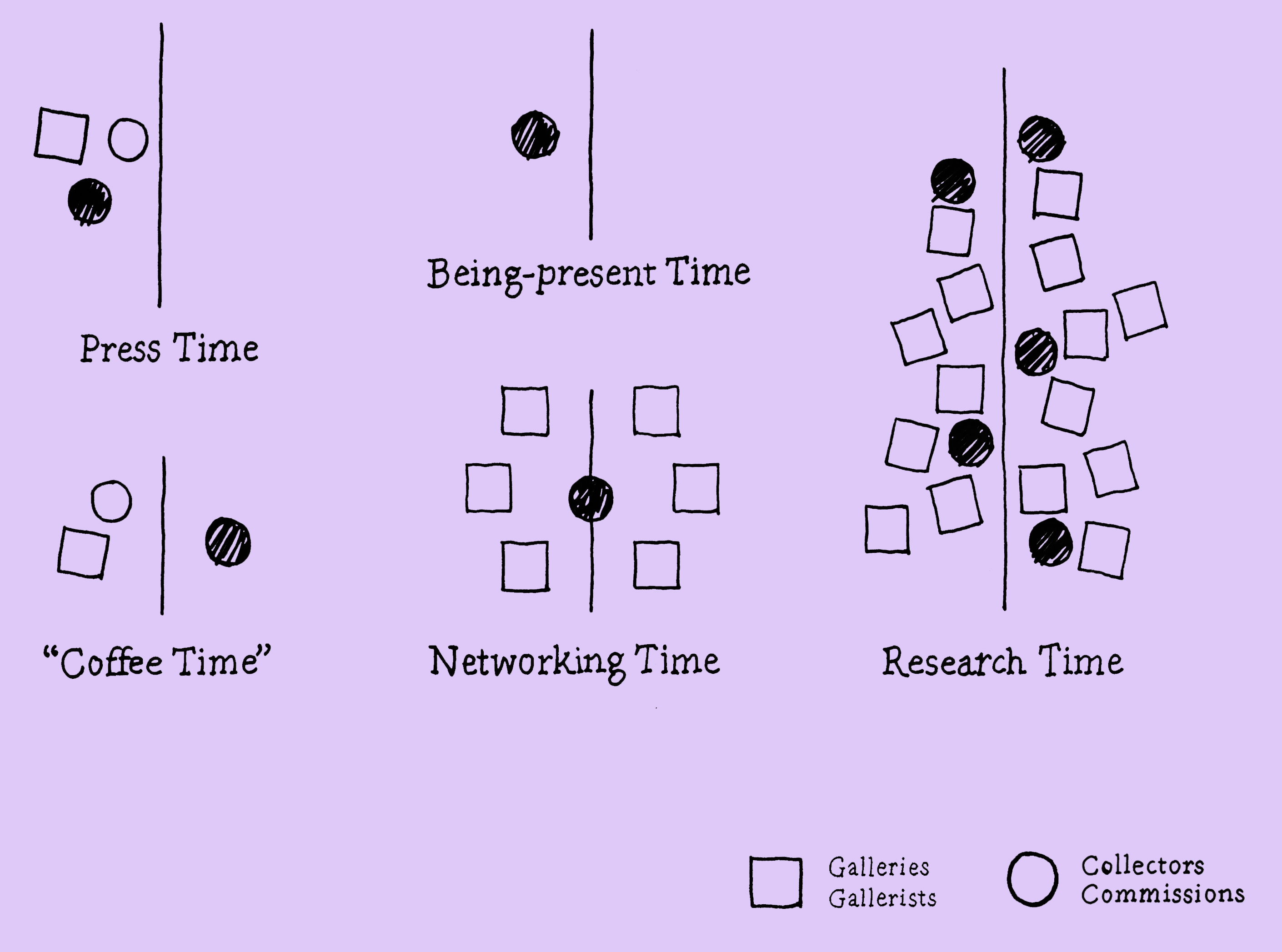 Be sure to work out when the gallery would like you to be present on the stand (and when they'd like you to be elsewhere) so they can do their job most effectively. Often, it can be challenging to make a sale when the artist is present—collectors rarely like to discuss terms of sale with the creator standing there listening. To that end, it can be helpful to develop a system with your dealer as to when to be present and when to "take a walk for a coffee." The reverse can be true with press, though! It's great for an artist to speak with a journalist about the work they've made, so your gallerist may want you to be readily available for those kinds of moments.
Research
Use the fair environment as a place to learn about new galleries and programs. Exploring what's going on in the rest of the global art world is the best reason for you to attend a fair—when else will you have the opportunity to see what's going on with a gallery in Milan, and see what's up with a gallery from Oslo just a few feet away? Take notes, write down your favorite galleries, and even follow up with them over email later.
RELATED ARTICLES:
How To Nail The Studio Visit: Expert Advice On What Artists Should Do (And Not Do) To Make An Impression