It's not every day that an actress (and former model) tells you that her hero is Dr. Albert Barnes, the visionary collector behind the Barnes Foundation's trove of modern and Impressionist masterpieces. But that detail only scratches the surface of Nichole Galicia's devotion to art collecting. The actress, who recently starred as Leonardo DiCaprio's lover Sheba in Django Unchained and is co-hosting this year's Whitney Art Party, is already well on her way to establishing an important collection of work by the Spanish Pop art movement Equipo Crónica, which artists Juan Antonio Toldeo, Rafael Solbes, and Manolo Valdes founded in the 1960s as a platform vollying criticism at the Franco dictatorship.
Galicia spoke to Artspace's Rachel Corbett about how she built her collection, the artistic gift she gave Quentin Tarantino, and why she thinks of her favorite artists as her lovers.
Click here to explore our collection of artworks from the Whitney Museum, or find a selection at right.
What was the first artwork you ever purchased? 
The very first piece of art I purchased was Las Meninas by Diego Velázquez. Unfortunately, it was a refrigerator magnet. It sounds silly now, but I used to bring friends into my home and give them a tour of all the amazing museums I had visited around the world, all the precious paintings and sculptures I had seen—all through my refrigerator magnet collection. It's priceless to me; filled with everything from Lichtensteins to Goyas to Tintorettos to Miró to Caravaggios. My dearest friend Kent, much to my surprise, encouraged my growing art-magnet collection and has even made contributions. Kent organized the Spanish art collection for Chase Manhattan Bank when it was chaired by David Rockefeller, and sends me magnets for my refrigerator one. So I'm in good hands. I do realize magnets are not the most elegant pieces, but I had a full art encyclopedia to readily enjoy each time I needed a snack.  
My first "real" piece of art was a gift from Kent, a Manolo Valdes engraving of Velazquez's King Phillip IV of Spain. It is massive, about five feet tall and three feet wide, and all these years later it still stops me in my tracks. It is that beautiful.
What drew you to the Equipo Cronica, and how did you begin amassing such a large collection of this work?
Again, Kent, should be credited as formally introducing me to and educating me in art. He first talked to me about the importance of art throughout history and showed why it is an important part of my education. Introducing me to Equipo Cronica and letting me pour through Equipo Cronica books and then quizzing me on references embedded in their works was how he made that education fun for me. It worked. I loved the challenge each Equipo Cronica presented. There is always something more to discover: another artist buried inside the art, another moment in history to be pondered. I still get great joy out of discovering a new reference, be it based in art, politics, or history. I love the mystery that each Equipo Cronica work dares me to solve. Their entire concept of "art about art" intrigues me.
It's now the goal for Kent and me to own all of the Equipo Cronica seriographs ever made, a total of 76. We own half now, and call it the "Nichole Kent Collection." So we spend our free time digging through websites, galleries, and old lady's attics searching for art gold.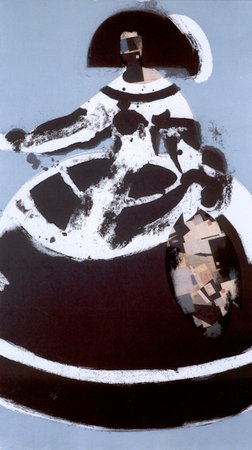 From Galicia's collection: Manolo Valdes' Reina Mariana, 2000
You produced a book about Equipo Cronica as a gift for Quentin Tarantino. What was his reaction?
Each Equipo Cronica painting, engraving, or sculpture is a magnificent piece of original art, but is also filled with homages to the work of other great and historical artists. Doesn't that remind you of what Tarantino does with his films? I spent several months writing and illustrating a book on Equipo Cronica where I dissect and explain a large majority of the references while leaving a few for Quentin to discover on his own. I wanted to introduce one great artist, Tarantino, to another, Equipo Cronica. The book contains the three dozen works in my own collection. Quentin loved it. In fact, he lifted me off my feet while hugging me to thank me.
Who are your favorite artists outside of the Equipo Cronica movement?  
Anyone who knows me well knows I refer to my favorite artists as my lovers. So, Diego Velázquez is my husband, van Gogh is my jealous but passionate boyfriend, and Picasso and Miró are among my many lovers. I have had affairs with Rothko, Basquiat, Bernini, Valdes, and Plensa of late. And then there is Caravaggio because who doesn't like a bad boy? And Tintoretto and da Vinci, who I would introduce to my father. And Goya, but I prefer him after he went mad—he was a little mean to some of his subjects before that.
How do you plan to grow your collection in the future?  
I buy what I can afford and save for the things I cannot yet afford. I definitely want to expand my Equipo Cronica collection. It's a process just locating them, but I enjoy the scavenger hunt. I love and want to collect all types of art; from British Pop art to contemporary artists. I wish I could do what Dr. Albert Barnes did and quietly amass the world's foremost collection in a particular type of art, all arranged in a personal fashion and paired with objects that lend my voice. I will spare you my "Save the Barnes" speech, as that moment has passed.
What is your favorite place to see art? 
My favorite museum is the Prado. Their collection of Velázquez paintings is unrivalled.  
How did you get involved with the Whitney to co-host their annual Art Party?
The Whitney contacted my team and asked me to be involved, and I was thrilled to be apart of anything that brings together my two loves: art and fashion.
If you could have any artist in history do your portrait, who would it be?
I would want to help a struggling artist, and since van Gogh did not have the money to hire models I'd pose for free and take home the painting to contemplate (and maybe sell it for $100 million someday!). Or maybe I'd choose Roy Lichtenstein. I could become one of his larger-than-life characters. He could paint me on a sandy beach relaxing on a sun chair with his beautiful sunrise in the background. Then I could walk by the Equitable AXA building in New York and admire his work. I want to shoot with Steven Meisel, Patrick Demarchelier, and Ellen von Unwerth, but there is still hope for that to come true, if I'm lucky.
I'd like to do a nude with Renoir, a portrait with Picasso, and I'd want Goya to paint my entire family, mostly because I'd like to see whose face he'd distort or completely smudge out. And Velázquez, I would let him do whatever he wanted with me.
If you could own any one artwork, what would it be?  
Without hesitation it would be Las Meninas by Velazquez.
What are you working on next?  
Of course I'm looking for my next film. What does a girl do after Django Unchained? It was such a magnificent experience to work with the great Quentin Tarantino, but equally important as all of that I hope to do some work with gay rights and anti-bullying charities. I feel like gay rights is the civil rights movement for my generation and I should do my part to help.