Blue-chip mega-gallery Hauser & Wirth is expanding its empire at seemingly impossible speeds. It boasts galleries in Hong Kong, London, Los Angeles, Somerset, St. Moritz, Zurich, Gstaad, Menorca, and two locations in New York—plus a roster of over 85 artists. Over 85 artists! That's enough to warrant a meme—and it has: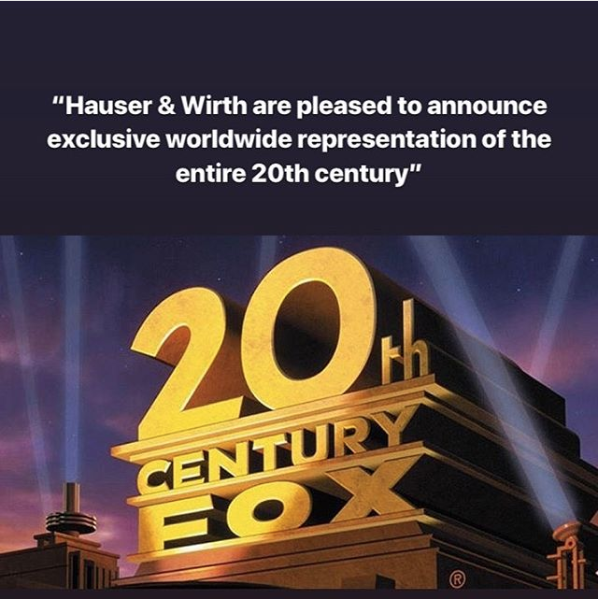 Meme via @jerrygagosian on Instagram
However, though it may seem like Hauser & Wirth rules the (art) world, that doesn't mean that you can't collect work by the artists on its growing roster—for an affordable price, regardless of whether or not you have a relationship with the exclusive gallery. (Check out our previous collecting hacks for Gagosian artists and David Zwirner artists, respectively.) Check out prints produced by the gallery's in-house editions program here, and below, browse work by six blue-chip artists represented by Hauser & Wirth.
[applebroog-module]
A pioneer in the development of feminist art, painter and installation artist Ida Applebroog was an early member of Heresies, a collective of artists and writers that published influential journal Heresies: A Feminist Publication of Art and Politics in in the 1970s and '80s. Over the last five decades, the self-proclaimed 'generic artist' and 'image scavenger' has explored themes like gender politics, women's sexuality, violence and power, and domestic space. Applebroog had a knock-out show earlier this year at Kunstmuseum Thun in Switzerland.
[bell-module]
Beginning his career as a painter, Larry Bell moved away from the canvas in the '60s to bcome one of the key figures in the Light and Space movement—making spare, geometric sculptures that married Minimalism with the high-tech materials then appearing in Southern California's aerospace industry. In the '70s, Bell returned to two-dimensional works, like these prints made by using a motorized panoramic camera to photograph models as they moved. The resulting warped figures were the basis for these flocked screen prints.
[guston-module]
One of the most fascinating and yet still under-appreciated artists of the 20th century, Philip Guston (born Goldstein) did it all: he got kicked out of high school alongside his lifelong friend Jackson Pollock, went to Mexico and became a hero of the Muralismo movement (earning accolades from Siqueiros), returned to New York as a hard-living Cedar Bar fixture of the Abstract Expressionist era, then abjured abstraction in his later decades to create the dark, brooding golems of his soul that he so excelled at. These prints, made in the last two years of his life, are absolute masterstrokes. Join the MoMA and the Tate in collecting them.
[heilmann-module]
Among the preeminent abstract painters of her generation, Heilmann creates works that are both formally adventurous and richly evocative, marked by loose brushwork and bold patterning. Heilmann finds inspiration in the free speech movement, surf culture of her native California, and the counterculture of the Beat Generation—the spontaneous ethos of which can be felt in the immediacy of her approach to color and form.
[holzer-module]
"Abuse of power comes as now surprise." Nor does the success of Jenny Holzer, the conceptual artist responsible for the phrase that has become a slogan for social and political movements all over the world. Known for her "truisms," or text-based works that experiment with the visual display of words and statements about violence, sexuality, oppression, human rights, feminism, and power, Holzer was the first woman to represent the United States at the Venice Biennale, where she won the Golden Lion. The artist has two major exhibitions on view—one at the Galleria D'Arte Modern e Contemporanea di Bergamo in Italy, and the Guggenheim Bilbao.
[party-module]
The newest (and youngest) addition to the Hauser & Wirth roster, Nicolas Party paints His mundane objects—trees, vessels, fruit, and generic people—as smooth, bulbous forms in indefinite scales, as if hollow shells in a vacuum. It's no wonder the mega gallery has taken interest in the Swiss artist; a landscape painting by Party sold for four times its high estimate at a recent Phillips auction in New York. It sold for a whopping $608,000, setting a new record for the artist. For Party's first ever blanket edition, the artist has applied his painterly precision, vibrant color palette and a keen eye for composition, continuing a long standing art-historical dialogue between representation and abstraction, and observation and the imagination.
RELATED ARTICLES:
Investment Hack: Collect Gagosian Artists—Affordably