When Argentinian artist Andrea Juan learned that the ice shelves of the Weddell Sea fringing the Antarctic coastline were melting, exposing to annihilation the rare paleobotanical species that have lived there undisturbed for the past millennium, she leapt into action as only an artist can. Creating defensive-looking sculptural creatures out of bundles of felt—much larger and brighter than the animals inhabiting the disappearing sea floor—along with swathes of tulle formed into psychedelic depictions of toxic gasses, Juan arrayed these across the ice's surface to draw attention to the ecological tragedy underway. It is a lyrical gesture typical of the 50-year-old artist's work, which frequently extracts poetic value from the hard and dry facts of scientific investigation.
For the past decade, Juan, who is a professor of visual art at the National University of Tres de Febrero in Buenos Aires, has been journeying to Antarctica for monthlong periods to stage installations and performances like these across the empty continent. Though inspired by gloomy statistics, her work does not convey cramped, punitive notions of environmental disaster, and it's not overbrimming with ecological nostalgia—the vibrant materiality even has an undeniable joyful quality. (In fact, her most recent show was the result of a collaboration with the fashion company Varanasi, whose scrap-laden studio she pillaged for materials she then hand-sewed in her latest showing.)
With this life-affirming attitude, Juan has joined the inner circle of the scientific colony working on the South Pole who acknowledge her as a fellow researcher of sorts. She now has her own residency program there, inviting other artists from across the globe to form more unconventional alliances between science and art.
With Juan's new show "Organic" now up at New York's Praxis Gallery—a follow-up to her 2011 series "New Species"—Artspace sat down with the artist in Chelsea to hear more about how she approaches her consciousness-raising work.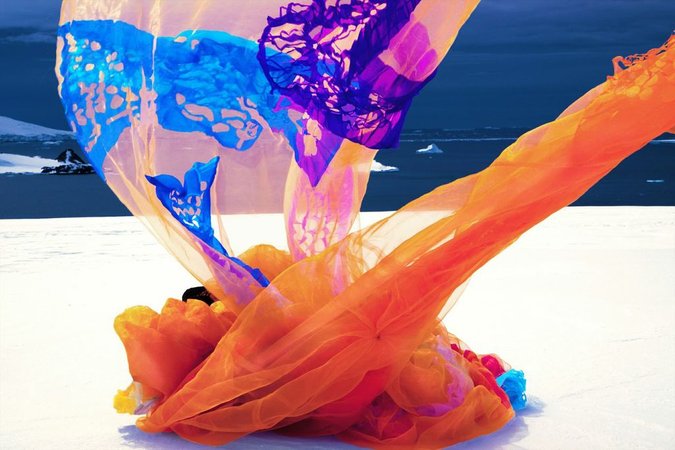 For the past decade, you have been visiting Antarctica and staging performances and making elaborate temporary installations across the snowy tundra. How do you prepare for your journeys to this barely hospitable environment, where you live on an ice sheet three miles thick?
Every year I stay there about a month and a half—it depends on logistics—and I have to think very carefully about what I need before going, because I know that there's nowhere for me to buy anything there. I need to have everything with me: projectors, fabrics, assistants. I also need to prepare a lot when I'm down there because I prefer to take photographs far away from the base. I don't have a studio, since you share the space with other people, so I always try to find whatever site isn't being used to prepare things. This year, for instance, I used the cinema and auditorium.
When you bring researchers and other artists to Antarctica, do you fear your presence has a deleterious effect on the environment? Do you take any safeguarding measures?
Well, all of the trash comes back to the continent—only the organic trash that can be treated stays, and the rest, plastic or non-organic, comes back to Argentina by boat. For me, it's very important that the landscape remains the same. After working there, the place should be the same as it was when I started.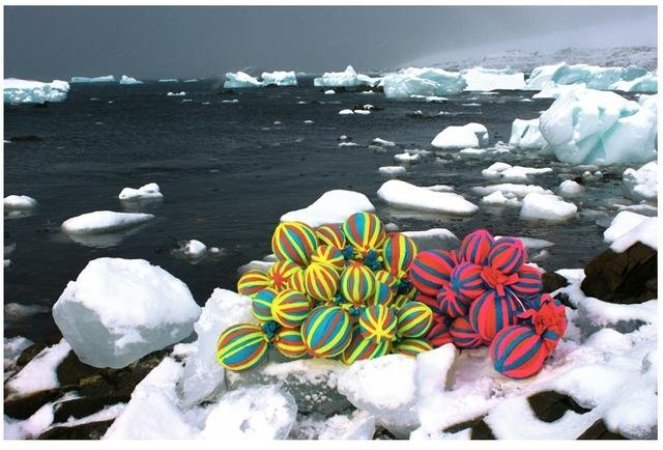 Why did you begin to represent environmental catastrophe in your art?
I had been working in this Southern part of Argentina on projects about the glaciers and how they are disappearing all around the world. I made no installations, though, and only recorded the landscapes and the pollution. And then I heard that there were some scientists working in Antarctica, doing research there for the summer. I thought that it would be great to continue my work there, so I asked permission to go. The director accepted me, and after that I was considered one of the researchers of the program, doing "research of the arts."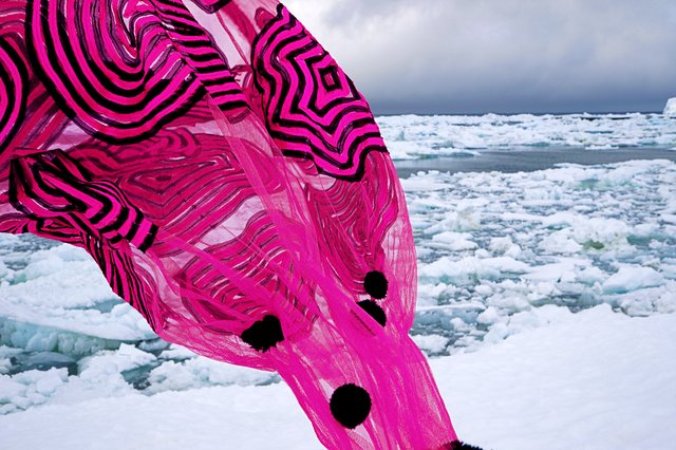 Speaking of research, what is your background in science? Some of your descriptions sound like scientific synopses; you write about phytoplanktons, the Larsen Ice Shelf, CO2 emission with fluency.
Nothing at all. I have always been interested in scientific research in general, but I studied art, and my entire background is in art: print-making, photography, and video. But in my family—I think that it may be for this reason—my father and my mother are doctors, one sister is a sociologist, and the other sister is a biochemist. So, I don't know, maybe it's something in my genes.
You talk about the melting polar icecaps with urgency and regret.And yet, the work you make to represent this apocalyptic future are staggeringly elegant. Can you talk about this breach?
I want to be in dialogue with the visitor, not shut them out. I don't like it when the images are aggressive or sad in relation to what's going on. You see, I have a very positive way of thinking, and I think that with this kind of attitude you can get bigger change. Beautiful images encourage us to modify behavior more effectively than an ugly image, and I feel that through a poetic way of communication the viewer can feel more confident to continue thinking about the problems on their own. And through art, science is made more accessible to the general public. The language of poetry goes everywhere.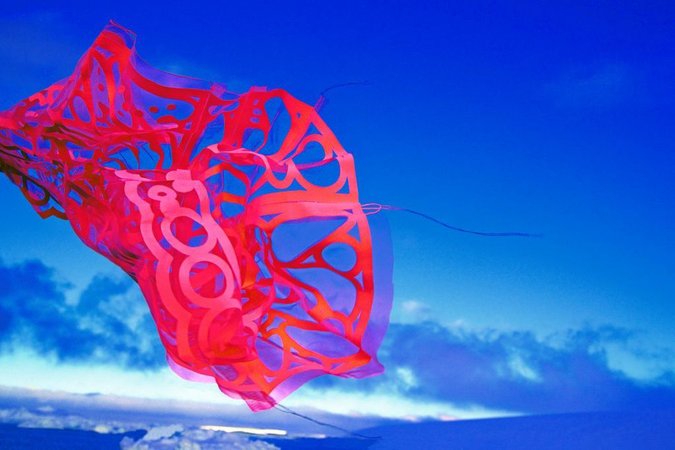 In the 19th century, natural science and artistic feeling were understood by scientists and artists alike to be united by a strong bond. The disciplines' separation is a more recent effect of modernity. Working in such close proximity to scientists in Antarctica, do you see a convergence between your artistic project and their scientific investigations?
Science is more in relation to facts; art is more in relation to feelings. But sometimes the way that a scientist works through an investigation is in the same manner that we do. I think that both scientists and artists have to look at a place where nothing exists and, from nothing, create new possibilities.