In the 1970s, at the height of graffiti writing in New York, Claes Oldenburg famously recalled the experience of standing on the cheerless subway platform when "all of a sudden one of those graffiti trains slides in and brightens the place like a big bouquet from Latin America."
While the subways have since been expunged, decades later, the street art of Michael De Feo restages this brilliant phenomenon in other corners of the city. The artist often referred to as "the flower guy" stenciled his first botanical on the side of a building on East 23rd Street in 1994, and 20 years later, the work still flourishes in the East Village neighborhood, where he says he hoped to "spread some cheer to a city of concrete, glass, and steel."
Today the artist continues to paint the emblem throughout New York—and the world. He's stenciled flowers on crumbling cement buildings in Hong Kong, arched doorways in Venice, and stone retainers along the Seine. He also makes work for the indoors, some of which will show at Bleecker Street Arts Club in a group show called "The '80s—Past and Present," opening this week.
Before the show's opening, Artspace spoke with the 41-year-old about his work, what street art has to do with 17th-century Dutch still lifes, and how the Internet has transformed the scene over his own two-decades-long career.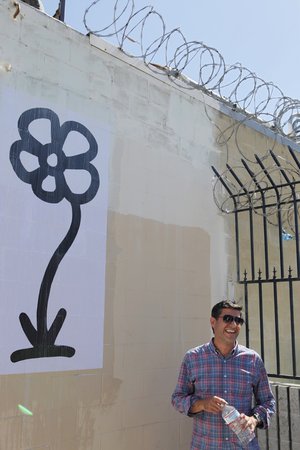 How did you arrive at your flower icon?
The creation of the flower was an accident really. I was loosening up in the studio with some simple line work in paint on paper—butterflies, flowers, and kittens. In the middle of all of it was this flower. It jumped off the wall with a presence that none of the other drawings had. I quickly made a silk screen of it and in no time had dozens of them in a rainbow of colors. The following year, I painted the flower mural on East 23rd Street. It was the first full-scale mural I did, and it's still blooming there today.
Like a living flower, street art often has a short lifespan, that is, unless it is collected, documented, or publically protected. How do you feel about the documentation of your own work? Does it matter to you when it is destroyed or painted over?
The decay of my work is perhaps one of the most important stages of its lifespan. If I wanted to save and protect the work I wouldn't put it in the street. I revisit and document old work when I can.

Does this natures mortes—this fleeting quality—relate to your stated interest in Dutch 17th century still life paintings?
I was first really struck by the Dutch masterworks when I encountered them in the flesh on a trip to Holland in 1997. They blew me away not only with their detail and realism but also with their dark and sad side. Their beauty wasn't only in their look but also in the realization that their existence was short and fleeting. That really touched me and related to so much of what my work was about.
I've recently decided to take this 17th-century Dutch influence and create my own flower still-life paintings. The works are both homage and a revolt.
It used to be that street art thoroughly bypassed the gallery system, though that has changed with its newfound commercial appeal. What's art's place in a city?
Simply put, cities need more art. Children need more art. I used to teach art in a public high school for fifteen years. Street art was a great hook to get kids into and talking about art. It shows them that art isn't just on a pedestal in a museum. They can participate and share in a whole new way in their communities.
Your work has sprouted up in New York, Los Angeles, Miami, Amsterdam, Paris, Buenos Aires, Venice, and Hong Kong. How do you decide where to place your work, especially in those cities that are new to you?
Usually my destinations are dictated by where my exhibitions and sanctioned projects take me. The other places I go to are just because I haven't been there yet. Hong Kong appealed to me because it was one of the farthest places to get to from New York. I had no idea what to expect and was a little nervous since a few days before I got there, another artist Zevs was arrested for painting the façade of the Armani store in Hong Kong's Central district.
Your work has gained notoriety in recent years, appearing on a New York magazine cover and in Banksy's recent documentary. How much of your work is illegal? Do you have to preserve some degree of anonymity?
My work has always been a combination of both indoor and outdoor pieces as well as both sanctioned and unsanctioned in the streets. I've don't have moniker and have always used my real name although some people in the beginning started calling me "The Flower Guy" and that has sort of stuck. I don't hide behind the name. It isn't difficult to find me.
In America, graffiti tagging emerged as a way to reclaim public space in the 1970s in Philadelphia and New York. Does this flower symbol serve as a sort of tag or signature for you? And what are you hoping to achieve with your self-portraits you paste up in public space?
The flower is certainly what I'm most known for. The self-portraits were created at a time in my life where I felt it important to truly put my insides outside. They were very personal and took a lot of people by surprise. I wasn't interested in hiding or keeping my emotions out of my work.
Your interest in space transfers over to your prints and self-portraits that are often executed on maps. Why do you use these charted documents as background surfaces?
The maps act as a metaphor for painting the entire world.
Street art is having a moment. Has the Internet facilitated its auspicious rise? Or are websites like Wooster Collective simply memorializing it in ways that were impossible before, making it more visible to a larger public? How has it shaped your own work?
When I began using the streets over 20 years ago the Internet wasn't really in play just yet. Once people got online everything changed. There was now this way to see what was going on around the world from the comfort of your living room. It's certainly helped to get the work seen by a greater audience but it's also distanced people from it, as well. Works in the street are meant to be experienced in the street.