Judy Chicago celebrated her 80th birthday earlier this month, and she did it in a way that only Judy Chicago would (or could): by hosting an opening party for an art center she created in her hometown of Belen, New Mexico, called Through the Flower Art Center. Meanwhile, she has a show at the Harwood Museum of Art in Taos, Judy Chicago: the Birth Project from New Mexico Collections, and is gearing up for two major exhibitions opening in the fall—one at Jeffrey Deitch in Los Angeles, and another at The National Museum of Women in the Arts in Washington D.C., where she'll be debuting a brand new body of work about death and extinction. Yeah, we'd say this octogenarian is pretty busy these days.
But despite being a pioneer of the Feminist Art movement in the '70s, Chicago hasn't always been this saught-after, as she's quick to note that the many of her male peers have been enjoying success—and better pay—for decades longer. This isn't to say that Chicago hasn't been long celebrated for her contributions to the movement. She's most known for The Dinner Party , permenantly housed at the Brooklyn Museum where it commemorates important women thorughout history via ceramic plates and embroidered place settings. But Chicago, along with artist Miriam Schapiro, also co-founded Womanhouse , a feminist installation and performance space, and the Feminist Arts Program at CalArts, the first feminist art program in the country.
RELATED ARTICLE: Labia and Lotuses: Who is Feminist Artist Judy Chicago?
Here, Chicago answers questions over email about her relationship to Feminist Art, and how it's changed over time.
Why was it unusual, or even taboo, to make art about women's issues when you were coming up? What pressures did you face as a female artist?
I spent almost the first two decades of my career in Los Angeles where the art scene was singularly inhospitable to women. The biggest compliment a woman artist could get was to be told that she 'painted like a man.' So you can imagine what would happen if your work was 'womanly' in form or content.
Now in 2019… how much have those pressures/attitudes changed?
It would be idiotic not to recognize that—fortunately—women, artists of color, and artists of varying gender identities can be themselves in their work, which is to be celebrated. However, a woman artist is still paid only 47 1/2 cents of what a male artist gets when a work is sold, and auction prices continue to be even more inequitable. This reflects the larger social fact that around the world, what women do—in or out of the arts—is either not valued at all or valued less.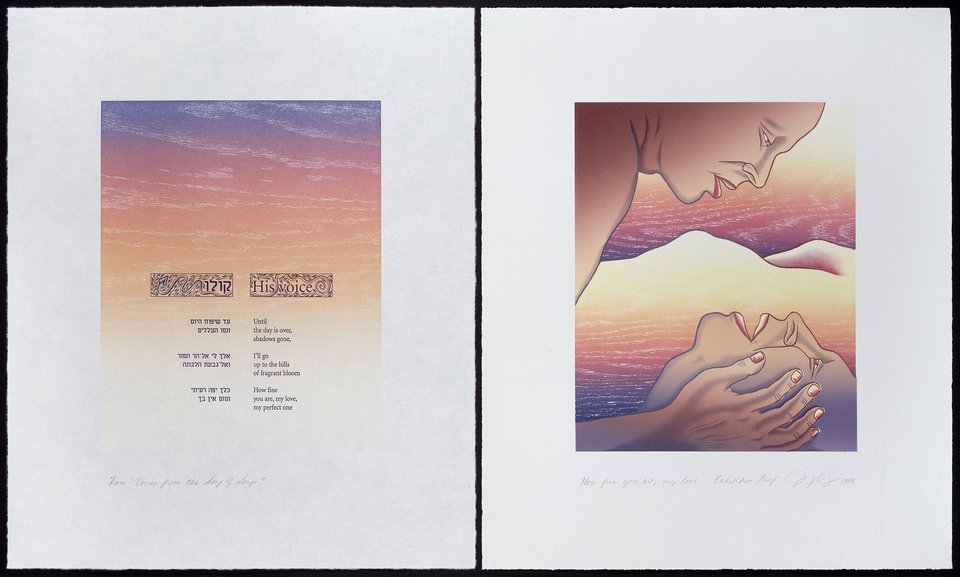 How fine you are, my love (1998) is available on Artspace for $2,500
You've always been at the forefront of feminist art. Are there any up-and-coming artists you feel are making particularly relevant feminist work now? Anyone you have your eye on?
I love Andrea Bowers ' work as well as a myriad of young women artists of diverse identities who are making art about who they are and what they care about. I love the instagram accounts 'vagina china' and 'club clitoris' to name just a few.
Many would say your work is having a revival currently, after five decades of making work. Do ever feel angry about how long it's taken, especially since so many of the male artists you came up with have enjoyed success for quite some time?
No, because I have had the incredible privilege of making art for many decades without market pressures, which has allowed me to make work of meaning that seems to speak to a lot of viewers. But now that I'm old, it does piss me off that when I sell work, I only make half of that of my male peers, not that I care about money but rather, I need to help support the newly opened Through the Flower Art Space, ensure my legacy and also, one doesn't want to be old and poor in America—sadly.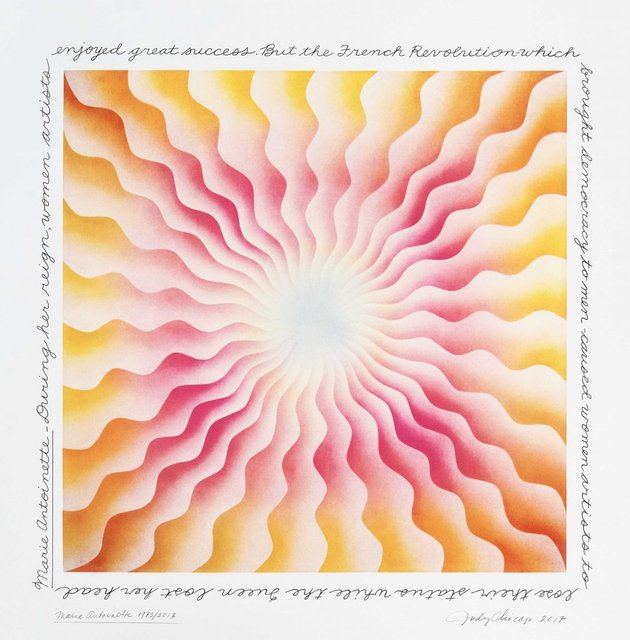 Marie Antoinette (1973/2017) is available on Artspace for $4,000
Even now, though you're finding institutional support around the globe, finding support in your hometown continues to be quite a struggle. You've been trying to open your own museum, Through the Flower Art Space, but have gotten push-back from the religious community. Now that it's finally going to open—how does that feel?
After an initial brouhaha, the small community of Belen, New Mexico, where we've lived and worked for over 20 years, organized a fundraising campaign that raised enough money to renovate and open the Through the Flower Art Space on the weekend of my 80th birthday. It is wonderful to see the pride in local visitors' eyes when they visit what is not a museum but rather, a modest-sized space that provides exhibition space, a shop that also helps support the art space and also, a resource center that provides access to the larger art world.
Who do you anticipate will be the audience of Through the Flower? I imagine for a lot of the locals, the space will be a rare opportunity to see feminist art. What is your goal and hope?
As the art space has already opened to many hundreds of visitors from all over the world, our hope is that it will act as the anchor for the development of the Becker Avenue arts and culture district as our small town has not yet recovered from the 2008 recession.
On view at the Harwood Museum of Art in Taos, New Mexico is a series of works from 1980 to 1985 called "Birth Project." Why was it important to you then to represent childbirth? Why is it important that that aspect of womanhood is illustrated in art history?
Art history and the art that is passed down over the centuries represents both our cultural heritage and the values that we deem important. For women's experiences to be absent from that heritage (as it has been until recently) is to consign women to second-class citizenship forever. I have often said that what is not imaged does not exist—or is not valued. Thus, for there to be so few images of birth in western art symbolizes what I stated earlier, that what women do is not important. Why should we be made to feel like that when—without us—the human race would cease to exist?
Judy Chicago, Birth Trinity, 1985. On view at the Harwood Museum. Image via the Museum's website.
Some of the images from this series are somewhat literal in the depiction of pain and birthing, and others are more abstract, symbolic, and mythical. Since you created these works in the '80s, feminists, like those engaged in Xenofeminism, for instance, see the equating of womanhood and motherhood, or with the "naturalness" of childbirth, as problematic and essentializing, since it normalizes the disproportionate burden women carry to perform the labor of childrearing. What do you believe is the power of representing women as mothers today? And how might we read this series within the context of the current political wars over abortion and the state's control over women's bodies?
It is sad that the 'birth project' has new relevance as a result on the assault on reproductive freedom that younger women took for granted. All the academic theorizing about 'essentialism', 'problematic', etc. has met the real world. Essentially, women are being pushed backwards so it is essential that we meet that challenge by asserting how 'essential' our labor (physical, mental, spiritual, artistic) is to human culture.
At the same time that you're showing a body of work about birth, creation, and life, you'll be debuting new work about death and extinction in the fall. How did researching for this new body of work compare to previous bodies of work? I imagine you haven't been feeling particularly optimistic or cheery recently.
"The End; A Meditation on Death and Extinction" took six years. As difficult as it was to confront and create images about my own mortality, it was infinitely more painful to deal with what we are doing to other creatures and the scale of that terror.
Given that the public seems to only recently be catching up to the early decades of your work, are you nervous about how this new work—about death—will be perceived?
Of course.
Can you tell us a little bit more about the new work?
It combines glass (which I've been working in since 2003), porcelain, and bronze, three materials I've worked in extensively. The scale of the work is modest in part because I don't believe that one has to make gigantic work in order to deal with important subject matter. For instance, one of the most important series I've seen in the last few years was Jacob Lawrence's Great Migration . The work is small; the impact was gigantic.
Is your current work feminist, in your opinion?
Over the course of my career, my feminist gaze has steadily expanded. When my husband, photographer Donald Woodman, and I were working on the Holocaust Project (which was 8 years in the making), I learned that women's oppression has to be seen  in the larger global structure of injustice and oppression. My definition of feminism has also expanded to include all those who are hurt by the patriarchal paradigm—both human and non-human.
What excites you most about your future?
Waking up every day and having the opportunity to create art.
[chicago-module]
RELATED ARTICLES:
How Did Feminist Art Begin? A Brief History of Women Rejecting Patriarchy in the Art World
Making History Contemporary: "Half the Picture" Curator on Presenting 100 Years of Art Through a Feminist Lens