Vincent van Gogh arrived in the ancient Provençal town of Arles, in Southern France, on February 20th, 1888. Drawn by the region's famously unique light, van Gogh had aspirations to create a distinct "Atelier du Sud," a community of artists that would make a definitive break from the Impressionists of Northern France. While the painterly utopia van Gogh envisioned never materialized, over the following 15 months he produced over 200 paintings and 100 drawings, making his time in Arles the most prolific period of his career. It was here too that he fueded with his friend Paul Gauguin, and where he cut off a piece of his own ear—both key events in the van Gogh legend.

As the new artistic director of the Fondation Vincent van Gogh Arles, which recently opened the inaugural exhibition at its location in van Gogh's adopted Provençal home, Bice Curiger was faced with this piece of art historical folklore and a heady task: to pay tribute to the legacy of the most popular artist in Western history, in the town where he spent his most famous period, while at the same time crafting a curatorial program that was nevertheless new, contemporary, and oriented toward art's future as well as its past.
Luckily, for Curiger—who has been the curator of contemporary art at Zürich's Kunsthaus, founding editor of Parkett magazine, and the curator of the 2011 Venice Biennale—bridging art's distant past with its present vanguard is nothing new. Curiger's curatorial projects at the Kunsthaus, the Biennale (where she head-turningly displayed a suite of Tintorettos at the heart of her show), and elsewhere have brought together little-known outsiders, 16th-century masters, and established contemporary artists in anachronistic juxtapositions that draw intriguing and sometimes surprising comparisons between artworks across art history.

From Zürich, Curiger spoke with Artspace about her plans for Arles, having the guts to put works by Thomas Hirschhorn in a UNESCO heritage site, and why she thinks of artists as her partners rather than her subjects.
The Fondation's inaugural exhibition at its new location, "Van Gogh Live!" has two parts. One examines van Gogh's own works alongside those of his contemporaries, and the other is a selection of works by contemporary artists responding to his legacy. This is similar to the exhibition you curated at Kunsthaus Zürich, "Signs and Wonders," in 1995, which featured work by the self-taught 19th-century Georgian painter Niko Pirosmani in conversation with works by contemporary artists. Is this strategy of comparing works from different periods meant to be a corrective to the way we look at contemporary art? Or is it to point out consistencies that we tend to gloss over?
Both, I think. First of all, I've been working for 20 years now at the Kunsthaus in Zürich, which has a big collection that spans 500 years of art. I was the curator of contemporary art, but I always enjoyed working in an institution with such historical depth, and at the same time working closely with living artists. I've always considered them to be my partners, and took a lot of inspiration from that partnership to examine the history of art. I felt it was a pity that there are two different publics for art, one for contemporary art and one for Old Masters or classic Modern art or "old art," let's say.
"Signs and Wonders" was shown in Zürich, and also traveled to Santiago de Compostela. The idea was to show an artist who you might, in the classical way, label as a "naive artist," from a geographically remote place. At least, that's how he was labeled in the Soviet Union at the time, when it was finally okay again to look at "naive art," which was forbidden in the time of Stalin. If you present a single artist with the label of "naive art," as the marketing idea would naturally be, it will look different than if you include his work in a group exhibition, where it can have the effect of a meteorite that's fallen out of the sky into a contemporary art show—and then you see what happens.
That was, I think, the idea of that show: to create friction by bringing these two universes together, friction which is beneficial to both of them. It was my first big show at the Kunsthaus in Zürich, so it made me more courageous, or inspired me to make similar juxtapositions later on, including my work at the Fondation Vincent van Gogh Arles. That's actually why I accepted the job, why I thought it could be interesting—it follows a certain logic from my past work.
And of course with Pirosmani, he's—as you said—a lesser-known artist. But with van Gogh, it's a completely different story.
Exactly—completely. It's really the opposite extreme, which is also incredibly interesting. He's probably the most popular artist ever—with the current globalized mass media, and the art world's expansion in Asia, and all over the world, there never has been an artist who has been so popular. More than Leonardo, more than Michelangelo.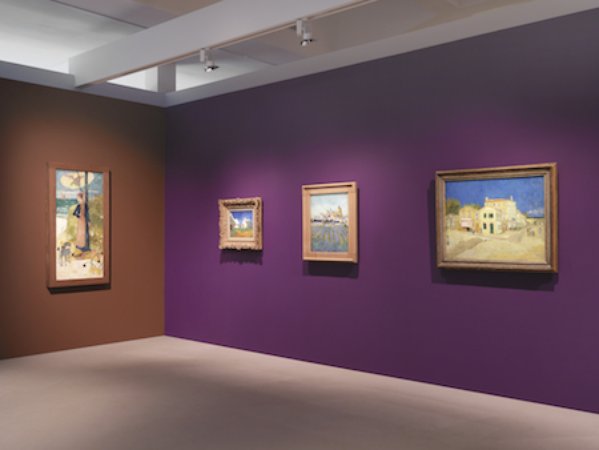 Installation view of "Colors of the North, Colors of the South" at the Fondation Vincent Van Gogh Arles with wall colors selected by Gary Hume.
How did you select the contemporary artists to include, given van Gogh's widespread popularity?
When I came to the Fondation, which was founded in 1983, there was already a bit of a history of showing contemporary artists. They'd showed Francis Bacon, David Hockney, and others. With most of that generation of artists the emphasis was on looking at formal analogies to van Gogh's work, or analogies of motif, and I thought today that after the whole experience of conceptual art of the last three decades or more, we can surely find many other ways of approaching this enterprise.
I still think, with this show, there are formal issues that are really interesting, and at the same time it was completely clear that I had to engage art's sociological aspects as well. So I invited Thomas Hirschhorn to deal with just the phenomenon of van Gogh as an art-historical phenomenon. I trusted that he wouldn't be cynical—he's someone who really is very serious about looking at what society has done with the image of an artist.
This exhibition really started with the festival last summer, before the opening of the Fondation at its new location, which was also called "Van Gogh Live!" We had a performance by Guillaume Bruère in the main square in Arles in July, where he made a portrait of an Arlésienne—a woman in traditional costume, like van Gogh described in his letters and paintings from Arles. That drawing is now also on display in the exhibition with other works by Bruère. We had posters made by Elizabeth Peyton in the streets, musical performances, and so on.
Then, on the building itself, I'm happy that I entered the project at the moment where I could still be in dialogue with the architects, Guillaume Avenard and Hervé Schneider of the FLUOR agency. I proposed the collaboration of two artists, Bertrand Lavier and Raphael Hefti, on the building itself. Those are permanent installations, and Fritz Hauser produced a sound installation in the stairwell, which we'll probably have for a year, so that's semi-permanent.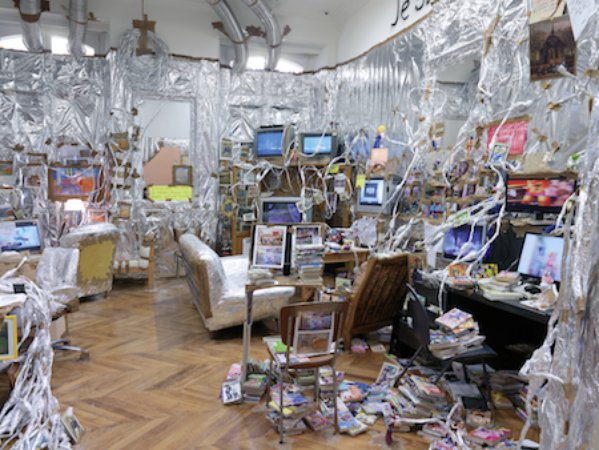 Thomas Hirschhorn's installation in "Van Gogh Live!" at the Fondation Vincent Van Gogh Arles.
I wanted to come back to the Hirschhorn installation, which is a room installation based on this story of a Japanese woman who is obsessed with van Gogh. This kind of chaotic energy seems intriguingly at odds with the setting in the historic building and with van Gogh's own works. How do you present difference of this nature, from works from two different places and periods, without misrepresenting either of them?
In the installation overall, it's clear that each section is like a chapter in a book. First you enter into the rooms of the exhibition "Van Gogh: Colours of the North, Colours of the South"—for which I was very happy to get to work with the great van Gogh specialist, Sjraar van Heugten—where the one additional contemporary element is the fact that the colors of the walls the paintings are hanging on were actually selected by the artist Gary Hume. He's a living painter and colorist, and he studied closely Sjraar's concept of the show for his proposition.
The show, which describes the evolution of van Gogh's palette from the dark northern to the very bright and exuberant southern colors, includes nine works by van Gogh and additional paintings by Courbet, Pissarro, Monet, Monticelli, Gauguin, and others. Near the entrance is Hume's work Yellow Window, which is two large windows with their frames painted yellow, with semi-transparent tinting film on the glass. This is, of course, a reference to Marcel Duchamp's sculpture Fresh Widow from 1920, which consists of a window frame where the glass has been replaced with black leather. This was Duchamp announcing the end of painting as a realistic medium, looking to the outside world.
How do Hume's elements interact with van Gogh's paintings?
In a certain way, Hume's contributions prepare the viewer to exit what is a traditionally presented van Gogh exhibition into what follows in the rest of the show. Before you come to the Hirschhorn installation, you see three vitrines of boat sculptures by Bethan Huws—a series she's been working on since 1983. She's rarely shown this particular version: it's a bit like a diary, where she folds these single reeds into little boats which look almost like drawings that have become three-dimensional.For me, this was a formal play on the fact that van Gogh's paintings are based very much on the line. He's a painter who emphasized the drawing aspect of painting, and the materiality of the line.
We also have a neon piece by Huws which says "Artists interpret the world and then we interpret the artist." Then there are the drawings by Guillaume Bruère; he has a beautiful room of about 40 drawings that he has made after Old Master works in major collections throughout the world—the Gemäldegalerie in Berlin, the Kunsthistorisches Museum in Vienna, the Louvre, and so on. I was glad to be able to include a French artist who is actually not known in France; he's based in Berlin and he's not shown much in museums. And then you go up the staircase, through Fritz Hauser's sound installation, and finally come to the Hirschhorn. Even then, of course, it might be shocking, for some people.
So it sounds like the idea is that the contemporary works serve as sort of a map for an expanded framing of van Gogh's own works.
Yes. Of course, I'm not the first curator to juxtapose contemporary art with classical art, but very often the contemporary works are used like a flavoring accent, as something that is clearly hierarchically on a lower level. For me it's always been important, if you're going to make the juxtaposition, that the two types of work should be on an equal level, treated with equal respect.
Earlier you mentioned conceptualism, and I was reminded of a previous interview you did a while back about the 2011 Venice Biennale, which you curated. In that interview, you talk about your inclusion of paintings by Tintoretto in the Biennale, and you say that conceptualism was already "an idiom" in Tintoretto's time, suggesting that our idea of conceptualism in contemporary art can extend backwards as well as forwards. Given the historical juxtapositions in the current show, I wonder if you can explain this idea a little more.
If you think about historical art theory, and classical aesthetic writings, of course you come across conceptual ideas—in Greek art, in Renaissance art, and so on, from Tintoretto's spatial effects to Gian Paolo Lomazzo, the Mannerist theorist. These artists were collaborating with philologists, using the writing of theologists to explore issues of iconography and how to deal with it. It was all about these conceptual aspects that influence the formal way an artist treats a feeling or topic.
To come back to van Gogh, it's amazing to read his letters today and see how clear and how incredibly reflective he was. It's a popular misunderstanding to see him as this crazy person, simply throwing his emotions onto the canvas. He was incredibly reflective. At the Fondation, we'll be discussing this further. I plan to do a symposium in mid-September—"Duchamp and van Gogh"—to look at these two wonders of 20th-century art who, according to popular clichés, are like oil and water. One stands for the expressionistic impulse and the other for the conceptual. We want to look at this at these clichés a bit more closely. It's interesting: I can hardly find any literature on the topic. It seems quite counterintuitive to do this, to compare the two or bring them together, to put them in the same room.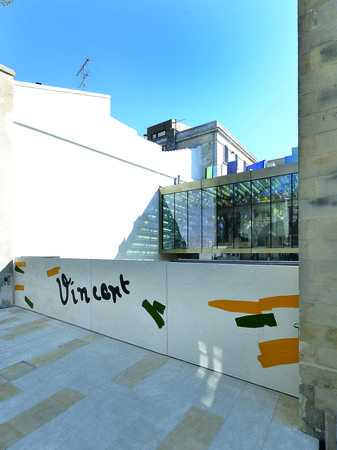 The entrance to the Fondation Vincent Van Gogh Arles with gate designed by Bertrand Lavier.
Which brings us to the Fondation's new home, which is a restored 15th-century mansion. What can you tell us about the building?
The whole center of Arles is a UNESCO world heritage site. The Fondation is located in the part of the town that dates back to the 15th century. It was the home of an important family in the 18th century, and was a residential building until it was bought by the Banque de France in 1920. They did a big renovation and added the section which is now our exhibition hall, which was actually the main lobby of the bank, where they installed a large skylight. They also added a courtyard, with two staircases leading to the upper floors, where the exhibition hall now continues. It was great that our architects got permission to build a glass box in front of the façade in the courtyard, which looks very contemporary but is also hidden from the street. You see it suddenly when you approach the building, and you see the gate with this huge sign, made by Bertrand Lavier, of van Gogh's signature—"Vincent"—so I think it's quite impactful that you have a strong contemporary statement. It's strong, but discreet.
The skylight is important because, of course, of the famous Provençal light in Arles, which is, in fact, a major part of the reason that van Gogh came there in 1888.
Exactly, that was a really nice aspect of the architectural concept. The light fills the building—but it's a paradoxical thing because, of course, for the exhibition of van Gogh's paintings, we had to close off the skylight; if the light were too bright the paintings would be damaged. But for the next show, in September, we're going to open it up.
You have two more exhibitions planned, one in 2015 of van Gogh's drawings and a larger show in 2016 of his paintings.
Yes, but at the same time we will have other exhibitions of contemporary art too, in between the bigger shows. Next year from June to September we'll have a bigger show of drawings by van Gogh, and we'll also show works on paper by Roni Horn. She's really thrilled to be juxtaposed with van Gogh—she told me how important his drawings were for her, how much she loves them.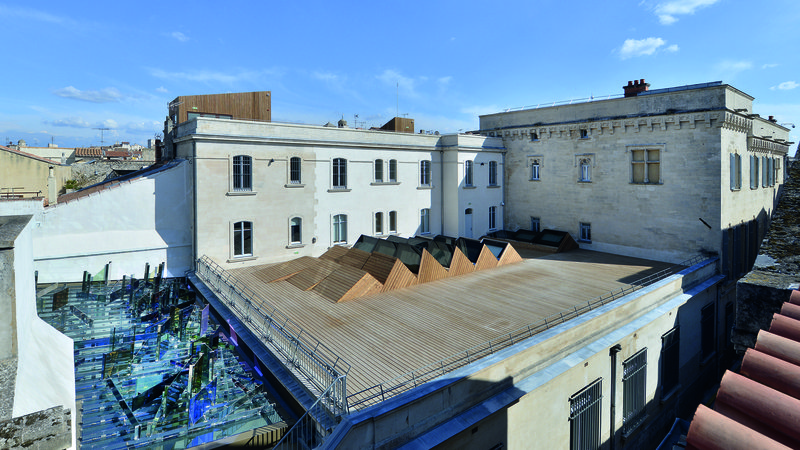 The roof deck of the new Fondation Vincent Van Gogh Arles with permanent installations by Bertrand Lavier and Raphael Hefti.
And I wonder if working at Parkett, which you co-founded in 1984, has affected your curatorial work, particularly in the way you collaborate with artists?
Yes, I'm sure. We founded the publication 30 years ago out of a feeling of skepticism about the so-called objective distance you were supposed to have as a critic. We wanted to work with specialists—we didn't want to have staff writers who write about anything and everything, we wanted to work closely with artists and to choose voices who really had something to say, with a certain passion for their subject. That's more important than critical objectivity, and I think that perspective has informed my curatorial work and my art historical interests, as well, in organizing exhibitions.
To end, I want to ask you about something you said in a conversation with Hans Ulrich Obrist in 1998—this was published in Artforum. You said, "I am hoping that the more sensual, relaxed, and less didactic attitude of the late '90s might allow the museum to emancipate itself again from its role as bulwark of art—to redefine itself in terms of the demands of the times." Have museums made progress in the decade since then in this regard?
I'm not so sure, I think there is a lot of institutions have become so professionalized and have maybe become too technocratic in their way of perfecting their metier. I think that's sometimes also due to financial pressure put on these institutions to do things that will attract the public, drive sales, and attract sponsorship. So that's the sad side of it. But on the other hand there are many very bright curators, and there have been fantastic shows happening at the same time, so it's not only a negative situation.
Maybe working in a place like the Fondation van Gogh is a nice way to bypass some of those issues.
Yes, absolutely. That's what is so great about it, and also I think it is interesting to not be in a big art center—the Fondation really is something, and I'm curious to see how it develops. Arles is a place where young people often have to leave, because there's no future there, economically. At the same time it's such a wonderful, beautiful city—it's a "sleeping beauty," somehow. It has a more existential aura, you know, to do something rare than if you're just a part of the big cultural machinery which exists in the big cities. This, I think, added to the attraction, for me, of working at the Fondation.