Tobias Berger is one of the Asian art scene's most recognizable figures. The tall, bespectacled German curator looms large in Hong Kong, the city of seven million which he has called home for much of the past decade and where he has held posts ranging from the first managing director of the formerly artist-run independent space Para Site to his most recent job as curator of visual art at M+, the city's $645 million forthcoming museum of visual culture, slated to open in 2019.
In April, Berger surprised art world followers from Sydney to Seoul when he announced that he would leave M+ prematurely to take on the role of head of art at the high-profile Central Police Station Revitalization Project, an $270 million initiative that will conserve and transform the former Central Police Station, an 1840s-era compound of 16 buildings in downtown Hong Kong, into Tai Kwun: Centre for Heritage and Art—a contemporary art and heritage site that will also include two additional new structures by the Swiss architectural firm Herzog & de Meuron.
This month, Artspace contributor Siobhan Bent sat down with Berger on the eve of Tai Kwun's first open call for exhibition submissions to talk about the rapid rise of the Hong Kong art scene, the major new institutions under construction, and why healthy nonprofit spaces are crucial to a thriving art ecosytem.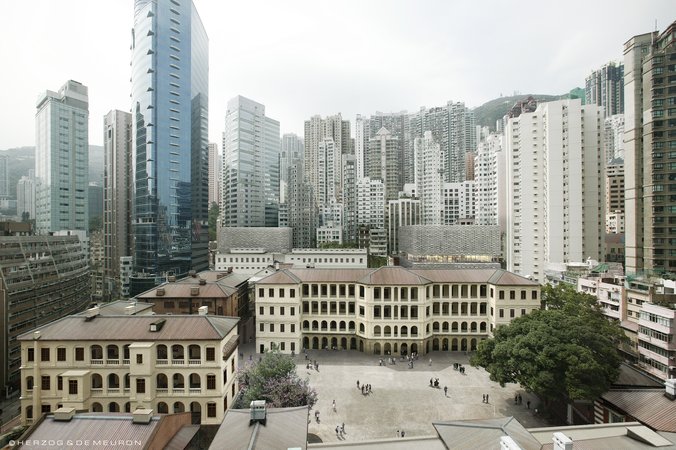 Architectural rendering of the Central Police Station site by Herzog & de Meuron
How did you first wind up in Asia?
I came to Asia at a very good time, 10 years ago, when there was an active scene of independent art spaces. There were very few galleries at that time and the galleries that were there were small and not very professional. For example, in 2005 there was not one gallery in Hong Kong that showed international art. Para Site was looking for a curator because they wanted to professionalize by transitioning from an artist-run space to a curator-run space. And because of my experience in New Zealand, Lithuania, Germany, and other parts of Asia, they hired me. I did that for three years, then became chief curator at the Nam June Paik Art Center in South Korea, and after two years returned to Hong Kong and worked at M+. Now I'm with Tai Kwun.
In that 10-year period in Asia, so much changed.
Everything changed.
What was the most significant transformation?
The art fair [ART HK, founded in 2008, which in 2012 became Art Basel Hong Kong] changed everything, together with the auction houses. The auction houses were already bubbling—but the Sotheby's preview in 2005 was still in the ballroom of the Shangri-la hotel. Three years later they had the top floor of the Hong Kong Convention and Exhibition Center. The auctions exploded, the art fair came in and Magnus Renfrew [the former director of Art Basel Hong Kong and current Deputy Chairman, Asia and Director of Fine Arts, Asia at Bonhams] did a great job of professionalizing it right away.
It was the market that changed the nonprofit spaces. The market brought a lot more attention, brought very good board members, made things possible. And it was also because the government didn't intervene, whereas in the West independent spaces heavily rely on government. So, here we had government that didn't get involved and a fair that came to the right place at the right time.
If we hadn't had these nonprofit spaces, maybe the fair would have come one or two years later. But it happened when it did, and then the galleries came in because they had to mark territory and from there Hong Kong became the commercial center of the Asian art market.
Can you tell me more about this interaction of the market and nonprofit spaces?
At that time the mainland Chinese art market was booming. And everyone was looking to China, and Hong Kong was sidestepped. It was like it didn't exist. We always said—we meaning the nonprofit scene—"Sure, Hong Kong artists are not the big, colorful painters, but they are very conceptual, they do very free work, they're in sync with the international art scene. Start looking here!" Only five years later we saw artists like Lee Kit or Pak Sheung Chuen being picked up by major international galleries.
It is great that this market was so China-focused at the beginning because it also brought a lot of attention to Hong Kong artists and gave them a chance to show. For the younger generation, it's great to have these first chances. Look at the people who won the art prizes at Art Basel in Hong Kong. Hong Kong artist Samson Young just signed to two galleries. Amazing. All these people first came through nonprofit spaces.
That is what we want to do at Tai Kwun. That is the next step of the independent nonprofit spaces that have to be an alternative to a strong commercial art market. As much as we needed and still need Para Site and Asia Art Archive, and as much as we need M+ in the future, right now we need Tai Kwun—a medium-sized, kunsthalle-type, independent nonprofit organization without a permanent collection that is professionally and internationally run but rooted in the Hong Kong art scene.
It sounds like you're describing an ecosystem in which nonprofit and commercial spaces are working together effectively.
These are the good parts of the art ecology. Hong Kong has both. Actually there are much more. I'd describe an art ecology as a pyramid. At the foundation you have the artists and art schools, then the galleries and nonprofits, then kunsthalles, and then a museum. You need the whole pyramid to work. Look at Tokyo and Seoul: they are extremely good examples of young ecologies that are just 10, 20, 30 years old and are really good for the artists and bring out a lot of good art and production. And then you have others like Beijing where a lot of these pyramid blocks are still missing. If you want to have a healthy art ecology you do need something like an independent, well-functioning art space.
That leads us to your current project, Tai Kwun.
Tai Kwun is an amazing chance to build an independent nonprofit contemporary art space in the heart of Hong Kong. The site is a former police station, court house, and prison—a beautiful historical site with a great history. But people from Hong Kong could never access it unless they were suspected of committing a crime. We are freeing a huge, formally closed area—blocks and blocks of Hong Kong comprising 16 old buildings plus two new buildings and two open spaces, which should never be forgotten because open space is the rarest thing here.
This project will be an incredible gift to Hong Kong by the Hong Kong Jockey Club Charities Trust. It will be a benchmark for heritage conservation as well as hopefully a benchmark for a contemporary art gallery in the middle of the city—something like Tokyo's Mori Art Museum, the Ullens Center for Contemporary Art in Beijing, and the Art Sonje Center in Seoul. Each of them is different. We all have to find our own identities.
How is Tai Kwun like these institutions?
Mori manages a very smart, almost intellectual program that still attracts large audiences, which is unusual. Usually you have either lots of people or very smart programming. It's in an incredible location, and here at Tai Kwun we also have a beautiful location. Like Mori, we can become a tourist attraction.
UCCA has managed to build an independent space in China and has done some very important shows by very important artists in recent years, in a challenging environment. It's a benchmark because it is in China.
Art Sonje has, since 1999, had an amazing program of solo and group shows that is probably, in content and intellect, unmatched in Asia. They were very early, too. In 1999, Seoul was not the place it is today.
All of these spaces were pioneers, paving the way for a lot of great artists. The success of an art space can only be evaluated five or 10 years out. That's just the way it is. I now know that I did a good job at Para Site, but I didn't know that five years ago. You don't know what will resonate.
What do you hope people will say about Tai Kwun five or 10 years from now?
I hope they still talk about the first exhibitions there the way they still talk about Para Site exhibitions we did 10 years ago. I hope they will say, "How did we live without it?"
And I hope that artists that have early solo shows with us will, 10 years later, have solo shows at M+ or other major museums. That's what I hope for—to be important for a young generation of artists. To enlarge the number of people that see art. To break ground for contemporary art. And to have a much bigger impact on a wider society than you can have with a smaller nonprofit space.
How exactly will Tai Kwun be a pioneer in its own right?
That's a good question, because you don't want to reinvent the wheel. I've learned that the hard way. It doesn't work.
For me the beginning of the pioneering work is showing amazing younger artists who are coming out of Hong Kong and East Asia. We are here in Hong Kong and we want to show Asian art and artists that have not been presented in the wider world. How many shows of Asian artists have you seen at MoMA or the Guggenheim? Hong Kong is at the moment the most amazing city in the world, where a lot of things happen and a lot of things happen first. It's a place of transformation. If you're interested in art, you're always interested in transformation. Every art space in Asia is pioneering because there are so few compared with the West.
There are pluses and minuses to that. What is the Hong Kong art scene's single most pressing challenge?
The biggest challenge is that we have to be a bit patient. So much is in the pipeline. It's like Christmas before the bell rings. Tai Kwun is scheduled to open before the end of 2016. And M+ is on schedule, but it takes time to build 60,000 square meters so it's opening in 2019. It's about being patient until the end of 2019.
The other challenge is art history education. We don't have enough people that are educated in art history. That's something people don't talk about. They say, "Oh, we don't have a museum," or this or that, but what we need is education.
But in the end I think Hong Kong—all Asia—can be incredibly proud of what has happened in the last 10 years. This region—Hong Kong, Beijing, Shanghai, Tokyo, Taipei—has exploded with art. America and Europe took 100 years to go where we went in 10. People always think it doesn't go fast enough, but it goes really fast. There is a new, super-exciting group of artists and galleries coming out. There's a lot of very interesting art production worth capturing and looking at and that's why we are building a space for it.
Are there any particular emerging artists who are catching your eye?
No, no, we can't get into that! I'm not allowed to give biased advice. But it's easy. Look at the universities. Look at young shows and you'll find good things.
Is that your advice for new collectors?
They should realize that you have to work to be a specialist, in every field. I have no idea about soccer. I'm German, but I have not the slightest idea. But if I want to talk about it, I have to read about it and work my back off—especially in Germany. The biggest mistake people make with art is, they think it looks so easy that they can judge it without any knowledge. But in fact the only way is to see exhibitions; look at Artforum, Frieze, ArtAsiaPacific; go to the art fairs; talk to the professionals. Don't think that, just because you are a professional in another field, you have any idea about art—because you don't. It's work like everything else. Just because the soccer player looks good doesn't mean he's good at playing soccer.
To give art credibility, that's the professionals' job. It's an editing job. If you don't have these independent spaces, you don't have the editors. And that is what makes an infrastructure like London or New York so successful: they have the commercial side but they also have the nonprofit organizations that show things because they're important, not because they sell well. None of the nonprofits have any interest whatsoever in showing what's going to sell. They show it because it's an important part of artistic production.
We're living in a time in which the cultural gatekeepers are disappearing, in art as well as in music and literature. People want to decide for themselves.
Yet more people go to museums and concerts than ever. People go to trusted sources because they have proven that they were right five years ago—not yesterday. They have a track record.
Building a contemporary art space is all about trust. People come because they trust you. They're going to see something they don't understand but they trust you because they want to understand or get close to it. That's a trust we're going to work hard to earn.