Originally mounted at the Clocktower in Tribeca last winter, "Dark Paradise," curated by Tim Goossens, widely interprets its title through photographs by Patti Smith, a video projection of Rio de Janeiro's waters by Brazilian artist Thiago Rocha Pitta, and other new works of photography, video, and collage that explore landscape imagery through modern means.
Ahead of the exhibition's opening this Saturday at Galeria Nara Roesler in Sao Paulo, Artspace spoke to Goossens about the inspiration behind the show's new Brazilian incarnation.
"Dark Paradise" is a riff on late-18th century landscape painting, such as in the work of Caspar David Friedrich. Were there any particular images that served as jumping-off points?
Painters such as Caspar David Friedrich and Philip James De Loutherbourg; landscapes, and mountain views made by painters who would travel from the north to the south of Europe. What interested me in them the most, and which I recognized in Zipora Fried's works, is that they are not a correct representation of nature, not a documentation, but a constructed image, to enhance fear, dreaming, awe. They're very romantic. Maybe it's my European blood that draws me to it.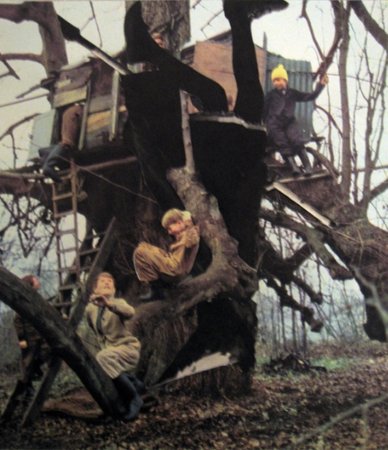 Alex Rose, Untitled, 2012. Courtesy envoy enterprises NY and the artist
How did you decide to explore a genre historically associated with painting through through more modern means?
The show had been sitting in my head for quite a while, and when, as a curator at the Clocktower, a slot opened up quite suddenly, the time seemed finally right for it. I liked the idea of doing a poetic, slightly darker, moody exhibition in the New York winter months. Seeing Zipora's new work—the ones included in this show—triggered the idea of this "landscape" exhibition again. I was not necessarily interested in creating a didactic exhibition, but in having emotions and poetry rule the overall feeling.
For me it's always important to work inter-generationally, and I also liked the idea of paying tribute to the Clocktower's amazing history, so I started a conversation with Nancy Holt, who had one of her first shows with Alanna Heiss back in 1971 or 1972. The show for me is also about more than landscapes as one finds outside in nature; it also deals with cultural landscapes or internal landscapes.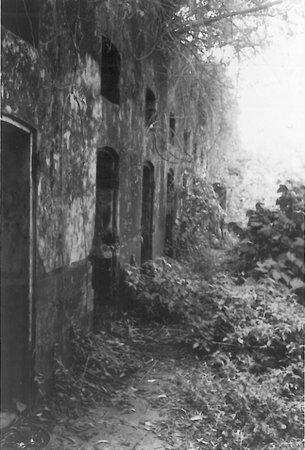 Patti Smith, St-Laurent-du-Maroni Prison, French Guiana, 1981. Courtesy the artist and Robert Miller Gallery
Many of the places depicted in photographs—particularly the overgrown sites of former prisons and military buildings from Patti Smith's 1981 trip to French Guiana—hardly look like "paradise." Can you speak more to the title of the exhibition?
These 1981 images are actually a great example of how things are not always what they seem. Patti has a great eye and emotional response to political things like these, while never losing a poetic angle and ability to see beauty in what is sometimes dark. The title has many connotations in my head: a biblical one, where the world is seen as a paradise that we are destroying (Antony's collages deal with that), or a child's headspace, which can be seen as a paradise before the inevitable bad things happen to make us deal with the pain of daily life (as Alex Rose deals with in his collages). Then there are Zipora's more straightforward works, which are visually stunning, but nonexistent, landscapes, which most of the time have a certain Sehnsucht feeling to them.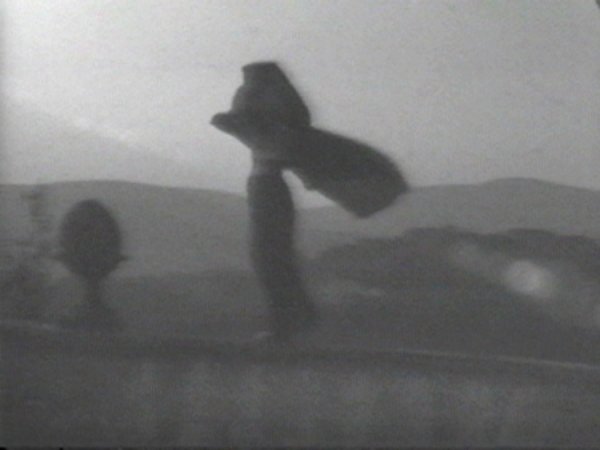 Joan Jonas, Merlo video still, 1974. Courtesy EAI and the artist
Do you think that the digital or film mediums lend more darkness to these images or cast them more ominously in some way?
No, I don't think so. A painting or collage can have the same "darkness." Antony Hegarty's collages—which are not in Brazil, but were in the original Clocktower show—are not dark at first glance, color-wise, that is, but the subjects deal with ecological disasters (which is also in line with his last album). Neither does Marcos Chaves's new piece in the Brazilian version of the show look dark, but the Gavea rock, seen in his multi-panel work, is subject to many stories about weird things for the people from Rio de Janeiro.
The landscapes on view range from Brazil to New Jersey. Did you make a conscious effort to have this kind of interplay of wildly different landscapes, or perhaps to juxtapose their similarities?
Yes, I think it was more about similarities, but then again the actual location is less important to me, and one often only learns of them because of the titles. Zipora's works actually are not existing anywhere in the world and I love that idea very much. They leave it open to create your own stories or memories of places where maybe you went hiking once, or would like to escape to.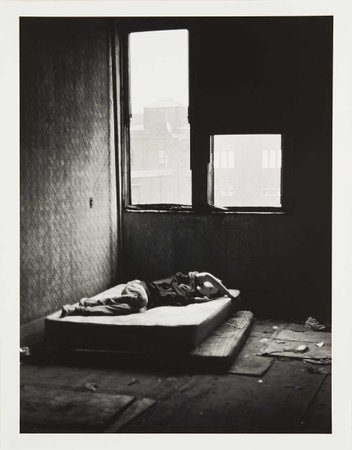 David Wojnarowicz, Arthur Rimbaud in New York (laying on mattress), 1978-79/2004. Courtesy PPOW Gallery
Can you talk a little more about the space at Nara Roesler? How did it differ from the Clocktower?
The directors of Nara Roesler learned about the exhibition at the Clocktower and invited me to bring it to Brazil. For Hotel Roesler, a curatorial exhibition program within the umbrella Nara Roesler, "Dark Paradise" is their twenty-third exhibition of this sort, along with their regular artist exhibitions. For this "second version" I expanded the exhibition and we are also creating a catalog. The core group of artists has stayed the same, but I also wanted to take this opportunity to introduce the Brazilian audience to artists that are very dear to me, and might not be known here at all, such as David Wojnarowicz and Alex Rose, and also take this opportunity to work with the artists from their program.
For Patti Smith, this show also marks the first time she will exhibit her visual work in Brazil. Zipora Fried's works have also been produced specifically for this show, and since the gallery space is even bigger than the Clocktower, we were able to build a special viewing room for Nancy Holt's "pine barrens" video, which is such a major moment.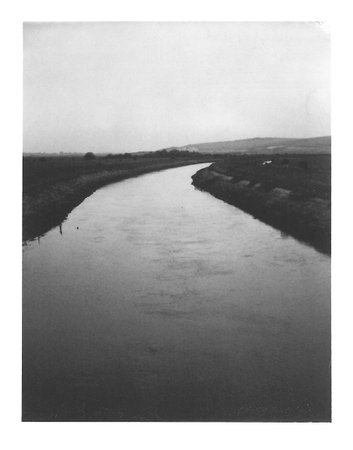 Patti Smith, The River Ouse, East Sussex, England, 2003. Courtesy the artist and Robert Miller Gallery