The first museum survey of the work of Nari Ward (b. 1963, Jamaica) at the New Museum featured over 30 works made in the past 30 years by one of the most important sculptors living today. Amassing discarded, every-day materials to repurpose in surprising ways, Ward uncovers connections between historical events and geographically disparate communities "to explore the tension between tradition and transformation," writes the New Museum. "In his more recent work, Ward directly addresses complex political and social realities that resonate on both a local and a national level, reflecting the profound changes gentrification has brought to Harlem and the increasingly fractured state of democracy in the United States."
Excerpted from the exhibition catalogue for "We the People," published by Phaidon, is an edited conversation between the artist and Lowery Stokes Sims, former Curator Emerita at the Museum of Art and Design and former President of the Studio Museum in Harlem.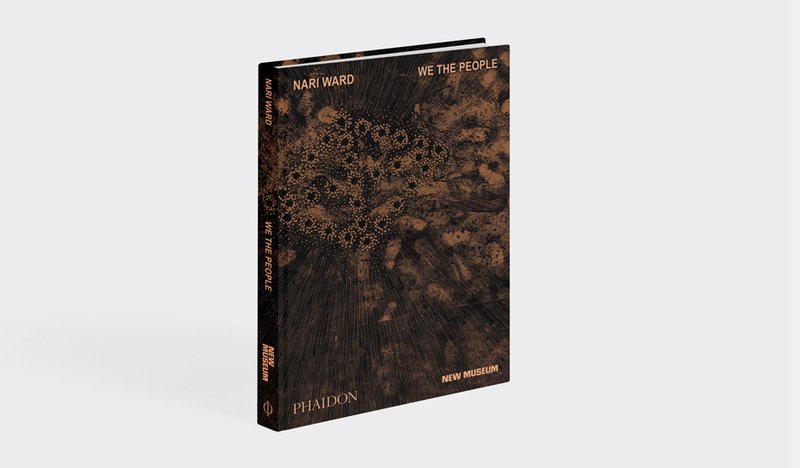 Nari Ward: We the People is available on Artspace for $60
Let's talk about a few works in the exhibition. Shall we start with Den from 1999?
This is a funny story. I was walking on 59th Street and passed this brother who was trying to sell carpet cleaner right outside of Alexander's—I think that was the name of the store. He had a carpet and bucket with this liquid mixture that he put a mop into and rubbed one area of the carpet, and immediately it revealed the bright color of the carpet. I looked at it and said, "Holy shit, he's doing a painting! It's like he is revealing light." I went over to him and asked if he would sell me the carpet and all his equipment. I brought the whole thing back to my studio, and while I wasn't interested in doing what he did, I wanted to talk about this revelation of light. So I had to create another element for that moment to be engaged.
The activator of the light became this little object, which is basically a tree branch that I animated by adding these lion's claws from another piece of furniture. But what got my attention about the branch was that it was from a tree that had grown into a fence. There was this insinuation of time, of a kind of disruption as well as the resilience of nature growing in spite of containment. That's how things evolved. The same thing happened with Carpet Angel (1992). When I moved into the studio on 125th Street and Lexington Avenue, I was subletting from this guy who said he was never coming back. He asked me to take care of his paintings but he also had all these carpets on the floor because I think he worked in set design. I didn't like the carpets but I decided I should make art out of them because they had interesting patterns. The idea came from my interest in sacred spaces and how something that is walked upon could become a shelter of devotion.
I decided to make a dome from the carpets. I had no concept of how to engineer that, so I made these concentric circles and drilled and nailed them with plastic bags. My notion was that at some point it was going to go up, and then I would just kind of pull it together to make this beautiful dome. When it went up, I realized that that the form was too heavy, but I stuck with it and this form, which looked like a figure with wings, started to evolve. So I said, okay, this makes sense because the dome is a metaphor for the heavens and this adds a narrative from the heavens. This all comes from my days in grade school, when one of the most soothing experiences for me was going to the library. I would always look at art books, especially those about Renaissance art. The images of Christ on the cross, images of Ascension, they were really powerful images for talking about transformation. I was intrigued by how to think about these narratives without being as direct with the representation.
Nari Ward, Den , 1999. Image via Walker Art Center.
You have an extremely metaphorical relationship to material that I find very interesting. Where does that come from?
I think maybe that's a normal thing for all of us as human beings. There is a kind of socialization to how we process things as a child. You know, "this is hot, stay away from it," and then you are acculturated to a certain way of navigating things. For me, it's figuring out how you experience the physicality of the material in a different way. When you retabulate your expectations, things can happen. I'm hoping that those emotional—and maybe I want to use the s-word, "spiritual"—experiences somehow collapse the logic that you live with into another dimension. I've also been fascinated by the work of artists on the West Coast such as John Outterbridge. I just read Kellie Jones's history of artists out there, South of Pico: African American Artists in Los Angeles in the 1960s and 1970s (2017), and it was interesting how those artists evolved and had a sense of being involved with the community that came out of the rebellions in 1968. That really made sense to me. That history made more sense than the prescribed history that I was looking at in Horst Janson's History of Art.
And then you think about Noah Purifoy, the art he made that came out of the Watts rebellion of '65, and this whole idea of going into the ruins and creating something out of them. Did the idea of a canopy also influence the form that Sky Juice (1993) took?
Sky Juice evolved from finding the Coca-Cola umbrella. And it led me to this question of whether you can take something really familiar and transform it into something devotional or memorializing. I had found a photo album in an empty lot and at first I didn't want to use it. I felt like it wasn't my right to display the photos. But I found a way to transform them by dipping them in Tropical Fantasy soda and then, once they dried, heating the ends of the soda bottles so they would seal around the photos. I then attached them to the umbrella, which hangs over a fence form wrapped with fire hose and clothes, and coated the entire thing with caramelized Tropical Fantasy soda and sugar. It was a way of taking on sugar as a material of transformation—a material that somehow charges the body but doesn't give it any nutrients.
I also couldn't get away from sugar as the sugar of the plantation, the sugar of the slave trade. There's a historical dialogue but also a corner store dialogue. In my work, I am always playing various forces off each other to frame a dialogue with the things that first drove me to understand what the pieces need. The photos drove me to work with the umbrella, which worked with the fence, and then the fence wanted to bring it back to the body, so the clothes and the shoes and the fire hose work as a metaphor for entrails. All this gives a physicality and tension to the work, which is really important.
Nari Ward, Sky Juice , 1993. Image via Lehmann Maupin.
I was also interested in the wall pieces in the exhibition, such as Ella and Miles (both 1993–2014) as well as Breathing Panel: Oriented Left and B reathing Panel: Oriented Right (both 2015).
Ella and Miles are works I was doing in grad school, when I was using burning techniques and exploring different materials. I started them in 1993 and then put them away until I discovered what they needed, and then I came back to them. They were influenced by the work of a Jamaican painter, John Dunkley (1891–1947), particularly by the way he collapsed space and worked in mysterious light and dark hues. His work reminds me of that of Martín Ramírez . There is, in the work of both artists, a balance between voids and overstimulated pictorial fields. In my works, there is darkness burning. I hammered these nails in to increase the physicality of the surface.
I was also intrigued by your 2010 series Psychological Studies .
The benefit of living across the street from a school is that they throw out some amazing stuff. I went through the dumpster and found these psychological study cards from the 1970s. Basically, what they did was show children situations and have them describe what was going on in the photographs based on the child's own experience. It's a way for children to be able to talk about their anxiety; a therapist would be able to take that as a cue. I liked the multiple narratives within these images and the idea of open-ended images that I could open up even more. I blackened out spaces to indicate aspects of life and history that you can never talk about or pieces of a narrative that are never totally engaged with.
When I was rereading the "Passages" catalogue, I was impressed to see that already in the 1990s, you were represented by Deitch Projects and had works in the collection of Susan and Michael Hort , who have become legendary collectors. And in fact, most of the works in the exhibition are in public or private collections. How did you develop this collector base so quickly?
Working with Jeffrey Deitch was interesting. I feel like he was very progressive and very astute. He realized that there was a missing conversation in the art world and that he didn't have to depend on the dialogue to make a living. He could follow his passion and still work in the secondary market to drive his business. His brand was encapsulated in the use of the term "projects": it wasn't Deitch Gallery, it was Deitch Projects. He was always encouraging me to take on ambitious projects.
The New Museum was also instrumental because at the time, they organized trips to Harlem for their trustees and collectors. That is how I met the Horts. I remember them telling me that they wanted to come back to the studio. I thought they meant in a month or so but they came back the next day and purchased some work. The Horts are special collectors. When they get a sense of what they like, they really embrace it. I also give a lot of credit to the biennial circuit because that gave me access to a marketplace that wasn't driven only by money but also by display. And I benefited from getting to know a community of artists from other countries that I wouldn't have met in my normal circle, who were connected through international exhibitions.
Are there other works in the exhibition that you are interested in talking about?
The shoelace piece, We the People (2011), has become a really important piece. I wanted to figure out how to create a kind of street memorial, and I was reminded of that urban folk activity of throwing shoes up onto trees or telephone wires. There is a whole range of possible meanings to that gesture: marking gang territory, celebrating graduation—everything from the negative to the affirmative, but nobody really knows. Sometimes it's just a gesture of fun, frolic, or nonsense. But I didn't want to use the whole shoe, because the shoe was too much, so I decided to just use the shoe tip.
It also made it more anonymous, almost like a whisper of a body. Because I'd had to take out the laces to cut the shoe tips, I had all these shoelaces left. And so I said, "This is interesting material. It's a line. It's also something you learn to tie, so it's a craft material." I was thinking: What could I do with the shoelace? The shoelaces evolved in a weird way into talking about sculpture because they are all about weightlessness. In Brancusi's work, for example, it was always about gravity—how to fight gravity, how to make this thing come alive and give it power. I realized that when I embedded the shoelace in the wall, it became a hanging line that suggested upward movement.
Nari Ward, We the People, 2011. In collaboration with the Fabric Workshop and Museum, Philadelphia. Collection Speed Art Museum, Louisville, KY; Gift of the Speed Contemporary, 2016.1. © The Speed Art Museum, Louisville, KY. Image via Phaidon.
And then there's Canned Smiles (2013). I have to admit that when I first saw it, I immediately thought of Piero Manzoni's 1961 Artist's Shit .
It was directly connected to Manzoni in that I was interested in the minstrel smile—that smile that wasn't necessarily a smile. The smile that was also an F-you, you know. And Manzoni's F-you to the marketplace was the can of shit. I was in Italy as a fellow at the American Academy at the time, and part of my thing was to research the Arte Povera movement. I was really intrigued by how to deal with the idea of identity in this format. My gallery in Italy hosted an event, and one of their collectors had apparently gone to Jamaica in the 1970s, so she had a notion of what Jamaica was as a tourist destination. For some odd reason, my gallerist said, "Nari is a Jamaican artist." And I thought, "Really? I'm a Jamaican artist? When did that happen?" She mentioned that she knew my work but didn't know I was Jamaican because the work doesn't seem happy. This is an interesting problem because everyone has this notion of what Jamaica is and what Jamaicans are. I started to consider the African-American minstrel character. I wanted to have a conversation between the Caribbean Jamaican image that this collector fantasized about and the minstrel character. While in Italy, I made Canned Smiles , which is a collaboration with my daughter and son. We put a mirror in each can and then straightaway sealed it up. For the smile project at the Sugar Hill Children's Museum of Art and Storytelling in New York, I became a kind of canned smile vendor: I went around Harlem collecting smiles and later sold them to benefit the museum.
I remember I invited you to participate in the Curator's Eye I to celebrate installation and site-specific work in Jamaica at the National Gallery in Kingston in 2004. You revisited an installation, Pathmarker , which I believe you had presented previously.
That was at the Addison Gallery of American Art at Phillips Academy. Adam D. Weinberg was the director and he invited contemporary artists in to dialogue with the students. The work was based on the carts that you see all over Jamaica and other parts of the world. I was always struck by the level of invention involved in outfitting and personalizing these carts. There is a re-sourcing of material: tires are cut and wrapped, the steering wheels are made from car steering wheels, etc. In my mind, I have romanticized this and there's a little bit of envy that I never got a chance to build one, so I got the chance to make one when I was invited to do this project with the students. I decided I wanted to have the students work with five carts and stock them with items that they associated with a specific racial group: What would they buy for a cart for a white population? A Native American cart? A black cart? An Asian cart? A mixed-race cart? It became a really interesting conversation about how identity is imposed on us by marketing forces. For instance, I think Oprah magazine made all the carts. On the black cart, there were a lot of basketball items because Michael Jordan was big then.
The project became a way to talk about personal experiences and how we are acculturated to form perceptions of each other. As the students pushed the carts around different neighborhoods, conversations were generated around them; the project was really performative in that way. When I got the carts back, that was about when you called me. I said, "Yeah, I have these carts I want to send back to Jamaica and do something with." They became much more about trying to dialogue with elements of growth and craft that were endemic to the islands. In the Jamaican presentation of the carts, which are titled Garvey Carts , I bought objects from the craft market and fitted lignum vitae plants with a watering method using an intravenous tube system. The idea was to merge growth with the infirmary. I was trying to think of a poetic visual dialogue for Jamaica's problematic economic dependency. That was also the first time I ever showed my work in Jamaica.
Nari Ward, Diamond Gym: Action Network, 2008 (installation view). Image via Joan Mitchell Foundation.
I was surprised, I'd had no idea. I am glad I brought your work home, so to speak. I also wanted to talk about the incredible installation Diamond Gym: Action Network , which you did for Prospect.1 in New Orleans in 2008. I loved the fact that it was located in the Battle Ground Baptist Church—what a great name. I know that Dan Cameron and his staff worked with artists to identify places to make art in the wake of the damage from Hurricane Katrina. What attracted you to that church and what did you want to say with the installation?
I think Dan, having seen Amazing Grace , knew that I was looking for a church. In fact, I had originally wanted to redeem the objects in that installation by putting them in a church, but couldn't find a church that would accommodate it, so I put it in an old firehouse, which sort of made sense as a logical second choice. I think he came back to that narrative and said, "Nari always wanted to do something in a church, so let me see if he would want to work in a church in New Orleans."
Unfortunately, Katrina provided a lot of opportunities to work in churches. The Battle Ground Baptist Church is a historic church because it was originally located on the site of the 1815 Battle for New Orleans, which marked the end of the War of 1812. I decided that that church was the space to talk about community. But I didn't want to talk about Katrina. The people there didn't want to have a pity party. They were focused on where you go from here? What's next? I thought about having a bulletin board where people could post births, anniversaries, new homes, new cars, whatever was happening, as well as give out information on applications for loans and things of that sort. It became a kind of multi-format community board.
Then I thought, "It's a church, so it should have preachers." I got speeches by Malcolm X, Martin Luther King Jr., and even Marcus Garvey; I wanted to feature the more positive elements of all their speeches and merge them into an audio environment. In doing this, I realized I needed a female energy. Just by chance, I was listening to Larry King doing an interview with Tina Turner. He asks Tina Turner about her Buddhist faith and he asks her, "Tina, well, do you do chants?" And she says yes, and he says, "Would you do a chant?" And Tina goes into this amazing "Namu Myōhō Renge Kyō" like only Tina could do it! I felt the hair on my neck stand up. I was like, "That's it! That's what I need, Tina! Thank you!" So I took that, and I merged their positivity with Tina's chants, and it really created the soundscape for the work. When you came out of the installation, I really wanted it to be like a battery charger, so in the center, I had this monumental diamond shape with mirrors. It referred to the fact that Rev. Al Sharpton's National Action Network is housed in the former Diamond Gym on 145th Street and 7th Avenue here in New York. And there are still mirrors on the wall because it used to be a gym.
For me, your installation and Mark Bradford's ark, Mithra (2008), were two of the most effective pieces.
There was a really great conversation between those two works in the Ninth Ward. It was a good, exciting experience. I'm working with Dan again on a project he's doing in Kansas City, Open Spaces 2018. I'm excited about that.
So now that you know from your dealer that you are a Jamaican artist, how do you deal with that in your art? When I read the title for your show in Boston, "Sun Splashed," I said to myself, "Well, I once went to Reggae Sunsplash."
See, you know that. A lot of people don't know what that is. I think the title had more to do with the dialogue that the curator was setting up between the Caribbean and the US for the initial presentation of the exhibition at the Pérez Art Museum in Miami.
I am also interested in how you deal with your Jamaican identity because of a conversation I had recently with Grace Aneiza Ali, who is at the Tisch School of the Arts at New York University. We were talking about the promises and disappointments of the art scene in the Caribbean, because ten or so years ago—when Tumelo Mosaka organized "Infinite Island: Contemporary Caribbean Art" at the Brooklyn Museum, and the Studio Museum, El Museo del Barrio, and the Queens Museum began the collaboration that became the exhibition "Caribbean: Crossroads of the World"—it seemed like a really hot moment for the Caribbean.
Yes, and Charlotte Elias had founded Caribbean Contemporary Arts in Trinidad and there was the Alice Yard collaborative.
So now on the scene we have you, Chris Cozier , Ebony G. Patterson , Nicole Awai . . .
I think the collector base is not there in the Caribbean, so the energy doesn't get to build the way it normally would, like, say, what happened with the Young British Artists . And I think in these island nations, the sense of civic responsibility is not as dynamic. Maybe it's overshadowed by a kind of urgency of survival.
Are there specific works in the exhibition that deal with issues of immigration and naturalization?
There's Homeland Sweet Homeland (2012), which features the informational cards my brother, who's a lawyer, used to give out with the Miranda rights on one side and his business contact on the other. There is also Naturalization Drawing Table (2004), which features INS forms.
Nari Ward, Homeland Sweet Homeland, 2012. In collaboration with the Fabric Workshop and Museum, Philadelphia. Collection Pérez Art Museum Miami; museum purchase with funds provided by Jorge M. Pérez, the John S. and James L. Knight Foundation, and the PAMM Ambassadors for African American Art. Courtesy the artist and Lehmann Maupin, New York, Hong Kong, and Seoul. Photo: Elisabeth Bernstein. Image via Phaidon.
I wanted to get back to the Breathing Circles wall pieces, which are dated this year, 2018.
You know, these pieces, which are made out of copper, came about in a strange way, out of a residency experience I had at the Rauschenberg studio in Captiva, Florida. I had wanted to work with bullets and rims and other items I saw in a junkyard down there. They were selling the stuff by weight. So I came back with these carts of stuff, and Matt, Rauschenberg's assistant, told me that I couldn't bring any of that stuff into the studio because it might be mistaken for contraband and the insurance company wouldn't cover it. He suggested that I come and look at the prints Bob was working on instead. Maybe I could do some printing. Rauschenberg had done these prints on copper that were really amazing, and I got really intrigued with the visual physicality of the copper, and started doing my research on copper and seeing that this material is associated with healing the body. There are many cultures that use it for healing.
When I got back, it got me thinking about this experience I had in Savannah, Georgia, where I went to see the First African Baptist Church, which is one of the oldest African Baptist churches in North America. It was built by slaves: during the day they would work on the plantation, and then they would be allowed to build this structure to worship in at night. Apparently it was also a site of the Underground Railroad. Escaped slaves would hide under the floorboards of the church. To make sure they had ventilation, breathing holes were drilled out in the pattern of a Kongo cosmogram, which is an African prayer symbol—it's a diamond with a cross in between. There were several of these on the ground floor. I was really intrigued by the fact that these holes represented a history that was preserved yet hidden in plain sight. I wanted to use the pattern and figure out how it could relate to the present moment. The copper became a vehicle for engaging with both the contemporary moment and that history. And the circular forms refer to a heavenly dialogue in which you could see a European biblical narrative of the presence of the angel or the halo. I liked that they became a kind of aura of devotion that was connected to this tragic history. The nails I hammered around the holes were really a way to make the prayer symbol more present. These linked the cosmogram to Bakongo nailed fetish power figures, which are engaged to control spiritual energy.
[ward-module]
RELATED ARTICLES:
"What I'd Buy This March": Artspace's Advisor Shares the Artworks in Her Cart
Prada Marfa, Satan, and Magnetic Dogs: The Upcoming Art Books to Get Excited About