South African artist Frances Goodman has a bone to pick with weddings. Not marriage—but weddings, or at least what they've become in a society that too often values the accomplishments of women in relation to who they marry and at what stage in their life. Her work The Dream, on view at 21c Museum Hotel in Oklahoma City, talks of the pressure unmarried women face, while other works involving fake nails and eyelashes speak to yet another standard many women feel they need to live up to in regards to beauty and appearance. Here, the artist speaks with Artspace about how it's not all black and white, about how beauty regimens can be oppressive and empowering at the same time, about her brand new edition produced by Artspace and 21c, and about the archetype Goodman calls the "aggressive feminine."
Can you tell me a little bit about your installation The Dream?
It's an ongoing piece that I've installed a few times, and each time it's been different. The work centers around ideas of weddings and marriage. Society dictates that the wedding is almost as important as the marriage itself. For the piece I've interviewed over 40 women and we discuss the pressure women feel to get married. There's a giant canopy made from wedding dress fabrics that are embroidered with quotes from the interviews. And then on the floor there are wedding dresses strewn all over. So it looks like an explosion of wedding dresses or a mushroom cloud, depending on how you chose to see it.
The Dream. Image courtesy of 21c Museum Hotel.
And those recorded interviews are also played as an audio component in the installation, correct?
Yes, there's a cloud of fabric and emanating from the cloud is what sounds like a conversation. It's been edited in a way that sounds almost like they're talking to each other about the subject.
What were some of the women's responses?
The only criteria I started with was I didn't want people who were married, and I wanted people to have a certain level of education because, especially in South Africa, education gives you the idea that you have more choices; I wanted to talk to women who knew what the options open to them were. So it was a cross section of women; there were some who were very desperate and felt very almost traumatized by the fact that they were unable to meet someone; they were worried about what that said about them to their peers and family. And on the complete opposite were people who were vehemently opposed to marriage and felt that it was a societal construct—that we were taught all of these fairy tales and lies when we were children that engrained in us the value certain things. So it was an interesting cross section of women.
Do you think that the attitude towards marriage is changing? I would guess that younger generations might feel less pressure to marry, or at least to marry young. Maybe the pressure to marry is being replaced by different understandings of what it means to find success as a woman, like a career?
I made the work a few years ago and the ages ranged from about 18 to 65. The older women seemed more philosophical about the subject. I was quite surprised by the fact that the younger generations seemed to be more traditional in a way, and still had the pipe dream of a traditional dress and all that. I don't know how the youth would feel now, because like I said, the work was made about seven or eight years ago now. But I was surprised that it felt like we were going the other way, at the time. And if you look at statistics of people getting married, especially in the States, the average age is getting younger again. Marriage and weddings has become a multi-million-dollar industry. It manipulates people into believing that that is important because its success relies that. Marriage used to be about fun and family and now it's about status. It's about having a huge wedding, spending a lot of money, using the right venue, and having the best dress. It's supposed to say a lot about who you are and what you've achieved in your life. It doesn't just mean that you've met someone anymore. And that's what the piece is talking about—how it's not just about this idea of ideal love, it's about all these other things that surround that.
Ophiophillia (2014) detail. Image via Smac Gallery.
You also had some work in another 21c show called "The Future is Female."
That exhibition has a few pieces of mine: a piece called Medusa made from false fingernails that looks like writhing snakes coming out of the wall. And then they have two sequin pieces and some embroidery pieces.
Let's talk about the fake nail pieces, since that material seems to play a role in a lot of your work. You use a process that involves layering acrylic nails over one another to create a texture and build a form—in some cases the forms are flowers, in other series they are snakes. Can you tell me about these nail sculptures and how you decide on what forms they take?
The nail pieces started when I was looking at the idea of how women claim and colonize space. At the time I was making works from earrings and pearls and stuff—accessories. I was thinking about how when a woman would go to a man's house or another women's house, and they've had intimate relations, the woman would leave an earring behind as a way to claim space, to mark territory, to say you've been there, or as a way to come back. It's a quite devious way of leaving a part of yourself behind, just as you leave your hair behind, or the abject parts of yourself that you leave behind after an intimate encounter with someone. In the throws of passion you could leave a finger nail, and even in violent scenarios it's often the finger nails and the fingers that are examined. So I thought about the idea of claiming space or owning space by leaving something behind. Women claim space in a very different way than men do; they're more surreptitious about how they claim it. It's a more infiltrating than the bravado that the men have, who are more like, "I'm here!" So that's why I started using the nails. When I layered and put them next to each other they started forming scales or skins or armor, and they had this flowing movement.
And I also like the fact that nails are the one part of the body that women have more freedom with. Your appearance or your job doesn't necessarily dictate what you can or can't do with your nails. In many other ways women have to conform to what is expected of them. But anyone can have crazy nails.
Nail art can be a form of expression that feels liberating. But isn't it also another beauty standard that many women feel they need to keep up with? To maintain a certain cleanly and manicured appearance, you need to spend quite a bit of money and time. Do you see nail culture as purely empowering or can it also be oppressive?
That is exactly what I'm questioning more generally with all of my work in a broad sense. I'm looking at how women are continually bombarded with who we're supposed to be, what we're supposed to look like, what "beautiful" is, what body shapes are acceptable, etc. And all of this is contrasted by big business and the media. The only way to get us to buy things is to make us believe that there's something missing or lacking, that we're not whole enough or complete enough. All of these industries prey on women and also a lot of minority groups; they convince us that we need to be continually working on ourselves. So that's one of the reasons I use the materials that I do. The nails are a critique and the eyelashes are a critique. Everything I work with is challenging and questioning these ideas. I'm hoping that what I make it makes women think about it too.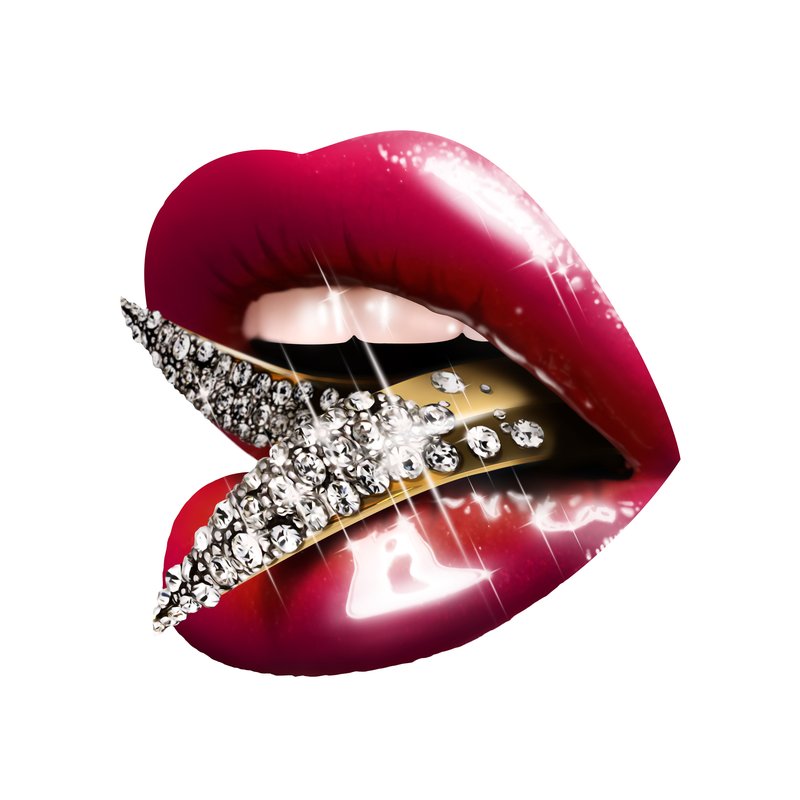 Bite Your Tongue is available on Artspace for $700
In a print you've produced with Artspace and 21c called Bite Your Tongue, you reference nail culture and your previous work about nails, but also some older work involving sequined lips. Can you talk a little bit about the impetus for Bite Your Tongue?
I was thinking about how women are sometimes described as having a sharp tongue as a way to say that the women's voice is dangerous. The way we are able to lash out is with words and what we say, as opposed to more violent acts. And I suppose the nails are one of the most aggressive and dangerous parts of the body. They can scratch and tear and cause quite serious harm to someone. At the time when I started working on these I was thinking about the idea of the aggressive feminine: this quite unapologetic, quite formative female archetype. She uses these things to her advantage. You may have to play the game but may not play the game. I think my theory on these things is that it's very hard to completely divorce ourselves from all of these things we're constantly being bombarded with. So the only way to change it is to become the person who speaks out but in a clever way. I suppose perhaps that the women that's spitting the nails is a metaphor for that kind of women, the dangerous aggressive feminine.
Do you have any shows coming up?
At the moment my work is in the Dak'Art Biennial in Senegal, which is quite exciting. And I've made a new public, large-scale piece in a sculpture park in South Africa. Later this year I'm going to be in an exhibition at SCAD. And then I have a solo exhibition in Johannesburg later this year.
[related-works-module]