Taylor Tomasi Hill, the artistic director of ultrachic ecommerce site Moda Operandi and a favorite subject of a thousand streetstyle blogs, has a lot to say about the current punk trend in the fashion world. Not only did M'O sponsor this year's exhibition at the Metropolitan Museum of Art's Costume Institute, "PUNK: Chaos to Couture"—currently on view through August 14th—but also partnered with top designers to create custom punk-inspired looks for high-fashion enthusiasts to buy directly on the ecommerce company's website. They've additionally curated an incredible punk boutique on their own site so that buyers can incorporate the attitudinal style into their everyday looks, be it as an accent—with shoes, say, or an accessory—or even an entire ensemble created by a number of designers exclusively for M'O.
As the woman responsible for styling the shoots and curating the M'O experience, Hill lived and breathed all things punk for months leading up to this month's highly anticipated Met Gala—solving conundra like, for instance, what on earth to wear on a deluxe, punk-themed red carpet. Artspace's Meredith Blechman spoke with the M'O artistic director about what defines a "punk" look in fashion, her favorite parts of the Met's exhibition, and how she feels the exhibition has impacted fashion trends today, and will continue to impact them in the future.
Click here to view the entire punk art collection curated by Hill, or find a selection at right.
This year, Moda Operandi sponsored the Costume Institute exhibition, "PUNK: Chaos to Couture." How do you feel the theme of punk is relevant to the current moment in fashion, and culture at large?
Fashion and punk are intrinsically linked and both continually play off and rebel against each other. Punk maintains its relevancy because of its DIY nature, which allows people to always reinterpret and reinvent it. Your favorite jeans rip? Well fine, put a patch on it, close it with safety pins, or just live with the imperfection. It's fashion born out of necessity.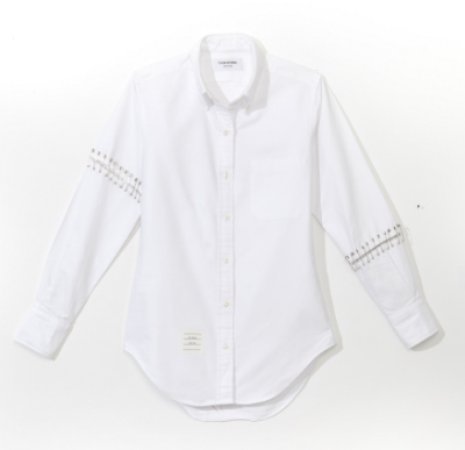 A punk-inspired Thom Browne shirt
"Punk" can be interpreted in many different ways. What do you feel are the iconic elements of a "punk" fashion ensemble?
Punk is an attitude that's achieved by subscribing to the mentality, not constructing the ideal ensemble. With the exclusive punk collection on Moda Operandi, I was excited to take on the challenge of bringing punk to our customer while at the same time keeping the clothes feeling elegant and elevated. For example, we used a lot of feminine tulle and tutus to offset the shredded t-shirts and studded details—all while staying true to punk.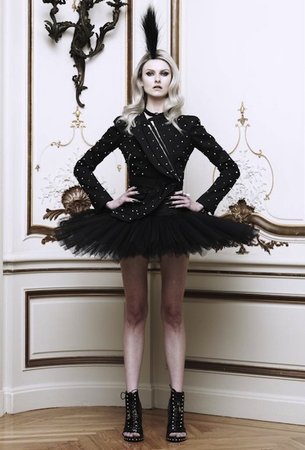 A punk look curated by Moda Operandi
The punk theme of this year's exhibition left many Met Gala ball attendees struggling to find the perfect outfit. Which guests did you think best interpreted the theme on the red carpet?
All of the girls dressed in Burberry looked great, Cara Delevinge and Sienna Miller in particular. I loved Carolyn Murphy's Nina Ricci dress. It was a pretty approach to the punk theme but still edgy and cool. Her dress happens to be available for preorder right now on Moda Operandi. Givoanna Battagalia's Dolce & Gabbana look was a standout. Her safety-pin crown was brilliant.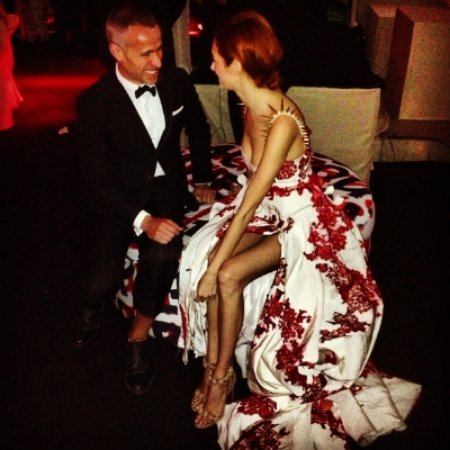 Hill and Thom Browne, who designed her dress, at the Met Gala
After having spent so much time with the exhibition, did you learn anything new?
I was lucky enough to walk through the exhibition with ["PUNK" curator] Andrew Bolton. If there's anyone to teach you about the Met, it would be him. He pointed out the only wall that is part of the existing structure of the museum. It didn't have much to do with punk, but it was very cool to see.
What was your favorite look in the exhibition?
The Comme des Garçons looks were a great statement, all lined up together.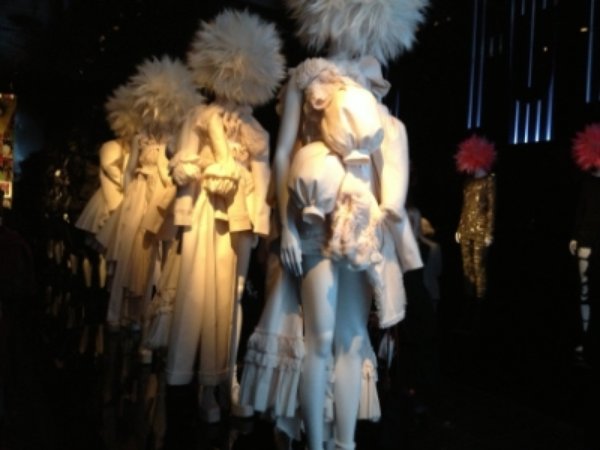 A collection of Comme des Garçons ensembles from the Met show
How do you think the punk show is going to impact today's fashion?
One of the benefits of having an exhibition like this at one of the most famous museums in the world is that it attracts people who aren't necessarily interested in fashion, ultimately affecting the collective consciousness. Last year, for example, more people became interested in Prada and its history and influence after the "Schiaparelli and Prada: Impossible Conversations" show. Likewise, I think that punk will have a similar resurgence. For our punk collection, we found a way to elevate the aesthetic for the luxury customer, so it's definitely feasible to work punk into your fashion vocabulary even if it wasn't there before.
What kind of art do you collect? Do you have a favorite artist?
My husband and I love art. Our collection is small but growing. I try to find unique pieces during my travels to different cities. One of my favorite artists, Dominique Dubien, is based in Paris. I commissioned two enormous works from him on my last trip there. They made for an interesting journey through the airport. Khaled Takreti, a Syrian artist who I came across in Dubai, is also a new discovery. I haven't bought any of his paintings yet, but as soon as I can get back there it's on the agenda.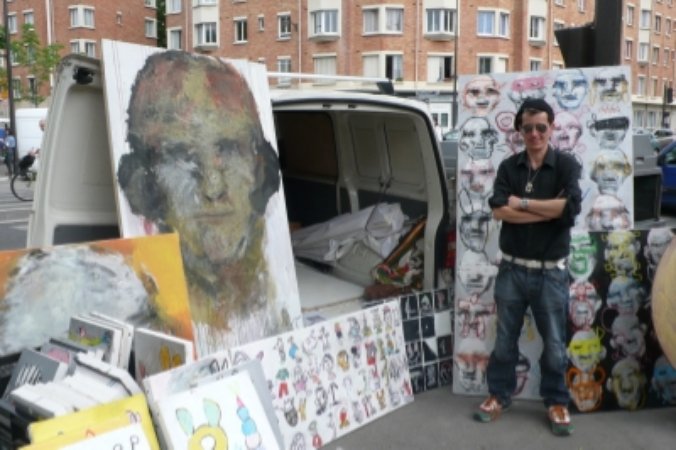 The artist Dominique Dubien
What is your favorite art space?
My husband and I loved the three dimensional installations at Ace Gallery. We don't have as much time as we used to to explore the art scene here, but that was definitely a go-to place for us.
Click here to browse all the items in Moda Operandi's Punk boutique