Teeming with work by emerging artists, the debut edition of the Code Art Fair is a stocked pond for talent-hunting. Here are some of the standout appearances in the aisles.
JOSEPH MONTGOMERY
Dürst Britt & Mayhew (Den Haag)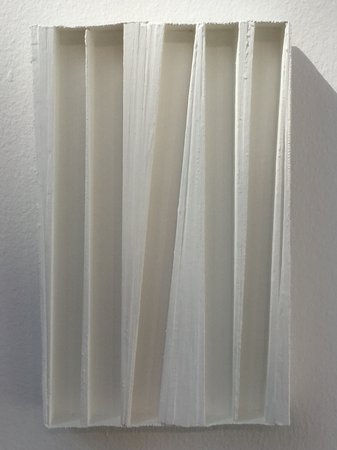 The New York-based artist Joseph Montgomery works in the tradition of the minimal Dutch relief master Jan Schoonhoven, who created white painting-like structures designed to play with shadows and light—but he goes about it in a decidedly contemporary fashion. Using wooden shims as his essential component, he employs an algorithm designed by a friend to determine how many should be packed into a particular painting.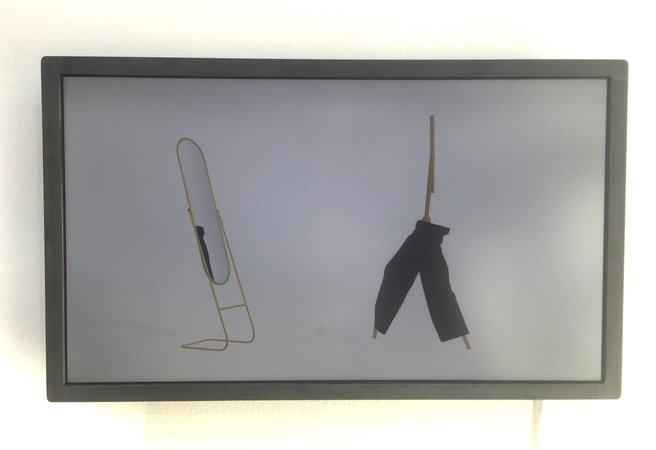 The result is a high-tech concept with low-fi execution, which is the exact opposite of his animated video at the fair, where he uses digital tools to bring to life a simple shim-based figure who stands before a mirror and tries to decide whether to wear white or black pants. A simple binary, it represents the decision-making that Montgomery—who last year showed at Paula Cooper alongside Sherrie Levine—sees as the basis of the artistic process.
TUE GREENFORT
König Galerie (Berlin)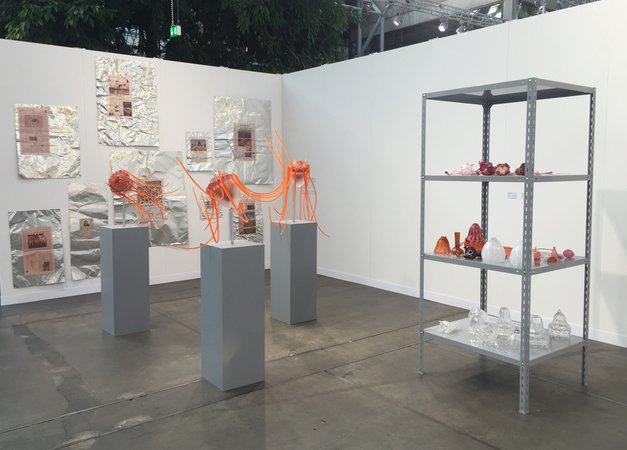 The Danish conceptual artist Tue Greenfort has enjoyed rising success abroad, with shows at places like SculptureCenter and London's Royal Academy, but for whatever reason he remains underappreciated in his native country, so König Galerie decided to bring a mini exhibition of his work to Code. Filling the entire booth, Greenfort's work looks at the degradation of the environment through the charismatic lens of the periphylla jellyfish, a species that occasionally appears en masse on the Norwegian coast with disastrous effects upon the local fishing industry and ecology generally.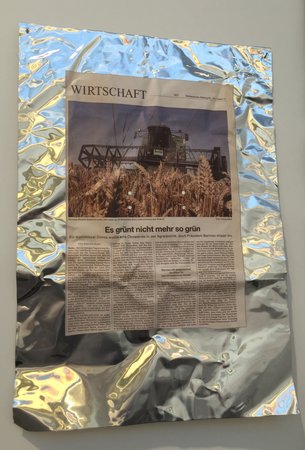 The glass sculptures that the artist made of this creature—some beautifully whole, others displayed in parts on a shelf—recall an earlier time, when natural history museums, unable to preserve jellyfish specimins, had them recreated in glass for their collections. (Greenfort has previously shown this body of work in a natural history museum, in fact.) Also featuring glimmering wall pieces made from newspaper articles about human-caused environmental crises, the selection of work muses on how nature can appear in an art context (and vice versa) amid climate change, and it has garnered plentiful attention from Danish curators, according to the gallery.
PHILLIP BIRCH
Lyles & King (New York)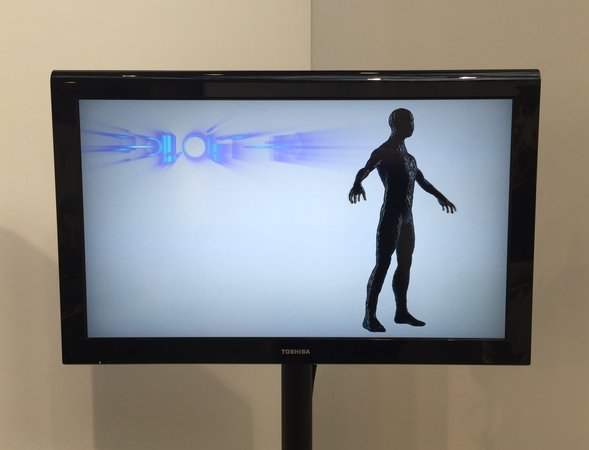 The Brooklyn-based artist Phillip Birch is as nervous about our technological future as the next guy, and he's come up with a particularly effective way of capturing that anxiety in a recent body of work based on a fictional Apple-like company called Master Dynamic and their signature product, Frontier. In one nightmarish promotional video, you see what the product does: a floating, elastic black substance, it can mutate into different pleasant shapes and seems nice enough until a human actually touches it, at which point it infects them, coursing through and devouring their body before taking its place.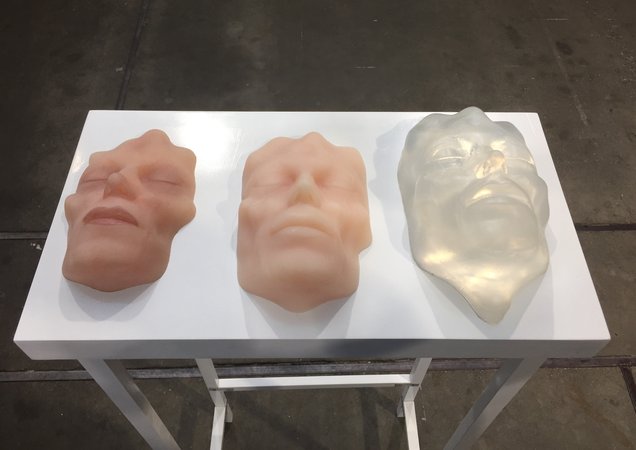 Silicon casts of spooky faces accompany the video at the fair, hearkening back to the work of Paul Thek and David Cronenberg. Birch has evidently hit a nerve with his work: last year the Whitney acquired five sculptures and a video from his solo show at the gallery.
JUSTIN JOHN GREENE
Andrew Rafacz Gallery (Chicago)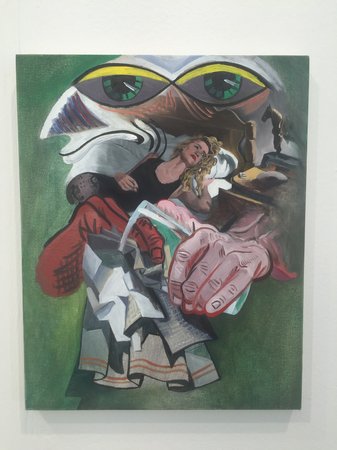 As the son of two Hollywood producers and cinematographers, Justin John Greene grew up in Los Angeles surrounded by the twinned histories of movies and art, and his exceptional paintings and drawings show that he has found a vivid synthesis of the two. In his work, the noirish drama of Cubism and German Expressionism find their complement in techniques of cinematic suspense, with a femme fatale laying in bed, or a Joker-like figure overlooking a nocturnal Gotham, while modernist references play around them like a swelling visual soundtrack.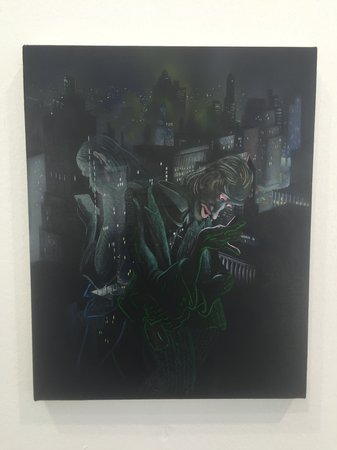 Greene, a graduate of the Art Institute of Chicago, has had a few shows (including a string of appearances at Laura Owens's happening 356 Mission Road), but his prices reflect his youth and early career, around $2,500 a pop.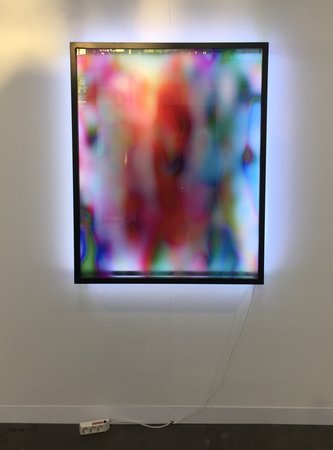 Another L.A. artist, Jonas Lund has been satirizing the art market for years as it has gone through a period of tumultuous change. For his first big show, "Flip City" in 2014, he engaged the emerging speculative class by creating abstract composites of successful lots from the Phillips "Under the Influence" auction, fixing a GPS device to each one to map their progress from one flipper's warehouse to another. (They sold out, and the website tracking their whereabouts suggests none have moved.) Then, for his next show, "Strings Attached," Lund burlesqued the conditions dealers put on sales by making text paintings that blared requirements like, "This Painting Must Be Sold to a Collector In Peru" or "This Painting Must Be Sold to a Golden Globes Winner." (In this case, some found their targets.)
Now Lund is about to return with his third show in this series, a sendup of the way corporate sponsorships and brand collaborations have become the next big post-market trend (you'll see paintings with more paid-for logos than a NASCAR driver's uniform). For his appearance at Code, meanwhile, Lund has one of his perennial crowd-pleasers: a digital painting that presents a colorful abstract composition whose elements are determined by an algorithm producing the features that collectors respond to most enthusiastically in a buying context.
[related-works-module]