Art fairs, with their greater resemblance to flea markets than museums, can be overwhelming. Apart from the drain on your patience, perhaps the greatest downside when booths compete for your attention with loud, in-your-face works, is that much of the more contemplative art gets buried in the noise. With that in mind, Artspace scoured through Frieze New York in search of works that you shouldn't miss, though you very well might.
Dora Budor
MANICOMIO!, 2017
Frieze Project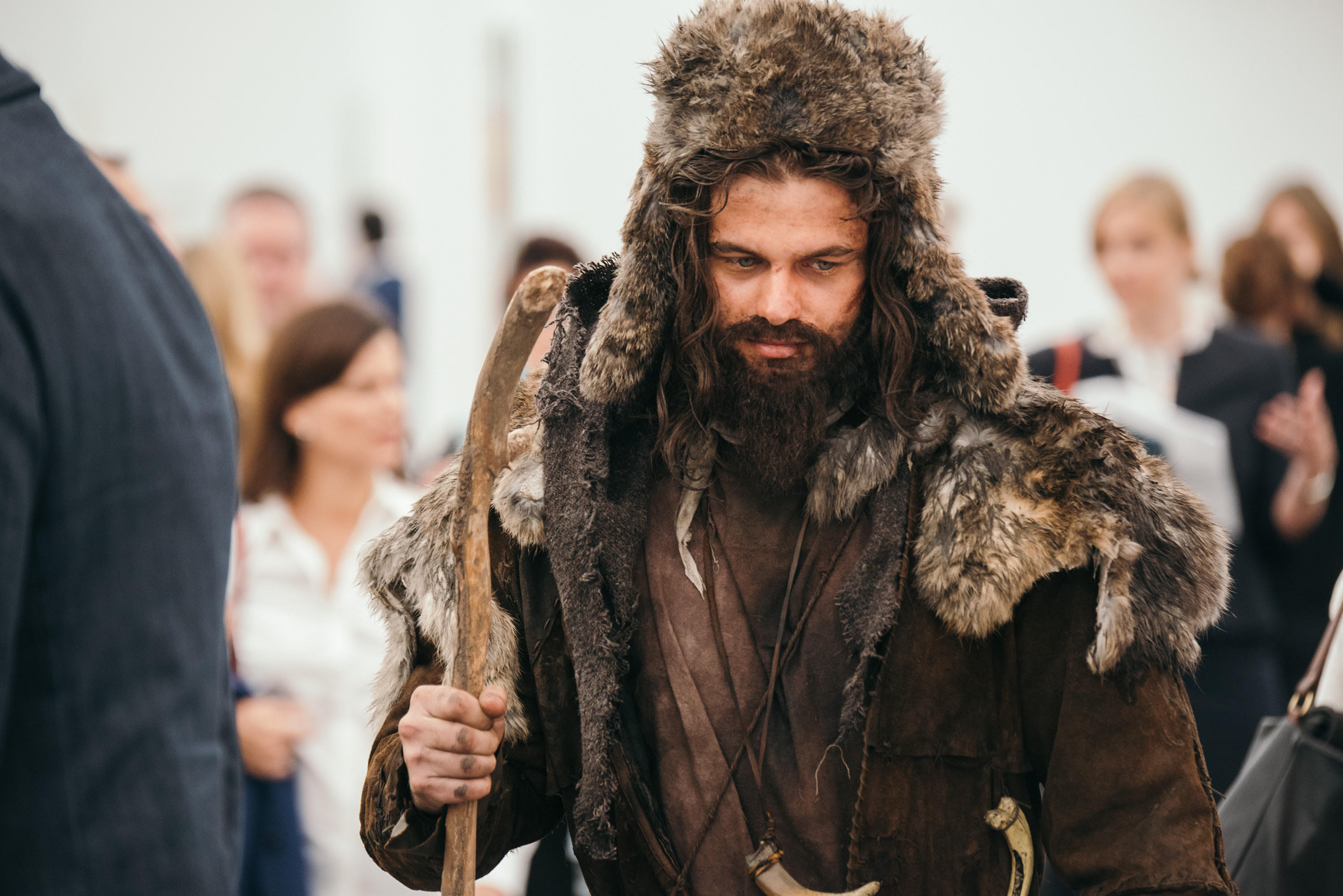 Here's a piece that you may very well never see at Frieze, even if you look. Lookalike actors portraying Leonardo DiCaprio's characters from three different movies are wandering around their fair, playing their parts. We talked to the artist behind the project—you can learn more about the performance piece here.
Sam Moyer
Untitled, 2016
Rodolphe Janssen, Brussels
$8,500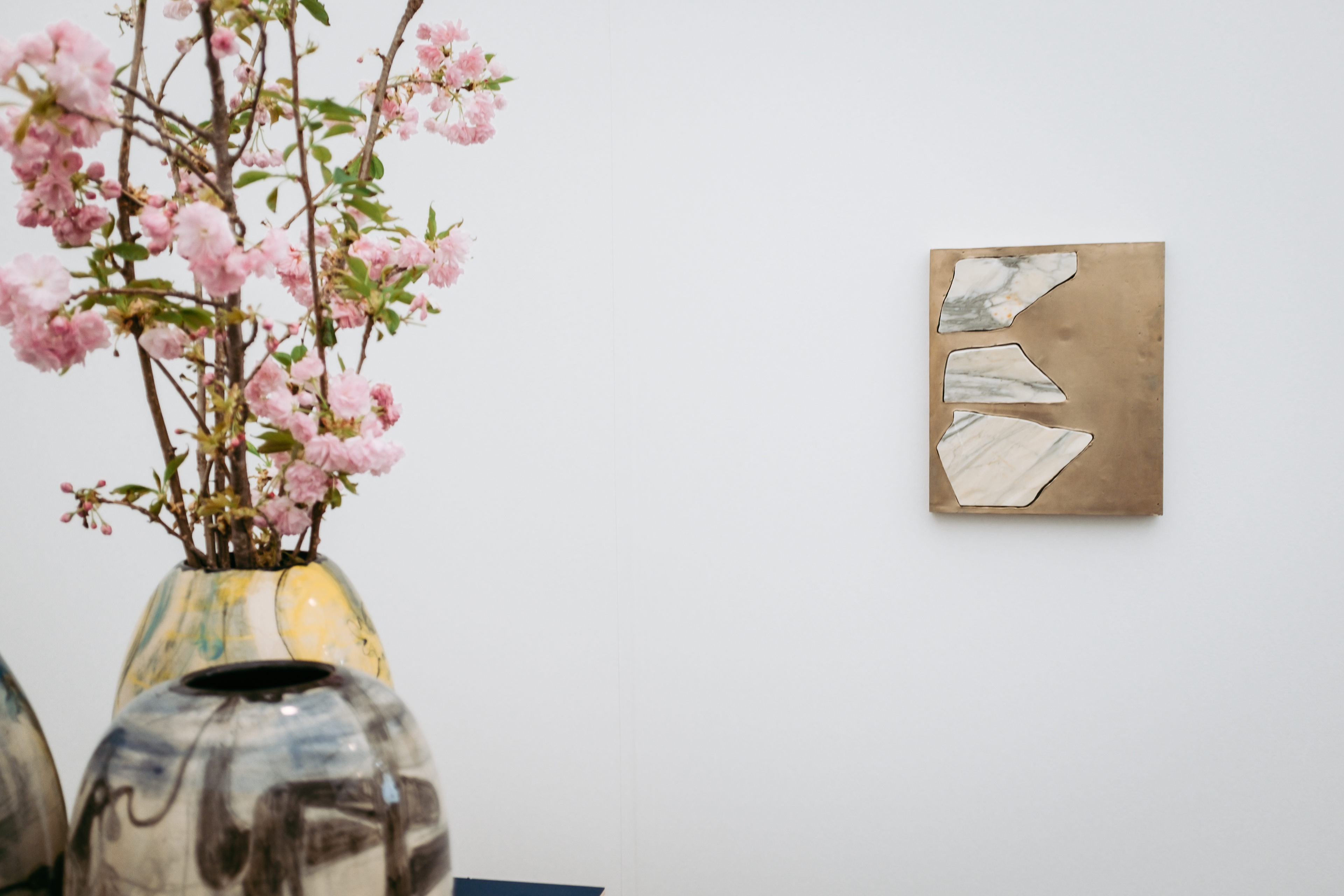 Sam Moyer's sculptural works resemble paintings, but are made from slabs of marble suspended in metal frames. There's a large untitled work that's composed of an eye-grabbing pink color, but we much prefer this smaller piece from 2016 hung around the corner. Moyer's minimalist compositions give weight to the texture of the materials she uses, and has earned her exhibitions at the Drawing Center, MoMA PS1, and elsewhere.
Lea Cetera
Threshold, 2017
Southard Reid, London
Price Undisclosed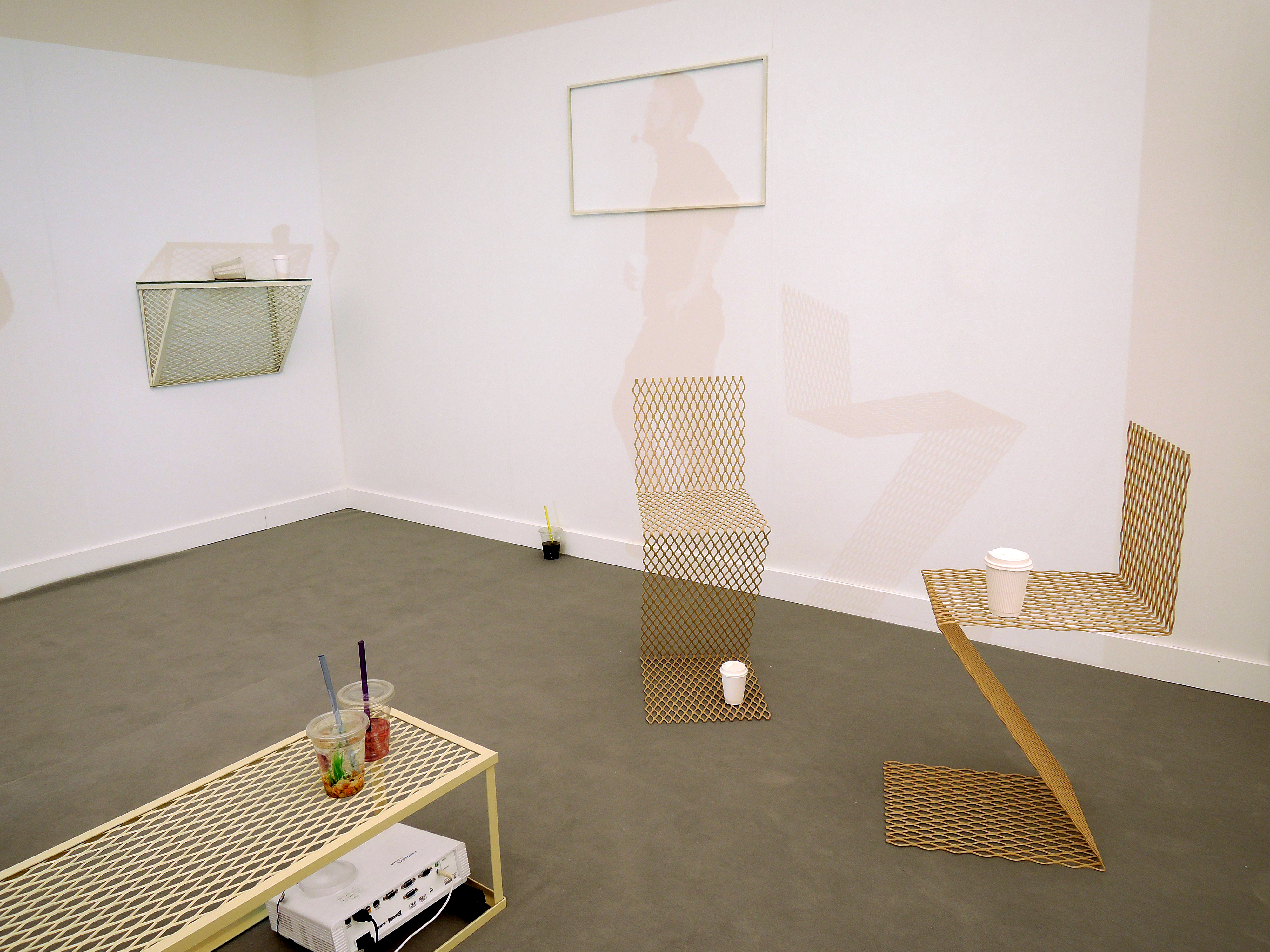 There's a lot at Souhard Reid's booth that's easy to miss. For one, almost imperceptible life-size projections are cast on the walls (they're a little easier to see in this photo than they are in real life) that almost seem like the shadows of nearby fair-goers, and secondly, coffee cups and other beverages can easily be misinterpreted as the inadvertent leftovers from sloppy booth attendants. This subtlety is not lost on New York-based artist Lea Cetera, whose theatrical work encompasses "temporal installation that examines the space between object and body, public and private, the virtual and the real." While the work is a bit hard to discern, figuring out what is for sale, exactly, could be even harder.
Kaari Upson
Hateful Admiration, 2011
Massimo de Carlo, Milan, London, Hong Kong
$20,000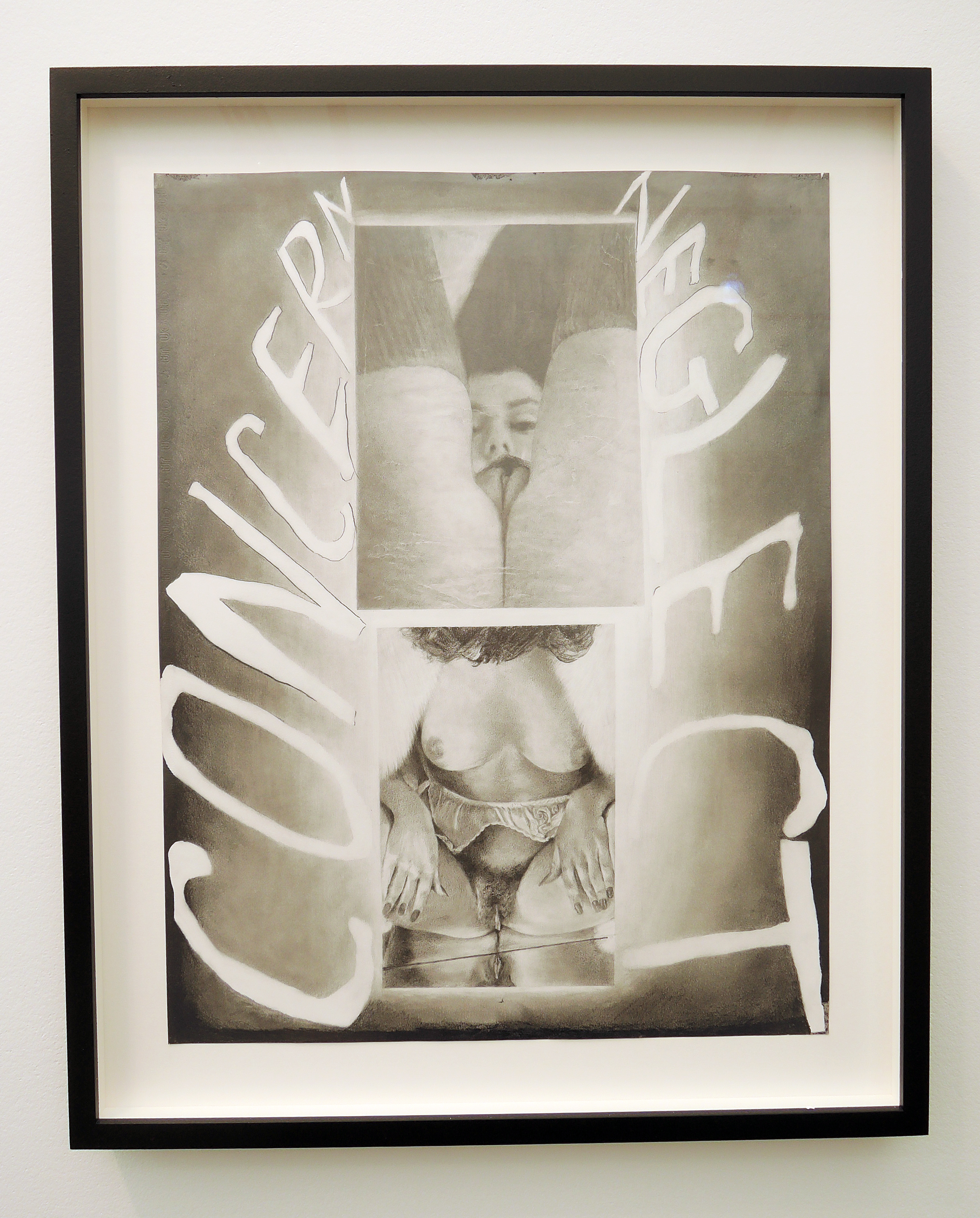 Los Angeles-based artist Kaari Upson is making our upcoming Artists to Watch in May list, after she blew us away with her solo exhibition that opened at the New Museum earlier this week. Central to the exhibition are large-scale graphite-on-paper drawings that at times feel like painstakingly orchestrated photo-realistic renderings and at others, stream-of-consciousness note-taking. At Frieze, Massimo de Carlo hangs works from the very beginning of Upson's drawing series, which are much less complex and much smaller than her newer works—yet equally personal, emotional, and resonant.
Amy Yao
Support II, 2016
Various Small Fires, Los Angeles
$10,000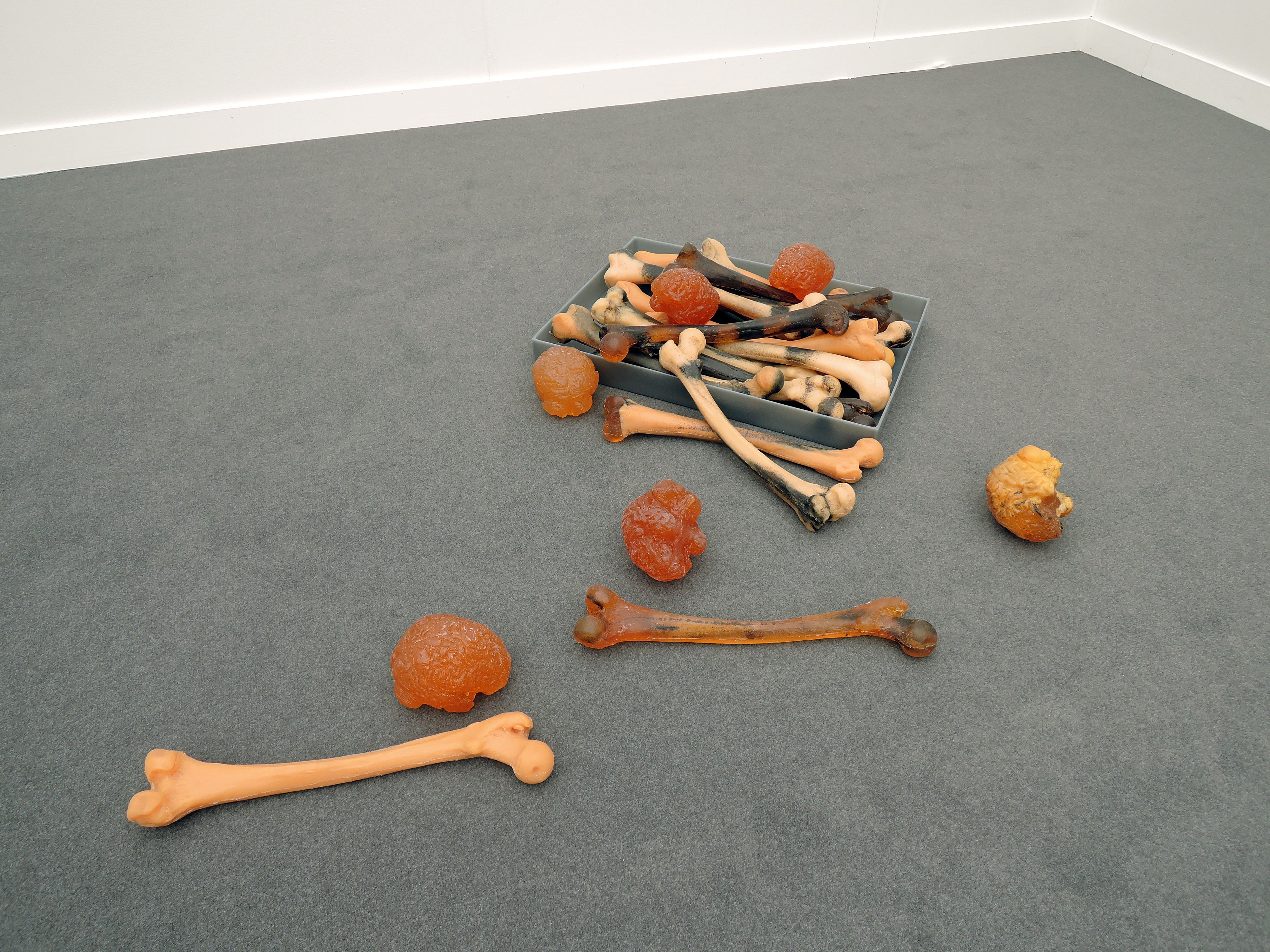 We all have different support systems that we rely on, but the most common (and literal) one is the very bones that hold up our bodies. For Los Angeles-based Amy Yao, scattered human bones and brains represent the breakdown of that support system, and speak to larger issues regarding instability: health care in the United States, a precarious labor force, toxic ecological environments. Cast in rubber and activated charcoal, these deconstructed figures are politically and socially charged while retaining a whimsy and sense of humor that is integral to the artist's practice, which also spans sculpture and installation, photography, and multi-media wall pieces.
Alyson Shotz
Facing Fold #2, 2017 (diptych)
Derek Eller Gallery, New York
$45–90,000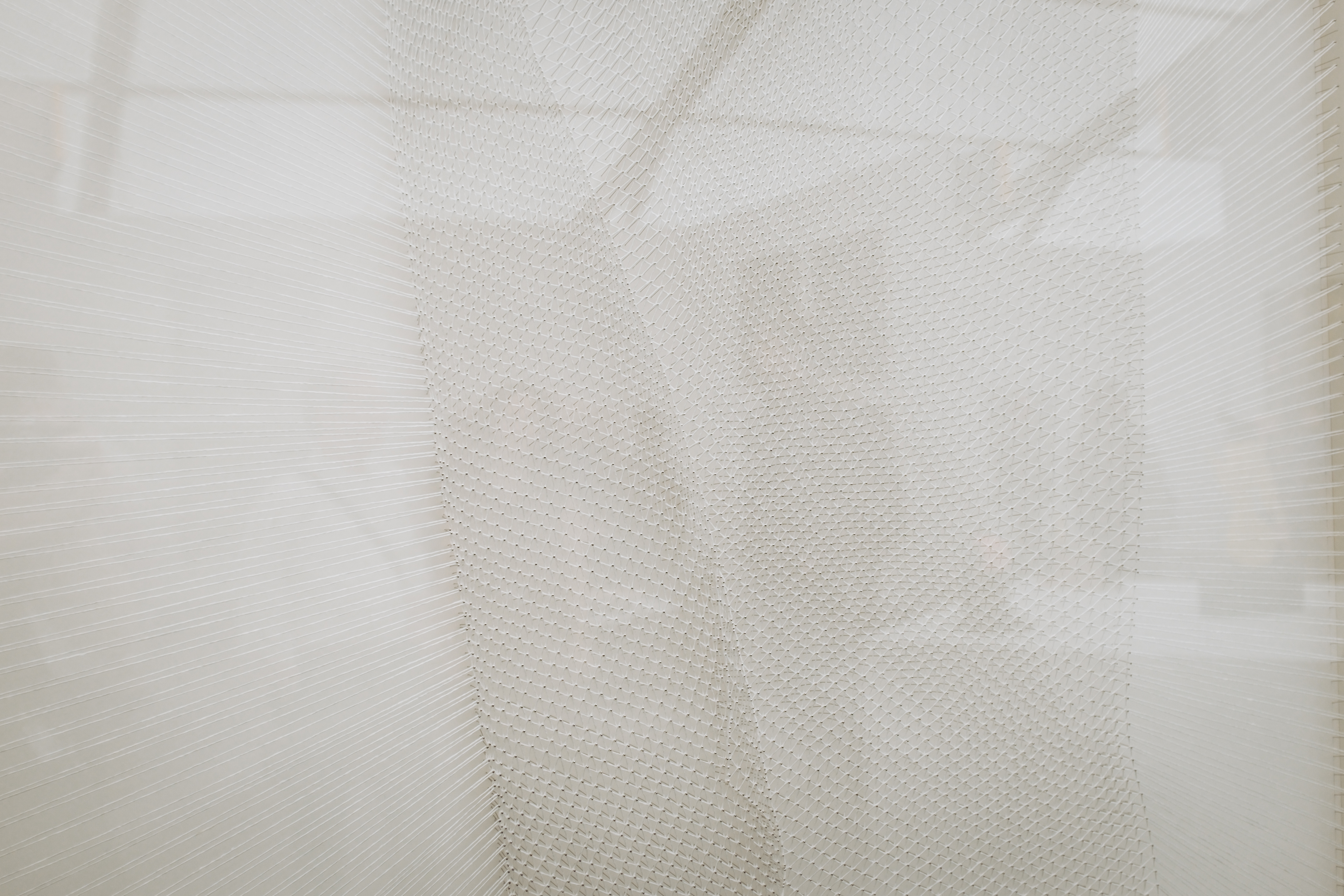 Among the many works they've brought to Frieze this year, Derek Eller Gallery is showing a diptych from Alyson Shotz's "Time Lapse" series. (However, the artist has allowed the gallery to break up the diptych if they so choose). In this series, Shotz manipulates objects in 3D-modeling software, such that they're rendered entirely in polygonal outlines. When she obtains a pattern that appeals to her, she recreates the composition by looping string through pins in elaborate, algorithmic contour drawings that give the illusion of a three-dimensional object suspend in space.
General Idea
Homeless Sign for Trump Tower 1989, 1989–2013
Esther Schipper, Berlin
Sold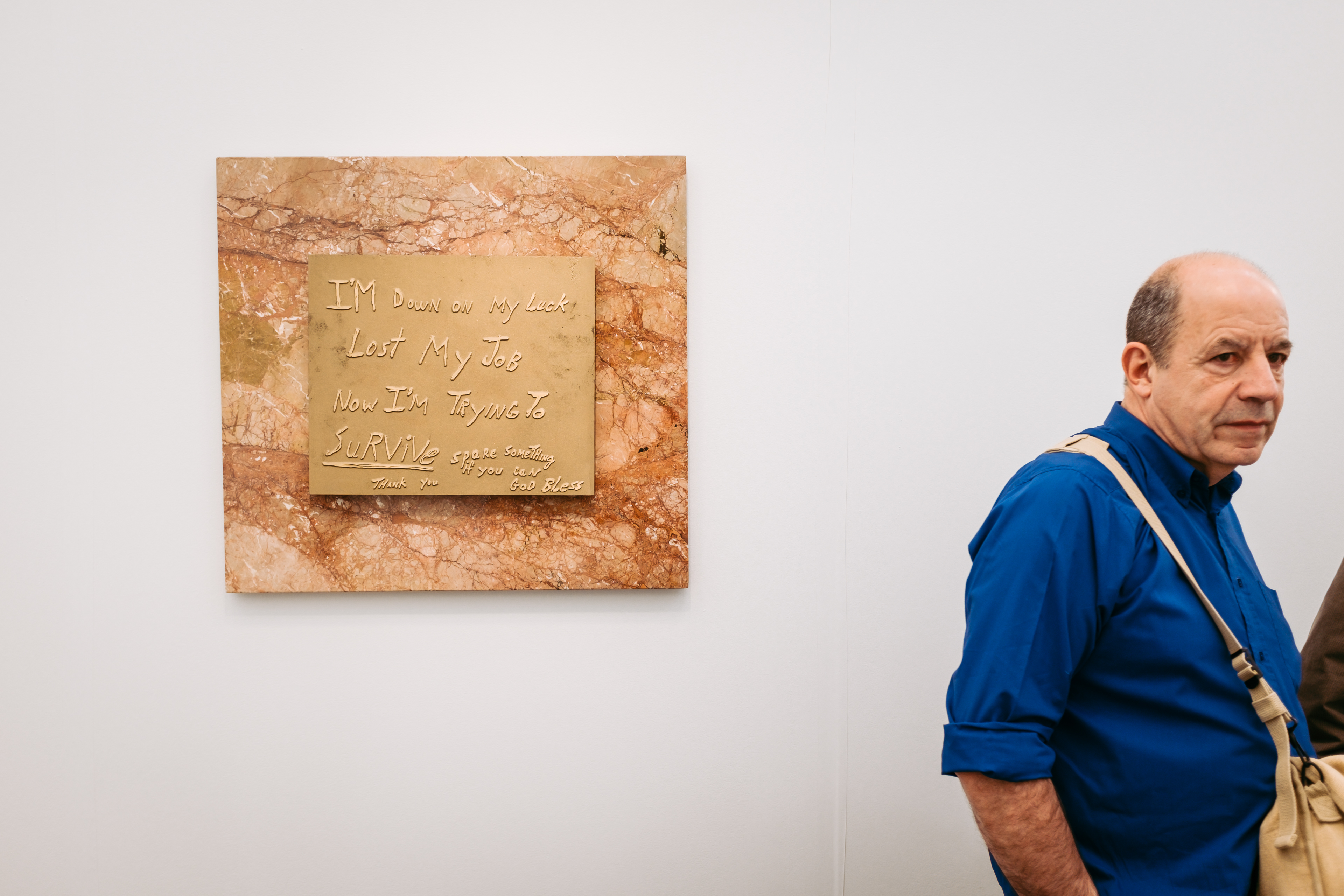 General Idea was an art collective composed of three Canadian artists, two of whom—Felix Partz and Jorge Zontal—died of AIDS in the 1990s. The collective was involved in the 1989 ACT UP protests against then-real-estate-developer Donald Trump, whose status as a wealthy housing developer, the group argued, was contingent upon the existence of homelessness and money disparity. In particular, ACT UP protested the lack of housing for New Yorkers infected with HIV/AIDS, and the $6 million tax abatements that Trump had secured to construct luxury housing in the face of this crisis. General Idea's Homeless Sign for Trump Tower 1989 consists of a bronze cast of a letter that the group found outside of their apartment, which they presumed was written by a homeless person. The cast is mounted on pink marble—exactly the kind used to adorn the lobby of the Trump Tower.
Mikhael Subotzky
Inside Police Cells, Beaufort West Police Station (0269), 2006
Goodman Gallery, Johannesburg, Capetown
$12,000 for the photo in smashed frame; $8,000 for editioned photograph, unframed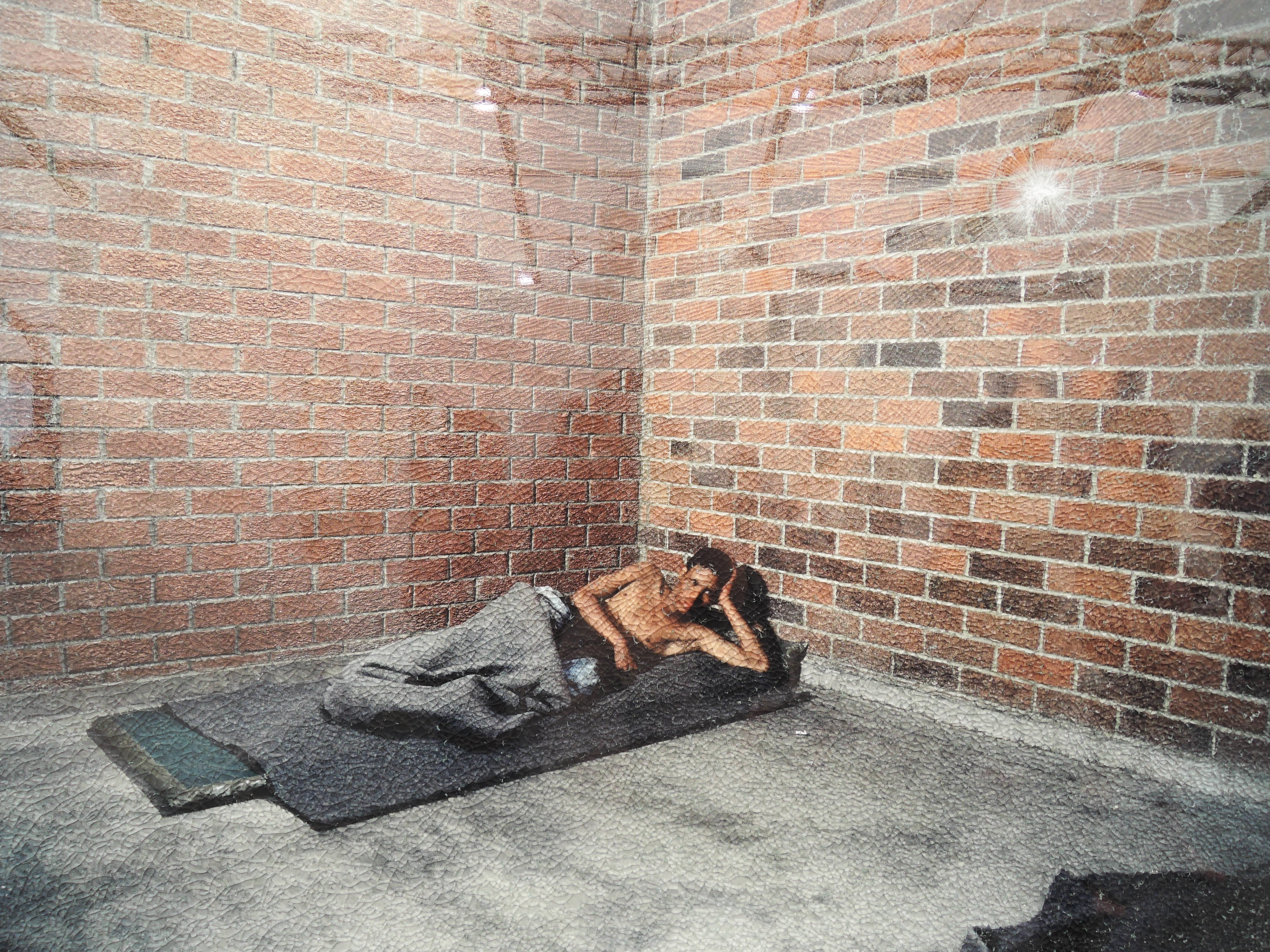 (detail)
South African artist Mikhael Subotzky is a documentary photographer, and sometimes, the subjects he focuses on are hard to look at. Whether the subjects are prostitution, a violent beating, the artist's own father, or in the photo above, a South African prison—Subotzky enacts his frustration on the work itself, smashing the glass frame. The result is an overlaid pattern that obscures part of the image, blurring areas that encourage the viewer to come close to the image and engage with it more intimately.
Bunny Rogers
Reject Chair Set (1), 2016
Societé, Berlin
Around $18,000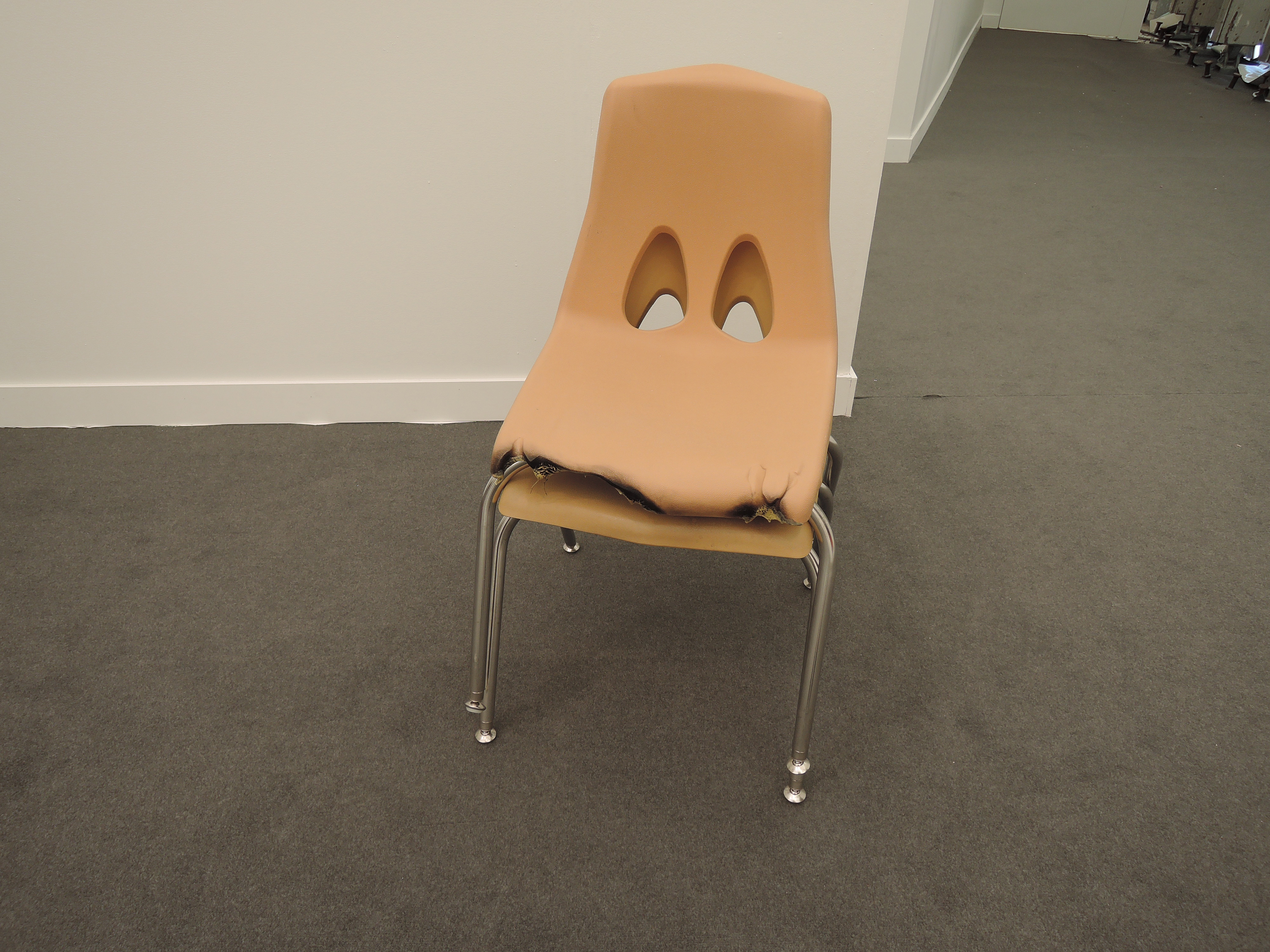 If you visited Frieze last year, you might still have a taste in your mouth from Société's booth, which offered fair-goers white bottles of Soylent from stocked commercial-grade fridges. The solo presentation by Sean Raspet was somewhat typical for the Berlin gallery—a gallery that tends to exhibit solo artists at fairs and experiment with somewhat-risky installations. But this year, director Daniel Wichelhaus says he wanted to try a group show, and in it, you'll find the work of Bunny Rogers—a surprising combination of "cute" and "haunting." Reject Chair Set (1) is a reproduction of two chairs that came from the cafeteria at Columbine, the Colorado high school where a 1999 school shooting took the lives of 13 people. Roger's chairs are burnt and melted, and the resulting sculpture is cartoonish and a little sad looking—two qualities that characterize Roger's "post-internet" work to a T. Keep an eye on this young artist; she's been steadily gaining momentum over the years and will have a solo exhibition at the Whitney this summer.