As a bona fide art-fair behemoth, Art Basel Miami Beach is best known for its blue-chip booths hawking wares crafted by their top-tier artists. However, as the fair has expanded both geographically and in scope, it has begun to incorporate more emerging artists and galleries in sections like Nova—perhaps in an effort to compete with the ever-increasing horde of younger art fairs. And, given a speculative art market that has proven itself willing to take chances on less-established artists, it only makes sense to include the young and the hopeful alongside their older (and usually pricier) counterparts. These five youthful upstarts from around the world are among the best of the fresh-faced yet icy-cool artists on view at the fair.
DANIEL KELLER b. 1986
Kraupa-Tuskany Zeidler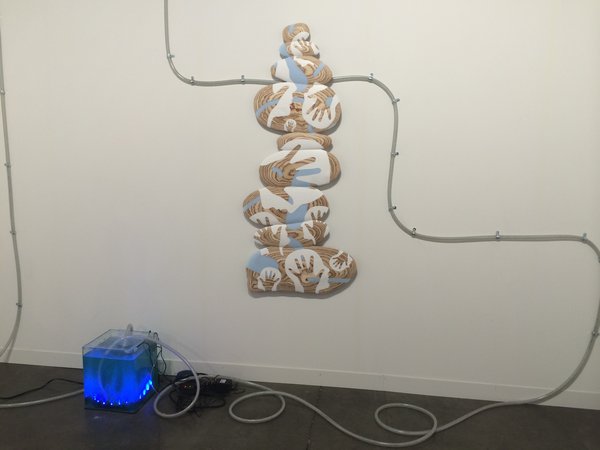 As one half of the post-studio multimedia duo AIDS-3D, Daniel Keller is no stranger to working far beyond the confines of the standard-issue artist studio. For his booth in the Positions section (which showcases single-artist installations at the fair), he's combined two of his ongoing series, "Onanet Spiruline" and "Stack Reliefs." The title of the first series refers to Spirulinasp., a cyanobacteria that's currently being marketed as the latest superfood; Keller created a group of Spirulina grow tanks designed to cultivate this blue-green algae in a collector's home. The tanks pump the warm, nutrient-rich water through a network of thin tubes adorned with examples of his "Stack Reliefs." Based on Instagram photos by rock stacking enthusiasts, these reliefs flatten the stone cairns and render them in materials ranging from acrylic and plywood to mussels in resin. When combined, the works evoke the past and future of human architecture—from piling stones to creating bio-technological networks.
PHOEBE COLLINGS-JAMES b. 1987
mother's tankstation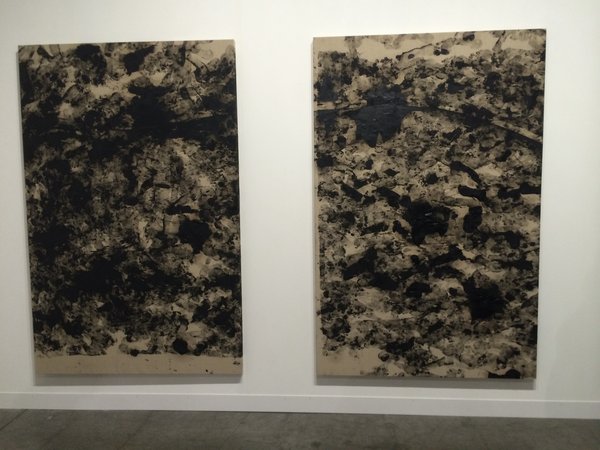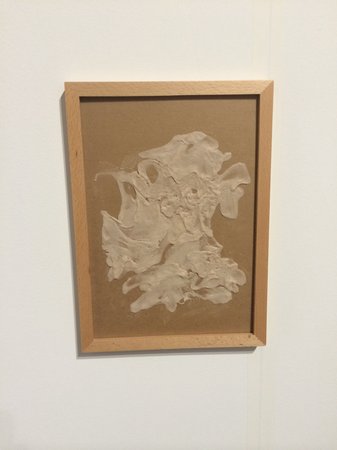 In addition to her modeling career, the British artist Phoebe Collings-James also makes politically loaded abstract compositions that already have collectors talking. Her works are explorations into the complexities of race (she's of English and Jamaican ancestry) as well as reflections of the struggle for affordable space and materials faced by young artists. Two sets of her work are on view in mother's tankstation's booth; the first is a set of large paintings each titled What It Is (a reference to the phrase "what it is, what it was, and what it shall be," a greeting popularized by the 1960s Black Power movement) made by covering the floor of her small studio with raw linen before covering herself with black ink and walking around to create expressive reinterpretations of both David Hammons and Yves Klein body prints. The second is her "Strange Fruit" series, small abstractions made out of British Juicy Fruit gum chewed by the artist herself and still emitting a vaguely sweet smell.
FLORIAN MEISENBERG b. 1980
Wentrup Gallery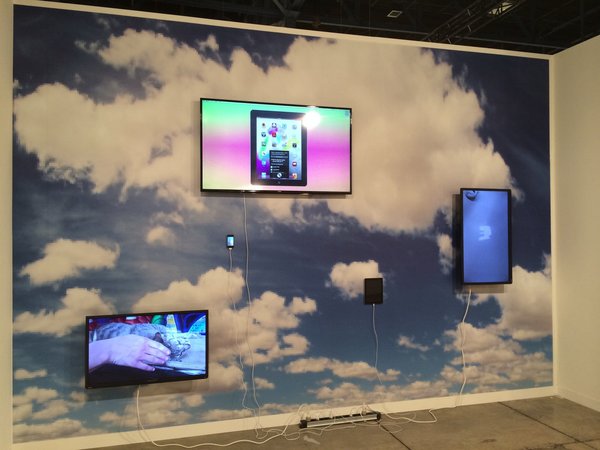 Though he studied under Peter Doig in the Kunstakademie Düsseldorf, Florian Meisenberg's work in Wentrup Gallery's booth shows off his skills in video rather than painting. The five-channel installation is all about screens and the separations they enforce, with each of his own (digital) screens illustrating the process in action. One TV monitor shows the frustrated attempt to stroke a convenience store cat through a pane of glass; another records Meisenberg's efforts to communicate and command Apple's Siri, with only limited success. Perhaps the most powerful scene shows the Byzantine-era head of Medusa in Istanbul's Basilica Cistern, visible only when illuminated by the flash of tourists' cameras. Veering between lighthearted observations and more sober critiques, this is one video installation that's worth watching until it loops.
NANDIPHA MNTAMBO b. 1982
Stevenson Gallery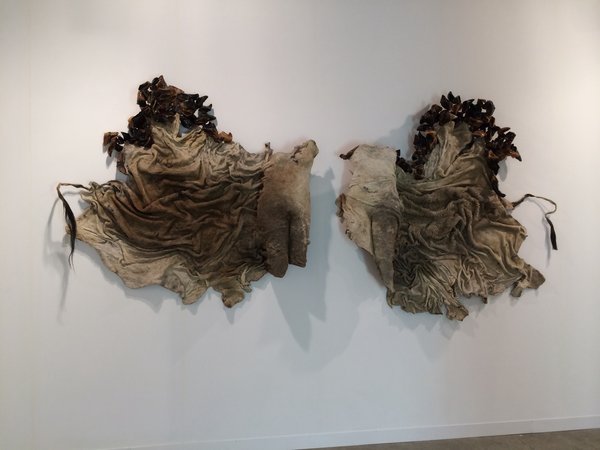 Nandipha Mntambo uses cow hide (and other bovine body parts) extensively in her work, often using her own body as a mold to sculpt humanoid forms. Her piece Duality (2015) in South Africa's Stevenson Gallery uses cow hooves as well as hides to create a quietly powerful diptych. With their tails intact and their surface rippled with folds, the hides refuse to hide their natural origins—indeed, they almost appear alive even as they hang on the wall. Despite evoking the violence of a hunter's trophy pelts, the two hides seem to be dancing with one another as disembodied hooves stream off their sides. Given the cow's place as a symbol of wealth in many cultures worldwide, Mntambo's work can also be read as a creepily comforting image of prosperity.
LI GANG b. 1986
Urs Meile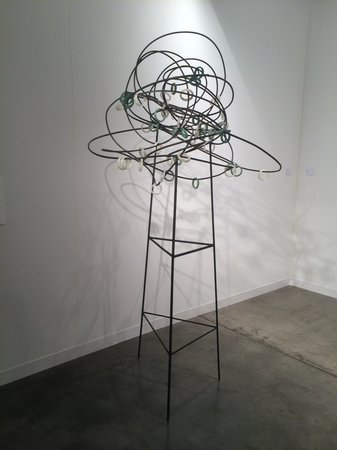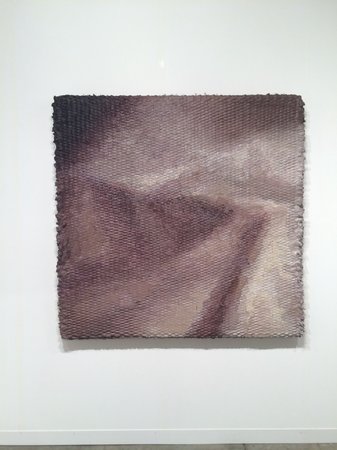 The Beijing-based artist Li Gang is bursting onto the scene in Urs Meile's installation for Kabinett, Art Basel's pseudo-section of curated solo shows within select galleries' booths. Gang is represented by two of his paintings—composed on his handmade hemp rope canvases—and a delicate rebar and jade bracelet sculpture called Floating No. 1 (2015). The large paintings are ultra-close-ups of unknown surfaces that melt further and further into abstraction as you get closer, with the woven fibers adding degrees of delicious texture. The sculpture is a masterful example of how to incorporate readymade items like the bracelets into cohesive artworks that benefit from the objects' cultural context without entirely depending on it, a balancing act some artists twice his age still seem to be struggling with. Here, the jade bracelets are both pointed indicators of Gang's Chinese origins while also adding a dynamic and colorful component to his rebar scribbles.