With Tinseltown's heaviest-hitting art fair returning for its latest edition, presenting the collectors of one of the world's most speculated-upon (and speculated-about) art scenes with wares ranging from upper-emerging to lower-blue-chip, we canvassed the terrain for works that caught our eye. Here they are.
MICHAEL DOTSON
Twinkle Twinkle (2015)
The Hole (New York)
$4,500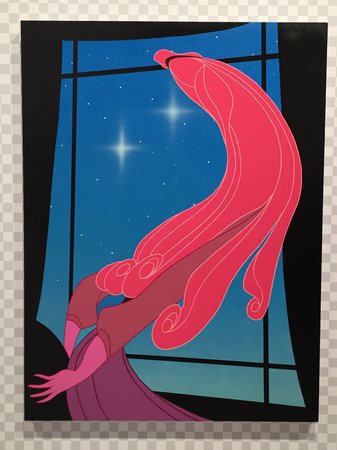 In case you haven't noticed, classic animations have been a touchstone for younger artists for a while now. Examples include the "Winnie-the-Pooh" landscape that launched Lucien Smith's career, Dan Colen's "Pinocchio"-derived candle paintings, and the "Schoolhouse Rock"-inspired protagonist of Jordan Wolfson's videos. Now the Brooklyn-based painter Michael Dotson has entered this charming fray with a series of paintings that distort historic animation cells, as in this 2015 canvas transmuting Disney's pre-slipper Cinderella into a banana-like sine curve. Part of a tightly curated booth of digital-native works that the Hole's Kathy Grayson set against a Photoshop-esque backdrop of checkered wallpaper, the painting—which was made specially for the fair—had pop.
RY ROCKLEN
Stone-Pattern Jug (2015)
Mesler/Feuer (New York)
$10,000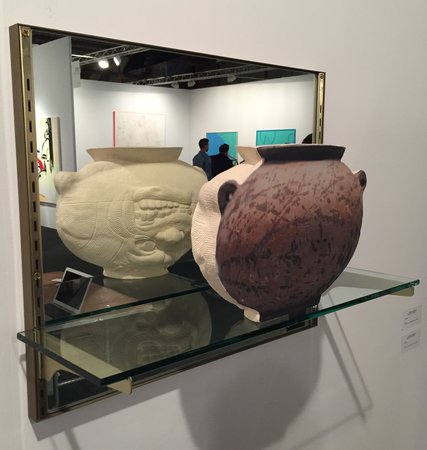 Back when Ry Rocklen was still in grad school at USC, the artist Yutaka Sone came by for a studio visit and was struck by a work Rocklen had made by affixing an image of an antique vase to a papier-mâché sculpture. It was interesting, Sone said, but would be better in ceramic. Now a decade has gone by, during which time Rocklen intimately acquainted with the most exacting fabrication processes known to man under the tutelage of the sculptor Charles Ray, and he is revisiting that early piece with an ambitious new series.
To make this artwork, Rocklen took an image of an ancient Egyptian vessel from 3000 BC from the Metropolitan Museum of Art, enlarged it to roughly life size, and sent it to a woman in Georgia who rendered it as a decal of ceramic glaze; he then found a rubber gag football head of the same dimensions, cast that in porcelain, and then applied the decal before re-firing the sculpture. The result links an ancient pot—which Rocklen admires for its faux-stone treatment, a contemporary-feeling trompe l'oeil effect—and a very of-the-moment artistic process. It's a marvel accidentally but completely in key with the cross-temporal themes of the new Met Breuer outpost.
ANA PRVAČKI
Music Stand and Score (2015)
1301PE (Los Angeles)
$20,000 for the set, $7,500 for a book, $2,500 for a single framed sheet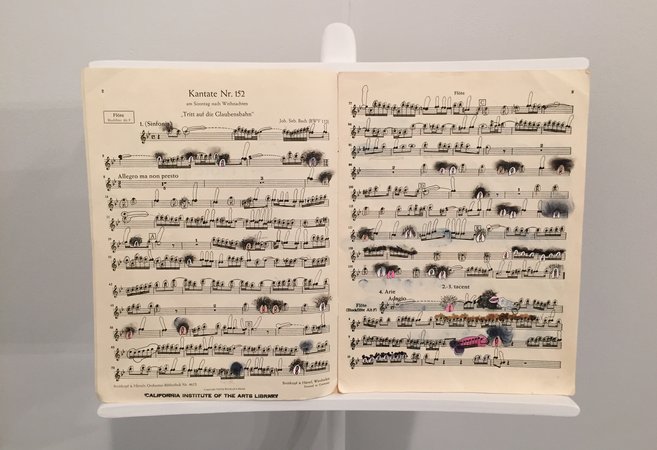 Born in Yugoslavia in 1976, Ana Prvački moved to Singapore after her country's collapse into chaos and became a classical flautist through a course of rigorous training. During her studies she stumbled upon a piece of musical lore that intrigued her: Wagner, in composing the intensely passionate "Tristan and Isolde," invented one tone intended to stimulate sexual arousal in women and a corresponding one in men. Years passed, and Prvački shifted her focus to making conceptual art. She embarked on a series of works exploring the erotics of sound, embellishing musical notations from Bach's "Tritt auf die Glaubensbahn" ("Step Upon the Path of faith") and Charles Goudod's "Sappho" with little Judith Bernstein-esque drawings of penises and vaginas in flagrante delicto.
Believing that sex, like music, should be embraced across all registers and in all tonalities, Prvački has been making these pieces for the past several years as part of her larger body of work (which also involves performative interventions, like one where she tutored the docents at the last dOCUMENTA in matters of refined etiquette). The subject of the next show at 1301PE, she will also have a solo exhibition at the Castello di Rivoli in 2017.
TEPPEI KANEUJI
Teenage Fan Club #75 (2015)
One and J. Gallery (Seoul)
$4,000-$6,000 apiece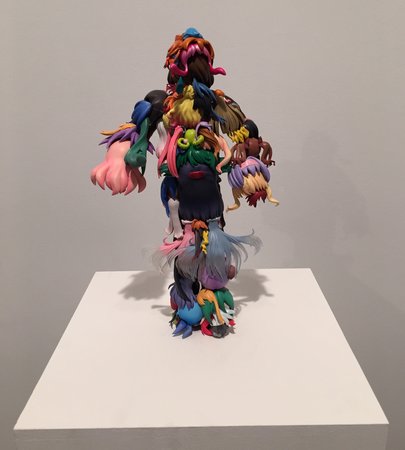 Influenced by the history of anime, the 37-year-old Japanese artist Teppei Kaneuji has been making sculptural collages out of toy parts—breaking down plastic dolls into their component parts and refashioning them into quirky little Frankensteins. This sculpture takes a Chewbacca as its base and applies a fashionable coating of ponytails and other hairdos to fashion everyone's favorite Wookie into an even more hirsute specimen—an endeavor that would just be goofy fun if it didn't carry along with it the toothsome idea of 3-D collage, translating today's cartoon vogue into sculptural space.
ELIZABETH JAEGER
Platinum Musings I (2011)
Jack Hanley Gallery (New York)
$12,000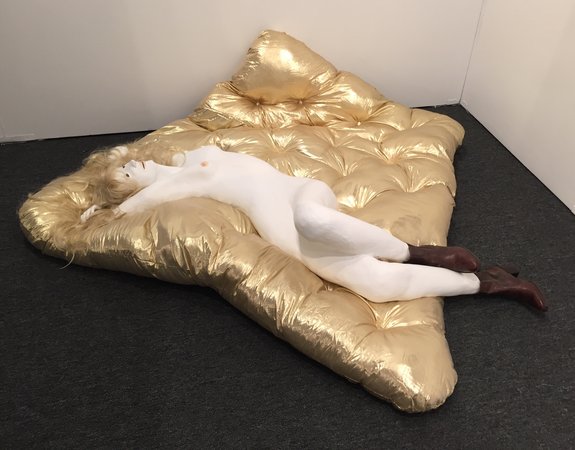 New York's Elizabeth Jaeger had a great 2015, with her alabaster-white sculptures of gangly figures in sensual embraces making waves at both NADA New York and MoMA PS1's "Greater New York." At ALAC, Jack Hanley is now exhibiting a showstopper from this best-known series. Featuring a plaster nude that doubles as a self-portrait of the model-turned-scuptor reclining languidly on a cotton-stuffed gold-lame mattress, the 2011 piece—accented with house paint, fake eyelashes, a wig, and a pair of leather cowboy boots—has a strikingly lifelike presence.
Jaeger, however, has responded to the avid attention her figures have received by moving on to new subjects; she created some energetic-looking dogs for her last show at Jack Hanley and is currently working on ceramic vases. Soon she'll be featured in this spring's "Mirror Cells" show at the Whitney, the first group outing for 2017 Biennial co-curator Chris Lew at the museum, and it'll be interesting to see what she'll do there.
AMY YAO
Untitled (2015)
Various Small Fires (L.A.)
$6,000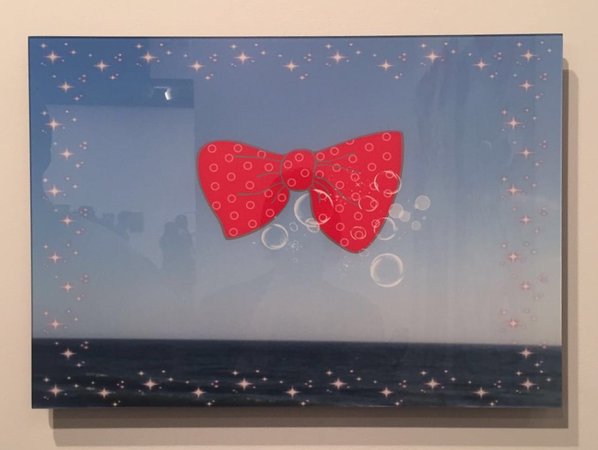 As the deterioration of the environment becomes an increasingly prominent subject of international debate, with scientists advancing countless briefs demonstrating the severity of the crisis while corporations and their henchmen execute diversionary tactics, the multitalented visual wit Amy Yao is responding by taking images of industrial settings and overlaying them with cute "stickers" from photo programs like the LINE app. This piece shows the polluted waters outside of an L.A. port—a galling offense for a surfer such as Yao—and dresses it up with a cheery bowtie, a handful of bubbles, and a dreamy border of sparkles. Seems perfectly pleasant, no? Currently the subject of a two-person show at Various Small Fires with Sean Raspet, Yao is still fine-tuning her style but is absolutely one to watch.
ERICA BAUM
Investigation (Naked Eye) (2014)
Bureau (New York)
$6,000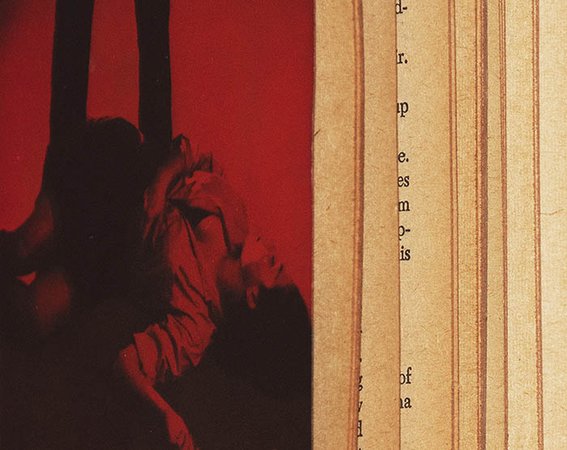 An artist who has been showing in New York for two decades, Erica Baum specializes in reframing printed materials through the lens of her camera—a style that recalls the appropriations of the Pictures Generation and Robert Heineken, but is also indebted to the verité-photography approach of Helen Levitt and Walker Evans. That's because, unlike some other high-concept image-employers, Baum does not doctor her photos in any way, achieving her staccato effect by flipping through cinema books and spreading them open so as to present the outer edges of multiple pages. Currently, Baum's approach has found curatorial favor: she is in both the Met's "Reconstructions" show and the Guggenheim's "Photo-Poetics" survey.