This year's Armory Show is overflowing with ancillary celebrations for the centennial anniversary of the fair's namesake exhibition, which, in 1913, generated a massive amount of publicity and is widely credited with introducing America to Modern art. Gallery I, also known as the Cubist Room, was one of the show's standout exhibition spaces, both in terms of the works on view and how they were presented. Featuring Marcel Duchamp's Nude Descending a Staircase (which is receiving its own contemporary tribute this year at Francis Naumann's booth on Pier 94) as well as works by André Derain, Francis Picabia, and Pablo Picasso, the controversial gallery—derisively referred in the press to as the "Chamber of Horrors"—was a major contributing factor to the show's success.
Flash forward to today's incarnation of the Armory Show as New York's buzziest art fair, and the power of the condensed exhibition space still holds—only on Pier 92 those spaces happen to be booths, with the most exciting and adventurous arrangements attracting curious fairgoers like moths to a flame. While the stark white-cube aesthetic is undoubtedly still the norm at this year's Armory Show, a few galleries collaborated extensively with their artists to create spectacular booth displays that serve as artworks in their own right. These are four of our favorites.
BJARNE MELGAARD AND SVERRE BJERTNES AT ROD BIANCO GALLERY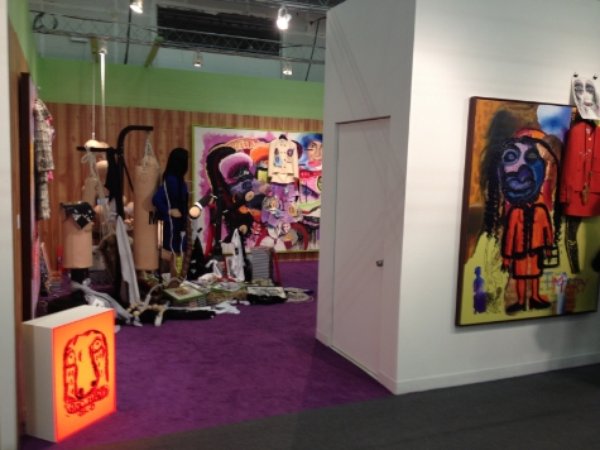 Perhaps the most buzzed-about booth at this year's Armory Show is the presentation of collaborative work by Bjarne Melgaard and Sverre Bjertnes at Norwegian gallery Rod Bianco (which is really one of Melgaard's many aliases). The booth, which features a multimedia installation and a number of new collaborative paintings inspired by the life and times of art dealer Mary Boone (all of them hilarious) that were made specifically for the fair, is brightly carpeted and its walls are covered in wood paneling, creating an environment that actively enhances how the brash, colorful works are viewed. We hear Melgaard offered to give Boone, an art-world legend, a tour of the booth. Oh, to be a fly on the faux-bois wall when that happens....
DIANA THATER AT DAVID ZWIRNER GALLERY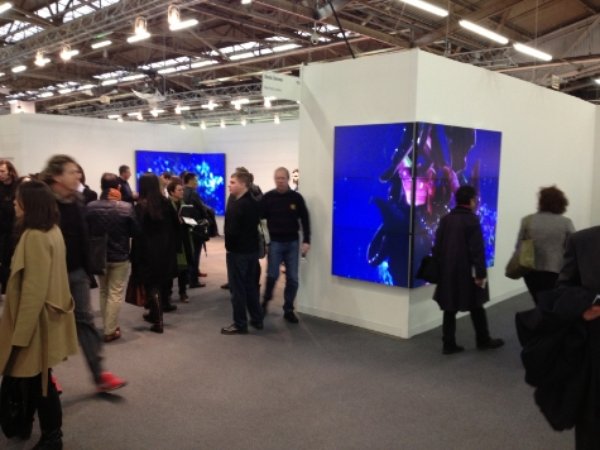 Eschewing nostalgia-inducing decoration for cutting-edge technology, David Zwirner's presentation of Diana Thater's Day for Night on three separate video walls manages to extend beyond the boundaries of the space by bending the screens around the booth's corners. Thater's otherworldly videos, which employ a number of creative filmic techniques, become especially entrancing and absorbing when shown on the booth's large, distorted screens.
ANDY WARHOL AT GAGOSIAN GALLERY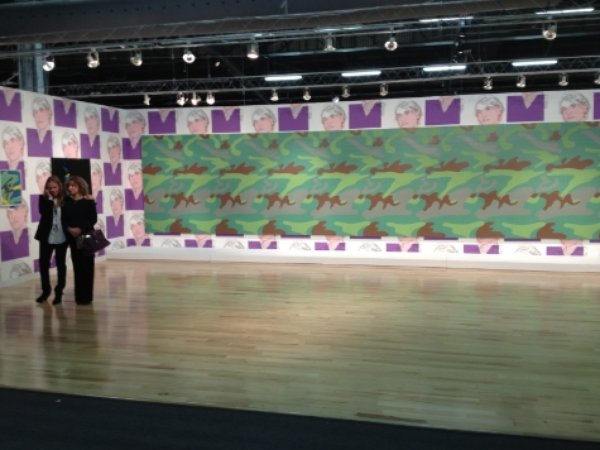 Within sight of Zwirner, at the mouth of the "Focus: USA" portion of the fair, sits the booth of another mega-gallery: Gagosian. Not taking this prestigious position lightly, Gagosian Gallery has erected a massive booth entirely dedicated to Andy Warhol. Featuring a massive camouflage painting paired nicely with two other camouflage works by the Pop art superstar, the gallery's display is both immediately striking and visually appealing, though Gagosian (and Warhol) do feel somewhat out of place in a section of the fair that is otherwise devoted mainly to younger artists.
KYSA JOHNSON AT MORGAN LEHMAN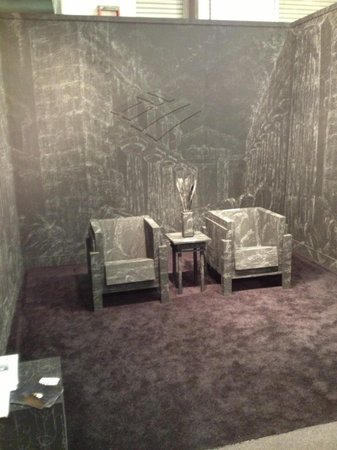 Serving as a sober reminder that even the most ballyhooed of present phenomena will too also pass, Kysa Johnson transformed the walls of the Morgan Lehman Gallery booth into a black-and-white chalk drawing that references both subatomic particle decay and the crumbling ruins of Ancient Rome. Crafting the booth to resemble a Bank of America waiting room, Johnson seems to prompt a greater awareness in the viewer of their place in both the grand scale and the present moment—a timely lesson at this turn in the history of art fairs.