Contrasting with Frieze London, FIAC has once again emerged as a connoisseur's fair—a place where collectors can expect to find art with involving content and historical context, rather than simply bellwethers of the latest market trends. To test this hypothesis, we went in search of art that conveyed a political agenda, a quality typically anathema to the fair-weather collector. Here's a bit of what was to be found.
JACQUES VILLEGLÉ
Georges-Philippe & Nathalie Vallois (Paris)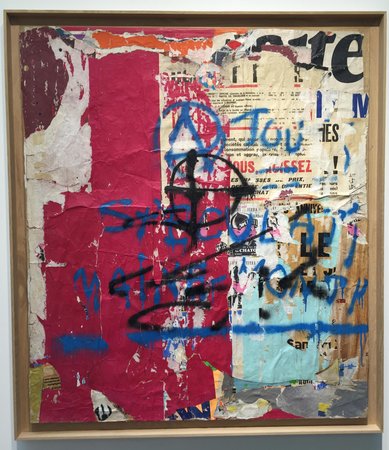 A fellow traveler of the Nouveau Réalistes who will turn 90 next year, the French artist Jacques Villeglé made his name as an "affichiste," stripping posters from the public walls of Paris and presenting them on canvas as readymades of the streets—and, often, temperature-checks of the city's roiling politics. This piece, taken from Montparnasse's Rue Jean Zay in November of 1971, pulses with the revolutionary ardor of the time, with a blue anarchist's symbol overlaid by the black crosshairs of the militant, extreme-right Occident movement. (Villeglé, for the record, is a committed socialist.) Priced at €72,000, the work recalls a time when art was made in the crucible of a living, engaged politics, and also stands for an aesthetic moment that is gaining new attention, with Villeglé and his artistic co-conspirator Raymond Hains receiving a grand retrospective at the Pompidou in 2013.
ABDULNASSER GHAREM
Krinzinger (Vienna)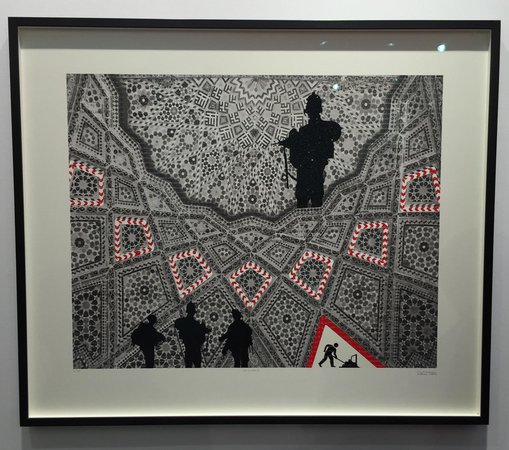 The Saudi Arabian artist Abdulnasser Gharem builds his work out of intricate traditional wooden stamps, which he makes at large scale through an Austrian fabricator and shows as sculptures, and which he also uses to create works on paper which often have a pronounced militaristic bent evocative of the Middle East's conflicts. This print at Krinzinger (which brought one of his giant wooden stamps to Frieze) shows what appear to be American-style (or -equipped) troops—the U.S. sold a record $60 billion in arms to Saudi Arabia in 2010—watching over a public space festooned with orange hazard cones, with a construction-sign figure shoveling away in the bottom right. Titled Men at Work IV, it suggests an equivalency between military service and basic infrastructural repairs, and text running across the piece in both English and Arabic reads, "That thousands of young men and women could descend on a broken place and make it better." Although a Western viewer might naturally see this message as ironic, with its implications of "cleaning up" civic disorder with assault rifles, the piece is complicated by the fact that Gharem is a career lieutenant-colonel who has spent nearly 25 years in the Saudi army. An edition of 35 plus one artist's proof, this 2012 piece, embellished with diamond dust, was priced at around $20,000.
VARIOUS ARTISTS
Hauser & Wirth (various locations)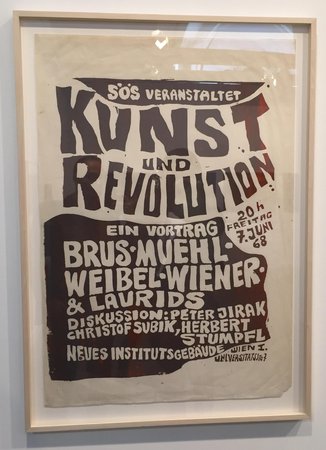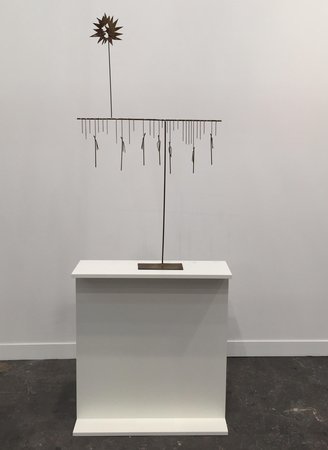 Last year, as the artist Paul McCarthy was installing a giant green inflatable butt plug (ostensibly, to innocent eyes, a "Christmas tree") in the Place Vendôme as a part of FIAC's "Hors les Murs" program, he was brutally attacked by an onlooker, who also insulted him for not being French; three months later, two members of an Al-Qaeda Yemen branch invaded the offices of the satirical, often anti-Muslim journal Charlie Hebdo and massacred 11 people, including five of their famous political cartoonists. This year, in reaction to both incidents, the curator and now Hauser & Wirth partner Paul Schimmel organized a miniature survey of work by the gallery's artists (including McCarthy) to explore the various ways that artists advance the cause of liberal politics in society.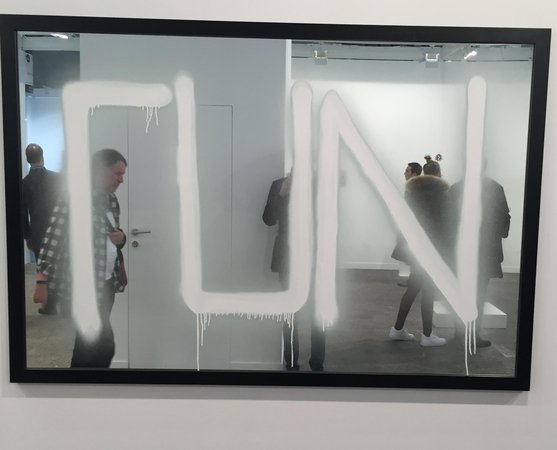 Examples include a 1968 poster by Viennese Actionist Günter Brus proclaiming "Kunst und Revolution," a suite of miniature paintings by Wilhelm Sasnal depicting victorious black athletes in the '68 Olympic Games who used their moments of glory to espouse Black Panther politics, a sculpture by Fausto Melotti memorializing the victims of political oppression, a mirror piece by Rashid Johnson exhorting its viewer to "run" (suggesting confrontations with the American police), and, of course, McCarthy's blistering artistic attacks on George W. Bush, one involving the former president having sex with a pig. Ranging from $60,000 for the early Johnson piece to €340,000 for the Mauri sculpture, the display also functions as a coming attractions for Schimmel's major debut at the gallery, when the former MoCA chief curator will organize a soon-to-be-announced group show to inaugurate the giant new Hauser Wirth & Schimmel gallery in downtown Los Angeles in March.
VARIOUS ARTISTS
Galerie Sfeir-Semler (Beirut)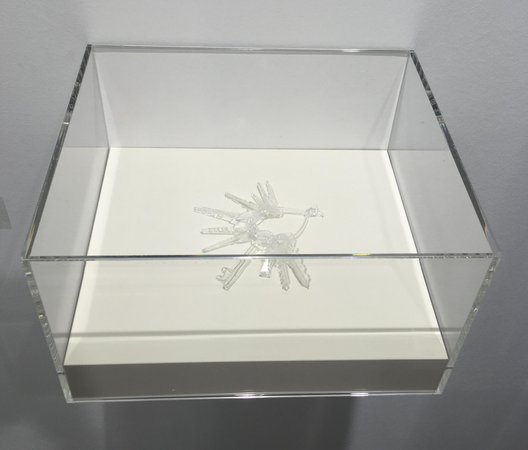 Amid the tightly packed commerce of FIAC, Beirut's Galerie Sfeir-Semler brought a breath of invigorating fresh air with a spare display of simple pieces packing visceral political punch. Works by three artists about the crisis in Palestine were particularly memorable. Born in Gaza, the Taysir Batniji has made a career working with the theme of displacement, and his sculpture at the fair conveyed that theme with immediacy and economy. It consisted of the keys to his Gaza studio, which he recently had to abandon due to rising tensions and unreliable electricity and other basic services, cast in fragile glass (€10,000).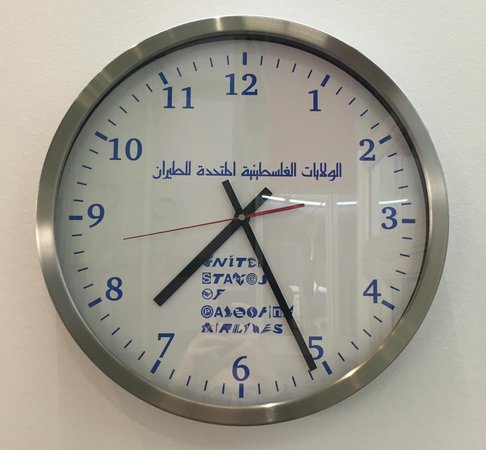 The Ramallah-based artist Khalil Rabah has for a while now been working with a fictional United States of Palestine, a concept represented here by the clocks from such a country's functioning airports where citizens can travel freely across its borders and around the world. (Priced at €15,000, these clocks are part of a far larger airport installation now on view at the Kunstverein in Hamburg, which includes everything from planes to postcards.)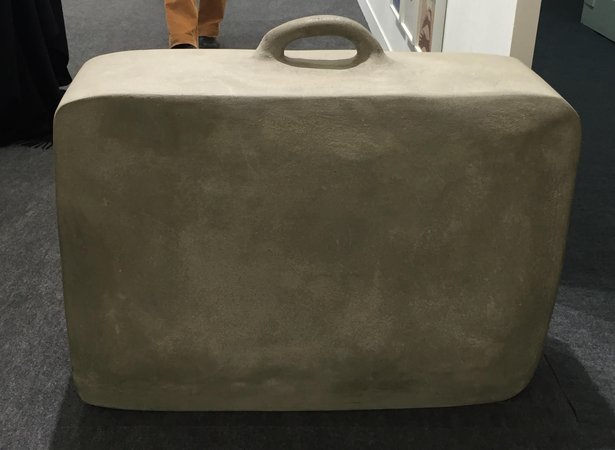 The Lebanon-born artist Rayyane Tabet grew up knowing that his mother always kept a fully packed suitcase at the ready should they have to flee—a fact that lodged itself in his nightmares, where they suitcase would grow so heavy that they would be unable to get it out the door. Here, with a concrete cast, the artist brought the stuff of his nightmares to life.
RACHEL HARRISON
Greene Naftali (New York)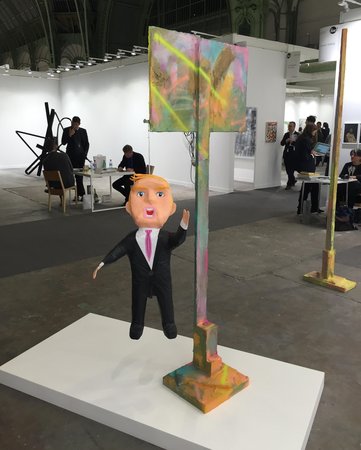 In what was arguably the showpiece of this year's FIAC, the great American artist Rachel Harrison tackled an irresistible topic ripped straight from her RSS feed: the political phenomenon that is Donald Trump. Her treatment of the real-estate-mogul-turned-presidential-hopeful is drenched in acid. For one thing, the anti-Mexican demagogue is portrayed as (you guessed it) a piñata, with his comedically mobile lips stretched in declaration and hand pointed oratorically in the air; for another thing, while his plinth suggests a speaker's platform, the sign from which he dangles evokes the paranoid placards of the America-firsters who have been thronging his every public appearance.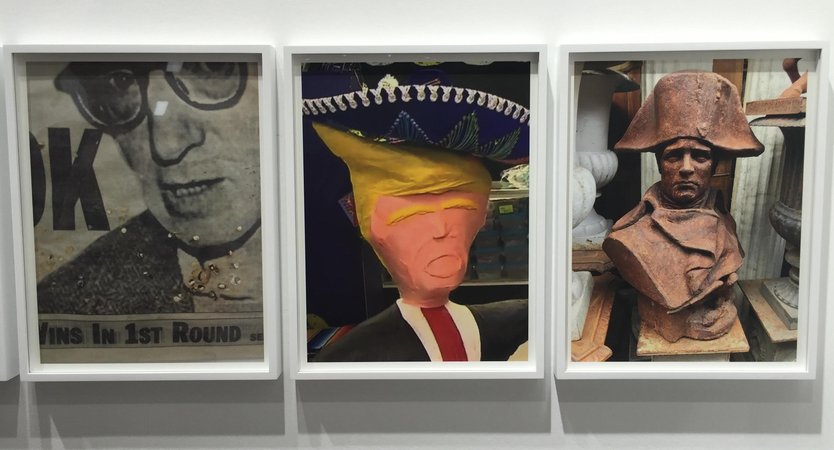 Rife with hysteria, the sculpture is accompanied by a grotesque Trump head featured in the fourth chapter of Harrison's ongoing photo series "Voyage of the Beagle," paired pointedly with a dour-looking Napoleon. The sculpture was approximately $150,000, the photo series $80,000.