Britain is now the second-largest art market in the world, according to the latest TEFAF Art Market Report, and the art scene in its capital is an embarrassment of riches. From edgy venues for digital art and culture to the behemoths of the fine-art establishment, there is a gallery for every facet of creative output—making London tough to beat in sheer scope and scale. In this competitive climate galleries must either carve out their niches and adapt to an ever-evolving market, or die.
The only threat to this unabated art world expansion is the city's skyrocketing property prices, which force galleries to be as transient as the artists they represent. In the last decade, many have migrated from West to East—and then back again. For the time being, however, London's galleries remain as wonderfully eclectic as they come.
Here, Artspace selects the nine London establishments you need to know right now.
ARCADIA MISSA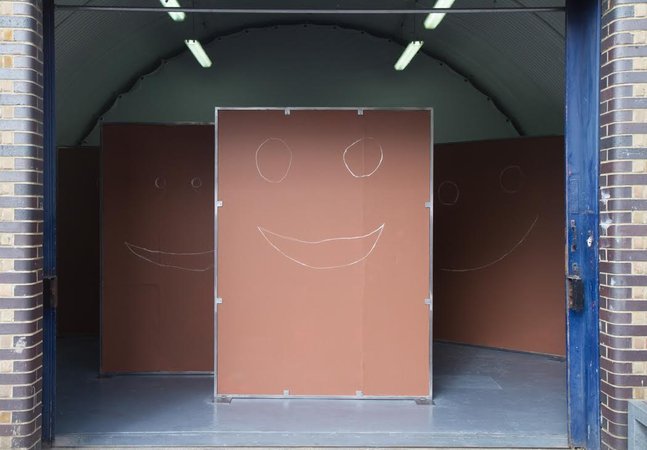 Hannah Black's exhibition "Not You," 2015, installation shot. Courtesy the artist & Arcadia Missa
Situated in a once-derelict railway arch close to Peckham Rye station, Arcadia Missa is a key player in Peckham's now-thriving art scene. Founded by the writer, artist, and Peckham native Rózsa Farkas about five years ago, the space largely provides a platform for new media and digital art. The roster features some seriously thrilling emergent stars, from Steiner & Collings-James to Jesse Darling (whose current show "Re-Materializing Feminism" is well worth a visit).
More than simply a gallery space, Arcadia Missa also runs its own publishing division. Most notable here is the biannual journal How to Sleep Faster, which asks urgent questions such as "Is Survivalism humankind's only viable ideological position?"
LAURA BARTLETT GALLERY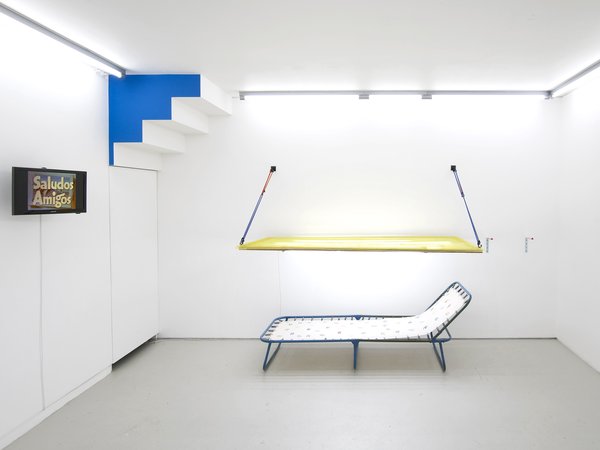 An installation view of Sol Calero's "Bienvenidos A Nuevo Esilo," Laura Bartlett Gallery, Northington Street, 2014
Laura Bartlett started her eponymous gallery in a South London warehouse space in 2005. There, she had an impressive run of solo debuts, including the celebrated French artist Cyprien Gaillard and Britain's Becky Beasley, whose work combines photography, sculpture, and film and is currently on display in her fourth outing, "Lake Erie From the Northwest."
Today the gallery is housed in the former studio of the photographer Wolfgang Tillmans in Bethnal Green, to the east of the city. The larger space has enabled Bartlett to take on a bigger roster of artists, including the abstract canvases of L.A. painter Alex Olson and the exploratory films of the British artist Beatrice Gibson. Although she is known for her minimal and poetic tastes, with a program that has centered on restrained abstraction, Bartlett has made room for the occasional shot of vibrant color as of late; on her roster is the Latin American artist Sol Calero, who will re-imagine the interior of a Bureau de Change at this year's Art Basel Statements with Caribbean poster art, Venezuelan video works, and custom-made jewelry.
SUNDAY PAINTER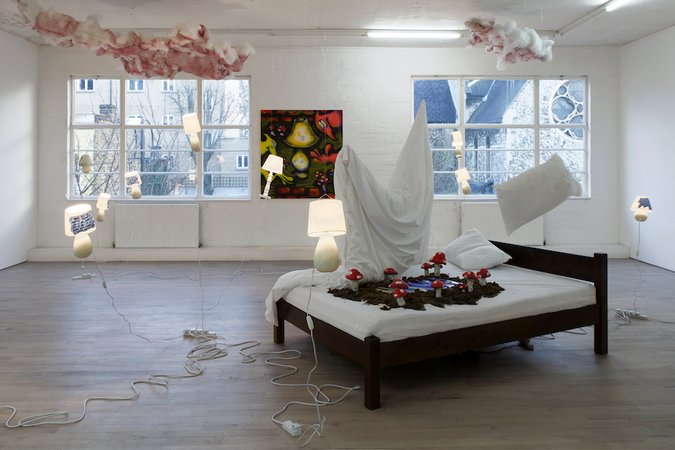 An installation view of Alex Rathbone's exhibition "Down," at The Sunday Painter, 2016.
The Sunday Painter gallery was the splashy sensation at the latest Frieze Art Fair in London, thanks to artist Samara Scott's watery sculptural installation Lonely Planet 2. This luminous pool of ephemera, which featured everything from noodles to fabric softener—much of it amassed from junk stores—sold for some $20,000 (not bad for a Frieze debut).
The gallery started out in 2010 as an artist-led project space run from the out-of-use function room of a now-defunct Peckham pub, and transformed into a commercial gallery just two years ago. Its founders are a trio of art school graduates—Harry Beer, Tom Cole, and Will Jarvis—who set out to showcase mid-career artists alongside nascent talents. They continue to impress with their current crop of solo shows. There's an exhibition in the works by Leo Fitzmaurice, who will transform the gallery into a veritable mise-en-scène comprised of deliberately non-arty objects. The gallery is also planning a tribute to the late ceramicist Gillian Lowndes, a lesser-known yet radical figure from the postwar generation of British artists.
BRUCE HAINES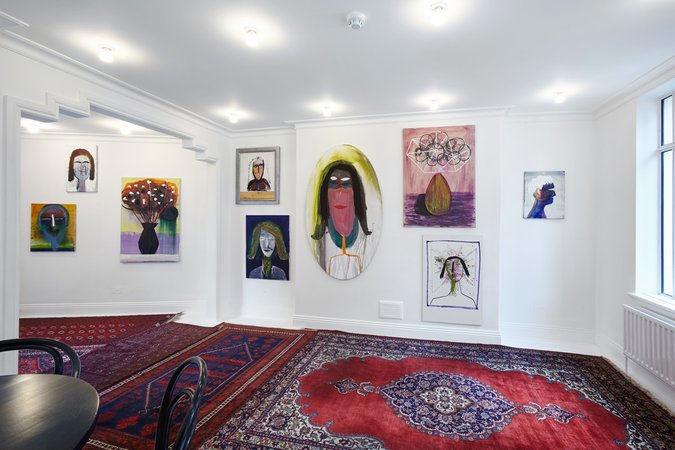 Works by Matthias Dornfeld at Bruce Haines, Mayfair
On the second floor above a watchmaker's shop on Mayfair's St. George Street sits a gem of a gallery. In what is perhaps the most minuscule space in the whole of the capital—it measures a mere 12-by-15 feet—Haines, who formerly operated under the name Ancient & Modern, presents a formidable stable of European artists. Among them are the gritty documentary photographer (and gallerist) Jane England, an Australian emigrée who captured London's 1970s subculture, and Volker Eichelmann, an eclectic German artist fascinated by the English aristocracy who works in everything from floral découpage to video art. Haines's artists share a fondness for color and a tendency to root around in the annals of art history, which makes a typical visit to his gallery rich pickings indeed.
RODEO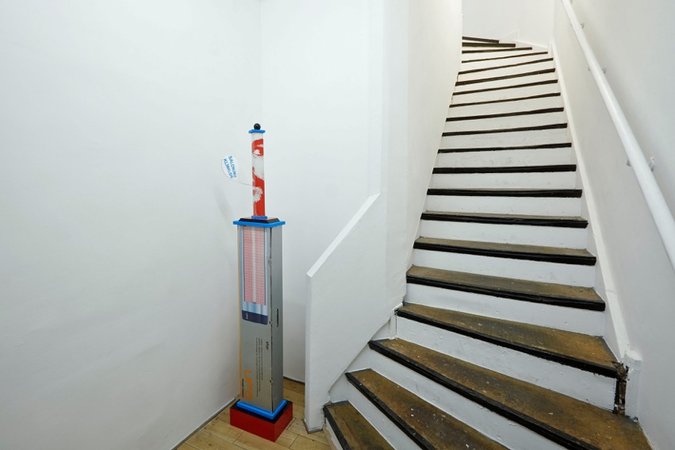 Installation view of Lukas Duwenhögger, "Made in Hot Weather," Rodeo, London, 2014-2015. Photo: Robert Glowacki
Sylvia Kouvali first established Rodeo in Istanbul in 2007, as a means of bringing together a raft of talented and largely underrepresented Greek, Turkish, and Cypriot artists. True to its name, which means "to circulate or surround" in Latin, the gallery has successfully initiated a fruitful creative dialogue among artists who had been somewhat isolated. Their sophomore space opened in London in 2014, on the seamier side of town between the bookshops (and sex shops) of Soho's Charing Cross Road. Today, Rodeo take a wholly international approach with a roster that unites the Turner Prize-winning video art of Duncan Campbell and the mischievous paintings of Athens artist Apostolos Georgiou, whose work is currently on show.
STUDIO LEIGH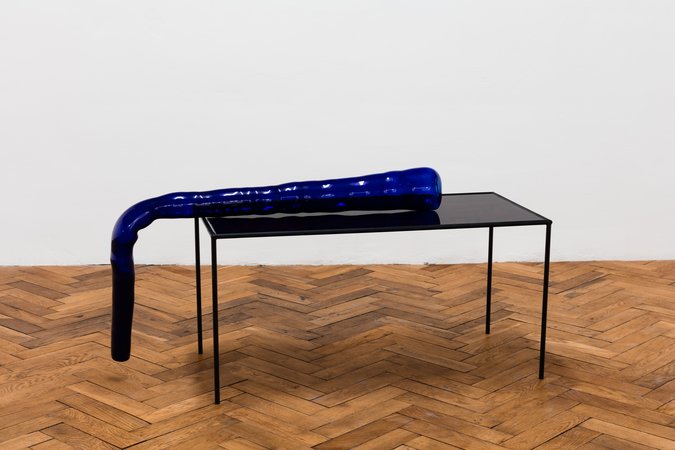 A view of Gabriel Hartley's current exhibtion "Light." Photograph by Lewis Ronald. Courtesy of Studio Leigh
Art melds with design at Studio Leigh, a commissioning and exhibition space in Old Street set up by Mario Testino's former art director Tayah Leigh Barrs. Predicated on the belief that art, like design, should consider functionality, Studio Leigh takes artists out of their comfort zones and has been known to produce surprising results. The inaugural group exhibition featured works from some 28 artists; among its standouts were ceramic lamps by the young, multidisciplinary British artist Mark Essen. The follow-up show saw novelist Adam Thirlwell collaborate with artist Mary Ramsden on an intriguing artist's book entitled RadioPaper. Right now, the space is playing host to the young London artist Gabriel Hartley, who is experimenting with the medium of glass for the first time, and to enchanting effect.
LIMONCELLO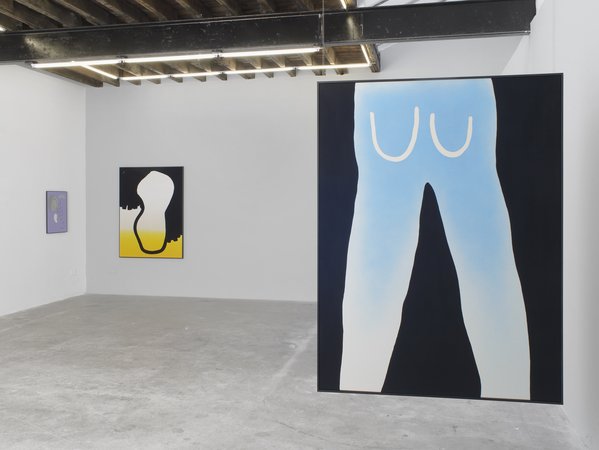 Cornelia Baltes, "Drunk Octopus Wants to Fight," 2016, at Limoncello
The dealer Rebecca May Marston has grown with her artists. Her gallery, Limoncello, opened in 2007 in a tiny space on Hoxton Street. Now in its third iteration, it inhabits a modest townhouse on East London's pulsing Kingsland Road. May Marston, who currently lives between London and Suffolk with her artist husband Ryan Gander and their young family, has built up a standout roster of artists; one of them is the highly conceptual ceramicist Jesse Wine, whose sprawling and elaborate installations incite much art world excitement. Limoncello's most recent addition is Bedwyr Williams, a long-established artist with an impressive museum resumé who is something of a departure for the gallery—further proof that adaptability is key in the London art scene.
OFFER WATERMAN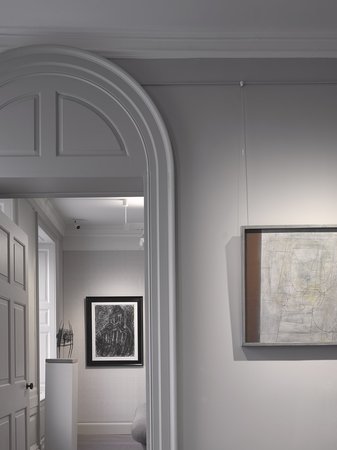 Second floor gallery; Lynn Chadwick, Maquette for Inner Eye, 1952, Leon Kossoff, Christchurch, 1985 and Ben Nicholson, May 1955 (Green Chisel), 1955

Offer Waterman, which specializes in the best of 20th-century British art, was a fixture in Chelsea for some 20 years. The gallery caused something of a stir, then, when it upped sticks to Mayfair last September, taking over one of the area's finest architectural sites at No. 17 St. George Street. This historic spot, which dates back to the early 18th century and was once the showroom of Arts & Crafts pioneer William Morris & Co., is now the refined three-story setting for some of the greatest fine art there is. The gallery's notable single artist exhibitions have included a showing of Frank Auerbach's early works (in the old space in 2012) and, for the inaugural show in Mayfair last fall, works on paper from the 1960s and '70s by the eminent British draftsman David Hockney. Perhaps best of all, despite the gallery's grandeur the dealers are known for being a rather friendly bunch.
TIWANI CONTEMPORARY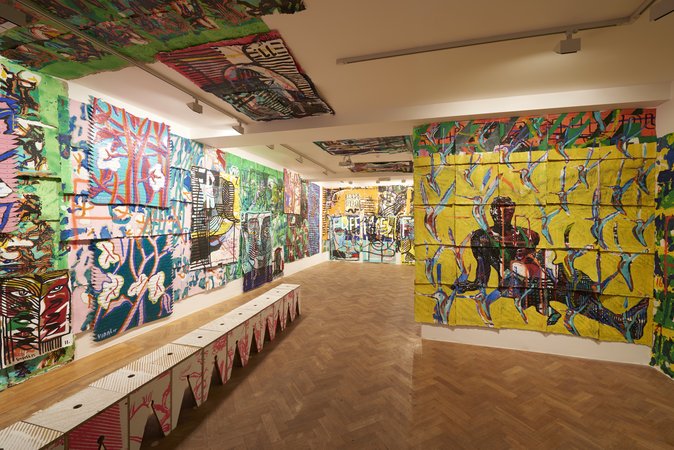 Works by Francisco Vidal, at Tiwani Contemporary. Photo: Sylvain Deleu
Since its inception in Fitzrovia in 2011, Tiwani Contemporary has offered a platform for artists from Africa and the African diaspora. Director Maria Varnava, a Cypriot expat who has been immersed in the Lagos art scene from an early age, is a passionate advocate of the diversity of contemporary art emerging from the African continent. Standout shows have included a retrospective of the photographer Rotimi Fani-Kayode, a seminal figure in black British and African art in the 1980s, and a European solo debut of the young Zimbabwe artist Virginia Chihota—an exceptional printmaker who represented her home country at the 55th Venice Biennale. In a market with a burgeoning appetite for art from Africa, Tiwani has quickly established itself as a tastemaker—one of the best places in London to catch up on developments elsewhere.