What's good at this year's edition of Liste, the emerging-art playground of Basel's art fair week? Here are five artists who are worth keeping an eye on.
ANDREAS ANGELIDAKIS
The Breeder (Athens)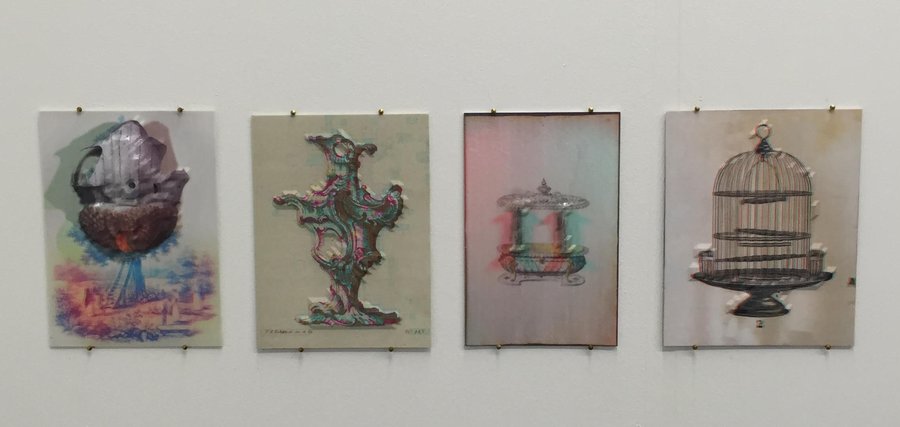 032C magazine has described the half-Norwegian, half-Greek artist Andreas Angelidakis as "an architect who doesn't build," and that's a fairly good in-road to the work of this brainy artist who puts the architecture he studied through fantastical paces across a variety of media. At the Breeder's Liste booth, there were three 3D-printed sculptures of surreal edifices he constructed on Second Life, each of them looking like pure manifestations of a playful imagination; a set of four small trompe-l'oeil panels on the wall, also 3D-printed, dance a clever dance between sculpture and image, with the composition overlaid with colors suggesting that 3D-glasses would yield a multidimensional pop (they wouldn't; the colors are abstract).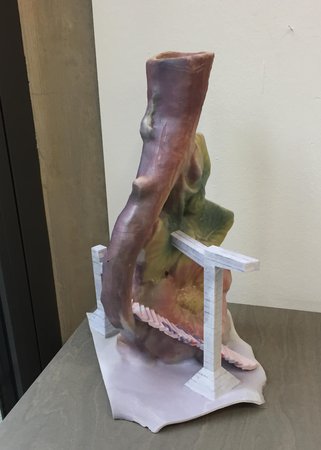 At 46, Angelidakis has a growing reputation for designing brilliantly inventive exhibition installations (for Dakis Joannou's Deste Foundation and the Swiss Institute, for instance) and fulfilling imaginary architecture commissions for patrons. Here, the small wall pieces are €3,000, the wall-mounted sculptures are €4,000, and the larger tabletop piece is €5,000.
AMALIA ULMAN
Arcadia Missa (London)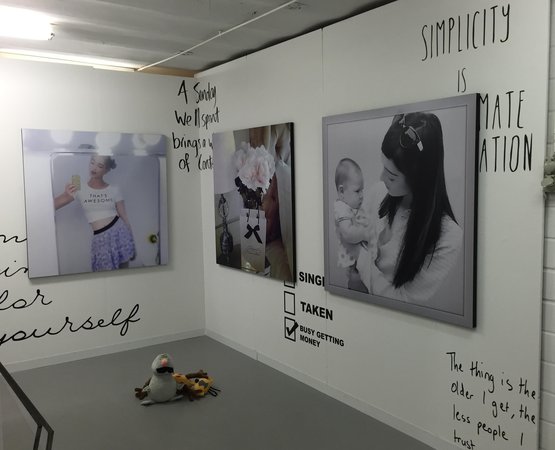 Last year, the 26-year-old artist Amalia Ulman created a sensation when the art world found itself riveted by the photos with diaristic captions that she began posting on Facebook and Instagram—a groundbreaking durational performance that took place over several weeks, existing exclusively on social media. Telling the cliché-inspired story of a good girl who moves to the big city and goes wild, ditching her pink wardrobe, breaking up with her boyfriend, getting a boob job, taking up with a sugar daddy, and then breaking down in tears, the narrative ended with the Ulman seeking redemption—through apologies, yoga, covering up, and getting a new boyfriend.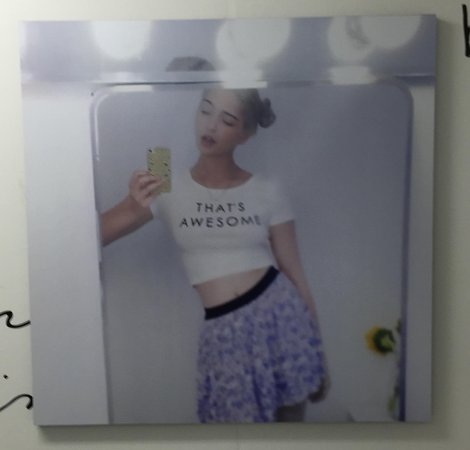 Concluded in October, the performance was archived by Rhizome (along with all of the consoling, solicitous, and creepy comments that her posts attracted) and has only now made it to the market in the form of blown-up "paintings" of her posts (uniques with one artist's proof, about £5,000) and looped footage from her Instagram videos (editions of three, £1,000 pounds), with the whole installation going for £15,000.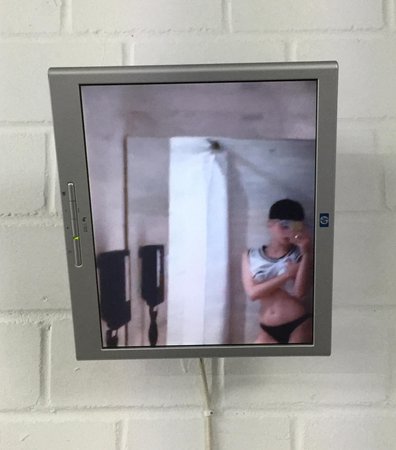 A wunderkind who has also segued into performative lectures (she did one alongside a bemused Hans Ulrich Obrist and Instagram founder Kevin Systrom in Miami last year), she has a big fall in the works: in September she is going to do a new "IRL performance" at Festival Hyperlocal in her native Argentina and have a show at the Monnai de Paris, and in October she will do another "not-super-traditional" performance at Frieze London.
NEÏL BELOUFA
Balice Hertling (Paris)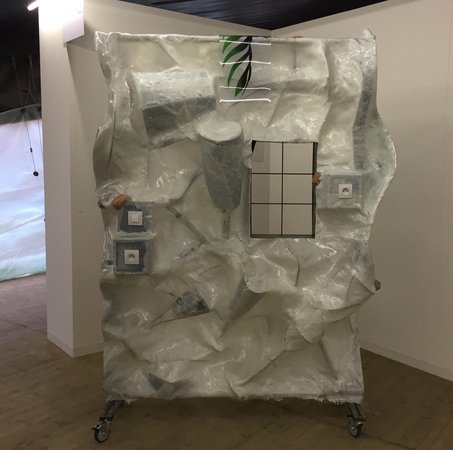 The French-Algerian artist Neïl Beloufa creates multimedia environments that typically consist of his videos (one of which was a standout of Massimiliano Gioni's Venice Biennale) paired with somewhat perverse sculptural installations that implicate the viewer. His current show at Balice Hertling's Paris gallery, for instance, contains a display where all of his videos can be viewed beneath a canopy of suspended resin tiles, while simultaneously projecting live footage of the viewer on the exterior of the installation.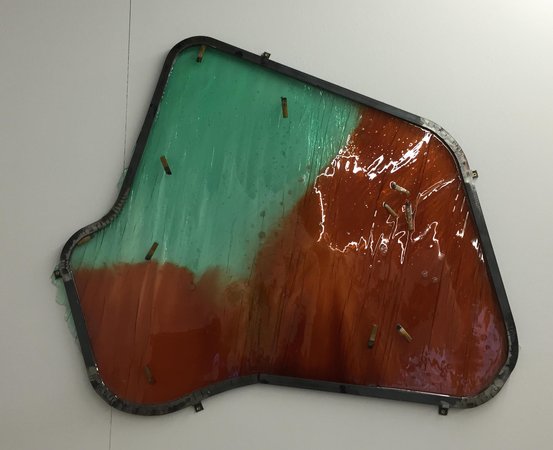 At Liste, the gallery brought one of the ceiling tiles (which is embedded with cigarette buts and can also function as a wall piece; it goes for €15,000) and a large sculpture of fiberglass and resin on metal that contains electrical outlets for his other works to be plugged into (€45,000). Those are high prices for a challenging 31-year-old artist, but expect his renown to grow—and demand to rise—when he has a solo show at the Museum of Modern Art next year, curated by Thomas Lax.
MEGAN FRANCIS SULLIVAN
Mathew (Berlin & New York)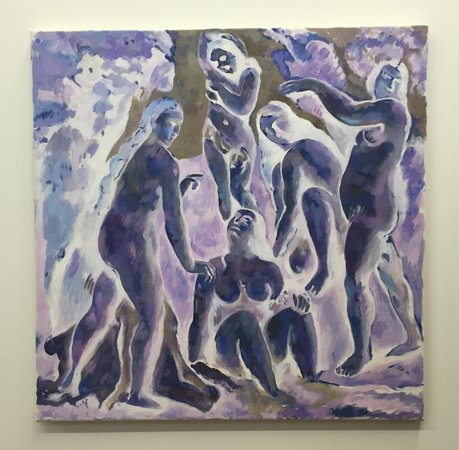 An academically minded artist who approaches her work through the lens of deep art-historical research, the Connecticut-born, Berlin-based painter Megan Francis Sullivan tackles appropriation from a feminist perspective. One of her favorite targets is Cézanne and his objectifying gaze, and for Liste she selected a painting from the tiny nearby Kunstmuseum Basel, the famous Five Bathers (1885-87), photographed it, and then digitally inverted the photo; she then analyzed the colors and precisely recreated the original as its negative.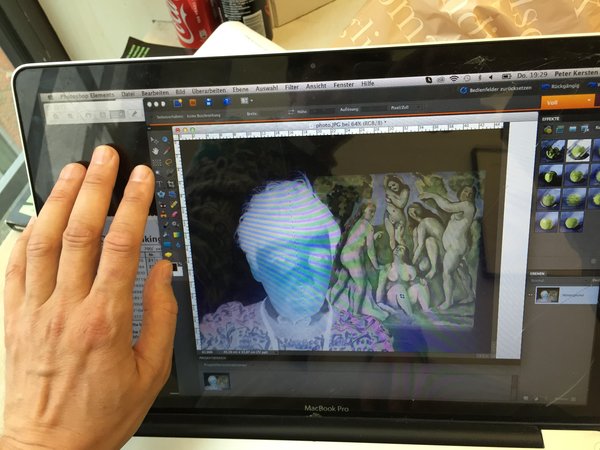 While it's a lovely painting in its new state, half the fun comes from being able to photograph it and flip it, showing the original in absolute fidelity. Other artists she has tacked include Rose Bonheur and such contemporaries as Tom Burr.
DIJAN KAHRIMANOVIC
Helvetia Art Prize booth (Basel)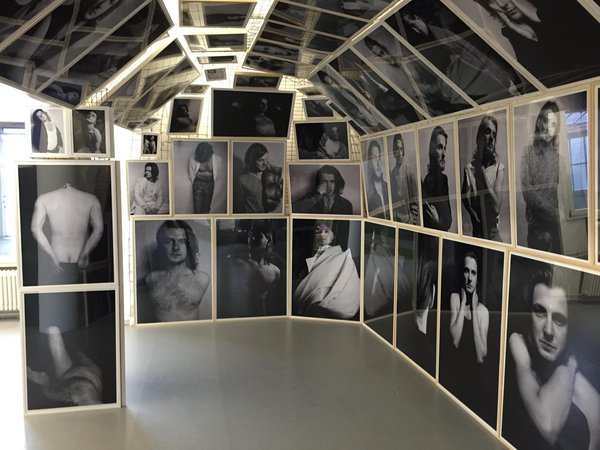 The winner of this year's Helvetia Art Prize, the 25-year-old photographer Dijan Kahrimanovic spent the two and a half sleepless weeks before the opening of Liste sitting in a room and making random phone calls all over Switzerland. When someone picked up, he would say, "I am Dijan Kahrimanovic and I want to take a picture of myself. Tell me what to do." Most people would hang up immediately, but of the 1,763 calls he made, he found 278 people (mostly women) who were willing to play along, and the requests were diverse, some predictable, some unnerving. One man told him to punch himself in the face, which he loudly did (the man called back days later to apologize); another person told him to become a "half-naked superhero; another, who took the artist's name to be Muslim, told him to put on a burka; one angrily told him to cut off his hands.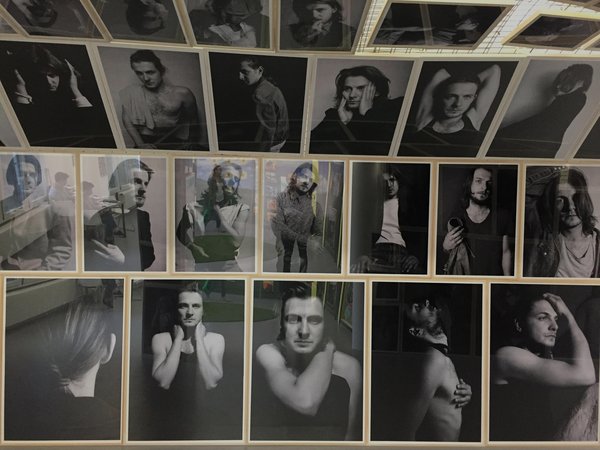 Each time, Kahrimanovic complied as best he could (instead of cutting off his hands he tucked them behind his back) and if it was daytime he took the photograph in front of a white backdrop, at night in front of a black one. One hundred of the photos (priced between 300 and 2,500 CHF) were installed in a cave-like formation at the fair, where they were being sold along with transcripts of the phone conversations that shaped them. Asked where his idea came from, the artist said, "When I'm at home I always get calls from the electricity company or whoever, and I always say no. But it made me think: if I received a call from Dijan Kahrimanovic, what would I be selling?" The result is a memorable monument to cold-calling.